Today on Recur Now, a serious turning point for post-crisis culture. Plus, MasterClass snags another $100M and the first-ever B2B reality show has arrived.
Listen wherever you get podcasts:




🧠Petition for a post-crisis change
The arrival of COVID-19 in the U.S.—and the world— has brought undeniable changes like social distancing, mask wearing, and more stringent business sanitation checklists in its wake. Many of which are fleeting, others that will linger for years to follow. The most obvious: our physical health. Perhaps less clear cut: our mentality.
Americans are reporting high levels of emotional distress from the COVID-19 pandemic, levels that some experts warn could lead to a national mental health crisis. Social isolation, economic insecurity, and fear of an uncertain future have led 45% of American adults to say that COVID-19 has negatively affected their mental wellbeing.
As business leaders and entrepreneurs, the onus is on us to look ahead and take serious stock of how we're approaching the issue within our professional organizations.
Will COVID-19 be the turning point we need for workplace mental health?
Although immediate implications are somber, I, for one, have high hopes we pull something positive from this experience.
From financial stressors to health scares and complete uncertainty in what lies ahead, we're all bound to feel some sort of mixed emotion amid the mayhem.
---
"There has been very little talk about mental health vulnerabilities."
---
But maintaining a healthy mental state comes along on a far-reaching spectrum. The definitions of it, the feelings that accompany it, and the ways in which we treat it (or suppress it) are often the furthest things from straightforward. I, myself, struggle with this on a regular basis. And the pandemic has brought about internal feelings I admittedly thought I had some sort of immunity to. (Spoiler alert: I do not.)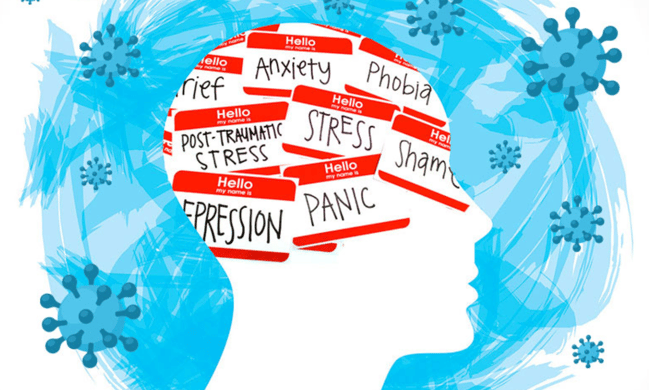 And while almost all employers believe improving mental health in the workplace is good for their business, 17% acknowledge that they aren't offering any resources at all, according to a survey of 1,379 U.S. business decision-makers.
Employees, too, feel coverage is missing: 65% of workers say they don't feel their employer offers benefits or programs that help support or improve their mental well-being, according to MetLife research released this past April.
Public Health Specialist Dr. Antonis Kousoulis spoke to The Guardian on this very topic, in a podcast hosted by British Journalist Anushka Asthana. "Ever since the pandemic started sweeping around the world and we started talking about this specific condition, we've talked a lot about vulnerability and we've heard a lot about physical vulnerabilities in the sense of underlying conditions. There has been very little talk about mental health vulnerabilities."
Anne Richter, a health management consultant at Willis Towers Watson, says in many ways, the global crisis is shining a light on flaws that existed even before we fled to lockdown. Some employers were focused on a full spectrum of well-being, including emotional, financial, and mental, Anne says, but many fell short when it came to helping employees with such issues as anxiety, depression and stress.
"I have clients I work with that have a vast array of resources—apps, vendors, programs, communication channels," she points out in an article by Human Resource Executive. "All aimed at building emotional resilience that you would fall back on in times like this." But Anne says she has other employers who say, "That's not really our thing."
So, how do we fix this (Or, at least, try to)?
Perhaps the biggest change we can put forth, one which will ideally become permanent, is simply making it OK to address the issue, industry experts say.
A majority of employers will add or extend current resources, which we've seen big names like Target and Starbucks do to move the needle—adding therapy benefits, online resources, and counseling packages to their internal offerings. Others will better train managers and leaders, encouraging active empathy and support, while some will look to external professionals.
Bryan Smith, Co-Founder of LEON, a leader in the employee wellness space, told me: It boils down to understanding recovery and building overall resiliency.
"Recovery starts with taking into an account that your body and your mind are already fatigued, and that stress is a cumulative process. So the longer we live in this environment, the more into 'stress debt' we go, and the worse our headspace becomes...
As founders or leaders, we must let our teams unplug as much as possible; if not, as time goes on, our headspace will decline. Companies need to become more proactive as this continues, and find ways to let people unplug and recover. Adding days off, reducing hours, or even cycling responsibilities between team members is a real possibility."
But just as there is no black and white approach to diagnosing and/or treating mental health battles, I know there are no hard and fast rules for how to address it in the workplace.
So I'm curious to hear—what have you done in regard to the mental health movement? Whether it's personal or professional, for yourself, your family, or your peers—how can you consider the implications, thwart the potential for a mass downward spiral, and instead, push to create ultimate internal strength and growth.
I'm all ears, at abby@profitwell.com.
---
How is the B2B SaaS market trending?
📈7 day +0.92% | 📈30 day +3.78% | 📈90 day +5.11%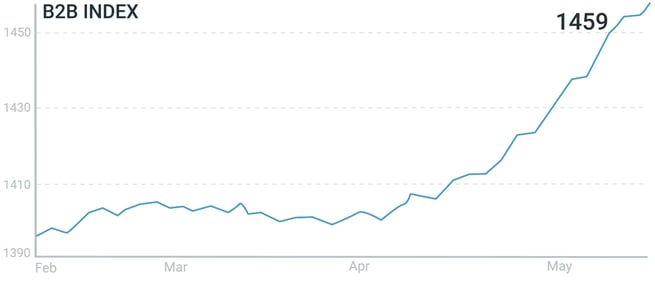 How are churn and new revenue trending over time?
---
MRR LOSS +0.64%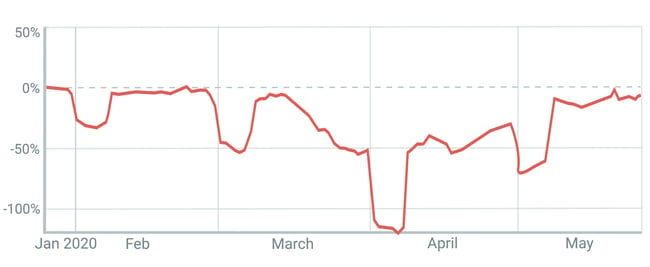 ---
MRR GAIN -2.88%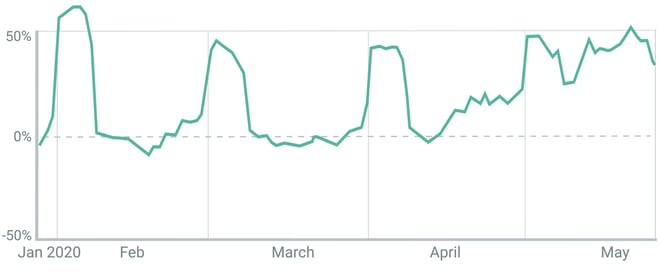 The overall index today is steady, with consistently positive percentiles in change across the board. Your MRR Gain, however (namely, new revenue and upgrades) is still in the negative percentile from over the last 24 hours at -2.88%—although up from almost -7% after the effects of Memorial Day weekend hit.
Be sure to check your subscriber newsletter each day for regular updates to your index.
You can also share the data with friends and fellow industry players that could use it right now. Send me their email address to abby@profitwell.com and I'll get their name on the list. Or they can subscribe directly at index.profitwell.com.
---


MasterClass snags another $100 mill
MasterClass —the masters in online-education content—snagged another $100 million in Series E funding last week to create more celebrity-fueled classes, ringing in a whopping $800 million valuation. The company will up production to another new class every week, and reportedly has its sights set on VR. Oh, the places you'll go.
For more on this → head here.
The reality of B2B
In content news, we see the first-ever B2B reality series go live, a docu-series that reveals behind-the-scenes of a hyper growth startup. In it, the crew follows Joei Chan through her first 90 days as she begins a job as Content Director in the B2B space, right before the outbreak of COVID-19.
For more on this → head here.
Go ahead, play Free Bird
Beloved music service Spotify removes its 10,000 song limit, in a further move to "free." Just last week we saw Notion extend its freemium offering for current and future users—which has me wondering, does our future lie in free??
For more on this → head here.
---

Today's featured user is Output, a music company that develops innovative software instruments for musicians, composers, producers, and sound designers across all genres. The Output focus is simple: groundbreaking concepts, new sounds, and new sources of inspiration to enable music makers in the space to be creative.
Hungry for more? Head here.
---
And that is a wrap on your Thursday news. I will catch you right back here tomorrow to wrap the week with more.
As a reminder: We launched a weekly version of Recur Now, an abbreviated newsletter with the best in each week's news. If you want in on that instead of your daily version, reply to me at abby@profitwell.com and I'll get you on that list.
If you have news to spread or resources to share with our audience, you can always connect with me at abby@profitwell.com to get the good word out there.