Recover payments. Reduce churn.
SMS Churn Recovery.
Retain is on it!
Used by subscription companies who take churn seriously
You probably didn't know you have this churn problem
Scary Fact:
You only recover 3 out of 10 customers whose payment fails.
The truth is that credit card failures are your largest single bucket of churn, but you're barely recovering any of these customers, because you're ignoring the size of the payment failure problem.
Be Better:
You can increase your recovery rate automatically and pay only for performance.
ProfitWell Retain® combines world-class subscription expertise with algorithms that leverage millions of data points to win-back your customers automatically using the industry's highest recovery rate.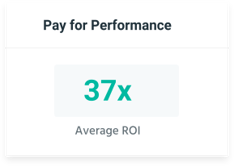 We do all the work for you
Industry's best recovery rate
100% ROI Guaranteed

John Arcanti
Retention Analyst
"We're your churn team.
ProfitWell Retain's the only product on the market that's managed for you, allowing us to leverage data and expertise to constantly improve recovery rates. You only pay for performance."
Right channel, right time
SMS, Email, and a whole lot more.
90% of text messages are read within 3 seconds. Retain's fully white-labled outreach now includes SMS at no additional cost to provide your customers with a personalized and frictionless payment experience.
Get an ROI analysis
SMS and Email

Smart retries

Internationalization

In-app notifications

"Recovered thousands of dollars."
"ProfitWell Retain's SMS Churn Recovery took no additional setup time with our Zuora account and has recovered hundreds of thousands of dollars for us in failed payments. It's a great experience for our customers and also saves our customer support team a ton of time."
Jonathan Mayhak
Dir. of Technology

SMS Churn Recovery
A new complement to the retain suite
We do the work
Your Retain team is constantly running multivariate tests to increase your recovery rate further.
Pay for performance
Up to your current recovery rate is free. Pay based on performance after that.
White labeled
The complete experience to your customers is your brand from end to end. Keep your unique voice with personlized sms messages.
Built to scale
Powered by Twillio for state of the art performance and realiablity, we don't go down (especially on BFCM).
No additional set-up
From purchasing a phone number to sending SMS messages to your customers, we do all the work. .
Seamless Integration
2 minute integration with your billing system (yes, even with Zuora)
Recover more with Retain
We study subscription businesses more than anyone else in the world and imbue that knowledge within our products to help you get back to your customer and your product.
Get started reducing your churn
Benchmark your data against 15k other companies with a 100% free Retention Audit .
Schedule some time