Slack and the war of the words
Ben Hillman
Sep 28 2022
Does the Slack that sound give you a spike of anxiety? Maybe you fearfully checked your phone or got excited that someone was finally getting back to you. Whatever it was, I'm sure at the very least you're familiar with Slack.
Personally, I don't know what I would do without it. Slack lets me communicate with my coworkers, review company updates, and catch up on important details with project collaborators. What's great is it's all asynchronous meaning communication isn't dependent on responding immediately. While it may not be the email killer that some folks have preached, it definitely provides value.
Slack is the fastest growing SaaS company today and (possibly) of all time. While Slack is inherently a business communication tool, its value lies in how it helps people work together. Slack has owned this niche for years, and managed to get a grip on the market before megacorps like Google, Meta, and Microsoft.
Slack is now integrated into the Salesforce ecosystem, joining the company in a near $30 billion acquisition in 2021. With the backing of a SaaS legend in Salesforce, Slack is well equipped to stay on top of a market that they helped pioneer.
As we speak though, a battle is brewing between these companies. So, which collaboration tool will reign supreme? Yes, Slack is leading the way, but will it always be able to fend off the threat that Google, Meta, and Microsoft pose? If you have thoughts, make sure you let me know. For now, let's dive deep into the origins of this kind of communication, early industry beginnings, and finally what makes Slack such a prime example to learn from.
---

Slack's focus on user experience was established early on, maybe before they even knew it. Slack was initially created out of a need for the founders themselves. They needed a reliable communications tool that could eliminate the barriers of communicating across multiple time zones. And as they built it, they did so from a user's perspective and with the experience they wanted and needed in mind.
Today, Slack is the fastest-growing SaaS company, and user experience is still a primary focus. So what can we learn? It's all about the user experience. If you're not providing a great experience, you simply won't last.
Looks

do

matter (in SaaS)
Enterprise software has a reputation for having boring design; however, Slack did not follow. They hired a team early on to create something fun and pleasing to look at and, ultimately, to make you want to use it.

And this is backed by data as it shows that people with a positive affinity to a company's design are willing to pay about 20%-25% more. Additionally, individuals with a positive perception of the company's design have roughly 8%-12% better net retention than those who were neutral or had a negative perception.


Maximizing the freemium model
Slack took the freemium model to another level. Many might even say they gave away too much. But Slack went all in and provided a ton of value. By making a huge chunk of Slack's functionality available for freemium users, it was able to appeal to small and mid-sized teams.


Integrations are a must

Slack has over 2,400 apps available in its Slack App Directory in addition to custom apps. It's integration ability adds that much more value as it truly creates a cohesive platform for your to work from.


And, customers with more integrations are willing to pay anywhere between 8%-30% more for the same core product.
---
Background
The main purpose of instant messaging (IM) is to ensure that all employees not only communicate, but also collaborate in a highly efficient manner through a variety of methods that go beyond merely sending and receiving messages. Interestingly enough, one of the earliest instances of this sort of collaboration can be attributed to an American President.
On August 15th, 1971 Richard Nixon announced a ninety-day wage-price freeze in an attempt to ease an inflationary boom. At the time the Office of Emergency Preparedness (OEP) was an office that advised and assisted the president in all things involving emergency preparedness policy. The OEP director led a conference call with 25 regional officers. "Anyone have any problems," he asked. This was largely greeted with silence. The OEP needed to exchange information between academics and networking experts that could help the government better respond to a situation. With a situation like this, there were a lot of issues.
Murray Turoff was a computer scientist working in the OEP. After the call, he took a teletype home, worked round the clock, and four days later came back with a working version of the Emergency Management Information System and Reference Index (EMISARI). This made it possible for participants to submit responses at any time and at any point in the discussion. Government telephone lines were connected to remote teletype terminals and responses were limited to 10 lines (to prevent lengthy government memos). It made it possible for the OEP to ensure that policy interpretation was correct in all regions. Slack didn't exist yet, but Murray Turoff managed to see the future and is largely credited with pioneering the chat and collaboration space decades before it existed.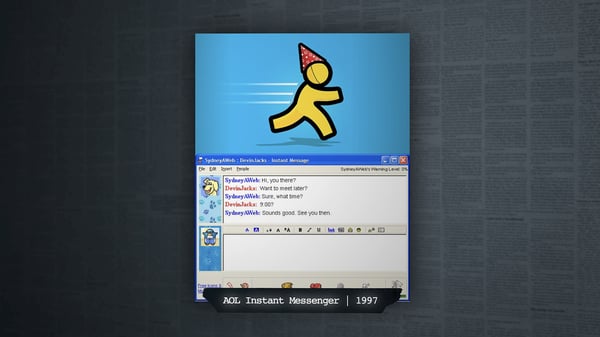 It wasn't until the 1990s that commercial products started to emerge. We saw the likes of AOL Instant Messenger 1997, Yahoo! Pager (1998), and Microsoft's MSN Messenger in 1999. These were by no means high level work collaboration tools, but they did get the general populace interested in the tech. It wasn't until instant messaging became ingrained in our everyday actions — social media, checking email, and mobile devices — that these chat platforms truly gained traction. Beginning in 2002, Apple computer users could seamlessly log on to Apple's iChat. Then came Google Talk in 2005, which allowed Gmail users to access the platform with their email contacts as soon as they logged on. It's important to note though, that while instant messaging became an everyday application in the 2000s and early 2010s, no company had quite cracked the code on how to use it within the business world effectively. But all that changed in 2014.
Early Leaders
Stewart Butterfield was working on a game called Glitch with his team at Tiny Speck. They used an internal communication tool to communicate across offices. Initially, Butterfield had no intention of commercializing the new platform. But upon realizing that he had something more than just an internal communications tool on his hands, Glitch was ditched. In order to make the tool more market-worthy through refinement, Butterfield and his team cajoled their friends to try out the product. Before long, much bigger teams were demoing Tiny Speck's newest invention willingly. While the tool itself was first made available to the public in February 2014, it wasn't until August of that year that it gained another name: Slack.
Within a day of its launch, the new communication tool had racked up over 8,000 signups. By April of 2014, Slack had more than 15,000 paid users and 60,000 daily active users. One year later, Slack was worth nearly $3 billion and boasted more than 750,000 active users. What started as an internal communications tool was swiftly becoming a promising, fast-growing entity. By 2016, Slack was reportedly being used by 77% of Fortune 100 companies.
The period between 2016 and 2020 was a defining moment in the history of Slack. Butterfield and his team knew that in order to keep their user base happy and continually attract new funding, they could not merely depend on the app's core features. They needed to innovate further. To that end, Slack added more features, including threaded messaging and Slack Connect. The company also launched 50+ integrations as part of its ever-growing, developer-inspired app directory. In June 2019, Slack finally went public. With its DPO (a non-conventional IPO), the Butterfield-led company was able to bypass the closed-door process of raising capital and subsequently hasten its access to the broader public capital market. Its value at the time sat at $19 billion.
Given that Slack had virtually no competition in the collaboration tools market, big-league legacy companies saw the opportunity to take advantage of Slack's success. These companies had prior experience running IM programs, so they were able to enter the market relatively quickly. Facebook (now Meta) launched Workplace in October of 2016. Microsoft launched Teams in March of 2017 and finally came Google with Workspace in October of 2020. Out of all three, Microsoft Teams has been the one able to truly give Slack a run for its money (more on them in a bit). In late 2020, Salesforce announced plans to acquire Slack for a cool $27.7 billion. For Slack, the merger was incredibly beneficial in that it afforded the company more resources for competing with the other tech giants.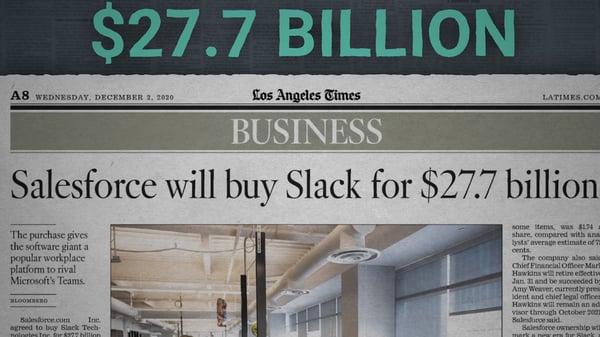 Reasons for success
Slack's success came as a result of consistent effort and smart and timely business moves made in the years prior to 2020. First off, Slack boasts an incredibly appealing design. Enterprise software is notorious for being dull, boring, and lifeless. To stand out, Slack hired design firm MetLab to turn its early prototype into a thing of beauty.
A huge part of Slack's consistent success over the years can be attributed to its adoption of the freemium model. With this model, customers start off as non-paying users. They then upgrade to become paying customers if they want to access more advanced functionality. Slack took the freemium model to an extreme by packing the no-cost version with essential features for teams. The only real differences between the paid and free version are the number of messages that can be searched or indexed, and how many integrations teams can connect to. By making a huge chunk of Slack's functionality available for freemium users, the company was able to appeal to small and mid-sized teams interested in buying the product.
Integrations also make Slack an effective collaboration tool because they allow it to bring work into a centralized location. As of 2019, Slack allowed paying users to connect to over 1,500 apps in its directory (now over 2,400), as well as hundreds of thousands of custom applications and integrations. Customers with more integrations within their product appear to be willing to pay between 10 and 30% more than those without integrations, as we found in a ProfitWell study.
Another reason for success is Slack's "magic number." Slack knows that users who send 2,000 messages are much more likely to stick around and end up paying for the product, helping to identify targets for expansion. The free tier is set up so that users can search 10,000 of their team's messages. This might seem like a lot, but as companies grow, more and more messages are being sent. Top that off with a 10-app integration limit. As companies need more integrations and send more messages, upgrading to the paid plan makes a lot of sense. When you grow, Slack grows.
And Slack needs this growth especially with the opposition they're up against. For one, both Google and Microsoft have tools that are already widely used by SaaS operators. It's easier to convert users when they are already in your ecosystem. Further, Google, Microsoft, and Meta boast full-fledged video conferencing features, an area which Slack has yet to perfect.
Slack was growing at a ridiculous pace and boasted over 10 million active users by the end of 2019. In the two weeks following the World Health Organization's (WHO) announcement of an international pandemic, Slack's customer base grew by a whopping 25%, with tweets from CEO Stewart Butterfield stating that the platform had added another two million users. Facebook Workplace saw its user base improve by two million from May 2020 to May 2021. Microsoft Teams, on the other hand, claimed 70 million additional subscribers from April of 2020 to April of 2021.
So that's it right? Game, set, match? Microsoft takes the crown? Not exactly. Microsoft includes Teams with Office 365. So users of Office 365 may not even be using Microsoft Teams, and instead supplementing it with Slack. Butterfield has said that many Slack customers use the 365 suite. However, it's gotten heated enough that Slack has a pending antitrust complaint against Microsoft in the EU. Slack argues that Microsoft is using Office's market superiority to force millions of people to utilize Teams through this bundle. Whether or not that complaint will succeed in court remains to be seen. What is clear is that Microsoft, as well as Meta, pose a serious threat to Slack's success. If their products are "good enough" it's easy for them to convert a user base that is already hooked up.
Summary
For folks running a SaaS business, internal communication tools like Slack are more or less a no-brainer. We've come a long way since Murray Turoff's initial try. Aside from promoting seamless communication between employees while in and out of the office, these tools help keep people engaged, motivated, and properly aligned with company culture and goals. Specifically, Slack drives the workplace in a way no other tool can, all while empowering real, meaningful team interactions that move the needle for any organization that cares to adopt it.
But Slack needs to be on their toes and fend off competition if it dreams of retaining its position as the leader of the workplace communication market. They need to maintain focus on customer-centric app functionalities. Providing a strong video conferencing feature would be a huge plus. While Slack may not be able to tap into users like Microsoft does with 365, the backing of the Salesforce customer base should prove fruitful.
Ultimately, the winner of the collaboration war is going to be the solution that makes it easiest for people to work together. With Google, Meta, Microsoft, and Slack all putting their best foot forward, it'll be interesting to see how this war plays out in the days to come. Who do you think will come out on top?
---
Who's up next week?
Next week, we get into the emergence and possible disappearance of passwords with 1Password.
Do us a favor?
Part of the way we measure success is by seeing if our content is shareable. If you got value from this episode and write up, we'd appreciate a share on Twitter or LinkedIn.
This is a Paddle production—the first media network dedicated entirely to the SaaS and subscription space.
By

Ben Hillman

Senior Show Producer at Paddle. Ben is a YouTube fanatic, contributing videos to the platform for 15 years, and amassing 2,000 subscribers to his personal channel. Prior to Paddle, Ben headed up the video team at Boston-based sports firm, CoachUp.