Can bundling take Xero to zero?
Patrick Campbell
Feb 4 2021
This week we're talking about accounting software. Hey, don't fall asleep. It's interesting. I promise you, it's interesting. Beautiful design, beautiful pricing, and ultimately, just a beautiful business. We're talking about Xero. And I'm going to be talking about what they're doing really well, and what they're not doing so well, at least in the past couple of years. And we wrap up all of those lessons into a nice little case study, so you can improve your own monetization strategy.
---
Pricing field notes
You may think accounting software doesn't need great design, but when you consider just how complex finance and accounting is, you realize that every functionality needs to be precisely designed with a user's process and end purpose in mind—something that gives Xero, both brains and beauty. Xero is now one of the fastest growing SaaS companies in the world. But is their fast-paced growth sustainable? Aside from acquiring new customers, what else can they do?
Below are some valuable takeaways you can implement in your own business.
Brand and design drive higher willingness to pay.

People with a positive affinity for a company's design are willing to pay about 20-25% more.
Good brand perception increases willingness to pay between 20-30% more.
Don't bundle what should be an add-on.

Features that aren't really a proxy for the company size or maturity, should definitely be offered to everyone and allow them to build them onto the subscription that they're on.
Don't give away too much value.
Features that you're selling, bundled in different tiers, are used or valued by less than 40% of the people within that tier.



Add-ons are the name of the game in mass but fragmented user bases.

Hone in on different use cases with different add-ons and make the product a lot more maneuverable or variable to these people.
You can increase that average revenue per count over time.
The willingness to pay for different fragmented types of users is different. Take advantage of that by unbundling some of these features and making sure that they're add-ons.
---
Watch the full episode
XERO
Accounting isn't thought of as beautiful, but when you learn what finance and accounting actually do, you realize they're the heroes in your business. Xero knew that all along when they set out to make accounting software just as beautiful as your business.
Xero was founded in New Zealand in 2006 by Rod Drury, a man with accounting in his blood. Drury started his career as an auditor, and then became a junior IT consultant at Arthur Young, an accounting giant going through a merger that became Ernst and Young, and later, EY. Subsequently, working closely with Microsoft, he founded a software development practice within EY. And that eventually led to branching out into his own consulting and development firm.
When Drury ran his own firm he realized that traditional accounting software was simply awful for business owners, which classically, started him down the path to doing something better with building Xero.
Don't miss out on more insights. Subscribe to get on the list for Pricing Page Teardown now.
See the data on pricing strategies across the subscription market every week.
XERO's success
Xero's success hinges on being a seamless, beautiful experience. You may think accounting software doesn't need great design, but when you consider just how intricate finance and accounting is you realize that every functionality needs to be precisely designed with the user's process and end purpose in mind—something that gives Xero both brains and beauty.
All of this attention to detail paid off, because Xero is one of the fastest growing SaaS companies in the world, used by 70% of all businesses in the US and continuing to grow with three thousand employees in 20 offices across the globe.
With over two million subscribers worldwide and a valuation of $8 billion, Xero's shown that focusing on the customer can help you not only compete with established giants like Quickbooks, but you can also beat them at their own game.

In 2018 though, Drury decided it was time to step down as CEO. His replacement, Steve Vamos, came to Xero with more than 30 years of experience in technology and digital media including IBM, Apple, and Microsoft. Drury still serves as a non-executive director on the Xero board and was not looking to do anything else, but rather, was excited to have the time to be able to focus on creating new products for the platform to continue its growth.
And therein lies the criticism of Xero. Many critics believe that their growth won't be able to sustain with just acquiring new users and it's going to need to find a way to increase their revenue per user. Throw in incumbents like Quickbooks getting better at their design and functionality, as well as new entrants into the market commoditizing accounting software even further, and you have a recipe for all that time and effort taking Xero to zero. Well not exactly zero, but at least not growing as quickly as they need to.
The question becomes: How can Xero use its fundamentals of focusing on the customer and position as innovator in the market, to go beyond merely being better than the rest of the market, and into a position of dominance for generations to come? Xero can't go the way of Quickbooks, so we're going to answer these questions by collecting data from 10, 542 current and prospective Xero customers. We'll reveal all the data and answers to these questions, so keep reading.
In the center of a giant space
Xero in my mind is the perfect example of a company who takes on an incumbent and wins. And what's funny is I think that Xero went public their first month or something because they had to raise money.
They looked at a giant space—small business accounting—and they noticed a couple of things. One, like 60 or 70% of small businesses of the 30 million small businesses in the United States, are actually sole proprietors. In addition to that, they looked at what people hate about QuickBooks, at least at the time. And it was a really poorly designed product, both from a UX and a UI perspective, when Xero started off. They also found that the users didn't have anything to connect with.
Xero came during the whole web 2.0 phase and talked to businesses about how their software should be just as beautiful as their business—just as their tagline reads "beautiful business." They adamantly conveyed how everything a business does should be awesome, and that they should love doing it because they're awesome too, including their customers. By putting businesses at the center and with the thesis of making those customers the heroes, Xero was able to take on the multi-billion dollar behemoth and actually become a giant winner within the market, as well.
Let's get into the data. We're going to find out some things that Xero's doing really well, and some things that they're not doing so well, so that you can take these lessons away for your own business in a nice little case study to improve your own monetization strategy.
Xero's
pricing page
Simplicity
The first thing I love about this pricing page is the simplicity. It's super easy to tell which plan is probably right for you. I go back and forth between liking the quirky plan names, but I like these options: Early, Growing, Established. I feel like you have a pretty good frame of reference for where you might fall.
It's a well-designed product, but they're not pushing that in your face. They've made a lot of choices and that's where the simplicity is coming from. And even when you look into the navigation, the pricing page is not the start of the journey. I think a lot of people miss that. So let's say someone is going to sign up for Xero. They come here, they're looking at the pricing page, and maybe they're confused and they start exploring. All of a sudden, it's like the pyramid principle where the information you wanted is there.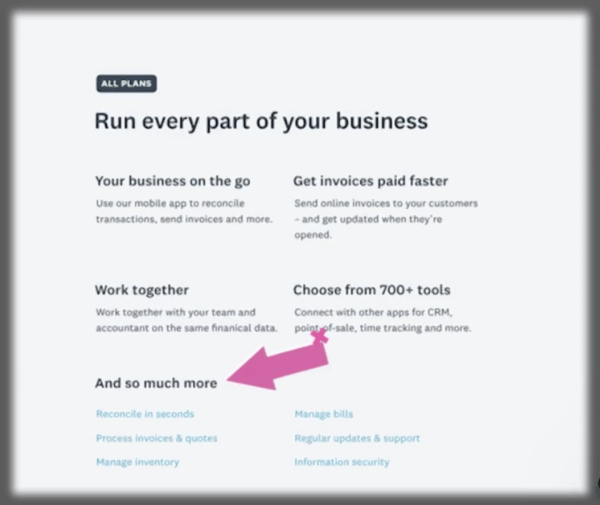 Then it states that all plans include all of these features, and then there's these cool add-ons if you're in the big plan. It continues with sections to answer more questions or help you get started. There's this blooming effect as you scroll down the page, which I think is really powerful.

And if I come from all these different pages, I have enough context that maybe I just want to jump in. And I think too often, people want to go all out, when I think simple works really well. And then you need to support that simplicity in the right way. So I'm sure that Xero knows exactly where everyone's coming from to this page, or at least where the most common things are. They've designed it to take advantage of that traffic.
---
Where does our data come from?
Here at ProfitWell, our Price Intelligently software combines proprietary algorithms and methodologies with a team of pricing experts who think about this stuff more than anyone else to help companies optimize their monetization strategy. We do this by going out into the market and collecting data from current and prospective customers, having the ability to collect data from everyone, from a soccer mom or dad in the middle of Kansas, all the way to a fortune 500 CIO in South Africa. We then take that data and run it through our algorithms and analyze it in every direction to determine a company's ideal customer profiles, as well as which segments value, which features and which segments are willing to pay more, all in the spirit of determining how a company can use monetization for growth.
---
Data and analysis
Brand and design drives higher willingness to pay
First up, brand and design drives higher willingness to pay. And this is some data that's actually not directly from Xero, but from many other companies other than Xero. We wanted to show you just how much brand design actually impacts willingness to pay these days. So, what we did is we set up a couple of anthropological studies, where we collected information from people through a couple of questions about what they thought the design of a particular product, or even the pricing page, or what they thought of the brand that they were buying from, or that they were thinking of buying from. We then measured their scores and put it on an affinity level—negative two up to two—and then we asked for their willingness to pay and determined that if you have a higher affinity for the design or like the design better, does it give you a swing in willingness to pay—either higher or ultimately, lower?
What we found here first, looking at design, is that if you have a very positive or a positive affinity for the company's design, you actually are willing to pay about 20, almost 25% more for that particular product. And one thing that's really interesting to note is that if you don't have a really good positive affinity for the design, or if you have a negative or very negative affinity for the design, it actually doesn't take away from willingness to pay that much. It's only about a 10% drop, which you can recover through word of mouth or all the other things that go into value.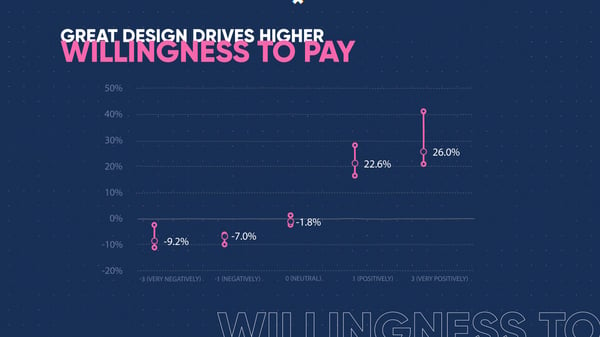 I think the big thing to keep in mind is that you can win by having good design. And I think that this is intuitive, but when we looked at this data from five, six years ago, this jump wasn't as high. It was actually much more compact around Xero, because I don't think design as important or it was just starting to get more important. But now people are using it as a proxy. Even more so, for value, especially with so many competitors that have good design.
You think about how much software there is now and it just becomes a huge identifier and a huge differentiator. It's something that I think people look at really seriously. Look at Notion, for example, you get that minimalist super simple vibe of using the software. It's totally something that I think just gravitates people towards Notion's product.
And we see the same thing for brand. We did a very similar study. And the reason we're showing you this one in addition to design is because brand is important now. I don't think enough people have a brand strategy. They don't do enough with brand, but brand is one of those things where you need something within your business right now that has some level of direction on brand. And what you'll notice is that brand is boosting somewhere at a 20 to 30% in the positive direction, and negatively, it's actually going down 20, 30%. So it's important that people have a good brand perception of you. I think that it's hard because a lot of younger buyers' identity are the things that they buy from or use. Which maybe is a very bad thing from an existential standpoint, but from a business standpoint, that's just the reality of things.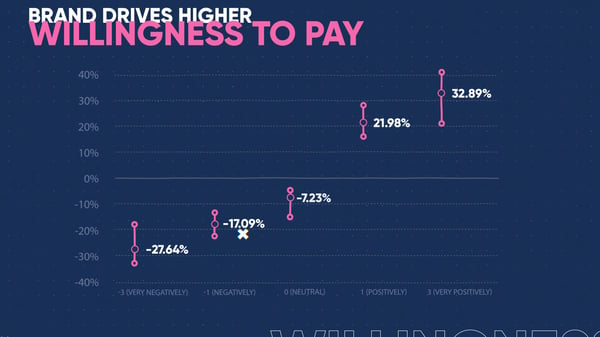 And we saw this with much of the different, crazy things that happened in 2020. The different movements that were happening—all of a sudden, people were looking for brands to signal in one direction or another, and other people didn't like the signals. So it puts brands in an interesting situation where they have to really manage the brands a lot more than they used to. Before it was just accounting software, but now it's whether people want to associate with the brand. Does the brand help small businesses, good design, and everything in between.
---
Value Matrix
You're about to see something called a value matrix. We collected data from the group comparing feature preferences and plotted those on the horizontal axis, more valued features on the right, less valued on the left. We then collected willingness to pay for the overall product and plotted that based on their number-one feature preference on the y-axis. Analyzing data in this manner allows us to determine which features are differentiable add-ons, core, or commoditized for each segment.
---
Don't bundle what should be an add on
It's super important to understand both, the relative willingness to pay, and the relative preference of these features.
Here, what is really fascinating is that both, expense tracking and project tracking, they weren't really valued features overall compared to the other features. The people who cared about them were willing to pay more. In that context, I think Xero is losing an opportunity by bundling these together.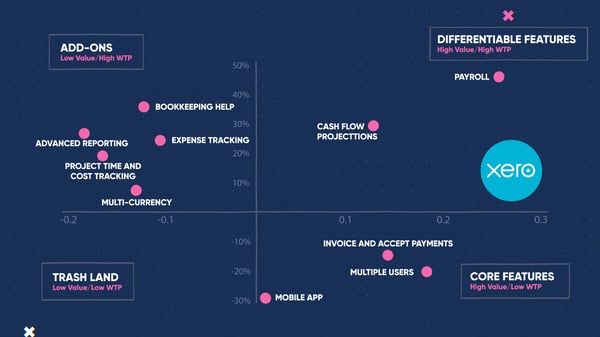 We've talked about this before—some of these add-on features that are widely appreciated or not necessarily widely appreciated, but they don't necessarily align with upgraded packaging. There are things that anybody could use and aren't really a proxy for the company size or maturity. Those are the types of features that you should definitely be offering to everybody and allow them to bolt them onto the subscription that they're on.
The big takeaway for your business is that you have features right now that you're selling, and probably bundling for different tiers or packages that are used or valued by less than 40% of the people within that tier. You should pull those features out and sell them as an add on—maybe you give it away for free to the people who are in that tier for the next year or something like that. But you should really be differentiating that, and just making sure that you're taking advantage of that willingness to pay.
Add-ons are the name of the game in mass, but fragmented, user bases
The big thing that you have to think about when you have such a fragmented user base of millions of users, is that there are so many different types of users, and you can't rest on your laurels by just selling them the core package. You need to not only sell them the core package, but also sell them different add ons, so you can increase that average revenue per count totally over time.
I think that this is a very third-wave, fourth-wave way of thinking in the world of B2B. And I think Xero is latching onto to the second-wave way of thinking, which is to get everyone on the tiers. And that's why we bundle some things that are add ons, but on the value matrix, you can see "advanced reporting project time" and "cost tracking, expense tracking," and "multi-currency," all of these different things are essentially in the add-on quadrant. It's one of those things that they're only really offering "payroll," as well as a bunch of the different partner products that integrate with Xero as different add-ons. I think it's a lost opportunity.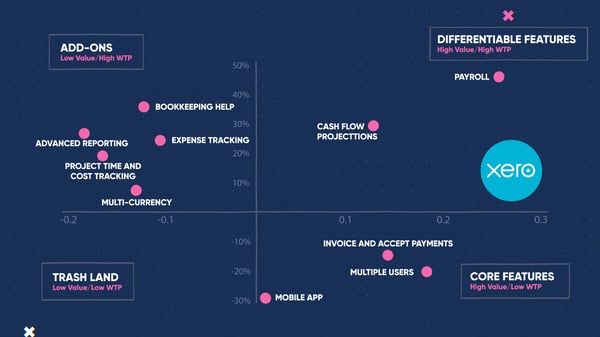 Now, of course you have to balance this with volume. And they might be using these as, "Hey, we bundle it in there for, you should buy us over using something else." But I think it's a little bit of a false equivalency because they're now the behemoth in the market. They should start taking advantage of that in a good way—not only adding value for users, but also making sure that those users are getting enough of what they need.
---

Brand and design drive higher willingness to pay answers the age-old question: What kind of value do you associate with brands? Some people don't really think branding matters, but he data backs up that it does. An we really have ecommerce to thank for this and the density of products.


Don't bundle what should be an add on. I think that a lot of times we're giving away too much value and it's actually bad for users as well, because they're buying something and thinking they're paying for all this, but not using it. And it actually devalues your price even further. You should pull those features out and essentially make them add ons. And it's one of the most underutilized monetizeable instruments, in all of the subscription world.


Add ons are the name of the game in mass, but fragmented markets. This is a huge market—tons of user bases. This is an opportunity for Xero to really hone in on different use cases with different add-ons and make their product a lot more maneuverable or variable to these people.



You have so many different fragmented types of users and their willingness to pay is so different. Take advantage of that by unbundling some of these features and making sure that they're add-ons, and that's how you get to the like next echelon of growth. Now they're going to keep acquiring new users, which is fantastic, but they can accelerate that growth even further by not only acquiring users, but also getting those add-ons in play.




---
Who's up next?
Next week, we're going back in time. Back in time is not a pun. I don't know if that's really a pun, but we're going to be exploring ancestry.com, which is a very large subscription business, that not a lot of people realize is a very large subscription business, ever since they started selling the DNA kits. So we're going to be exploring what they're doing well, what they're not doing so well, and ultimately, what we can learn in order to help your own monetization strategies.
Do us a favor?
If you got value from this episode and loved it, make sure you share it on your social medium of choice: Twitter, Facebook, or LinkedIn. That helps us get more users and if we get more users, we can do more research to help the greater community. And of course, make sure you're subscribed at profitwell.com/recur/pricing-page-teardown.
If you want help with this type of pricing research for your company, feel free to email me at patrick@profitwell.com or rob@profitwell.com, and we'll make sure you get hooked up with the right people to make sure you're focused getting your monetization right.
This is a ProfitWell Recur production—the first media network dedicated entirely to the SaaS and subscription space.
By

Patrick Campbell

Founder & CEO of ProfitWell, the software for helping subscription companies with their monetization and retention strategies, as well as providing free turnkey subscription financial metrics for over 20,000 companies. Prior to ProfitWell Patrick led Strategic Initiatives for Boston-based Gemvara and was an Economist at Google and the US Intelligence community.