Abby Sullivan
Mar 19 2019
The Rundown
In resources...
---
Getting Trendy with Video Video marketing is here to stay, so it's crucial you remain in the know with the advertising trends surrounding it. WordStream analyzes what's out there so you can create content that cuts through the noise. You probably know less is more when it comes to ads and that most people are consuming content through their mobile device. But if you're still standing baffled as to how to navigate ad spending on social, or what's happening with Facebook Live and cinemagraphs, WordStream has your insight.
"New formats and a rise in consumption continue to bolster video as an increasingly effective, engaging medium. It's a train your business can't afford to miss."
Creativity for Hire You get back what you put out in the world. Want creative, dynamic folks working for your company? You'll need an equally engaging career page. Google Hire compiles their favorite career pages from buzz worthy companies like Zuora, Stripe, and Everlane. Explore their take for content and design inspo, so your operation can start attracting those all-star hires.
Bingeability by Prezi Your company's content may never be as bingeable as what's on HBO, but we can't fault you for trying. Prezi hosts a webinar March 27th (mark your cals) on how to create content worth binging. Seeing as they'll be covering what makes us sit on the edge of our seat vs. straight to snoozing, we're extra excited to see how they do so in this webinar.
"You have no trouble paying attention to hours of Netflix, but when the next long meeting pops up, the struggle to stay engaged becomes very real. We wanted to know why -- and after surveying over 2,000 business professionals across a variety of industries, we found out."
John Kim: Venture Vlogger Lesson hub Skillshare shines the spotlight on member John Kim, a venture capitalist turned vlogger. He hasn't quite quit his day job, but The John Kim Show is his passion project. He lightens up the number-crunching side of entrepreneurship and explains the basics of VC in an easily digestible way. So easily, that even his (adorable) seven year old got the hang of it after his first vid. In his Skillshare interview, Kim also gets into how he launched his channel, so this one's a twofer.
"I'd like to reach people who are interested in venture capitalism and entrepreneurship -- people who might be familiar with the basic concepts but want to watch something fresh, with a new perspective. I'd love to use the channel to start some new conversations within the community."
---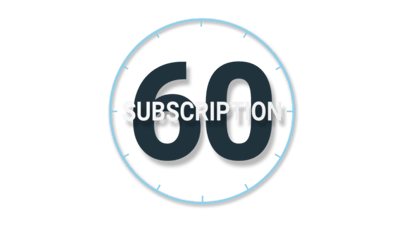 In headlines...
---
PagerDuty's Good Fortune PagerDuty, the software maker for software developers, files for their IPO, disclosing that over 10k use their services across 90 countries, including a third of Fortune 500 companies. Revenue's grown steadily since the company's founding in 2009, so it looks like PagerDuty is a safe bet for its backers, which includes big wigs like Bessemer Venture Partners and Accel.
Product of the Day
---
If you're looking for a solution that keeps your cloud-based apps under one roof, we recommend Slapdash. The time saving platform allows you to access all your go-tos in one sleek interface, including Google Drive and Asana, to work even faster. The Slapdash team is hard at work adding more app integrations prior to launch, but set yourself up for success by joining their waitlist.
To spread the good word of Sub60, send your friends to Subscription60.com.