Top 16 SaaS Tools and Products to Help Your Subscription Business
Patrick Campbell
Nov 15 2019
Your subscription company should run like a well-oiled machine. Taking advantage of SaaS tools will help you accomplish ths. If you aren't using SaaS tools yet, by the end of this article you'll understand why you should.
There are a wide number of reasons why SaaS tools are taking over. SaaS eliminates the need to do things manually, which is often time consuming and leaves too much room for error. SaaS tools are easy to use and come equipped with updated features. They also offer more flexibility and scalability.
The SaaS tool market is extremely diverse; you'll likely need multiple tools for different tasks. So I'll unpack some of our favorite tools that cater to certain needs—analytics, accounting, retention, pricing, and more.


Why does your SaaS business need tools?
There are hundreds of SaaS tools online that will help your business increase retention and decrease churn. While there's a vast selection, only some provide actionable insights that can change your business for the better. From optimizing your pricing to CRM—there's a tool tailored for all your SaaS needs. If there's a tool that could increase productivity and efficiency within your business, why not use it?

SaaS companies need tools that:
Retain subscribed customers
Unlike other businesses, SaaS businesses rely on customers paying monthly or yearly for their subscription. Subscription businesses rely on recurring revenue from subscribers, so retaining dedicated customers is crucial to keeping your business alive.
Grow revenue
Whether it's through marketing to new customers or upgrading current customers, SaaS companies need ways to increase their MRR consistently. Utilizing the right tools can help track customer growth and reveal new ways to increase MRR.
Simplify accounting
Accounting can be a far bigger pain in the SaaS industry than other businesses, due to deferred revenue and other delayed revenue forms being common. Accounting software, like time and billing software, will keep all revenue assets organized. A seamless accounting experience will ensure time to work on other important aspects of growing your company.
Give better insights
Analytics tools that show companies the depth of their customers are truly needed by SaaS businesses. Measuring your advertising ROI, social networking sites, and other applications will reveal areas you are succeeding as well as areas that need improvement.
Avoiding SaaS tool bloat
There are so many great tools to choose from, and it can be overwhelming. Build a SaaS toolbox that's not heavy, i.e., only holding items that you truly need. When deciding on a new tool, these are the questions you need to be asking:
Will this tool reduce time taken to perform a task?
If the tool will increase efficiency, then absolutely use it. If it doesn't save you time, then it's not worth acquiring.
Will this tool uncover metrics I'd have otherwise not known?
If the tool can track and discover metrics you would have never considered, it's worth your investment. If you find the tool is just reaffirming metrics you already knew, it's not needed.
Will this tool improve efficiency AND quality?
If the tool increases company efficiency, it should also improve quality. If it's efficient but spitting out subpar metrics and results, then you need a tool that can provide better quality results.
Does this tool's ROI make sense?
A tool should help you grow your business. If you find that the money you're spending on a tool isn't paying off or you aren't seeing the results you expected, it's probably time to try a different tool.
Does this tool have proper security behind it?
Data security is crucial. Your company's data is gold. You need a tool with ample security, so be sure that it offers strict authentication, tight password security, and more.
Is there support for this tool?
Sometimes, software does not cooperate or you simply have questions. If you're looking to purchase a new tool, make sure the tool has a solid customer support system in case you need help.
The 16 best SaaS tools and products to grow your business
You want the tools in your SaaS toolbox to be carefully selected and purposeful. Now, I'll walk you through some of the top SaaS products for analytics, accounting, pricing, and retention. Before we dive into each one, here's an overview of our list:


Profitwell Metrics
Mixpanel
Google Analytics
Recognized
Quickbooks
Xero
Priceintelligently/Profitwell
Profitwell Retain
Appcues
HubSpot
Salesforce
Blissfully
Intercom
Notion
SalesHandy
Time Doctor
Analytics
More than 10,000 companies are using ProfitWell Metrics, a free platform measuring growth of new and existing users. Metrics will help you understand where your SaaS company is doing well, and where it is not. With Metrics, you'll be given the ability to benchmark against thousands of similar companies. You can compare yourself in real time to other B2B, B2C, ecommerce, and media companies. You can segment by size, age, type, and more.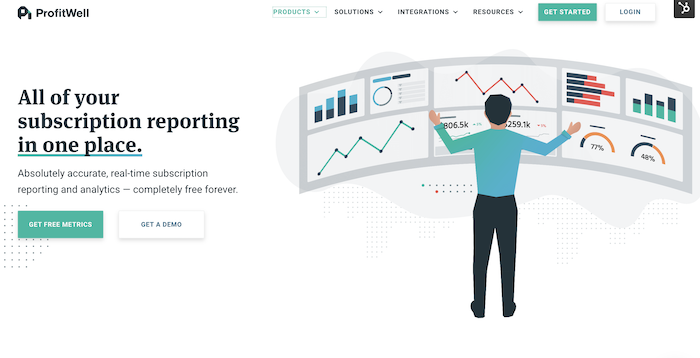 Mixpanel is another great tool for product usage analytics. It gives deep insight into product, engagement, retention, and what parts of your product are used more than others. The toolset also contains in-app A/B tests and user survey forms. The data collected is used to build custom reports and measure user engagement and retention.
Google Analytics gives deep insights on attribution data. It tracks and reports website traffic, currently as a platform inside the Google Marketing platform brand. Google Analytics lets you measure your advertising ROI, track your flash, video and social networking sites, and applications.
Accounting
Audit-proof revenue recognition is finally here with Recognized™. Revenue recognition from ProfitWell is incredibly precise and can handle any kind of software bundles, complications, or revenue models you have. Not using an accounting software leaves room for human error, costly engineering resources, too many spreadsheets, and time wasted on complying instead of analyzing. Recognized™ handles deferred revenue, evolving standards, multi-element arrangements, and human error.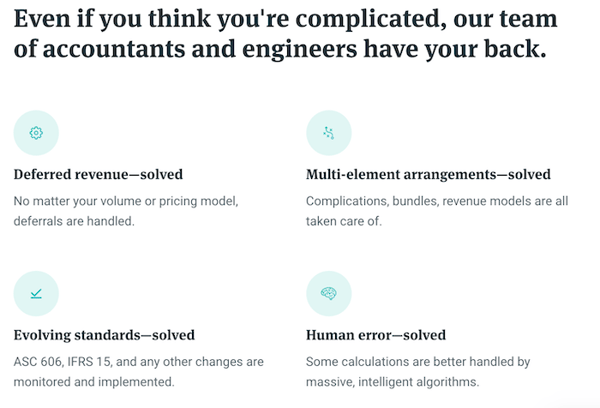 Another accounting software geared toward small and medium sized businesses. Quickbooks offers on-premise accounting applications and cloud-based versions. There's a wide range of things you can do from tracking project profitability to managing bills.
Xero is another cloud-based accounting software platform for small and medium-sized businesses. You can log in anytime to get a real-time view of your cash flow. The mobile app allows you to reconcile, send invoices, or create expense claims on-the-go.
Pricing
Did you know that the average company only spends a few hours every year discussing pricing? It's such an important figure, companies should be dedicating more time to it. With ProfitWell, you can find the best price points for all your software tiers and leverage price points to grow revenue.
Price Intelligently is the industry standard software to get your subscription pricing on the right track to unlocking 30% more growth. Price Intelligently Pricing combines pricing data and industry leading expertise to accelerate your subscription growth.
Step 1) Collect data from your target customers
Your target customers are the only people who know the answer to how much they're willing to pay for certain features. Using our proprietary process, we source data from anyone needed using our access to 240 million B2B and B2C consumers. We provide psychographic, demographic, and preference targeting.
Step 2) Utilize our software to quantify value
We'll take the data we collected and break down the features, functionality, and positioning that drive or detract from value (using our pricing and relative value algorithms). We'll also determine willingness to pay by segment and persona.
Step 3) Your growth and pricing strategy
Pricing is a process that requires equal attention to your product development. Pricing is the exchange rate on the value you're providing. If your product, brand, and positioning continuously improve, your pricing will too. Price Intelligently provides implementation support and expertise. Once we help you implement a pricing structure, the work isn't over. We supply ongoing value analysis.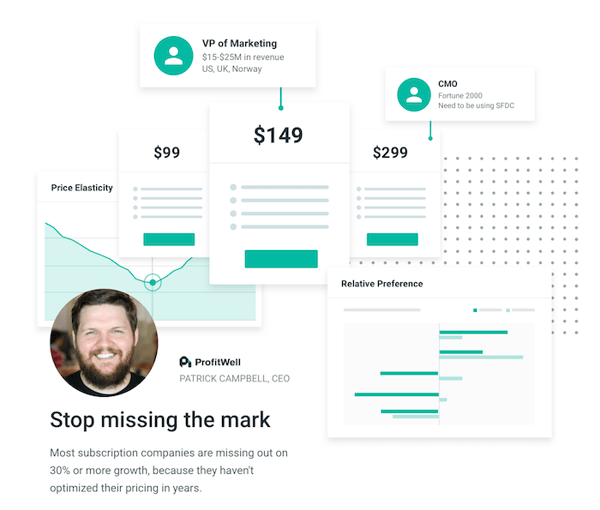 Retention
As I said earlier, it's crucial subscription-based SaaS companies retain customers because they rely on recurring revenue. A scary retention fact: you only recover three out of 10 customer failed payments. This statistic should be reason enough to use a retention software.
ProfitWell Retain™ helps you stop churn at the source, making delinquent churn a thing of the past. Our pricing is 100% performance-based. We charge you a commission based on the amount of revenue we're able to recover for you in a given month. To show effectiveness in recovering past due users, we will first establish a baseline, track its performance daily, and compare month-over-month.
Baseline performance: There's a three month average before Retain is activated to set a baseline recovery rate. This will serve as a benchmark when gauging Retain's performance.
Recovery rate: This is based on the average of all months after Retain is activated. Retain will take credit for all users that see an in-app notification or recovery email.
Monthly performance: This is your recovery in the last 30 days with Retain visualized as a ratio compared to your baseline performance prior to retain.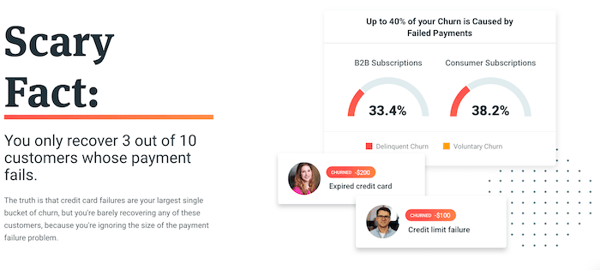 Appcues is a great tool to unlock product-led growth. It helps with user onboarding, activation, and retention. Appcues offers a seamless user experience to your customers, which leads to faster and profitable growth in the long-run.
Other tools we love
HubSpot is an all-in-one marketing automation software. Its product and services aim to provide tools for social media marketing automation, content management, web analytics, and search engine optimization. It offers a marketing, sales, and service hub—tailored to each aspect of your business.
Salesforce touts itself as the top software for customer relationship management (CRM). Everything—from phones to emails—is tracked in one place. Salesforce allows you to collect and monitor leads, track insights for better sales opportunity, improve the productivity of your sales team, engage directly with leads, create email campaigns, and collaborate with sales reps.
Blissfully is a tool to track and manage SaaS spend. It's a complete, modern IT operating system that provides automated visibility into the technology used across your organization and the tools to manage changes.
Intercom connects businesses with customers. It's a messaging platform software that allows businesses to communicate with prospective and existing customers within their app, on their website, through social media, or via email.
And, finally, there's Notion, a note-taking and collaboration application with markdown support integrated with tasks and databases. It's an all-in-one workspace for note-taking, project management, and task management.
SalesHandy is an email automation tool that provides you with email recipient's engagement reports and helps you get more done through emails. You can track unlimited emails for free, schedule emails to be sent later, manage smart email templates, automate follow-up emails, schedule personalized email campaigns, and get behavioral insights from email communications faster.
This time tracking tool helps you boost the productivity of your distributed teams, It helps you solve the problem of lack of transparency and lack of accountability when hiring remotely. With its employee monitoring and desktop monitoring features, it is easy to evaluate and boost employee productivity.
6 tips when choosing tools for your SaaS business
Picking tools shouldn't be like bobbing for apples. You need to hand-select the tool that's a good fit for your company. Here are some tips to guide you through the selection phase:
Limit yourself
You shouldn't have 20 tools working to solve one singular problem. Instead, choose a small group of tools that truly help your business. Start with fewer tools and only add tools when outsourcing or doing it manually isn't worth the cost.
Look for integrations first
Don't buy into a tool until you know that it fully integrates with your existing tech stack, or you'll be rebuilding your business around new tools. Your toolbox should work seamlessly together. Select tools that are complementary to one another.
Understand that tools won't solve crucial problems
Customers dropping off, decreasing revenue, and complaints piling up will not be helped by implementing tools. These crucial problems need to be solved through substantial changes. Tools can help transition these changes, but they won't entirely fix all business problems.
Read Reviews
Do your research. Don't commit to a tool until you've thoroughly read into it. A good resource for reading reviews is G2 Crowd, a peer-to-peer review site with 998,700+ validated user reviews.
Demo multiple products
Immerse yourself in a product, learn about it, and walk through how to use it before signing on the dotted line. Select the tool that feels most comfortable.
Stay organized
Having a stack of tools requires organization. Make sure you you're updated on licenses and users at all times.
SaaS tools uncover truth
Truth is a journey, one that I personally love being on. I'm continuously looking to uncover truth in the subscription universe, which your SaaS company is a part of. Uncovering truth means constantly looking for new data, new ways to improve, and how to increase efficiency. That's the core of SaaS tools. Equipping your subscription business with a strong set of SaaS tools means you're actively uncovering truth for your own business and the subscription universe as a whole.

By

Patrick Campbell

Founder & CEO of ProfitWell, the software for helping subscription companies with their monetization and retention strategies, as well as providing free turnkey subscription financial metrics for over 20,000 companies. Prior to ProfitWell Patrick led Strategic Initiatives for Boston-based Gemvara and was an Economist at Google and the US Intelligence community.