A Product Pro, A Pandemic, & PLG
Abby Sullivan
May 13 2020

Product people, listen up. Today we have a special edition episode for the product pros out there—those in the trenches and anyone who may just be getting started—featuring intel from Wes Bush, Principal of the Product-Led Institute.
Listen wherever you get podcasts:








How is the B2B SaaS market trending?
📈7 day +0.85% | 📈30 day +1.92% | 📈90 day +3.79%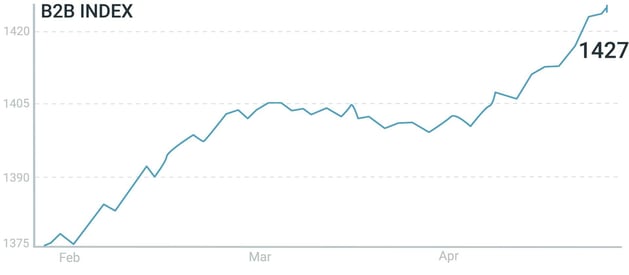 We continue to see a steady increase in percent change in the market, in hopes of slowly climbing out of the hole that comes with a global pandemic. Although the change may not be shout-from-your-rooftops worthy, we are seeing a .09% increase from yesterday's numbers—and whenever we're hearing "up and to the right," we're on board.
How are churn and new revenue trending over time?
MRR LOSS -0.86%

MRR GAIN +4.76%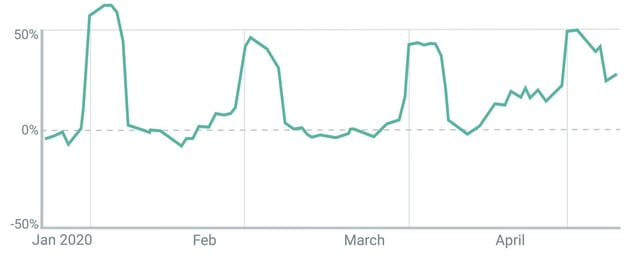 Remember to check your subscriber newsletter regularly for everyday updates to your B2B SaaS Index overall, plus a look at how MRR Gain (i.e., upgrades and new revenue) as well as MRR Loss (i.e., churn) are trending.
You can also share the data with friends, colleagues, and fellow industry players that could use it right now. Send me their email address to abby@recurnow.com and I'll get their name on the list. Or they can subscribe directly at index.profitwell.com.
Special edition: product-led everything

A conversation with Wes Bush, a PLG pro at PLI
Today, I have a lovely product-centered chat with Wes Bush, bestselling author of "Product-Led Growth: How to Build a Product That Sells Itself." He's also Principal of the Product-Led Institute (PLI), an initiative to advance the practice of product-led growth (PLG) through online education, events, and research.
Wes is a leader in the product-led space—constantly creating PLG-centered material and preaching the good word of it through video, podcast, blog post, and social media. (You name the forum, he's on there, cranking.)
And today, I'm the lucky one. I got Wes on Zoom to hear his perspective—on where his PLG obsession stemmed from, what PLG looks like amid a pandemic, and how to hit the ground running with it, if you're not already on board.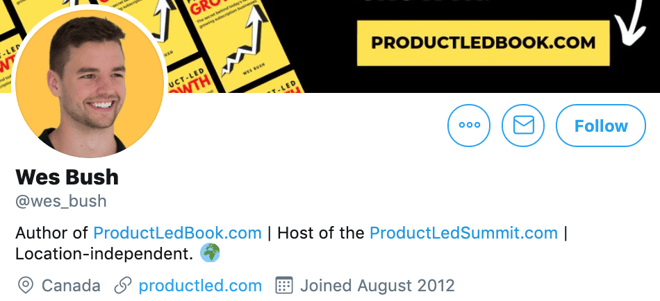 Click here to connect with Wes on Twitter.


But if we back up for a minute, though, let's first look at the powers of PLG. Why do we care so much about this (oftentimes considered "new") phenomenon?
Product-led growth is a strategy our ProfitWell crew stands behind—one that uses product value to pursue growth and expansion in a market. The main principle behind it: Make a product users can't live without.
We live in an age of incredible competition. It's become remarkably easy to start a SaaS company and build a product. With that, customer acquisition cost is higher than it's ever been, and the number of competitors are increasing. Having a product that drives its own growth significantly reduces CAC and the amount of sales resources you need to grow. Implementing a PLG strategy is the smart way to go for any aspiring SaaS or subscription company.
So here's my conversation with Wes—one that brings clarity to why we're pro-PLG (and why you should be, too). We have plenty of resources linked throughout, but don't hesitate to reach out to me at abby@recurnow.com if you're looking for more.
Here's why Wes is on board, too.
Wes: "I am obsessed about this new thing called product-led growth. I wrote the book on the topic, I host a summit all about product-led growth, and I even have a podcast about product-led growth... I'm pretty much all things product-led.
But it didn't start there. For me, it was way back when I started with a funneled Google Adwords campaign for my parents' company, believe it or not.


"I'm pretty much all things product-led."
When we generated this one lead that turned into a customer, it honestly changed my life. Because from that point on, I was so excited about this one thing called demand generation. If you could generate demand for a company, you could build any kind of business you want. So that really got me onto the track of digital marketing and demand-gen.
So I started working at other B2B SaaS companies, doing the traditional demand generation... But it wasn't until I launched a free product at Vidyard, where I started to see that the product wasn't just something you sold, it was a customer acquisition model. That got me thinking, what is the role of product in marketing?"

We know the traditional approach to SaaS growth involves building a product, then hiring a sales team to sell that product—which has very quickly become the old-school model of selling. Product-led growth is a bottoms-up approach in which your company develops a methodology that enables people to discover and adopt your product on their own. It allows people to try before they buy. The value is at the forefront.
And Wes has spent years studying those in this realm that have nailed this new approach, and he says, he looks for the patterns in PLG.
Finding patterns in PLG
Wes: "One of the biggest ones for any company is friction. If you can reduce friction, you are going to see way better results. I'll even give you an example: There was this company in Canada that had thousands of signups every single week, but they had this one, nasty little step: As soon as you signed up for the product, they asked you for your traditional 'name,' 'email.' Once you clicked 'sign up,' you now had to go activate your email...
But what we realized was that ~27% of people who were signing up for the product did not actually go through that extra step of activating the email. So what they do is just forget it and do something else for the rest of their day. So that was something we looked at and said, 'What if we just delayed this one step?'
"If you can reduce friction, you are going to see way better results."
We tried it out as a trial and what we realized was that 27% of people who had just forgotten about the problem, they started going into the product right away, because we didn't get them to do that step, and they started upgrading just like everyone else—because they got the value of the product.
So, time-to-value and understanding how to get someone from the point of, 'Hey, I understand what your problem is that you solve as your product' to 'I'm experiencing it'—that gap in time is so important. So that is one of the biggest patterns that I recommend any company to look at is: How do you decrease that time to value and reduce friction? It's ultimately the way you get there."



And Wes knows there are certain rules for following those patterns. But he can attest, switching to a PLG approach from a traditional-style outlook is not an overnight sensation. It will be a shock for many when they switch their process from the constant influx of demo requests to actually offering their user the product upfront.
What's the first step?
Wes: "That's a great question—because I think that's the hardest part for any of these big, monumental shifts in business in how you approach your go-to-market strategy. So if you have a multi-product, think of HubSpot—whenever they had their first product-led product, they didn't go all-in on product-led. It took them years...

They started with this small product, got the freemium motion working, to understand how that model worked for their business, and then they eventually integrated it into their main product line and rolled it out to all of their other products.
"Show them how they can become successful in your product."
So it's not this overnight switch, but if you're a big company, that's one way you could approach it. However, for smaller businesses that don't have multiple products, what I always recommend is: Start by showing people a nice, free trial request or a freemium model request on your website vs. your demo request for 1% or even 2% of your overall website visitors. And then, have conversations with them and actually go through the product with them and show them how they can become successful in your product."

But you may still be wondering—what about PLG amid a pandemic? Are the rules different as they stand today?
Pivoting amid a pandemic
Wes: "I would actually argue that now is the best time to be product-led. There are a few reasons why. The first one is essentially because, right now, businesses are hurting. And when businesses are hurting, they're looking for ways to spend less money. So, if you have a traditional sales-led go-to-market model, you're essentially paying expensive salespeople to sell your product. And now the high price tag of your product isn't necessarily because your product is more valuable than a more affordable alternative—it's because it's expensive to sell…
Oftentimes product-led companies can offer a lot lower prices and still have better margins than their sales-led counterparts. So it's a really good advantage right now to be product-led because you can operate with a much more capital-efficient business model.
"Now is the best time to be product-led."
The other thing is, whenever you're in a crisis like this, it's a little bit more risky to buy products, just because you don't know, will this work out or not? So people are risk averse at this time when buying products. But whenever you try the product before you buy, it really de-risks the whole situation. So, when you give these potential customers a way to test out a product, whether that be through a trial or a freemium model. You really give buyers a way to solve their problem without paying upfront."
Once you have this in place, we know, like in any substantial business model, metrics come in hot. You must measure the growth to understand if your product is gaining traction or not. These might include revenue, churn rate, usage, or referrals. Wes says it comes down to relationships (like the root of so much in SaaS)—and ultimately the success of your user.
Measuring the success of your user
Wes: "One of the main ones I recommend, which people don't always focus on, is a product-qualified lead (PWL)... It's had so many other names, it makes me laugh. It could be the 'aha! Moment,' the 'wow moment,' the 'success state,' the 'desired outcome.' There are so many names for this. But ultimately, what all of them are focused on is the success of the user.'

If you're interested in hearing more from Wes, I'll link to a bunch of resources below, as well as our very own data and findings on the effectiveness of PLG. Good luck out there.


A virtual product summit

To wrap, a quick promo for more in product-led education. It's a summit, held by UserPilot, that's riddled with product pros.
This one's called Product Drive, and it's digging deep into trends on product ops, analytics, growth, leadership, and management. All you have to do is save your place with your email, select which topics you're interested in, and which speakers you'd like to learn from. Then you're ready to rock.
This one kicks off the month of June—virtually, of course—and here's all the information you need to get involved.
ProfitWell featured user

In the name of better user experience, today's featured user is Groove—the customer experience pros and creators of everything you need to convert, support, and delight your customers.
Groove is built for collaboration, integration, chat support, and finding your VIPs. And amid the crisis, they're offering folks a 120-day free trial of their software—no strings attached.
There you have it, your latest in B2B SaaS. We'll meet you back here tomorrow with more.
Remember, we're launching a weekly version of Recur Now, a newsletter with a roundup of the best in each week's news. If you want in on that, reply to me at abby@recurnow.com and I'll get you on the list.
This series is a Recur Studios production—the fastest-growing subscription network out there. If you find use for this show, subscribe for more like it at profitwell.com/recur
By

Abby Sullivan

Content Marketer