Mind the [Empathy] Gap
Grace Gagnon
Jun 1 2020

Now battling multiple crises, we understand it's not "business as usual." And customers don't want you to act like everything's fine. Be honest.
Expressing customer empathy is crucial now more than ever—and we explain why and how, in this week's deep dive. But first, a look at the latest numbers in direct-to-consumer growth, details on a brand collab we didn't know we needed, and a few extras along the way.

How is DTC growth trending over time?
📈7 day +1.06% | 📈30 day +6.06% | 📉90 day -1.21%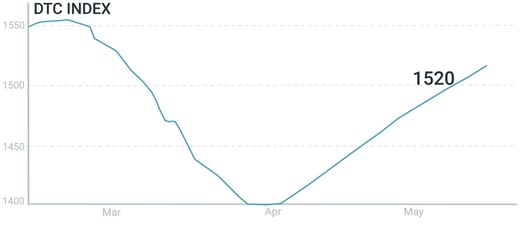 DTC growth took a 0.09% dip since last week, but it continues trending upward at 1.06% overall.
In the past 30 days, we've seen a positive 6.06% change in growth, and in the last seven days, overall growth is at a negative 1.21%.
How are churn and new revenue trending over time?
---
MRR Gain
-0.9%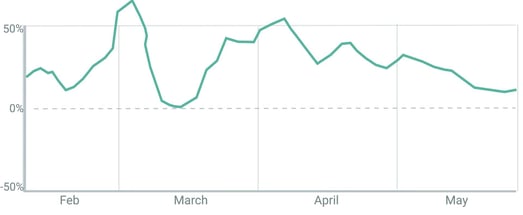 ---
MRR Loss
-4.85%



*MRR gain is new revenue from either acquired customers or upgrades in a given month.
*MRR loss is churn, or lost revenue from cancellations or downgrades.
MRR gain* is still down. Last week, MRR gain over seven days was at a negative 3.96%. Today, the seven day change reveals MRR gain to be at negative 0.9%.
MRR loss* took a hit this week. It's down a negative 4.85% over the last seven days. Last week MRR loss was at negative 2.76%.
Why the stark contrast from this week's data to last week's? All three indices (Overall, MRR gain, and MRR loss) will change 0-4% due to the occasional randomness in DTC buying behavior. Additionally, last Monday marked a holiday, Memorial Day, which could also impact numbers.
Be sure to check your subscriber newsletter every Monday morning so that you can kickstart the week with some fresh data on direct-to-consumer statistics and trends.
Know anyone who might also benefit from this data? Send me their email address to grace@profitwell.com and I'll hook them up. Or, they can subscribe directly at index.profitwell.com.
---

BRANDS
You up?
The tweet that got everyone's attention.
Adidas mentioned Allbirds in a tweet, hinting at an unexpected brand crossover.
Hey @Allbirds, you up? 👀 We've been thinking... do you want to tackle climate change, together?

— adidas (at 🏡) (@adidas) May 28, 2020
It gets better. Adidas and Allbirds are joining forces to create a high-performance sneaker with the lowest possible carbon emission.
VP of Brand Adidas Brand Strategy James Carnes told CNN:


"We intend to combine the innovation and technology our brands have developed to determine a way to create a performance shoe with the lowest carbon footprint and push the boundaries of today's industry standards. We are aiming for zero."


Consumers are more aware of the brands they purchase from. Most customers care about environmental impact and want the brands they purchase from, to care too.
Allbirds is rooted in sustainability—known for "athleisure" sneakers made of renewable materials. Adidas has steadily expanded its line of sneakers made from recycled plastics. Joining forces will introduce Allbirds to a more performance-based sneaker while expanding Adidas's environmentally sustainable sneaker offering.
Sometimes, innovation requires going outside your circle. Partnerships and collaborations are a great way to expand your customer base and build products with resources not directly in your house. Instead of competing against one another, Adidas and Allbirds are working together. Each brand brings different things to the table—together they can make something great.
Welcome to the new standard for sustainable sneakers. Cheers.


---
BRANDING
Sans serif
The font that seems to be the unofficial uniform for tech and DTC companies.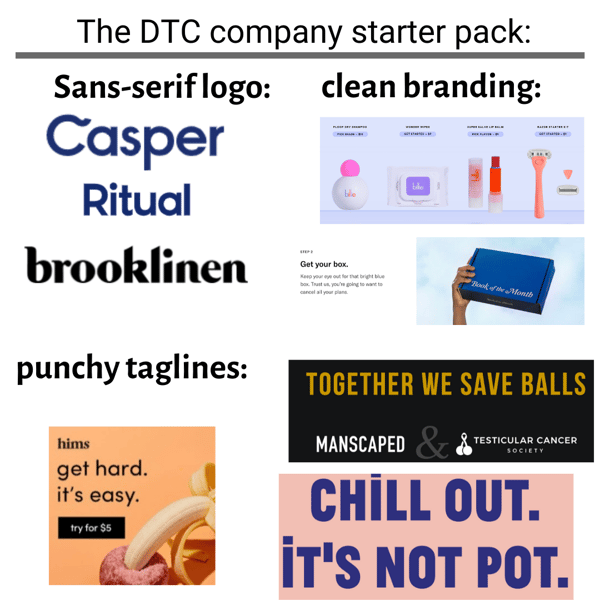 We can poke fun at the branding similarities, but creators respond with: Why stand out if you can fit in?
Tobias Van Schneider, an award-winning designer, wrote a stellar piece digging into shared brand equity. He argues that while it may appear as a lack of originality, it's quite the opposite.
In his article he wrote,
"One recipe for success is to fit into the existing space. By borrowing values and a visual story from other brands, you're playing off established associations and perceptions in a consumer's mind. It's not a far leap for them to trust your brand if it looks like one they already enjoy buying"
Tobias further claims that modern design systems and standards are a practical convenience that actually work (while also saving us time). Brands are doing what they are meant to do and they're doing it well.
He raises an interesting point that anyone operating a business needs to consider—what do we want our branding to accomplish?
Do you want your branding to go against the grain? Or, do you want to follow the trends in your own unique way?
---

CUSTOMER EXPERIENCE
Mind the [empathy] gap
I would be rich if I had a dollar for every email I've recently received that says, "We're all in the same boat" or "We're all in this together."
Companies most likely mean well when making these statements, but they don't work. It feels like a half-assed empathetic effort. Companies need to go beyond cliché reassurance statements in order to empathize with customers effectively. The need for customer empathy heightens in times of crises, like the ones we're currently facing.
Even prior to these turbulent circumstances, companies weren't doing the best job in terms of empathizing with customers.
To help executives, leaders, and operators, I caught up with the queen of customer empathy, Michelle Huff, Chief Marketing Officer at UserTesting. She shares what an empathy gap is, how to close it, and what direct-to-consumer companies can do to further empathize with their customers.
Michelle spoke at Recur 2019, where she shared how companies miss the mark on customer empathy.
When surveyed, 75% of companies say they are customer-centric; however, only 30% of consumers believe the above statement to be true.
Michelle calls this the "empathy gap." Companies think they are doing a great job connecting with customers when, in reality, it's just not true.
The need for customer empathy continues to evolve—starting with the pandemic and now with heightened civil unrest.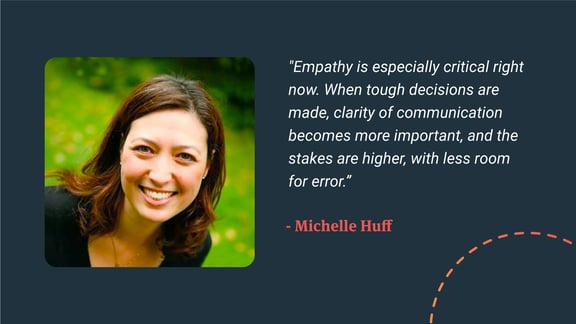 Where the empathy gap stands now
On one end, the empathy gap is widening, while on the other end, it's closing. Michelle explains:
"A lot of the data that companies have on their customers is no longer representative of what's going on today. And, the "customer intuition" that employees have built based on past observations and interactions with customers needs to be refreshed."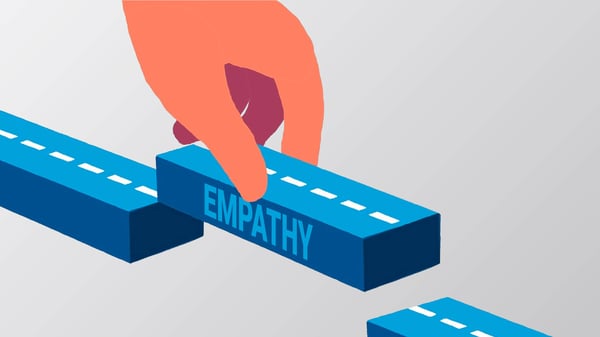 The empathy gap is widening on one end because Michelle says, some companies make steep budget cuts and furlough research teams, user experience, customer experience, and marketing teams. These are the teams that could be gathering insights from customers and prospects.
Some companies, though, have been doing a tremendous job in meeting customer needs. "I'm hearing amazing stories of weekly meetings with CEOs, using fast customer feedback to iterate on new and alternate revenue streams, bringing to market new product offerings and digital experiences in record time, and launching new campaigns that make a wonderful emotional connection."
DTC has a unique opportunity since brands connect not only with customers online, but also when the physical product is delivered. When receiving physical products, personalization is critical. Brands can go the extra mile to make customers feel valued by merely adding notes acknowledging the difficult times or simply thanking them for their purchase.
According to Michelle, DTC companies can further empathize with customers by leveraging targeted customer feedback and human insights.
"I believe the feedback starts first with listening and understanding needs and frustrations. If employees can't empathize with the fundamental needs that are being addressed by the product, there will be problems."
---
So, how does one gather this feedback?
Michelle recommends hosting weekly or monthly 'empathy hours' or 'usability theater' with internal developers, designers, product teams, and marketers to watch customers as they use the brand's online experience. Watching in real-time will reveal any issues that may come up while a customer is navigating your website.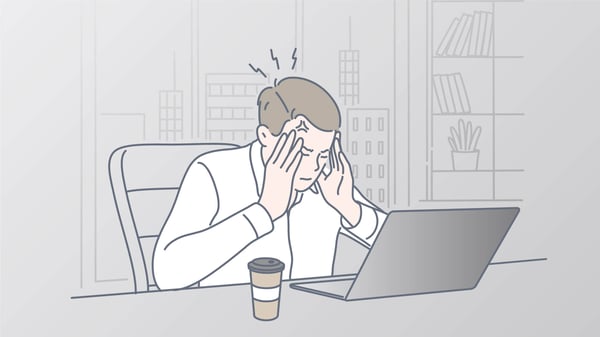 "It can be incredibly eye-opening for employees to "walk a mile in their customer's shoes," hear their frustrations and delights out loud, and explain 'the why' behind what they are doing and thinking."
Companies can't rely solely on surveys, A/B testing, and product usage data. Michelle says, understanding the "why" behind customer feedback is vital. All employers within an organization need to feel empowered to test and learn with customers.
But what can be done right now?
There's a lot of advice coming from all directions. Too much information can often leave people overwhelmed, wondering where to start.
You can download a test template off of UserTesting's website to help you understand current customer behaviors, expectations, and perceptions. The templates are industry focused. For retail specifically, the templates will help optimize the online ordering experience and how customers receive the orders (so they feel safe).
Learn more about UserTesting's templates here.
Fully empathizing with a customer can do wonders for your retention. It all comes back to customer experience. If a customer doesn't feel like your product or experience met their needs, they're going to churn. Retention is one of the most powerful growth levers—even more so than acquisition. Our research shows that it's much easier to sell to and upgrade existing customers than new ones, especially in turbulent times. If your brand continuously works to improve customer empathy, those efforts will pay off in your customer lifetime value.
Even though we are living in a digital world and not interacting face to face with customers, we need to remember that there is a human on the other side of the screen. Customers are taking the time to get to know your brand and potentially spending money on your products. You want them to feel like their needs are met.
Sometimes, empathizing with a customer requires, as Michelle says, "walking a mile in their shoes." If you were on the other side of the transaction, how would you want to be treated as a customer? Food for thought.
Some key takeaways:
The empathy gap:

Currently, it's a spectrum. One on end, companies are widening the gap and failing in the empathy department. On the other end, companies are connecting better with customers and closing the gap.
Leverage targeted customer feedback and customer insights: Use feedback to understand the fundamental needs of your customers.
Think like a customer: Host empathy hours or a usability theater to get an idea of what the customer experience is really like.

Retention:

Focusing on customer empathy will improve the customer experience, resulting in better retention for your business.
---

PRODUCT
Take a chill pill
Or in this case... a gummy.
Times are stressful—you deserve to relax. Sometimes you could use a little something extra to help you unwind, so how about not pot? I mean that literally—the vegan CBD gummy brand, not pot.
Cannabidiol (CBD) is indeed cannabis and has anti-inflammatory, neuroprotective, and anti-anxiety effects. Unlike marijuana, it's non-psychoactive so you won't get high.
Check out not pot here and if you like it, let us know.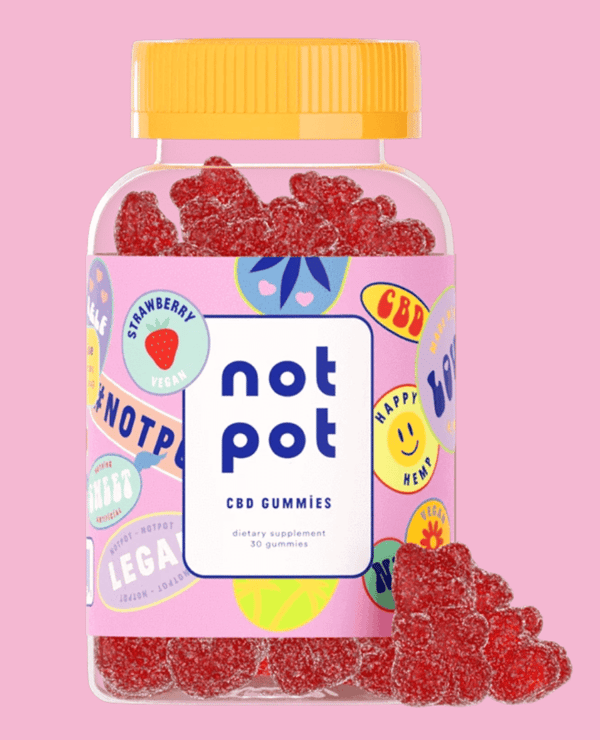 ---
LEARN
Here's what else I'm reading:
RTR goes below $1 billion
Bloomberg reports that Rent the Runway Inc. is seeking at least $25 million in a new funding round, valuing the startup at about $750 million. RTR was previously valued at $1 billion.
Niche brands win
Amazon is still the reigning ecommerce titan, but as CNBC reports, niche brands are seeing a spike in sales amid the pandemic. This report takes a look at one boozy brand—Empathy Wines—and how its digital marketing efforts reached people that are no longer shopping in person.
Another unexpected partnership
Walmart announced it's teaming up with resale platform ThredUp to sell previously owned branded clothing and accessories. CNN details why this push appeals to millennials.
Recent data shows reasons for optimism
Verisk Financial released a whitepaper reviewing COVID-19's impact on consumer spending. This report includes helpful data like graphs of spend trends vs. COVID-19 cases/unemployment, and weekly sales by industry. Download it here.
---
That's all for this week's edition of the DTC Download. For the weekly hook up, straight to your inbox, visit index.profitwell.com to sign up. And, of course, if you have news or ideas you'd like to share, send me a note at grace@profitwell.com
This has been a Recur Studios production—the fastest-growing subscription network out there.
By

Grace Gagnon

Content Marketer