We believe understanding your
performance is a growth imperative.
We'll never tax you for growing. Metrics is free forever - no matter your size.
ProfitWell Metrics
All the financial and revenue operations metrics you need - absolutely accurate and 100% free.
Growth, revenue, retention, and churn trends
Unit economics, usage data, and cohorts
Benchmarks from 15k+ subscription companies
5-minute setup (yes, even with Zuora)
Mobile app with intelligent alerting
Native in and out integrations, or use our APIs
Segmentation enriched with Clearbit and Full Contact
World class support - most answers within 24 hours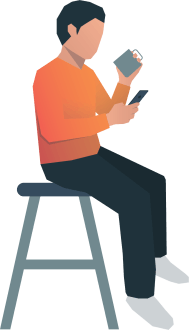 Enterprise
Looking for more customization and support? Our enterprise plan has you covered.
Custom reports and calculations
Priority ingestion and data flow
User management, security audits, and staging support.
Tailored SLAs and dedicated subscription analyst
chat with the team

Why is the highest rated, most accurate product in the market free?
Free doesn't mean bad

ProfitWell has more features, users, and accuracy than paid alternatives.

We align to your success

Our paid products are priced based on performance - as they should be.

You are not the product

Your data is never sold, shared, or even viewed - this isn't 2005.
We make money when you make a lot more money
Use our free tools to discover revenue problems. Use our paid tools to solve those problems (and only pay for performance).
Retain ®
Retain® combines world-class subscription expertise with algorithms that leverage millions of data points to win-back your customers.
Highest recovery rate in the market
Fully managed by our retention team
White labeled and PCI compliant
Pay for performance
Recognized ®
Audit-proof revenue recognition that eliminates human error and hours of work. Designed by accountants. Implemented by experienced engineers.
Audited by big four accounting firms
On-call FP&A team for custom reports
ASC 606, IFRS 15, GAAP compliant
Automated and delivered to your inbox
Price Intelligently
Price Intelligently is the industry standard software and team to get your subscription pricing on the right track to unlocking 30% more growth.
Dedicated pricing team (on-site or off)
Proprietary methodology and software
Personas, Packaging, Pricing, and more
Rapid turnaround time
Custom Implementations
Whether you're migrating clunky data or using a billing system we don't integrate with natively, our ProfitWell team of analysts and engineers can take the heavy lifting off your plate.
On-Call Subscription Analyst
We've seen inside more subscription businesses than anyone else out there, so we know a thing or twelve. Use us as on-call subscription analysts and advisors.
Used by more mid-market and enterprise subscription companies than any other solution
The leaders in subscription revenue automation.
We built ProfitWell's products to scale to any company size and to meet any requirement. We're here to be the subscription partner to accelerate your business.
Security, Encryption, and Cyber Insurance
99.99% Uptime and Customizable SLAs
Dedicated, World Class Support


Tyson Quick,
Founder & CEO
"ProfitWell Retain pays for itself.
Retain helped us recover 20% more revenue that has accounted for, at this point, millions of dollars. We have been able to re-invest that money into other areas of the business."


Sarah Selim,
Director of Product
"ProfitWell helped us significantly increase our ARPU.
The research that we did with ProfitWell showed that we had significant room to increase our price on the recurring side—so we increased our ARPU about three acts in about twelve weeks."


Olof Mathé,
Co-founder & CEO
"ProfitWell Retain is a must-have product.
To date, Retain has helped us recover more than 300,000 dollars, and those are customers that we probably wouldn't have gotten back any other way. What's cool about that too is we only pay for success."
Still looking for more? Here's a list of the main metrics in ProfitWell.
Revenue
Monthly recurring revenue (MRR)
Annually reccurring revenue (ARR)
Average revenue per user (ARPU)
Cash flow, fees, and refunds
Retention
MRR retention rate
Customer retention rate
Cohorts report
Churn rate
Acquisition
Lifetime value (LTV)
Trials and conversion rate
Reactivations
Converted MRR
Engagement
Active vs. inactive customers
MRR from active customers
ARPU by customer activity
Daily active customers
Enriched Segmentation
Custom traits (i.e, NPS, sales rep, acquisition channel)
Full Contact and Clearbit traits (i.e., industry, location, gender)
Engagement
Age of account
Growth
Net new MRR
Monthly growth rate
SaaS quick ratio
Custom growth goals
Dedicated subscription expertise each step of the way
Our group of subscription economists work with you and are on call for any and all subscription growth questions - from acquisition and pricing to retention and engagement. We've seen it all.
Chat with the team
How does ProfitWell ensure accuracy? How are you more accurate than other providers?
While we're all pulling data from the same sources (billing systems), how you calculate that data determines the accuracy of your metrics. To ensure absolute accuracy, we calculate all of your metrics starting at the event level, which means we're pulling from the most granular data we can find to calculate your metrics. When we mix in ruthless prioritization of any accuracy bugs and white glove onboarding, we're able to get to a higher level of accuracy that simply doesn't exist with other alternatives.
How is Retain pay for performance? Are you taking a commission on every customer you recover?
Retain doesn't take a commission on every customer we recover. Instead, we calculate a baseline of your current recovery - how many customers currently get recovered after their payment fails or they choose to cancel. We then add up the revenue we recover above that baseline and have tiers based on that number for which we charge. What's unique about Retain is that we guarantee these customers will stick around for at least two months, guaranteeing a minimum of 100% ROI (reality is typically above 2,000% ROI). We also have CPA pricing for direct to consumer brands.
How secure are your systems? Will you go through a security or infosec audit?
We're more than happy to go through security or INFOSEC audits. At this point we have quite a bit of experience with them. In terms of security, we know how important protecting data is to our and your business, so we've implemented more than the industry standard when it comes to data products. These implementations range from not only encrypting data in transit and at rest, but also going through regular penetration testing and a whole host of physical, network, and app features to ensure we maintain a secure product. For a whole list of our practices and implementations, contact us.
Are you ready to go?
Use data to stop guessing and start growing.