ABOUT
ProfitWell makes it easy to understand and grow your subscription business.
The way we grow subscription businesses is broken.
ProfitWell is fixing it.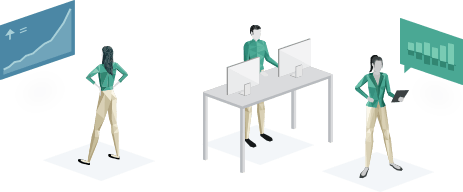 Over 30,000 companies including Canva, Autodesk, MasterClass, and Notion use ProfitWell's products to measure and automate their subscription revenue growth.
ProfitWell's Metrics product is the number one real-time subscription reporting product on the market. Retain is the industry-leading automatic churn reduction tool. And Price Intelligently is synonymous with optimizing SaaS and subscription pricing.
Paddle, the payments infrastructure provider for SaaS companies, acquired ProfitWell in a deal valued at over $200M in cash and equity. For both teams, this is the next step in their mission to make running and growing a subscription business automatic. ProfitWell products will continue to support every billing system in the market.
Here are the tools for a better subscription business

profitwell

metrics

FREE
Subscription financial, usage, and attribution metrics that are absolutely accurate. 2-minute signup (for real).
Learn more
meet the TEAM
We're made up of economists, engineers, and some of the most passionate nerds in the world.
danette acosta

Editorial Lead

josé agretti

Software Engineer

Brittni Allen (Sneyd)

Retention Expert

John Arcanti

Retain Team Lead

Alvaro Barroso

Software Engineer

Federico Bersano

Software Engineer

Gabina Bianchi

Engineering

Nick Brown

Retain Specialist

Dan Callahan

Head of Recur Studios

Patrick Campbell

Co-Founder, CEO

Steve Cerasoli

Sr. Show Producer

Allissa Chan

Product Manager

Michael Cox

Director of Engineering

Jack Cove

Pricing Strategist

Cayla D'Amico

Pricing Analyst

Rafael Darder

Director of Engineering

Sarah DeVries

Pricing Strategist

Guido de Luca

Software Engineer

Fernando Del Fedele

Software Engineer

Zachary DeLeonardo

Pricing Analyst

neel desai

Director of Product

manuel dipre

Senior Software Engineer

Patrick Doran

Head of Revenue, Price Intelligently

esteban galiano

Engineering Manager

Andrew Gierer

Head of Finance & Operations

Brett Gifford

Creative Producer

Emiliano Greco

Client Strategist

evan grubb

SaaS Economist II

Fede Guimpel

Engineering Ambassador

Hernán Gurmendi

Engineering

Kaitlyn Gustafson

Senior Team Lead, Retention Specialist

Ben Hillman

Senior Show Producer

Daniel Hopkins

Team Lead, Retain Specialist

Ignacio Kasevich

Engineering

Sanjiti Johari

Pricing Strategist

Charlie Kline

Pricing Strategist

Brett Langstaff

Pricing Strategist

Jordan Lieberman

Senior Pricing Analyst

David Lin

Pricing Analyst

Eric Miller

Product Manager

Rodrigo Moreno

Software Engineer

Stephen Ngo

Head of Growth

Sophia Qadir

Pricing Analyst

Barakah Quadar

Product Manager, Retain

Julia Rainey

Retention Specialist

Aldana Ramirez

Software Engineer

Michelle Randall

Operations Manager

Oriana Reschini

Software Engineer

Nataliya Semenchuk

Senior Pricing Analyst

Nicolas Mendez Shurman

Software Engineer

Catalina Silvestri

Software Engineer

Ignacio "Nacho" Seret

Engineering

todd soule

Señor Software Engineer

Abby Walker

Product Designer

Zachary Wattman

Retain Specialist

Christian Wells

Engineering

Nika Witczak

Pricing Strategist

Kimberly Wong

Events and Experiential Marketing Manager

eric yu

Engineering Manager

Alvaro Zanetti

Software Engineer

Sebastián Zimmermann

Engineering

peter zotto

General Manager

Nicolas Uriel Navall

Software Engineer

Jason Mahir

Pricing Analyst

Juan Cruz de la Torre

Software Engineer

Jacob Baer

SaaS Economist

Taylor Guymon

Retain Specialist

Dominika Witczak

Pricing Strategist

Max Rubin

Pricing Analyst

Charles Bryant

Retain Specialist Team Lead

Matias Palumbo

Software Engineer

Garrett Hayes

Retain Specialist

Ignacio Rassol

Software Engineer

Catherine Swihart

Sales Specialist

John Gleason

Retain Specialist