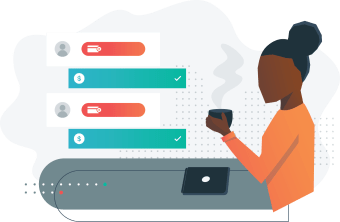 Stop losing money to credit card failures
Retain® combines world-class subscription expertise with algorithms that leverage millions of data points to win-back your customers.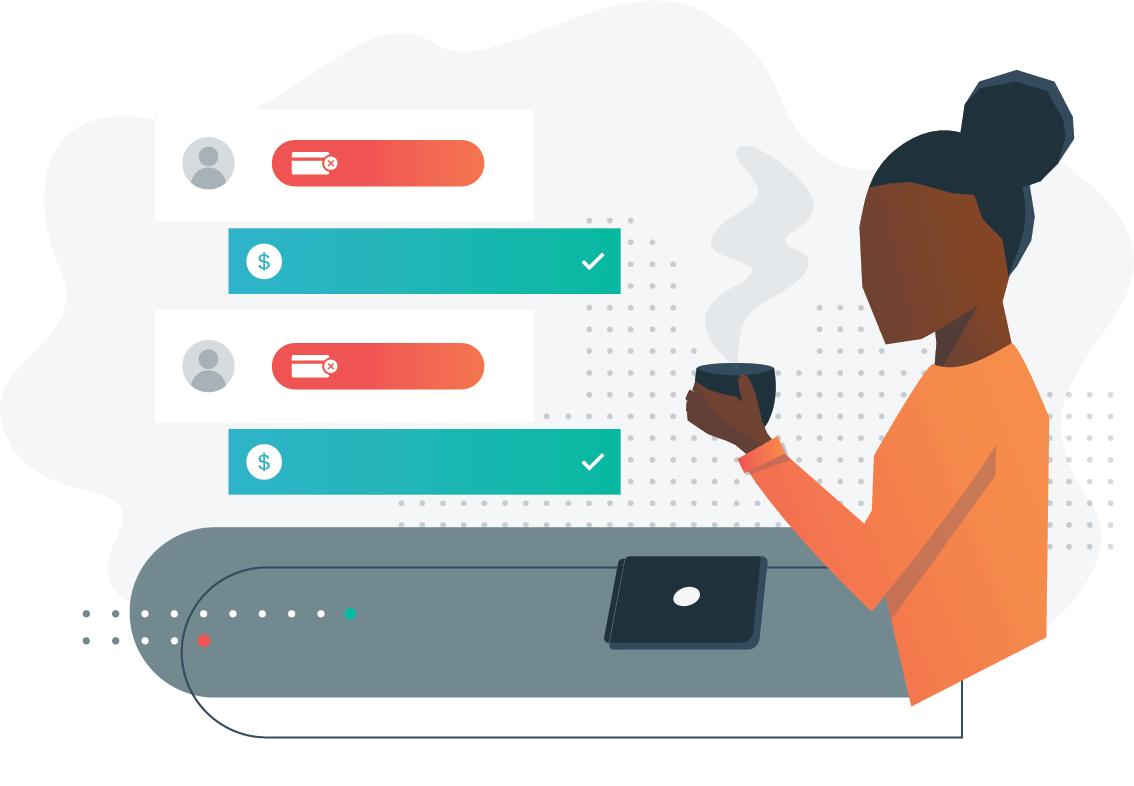 Used by subscription companies who value retaining their customers
You probably didn't know you have this churn problem
Scary Fact:
You only recover 3 out of 10 customers whose payment fails.
The truth is that credit card failures are your largest single bucket of churn, but you're barely recovering any of these customers, because you're ignoring the size of the payment failure problem.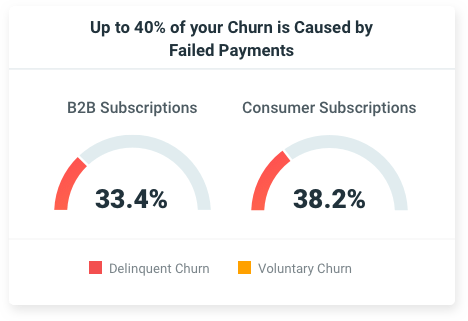 Happy Fact:
You can increase your recovery rate automatically and pay only for performance.
ProfitWell Retain® combines world-class subscription expertise with algorithms that leverage millions of data points to win-back your customers automatically using the industry's highest recovery rate.
Get a demo of Retain®
Industry's best recovery rate
We do all the work for you
100% ROI Guaranteed
Retain
You deserve the best retention software and team on the market.
Over 20% of subscription companies utilize ProfitWell, which means we've studied billions of data points on why payments fail and how to recover them. Retain's algorithms are constantly evolving to push your recovery rates up.
Industry leading recovery rates and pay for performance

Even if you have a current solution, our recovery rates are likely higher. Plus, you only pay when we increase recovery rates; and we guarantee at least 100% ROI.

Straightforward, secure setup

We made Retain easy for you by plugging securely right into your billing system, maintaining complete PCI compliance, and ensuring you can keep the dev time low.















Localization
Recover 5-10% more cancellations through automatic translation
Customers prefer to communicate in their own language. We ensure all churn recovery messaging in ProfitWell is automatically translated to your customer's language and cultural preference with absolutely no work on your part.
Takes into account cultural preferences

Completely turnkey - no work on your part

25+ languages with more added every quarter
Tactical Retries
Pinpoints the right time to retry credit cards based on dozens of factors using data.
You only get six to eight attempts at retrying a credit card or debit card. You need to use those attempts wisely. Tactical Retries studies all of that data we're sitting on and the metadata from your customer to know exactly the right time to retry the credit or debit card based on day of week, failure code, type, location, and the list goes on.
Increase recovery rates by 5-10%

Works and optimizes based on product type, card type, location (and 15+ other factors)

Works seamlessly with your billing system's smart retries
Increase your recovery rate and reduce your churn automatically Even if you have something in place now, Retain maintains the highest recovery rate in the market, meaning we can reduce your churn automatically.
Recover
We study subscription businesses more than anyone else in the world and imbue that knowledge within Retain to take care of this problem completely for you. You should spend your time with your customer and your product.
Get Your Free Demo
We do all the work. You get the reward.
Retain leverages data to systematically reduce churn from payment failures.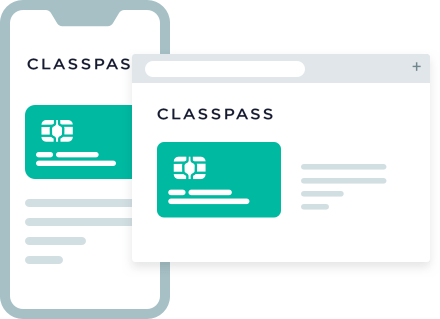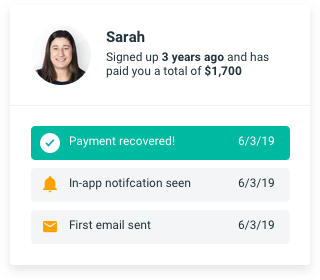 Your Retain team is constantly running tests to increase your recovery rate further.

Up to your current recovery rate is free. Pay based on performance after that.

The complete experience to your customers is your brand from end to end.

Straightforward setup (for real)

We worked incredibly hard to make this easy for you. Only a few steps and you're ready to go.

We plug right into and utilize your existing billing system, so everything is safe, secure, and compliant.
Are you ready to automatically reduce your churn?
You should take advantage of Retain.