Today, I dive deep into the implications of total remoteness (both personally and professionally) and the reason we're all a little on edge.
Listen wherever you get podcasts:


---
Top B2B SaaS news



"What started as a social lifeline during the pandemic, and then became an object of privacy and security concerns, has now become a grind."

All further meetings, cancelled
I began this week with an inbox chalk-full of "unreads"—which is equal parts exciting (because I know new content is on tap) and anxiety-inducing (you know the drill).
But one email in particular caught my attention.
The subject line: Why I hate meetings. It was a note from David Cancel, our friend, neighbor, and Founder over at Drift.
DC sends out a weekly newsletter called The One Thing, which I've nodded to several times prior on the show. In this particular one, he writes:
"I hate meetings. So much so that I think 98% of them should probably be canceled. And at Drift, I try to live a 'no meetings' culture.
And for a while, I think that held true. But something happened. As I've seen before, as companies grow, the number of meetings does too.
And now that we're all remote, it's safe to say the number of meetings we're all holding has likely increased even more."
DC says his problem with meetings is that they tend to benefit people who just like to meet–as opposed to the people who like to do/make things.
So he advises we try implementing tactics like minimizing the number of meetings we host, keeping them small and focused, reducing sidebars, and excusing yourself when the meeting isn't applicable to your operation.
But what I find perhaps most fascinating about this email is that DC seemingly read my mind. The email resonated with me so deeply because I was feeling the exact same thing at the exact same time, and I didn't even consciously realize it.
As I continued to sweep Twitter, LinkedIn, and the several newsletters I subscribe to, I noticed the theme running rampant throughout my network—which left me wondering, am I tired of meetings? Sick of Zoom? Or does this whittle down to a case of serious cabin fever?
So naturally, I kept exploring.
Too. tired. to. talk.
In my extended exploration, I found a nice, concise article published by Axios, regarding the pandemic woe that is Zoom fatigue.
Why does it matter?
We've seen the rapid trajectory of videoconferencing enter a new phase. "What started as a social lifeline during the pandemic, and then became an object of privacy and security concerns, has now become a grind... Zoom is wearing a lot of us down, and as our era of enforced online work and socializing drags on, we're all going to have to learn how to better conserve our physical and psychological energy."
But if I'm in the comfort of my own home, presumably safe and healthy, together with my family and away from the frontlines and the thick of the crisis, how does this concept alone conjure up such draining feelings in me?
Axios says there are several reasons, namely:
We're using it for everything now—from the personal to the professional.
Videoconferencing imposes cognitive and psychological frictions and aggravates social anxieties for everything now. Experts in human-computer interaction point out, using Zoom means putting on a show for others without being able to rely on the cues we primates depend on in physical encounters.
Ultimately, Zooming is a constant reminder that we're not conducting business as usual.
What are others in our space saying?
Hiten Shah, a remote work expert in the SaaS space, actually takes a stand on the other end of this. He tweeted:


And an extensive thread ensues, some in agreement while others are unsure—although in totality, a solid source of intel with some insight on how to move forward.
The Hustle newsletter argues that Zoom may not be king for much longer, as others creep into the videoconferencing space. Here are some facts it points to:
On Friday, Facebook said its new Messenger Rooms service lets users videoconference with 50 people at a time.
Verizon recently bought BlueJeans, a Zoom competitor.
Google has apparently been beefing up Meet, its own video call service, launching a grid-style view, noise cancellation, and other in-demand features.
I'm curious to hear, though, how you're feeling about all this. I admittedly get angry at myself for feeling negative toward something so out of my control. This is our new norm, right? Why am I feeling this frustration?

Let me know how you're dealing, directly to abby@recurnow.com. Nothing is too solemn or too minimal. And if you want a good laugh about it, here's a video compilation that will likely hit a little too close to home (but for sure make you chuckle).
Protect the Hustle, B-side
We have something new brewing, a segment featuring our very own pricing pro Patrick Campbell and product master Neel Desai. It's a subset of our pre-existing series Protect the Hustle, an interview style show featuring conversations with some of the brightest minds in the SaaS space.
During it, the duo shares hot takes on the week's happenings, from afar. Today, the two talk about what the future holds for a new world. (Spoiler alert: no one really knows, but it's ultimately about reacting to the right data and not freaking out.)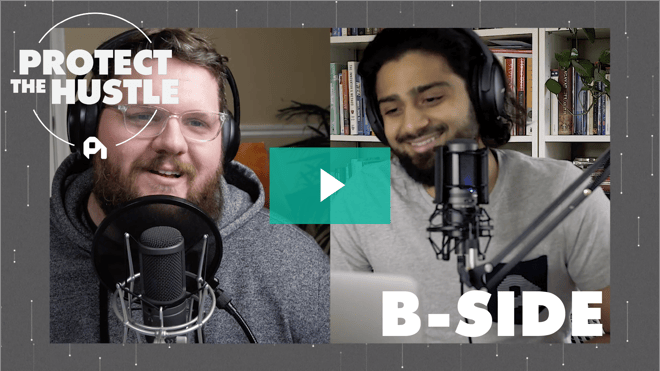 Click here to see the episode in full.
---
ProfitWell featured user

Today's featured user is Calendly, the free online appointment scheduler. Because meetings are inevitably here to stay. Whether you're drained or not, there's minimal chance they'll diminish in their entirety, and we know several types of meetings are crucial to the operation.
Calendly makes life simpler, allowing you to schedule meetings without back-to-back emails. It's simple software for seamless scheduling, ultimately saving you time (and brain space).
Calendly focuses on all types of meetings—one one one, round robin, collective, group. It's about taking ownership of your scheduling experience. And coming from someone who's used it from the other end, it's a genius solution for all parties involved, scheduler and schedule-ee.
And now through June, Calendly will support free integrations with video meeting tools, Zoom and GoToMeeting, to help make connecting during the COVID-19 quarantine easier.
Behold, a silver lining.
---
Reminder: Subscription Stimulus Package
PSA: Your Subscription Stimulus Package is still thriving and ripe for the taking. It's an initiative we launched with 50+ other names in the space, with room still for more partnerships, to help get our neighbors back on track during a time of uncertainty for so many.
If you're interested in up to 20% of your MRR in savings, head here.
If you're looking to partner with our crew and offer your own savings initiative, send a note to brian@profitwell.com for more on collaboration.

Click here for the entire list of partners.
---
That's a wrap on your April 28 Recur Now. Catch you back here tomorrow for more.
This series is a Recur Studios production—the fastest-growing subscription network out there. If you find use for this show, subscribe for more like it at profitwell.com/recur.