Today, we see Pendo raise $10M to get us all more product-led, Drift's David Cancel reminds us of rituals (and why they're so essential to fostering a culture's success), plus the crew over at BBC questions the value of subscription—but we set them straight.
Your top subscription news
---
What's up with Pendo?
It looks like Pendo is up to its knees in another $100 million, now seeing a $1 billion valuation.
With it, the Pendo team is pushing the product-led approach, helping more SaaS companies and digital enterprises become more product-led. Because Pendo CEO and Co-Founder Todd Olson reminds us:
"Product experience is how companies compete today, yet most digital products are still really hard to use." and "Many product teams still lack the basic tools they need to understand what their customers want, why customers come back, or what drives them away."
We know companies can't deliver great digital products if they can't answer those basic questions. So Pendo built a comprehensive platform to help any company that interacts with customers digitally, to drive growth simply through better product experiences. And you know we're all about being product-forward.
We've seen product-led growth leveraged by some of the most successful SaaS companies for years, but it's only in recent months that the wider community has taken full notice of it—something we touched on in a recent episode of the show. In it, we focus on a product-led tweet storm on running sales in an era of product-led growth, plus an interview with our own Product Manager Neel Desai re: the State of Product Marketing report for 2019.
"I think this report is extremely accurate, just because of how it captures—not only the frustration, but the realities of—how product marketing has evolved in subscription companies today."
Check out the extended episode here if you're interested in digging into this further.

The staying power of rituals
Rituals. We all have them, but we often don't take a step back and think of the why behind them. Why nail down these habituals, and are they always... productive?
Over at Drift, CEO David Cancel says his team constantly talks about rituals. DC and Elias Torres, Founder at Drift, put rituals at the forefront very early on at the company, because they believe rituals reflect the culture they want: one that's based on transparency, learning, and respect.
"Culture is made up of rituals, shared languages, symbols, and the principles."
Here's a podcast during which Elias expands upon these: On Creating Company Culture and Rituals | The One Thing by Seeking Wisdom. And we took a look inside the actual rituals put in place at Drift.
Below are a few we're digging.
Monday Metrics: A place to reflect on the previous week's progress and align goals for the week. (We have something super similar set in place here at ProfitWell, with a Monday morning revenue meeting.) The Drift team also uses this time for quote "Drift love" and highlighting inspiration for the week.
Show & Tell: When Drift first began, this was a chance for every single member to talk about what they did that week. Now that they've grown significantly, a rep from each team presents on something they've worked on with the goal of sharing how this impacts Drift's users—bookending the week with Monday Metrics and Show & Tell to allow their team to examine things like: "How did we do?" and "What did we actually make here?"
These rituals (and more) have evolved as their team has grown, and DC says he's sure they'll continue to do so as they hit more milestones. The goal of these, "along with all the other little ones we do each day and week," he points out, is to "ensure that we stay true to our vision and culture."
So if you're ever unsure of where you are going or why you're doing something, ask.
Sign up for DC's "the One Thing" here for more intel like this.
The BBC's Nicky Morgan: meet the strength of subscription
BBC Culture Secretary Nicky Morgan says she is open to considering alternative options for the broadcaster, as the BBC license fee may be set to change.
The cabinet minister made these comments following a select committee hearing when asked to consider ditching the license fee—with a Netflix-style subscription service as a policy for an upcoming election manifesto.
She says she's "open-minded" and "will listen to evidence on all sides," but what she hasn't seen, apparently, is "any evidence, either way, of what a subscription-based system would do in terms of the revenue."
And we found this as our opportunity to drop the facts.
When we think of subscription revenue, we think tech, but subscriptions aren't just limited to software and IoT. Other sectors like manufacturing and business services have entered the space and play a part in the subscription economy's 350% growth over the past 7.5 years, the SaaS Playbook and Zuora remind us.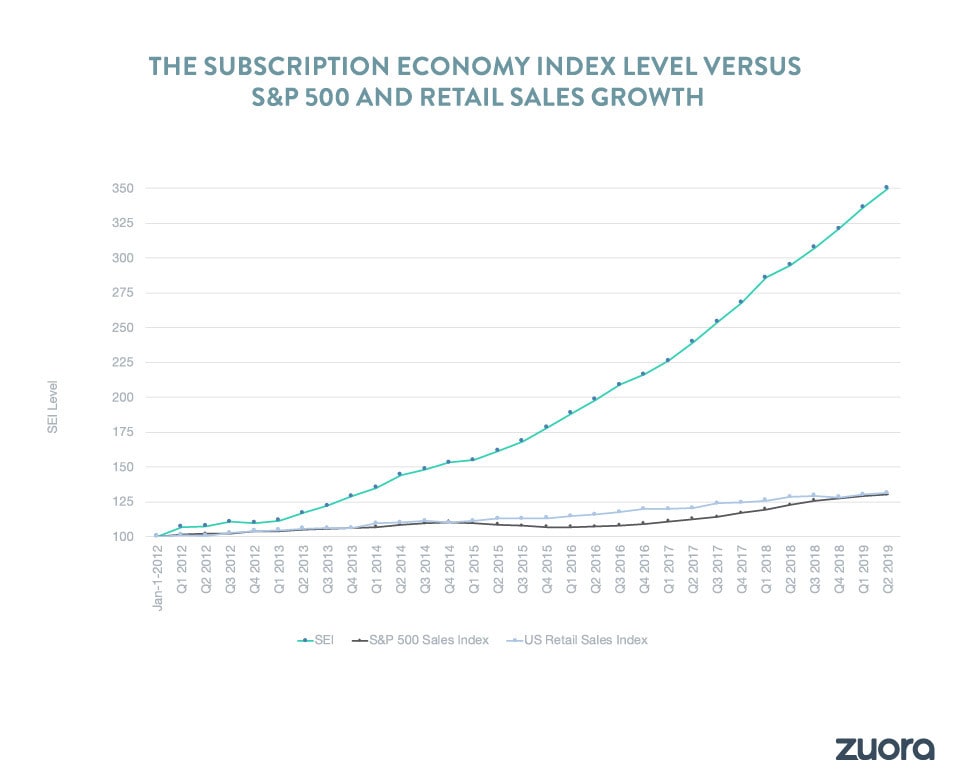 "That's 5x faster than both the S&P and US Retail sales over the same period. Along with these new players, the biggest contributing factor to the meteoric growth is the introduction of usage based billing, which enables customers to pay only for what they need. Sectors that have adopted the pricing strategy are seeing lower churn rates (like SaaS), while those that haven't are struggling (like Publishing)."
And we know the subscription model is here to stay. Just ask Zuora's Tien Tzuo, who saw it coming over a decade ago. And we are so very down with the sentiment. So The BBC, we encourage this leap.
Weekend Wisdom: Eric Santos
---
"Managing is hard."
Eric Santos of Resultados Digitais drops wisdom on what it's like to manage a high growth company, the lessons he's discovered in doing so, and how he's still learning along the way.
---
And that's a wrap for your October 25 subscription news. Recruit your teammates into the subscription know: recurnow.com to sign up for episodes on the daily.
If you have news to share, hit me up at abby@recurnow.com and we'll collaborate.