Today, Webflow works on a COVID-19-inspired food initiative we can get behind. And then—it's a thumbs up from us. We're finding the right rating system for your app. (Trust us, it matters.) And finally, a PSA to marketers and their messaging amid a pandemic.
Listen wherever you get podcasts:


Your top subscription news
---
Webflow delivers delicious
There's no question the pandemic pandemonium has been one of confusion, craziness, an overload of information—oftentimes misinformation. I, myself—someone who follows news as part of my living—have found it insanely challenging to track the happenings and keep up with guided principles per area, number of people in a room, and length of quarantine.
And if you know me, you know I also happen to take food very seriously. So this whole restaurant closing/opening/takeout/delivery dilemma has been top of mind.
So, when I found this tweet by Bryant Chou about the latest with Webflow (the masters in web design tools, CMS, and hosting) it had my full attention.
Webflow is offering a free, cloneable template that's making it easy for cities/counties to compile a list of restaurants offering delivery or takeout.
And apparently, their team is covering the costs of COVID-19 related sites that use their guide as a directory app.
The information you need to implement this: Free Webflow Takeout App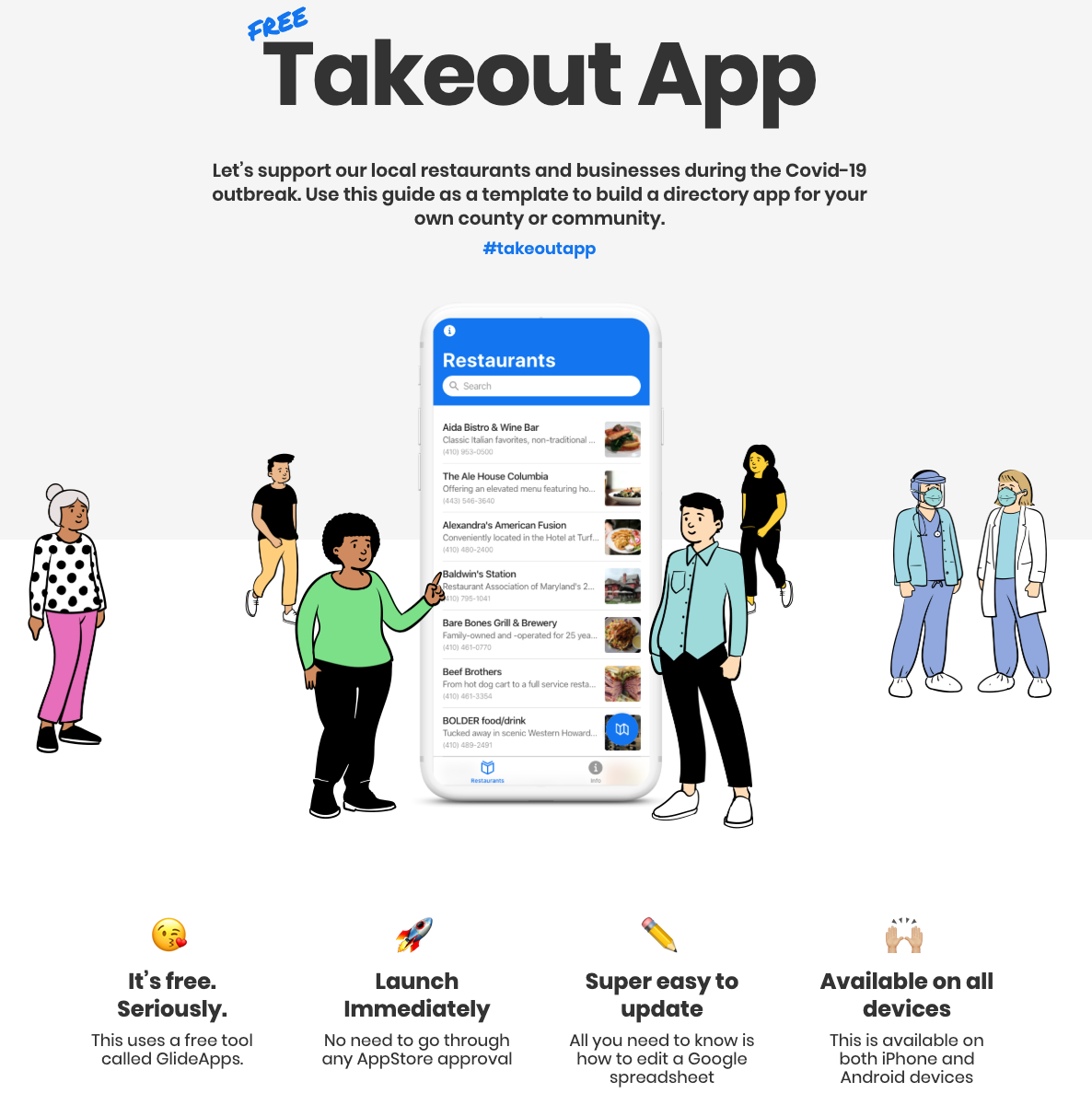 I'm so glad when I see companies with initiatives like this—so we can, in turn, better support businesses during this economically-turbulent time for so many. And I'll say this, restaurants have always been there for us, so when this ends, let's be there for them. They've gone through an incredibly tough time and it's going to take more than a village to help them get back on their feet.
Two thumbs up? Appcues on the power of ratings
Hearts, stars, tomatoes, oh my.

The team at Appcues—the product-led growth pros—knows that, these days, ratings in virtually any form are possible.
Letting users rate your content is one of the simplest (on its face, at least) and most common ways to accomplish ongoing personalization.
But why does that matter? Rating systems ultimately drive better user engagement and retention. A personalized UX is a better UX.
Here are a few points on user engagement from the Appcues crew:
Each rating you receive is a data point that can be plugged into sophisticated algorithms to automate personalization.
This gets more accurate with the more your user rates, and is essential for content-based products (think Netflix or YouTube) that rely on predictive content personalization to deliver the right content to the right users.


Aggregate ratings or user reviews help inform users and guide decision-making.
Regardless of whether or not you leverage a personalization algorithm with them, these are helpful. For example, a new user on Amazon will still benefit from average user reviews, even if they don't receive personalized offers.


Any rating system can double as user feedback for your team.
User feedback helps companies understand whether or not the content they offer is valuable, and provides insights into how you can improve offerings over time.
Better engagement (which is a great outcome in and of itself) means more data that can be used to provide ever more personalized UX. The result is a stickier, smarter product experience that only gets better with time.
We know, as a community, we must continue to uncover what helps and hurts recurring revenue success by studying data in full. And we're totally on board with Appcues' mission of driving a better user experience.
If you're looking to improve your own product engagement, check out this resource by Appcues, as well as ProfitWell Engagement, which we've launched as a free way to track your product's daily, weekly, and monthly active usage. With it, you can also uncover insights around what percentage of your MRR is at risk from poor usage, or even create lists around who's at risk from poor usage based on their activity in the context of their current revenue level.



Marketing in a pandemic: An ongoing conversation
FreshBooks' CMO Paul Cowan and Juliana Casale, Head of Marketing over at Clearbanc, bring up the insightful commentary we're looking for re: marketing approaches during a time in which business waters are trickier than ever to navigate.
Juliana says, in a recent LinkedIn post, that she's seeing a stark contrast between automated emails and non-automated emails these days. She shows a screenshot of two emails sent seven minutes apart, one by sweetgreen with the subject line "connecting hospitals to real food" and one from FreshBooks that's seemingly of a drip campaign.

(Full disclosure: the FreshBooks email highlighted here was not done so with any negative intent by Juliana.)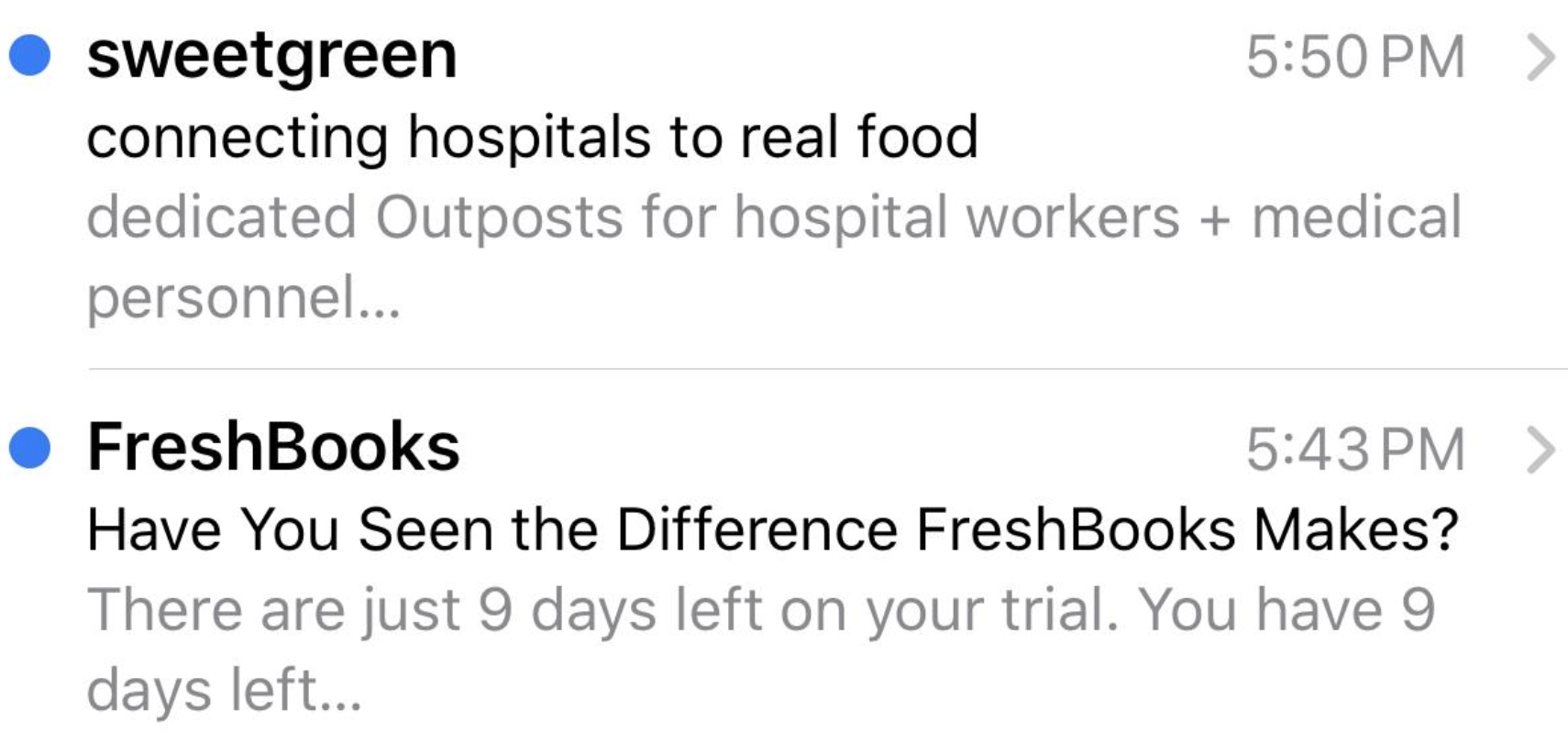 And Paul clarifies that this particular email is, in fact, a nurture for people who have signed up to trial their product, and he's in full agreement that, "We need to work together as a community to help support our businesses and our customer's businesses."
He brings up a solid point, too: We're in a hard time with no playbook, he attests. Uncharted waters. Paul wants to create normalcy for his team and his customers while the not-normal is underway. "Choosing what to change right now is not a trivial decision,"—on the impact on the market, your team, your goals, and your customers.
The question for marketers and sales crews to address in all of this is: What should be adjusted? What should be paused? Or, what should remain the same, for the sake of some normalcy?
Your customers are people and they are going through a really tough time. So the last, most important question to ask is this one: How can you help?
This fosters the potential for an important conversation. There are a whole bunch of comments on this thread as is, but we want to hear your thoughts. How are you addressing the pandemic within your sales and marketing initiatives? Are you even at all?
Please, send me your insight to abby@recurnow.com so we can join the conversation with Juliana and Paul.
---
That's it for your March 26 episode of Recur Now. Thanks for spending a piece of your morning with us.
This has been a Recur Studios production—the fastest-growing subscription network out there. If you find use for this show, subscribe for more like it at profitwell.com/recur.