I finally caved and cut my own hair. If you're itching for a haircut, we have something for you in this edition of DTC Download that can help.
But first, we're breaking down the latest numbers from our DTC index, how to nail first impressions via product packaging, and a deep dive into why virtual reality may be the next step in DTC.
Let's dive into the data.
---

How is DTC growth trending over time?
---
📈7 day +1.15% | 📈30 day +6.37% | 📉90 day -0.79%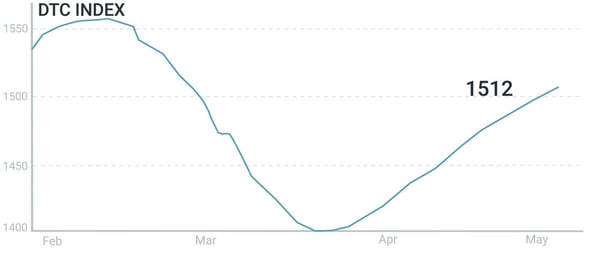 Overall, DTC growth continues to trend upward. This week's numbers remain fairly consistent with last week, in terms of overall growth.

In the past 30 days, we've seen a positive 6.37% change in growth. In the last seven days, change has also been at a positive 1.15%.
How are churn and new revenue trending over time?
---
MRR Gain
-3.96%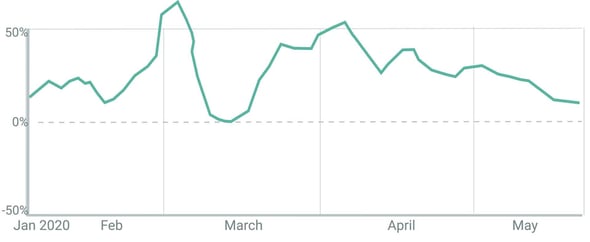 ---
MRR Loss
-2.76%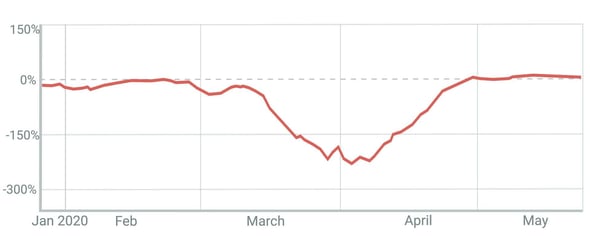 MRR gain is new revenue from either acquired customers or upgrades in a given month. MRR loss is churn, or lost revenue from cancellations or downgrades.
We see a slight decline with MRR gain. Over the last seven days, MRR gain has been down a negative 3.96%. MRR loss took a slight hit this week. Our data shows MRR loss is down a negative 2.76%.
Be sure to check your subscriber newsletter every Monday morning so that you can kickstart the week with some fresh data on DTC growth.
Know anyone who might also benefit from this data? Send me their email address to grace@profitwell.com and I'll hook them up. Or, they can subscribe directly at index.profitwell.com.
---

PACKAGING
Don't judge a book by its cover
That rule doesn't apply here. When shipping out your products, packaging and how it's presented on the outside matters—a lot.
Since physical stores are closed and customers are buying products online, their first physical interaction with an item is when the packaged is delivered. Brands need to optimize the shipping, packaging, and unboxing experience to nail that first impression. But developing brand identity with packaging may be a new phenomenon for companies just getting started with DTC.
RetailDive shares Using ecommerce packaging to strengthen brand identity, a playbook on how to optimize your packaging to meet customer expectations.
The main takeaways:
Customers want their purchase to arrive on time and intact. Consider working with packaging companies to ensure the safest delivery possible.

Customers are increasingly environmentally focused. Customers love online retail but want minimal environmental impact from their purchases.

Two major trends: (1) the subscription-box industry is rapidly growing, and (2) customers expect a premium unboxing experience.
Packaging, when done well, will strengthen brand identity. Remember, it's all about the experience. Constantly consider how your packaging can optimize customer happiness.
Download the full playbook for in-depth on product packaging here.
---
STRATEGIZE
5 things leaders can do in times of uncertainty
It's not easy making decisions right now. With information changing on the daily, it can sometimes feel like decisions are made with little guidance. We got you, though.
Zuora's Subscribed Institute recently held a Virtual Exchange bringing together executives and experts to share the right strategies for DTC businesses during times of crisis and uncertainty. Here's the scoop.
Five key areas:
1. How can you help? There are plenty of ways companies can help both customers and employees. Some examples include sharing positive testimonials from customers with employees to boost morale or relaxing paywalls around COVID-19 content.
2. Focus on customer lifetime value. Be empathetic with your customers. If a customer is having trouble making payments, make it easy to cancel or pause subscriptions.
3. Reimagine your innovation strategy. Act upon customer data and reliable feedback to innovate and create new business strategies.
4. Revisit payments and paywalls. Consider temporarily adjusting your prices or extending free trials.
5. New considerations for recurring revenue CFOs. This crisis proves the importance of having proper cushioning and a game plan in case of an emergency.
Operators are navigating unchartered territory in terms of how to lead in these uniquely turbulent times. The best we can do is band together and learn from one another. Read more from DTC executives and how to strategize, here.
---

RETAIL
Why virtual reality may be the next step for DTC
Online shopping is the new mecca for consumers. As many companies are just learning the ropes of direct to consumer and ecommerce, another technological advancement swoops in: virtual reality.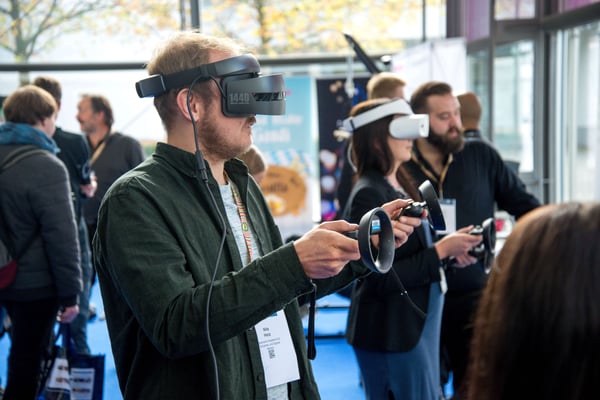 Photo by stephan sorkin on Unsplash
COVID-19 may shape the future of virtual reality as DTC operators and retailers work to improve the consumer at-home shopping experience. We've already seen some brands, like L'Oreal and ASOS, adopting augmented and virtual reality to allow customers to virtually try-on products.
Virtual reality (VR) struggled to achieve widespread adoption at first. However, this pandemic may finally be VR's time to shine since it enables us to create environments that evoke physiological or emotional reactions.
Shopping, in particular, does produce a certain psychological response. A study published in the Journal of Consumer Psychology examined the benefits of retail therapy focusing on shopping's potential to reduce residual sadness. Researchers conclude:
"Our work suggests that making shopping choices can help to restore a sense of personal control over one's environment and reduce residual sadness."
---
Science proves that shopping improves mood. Previous research has also found that willingness to pay goes up when customers shop while in a bad mood.
There are a few applications to consider. Right now, given that we are amid a global pandemic, it's more likely that people may be in a different headspace. Being quarantined can undoubtedly have an impact on our daily moods.
Personally speaking, as much as I love online shopping, I miss the in-person shopping experience. The ability to touch different fabrics, converse with sales associates, and try-on clothing in the dressing room. I am exhibit A of those research studies examining the benefits of retail therapy. Buying clothing and accessories that make me feel good about myself always turn my mood around.
Taking my own experiences and combining them with research about DTC and virtual reality, there's a unique opportunity to be had. Virtual reality can simulate a shopping environment that makes people feel better.
But, we already see this happening.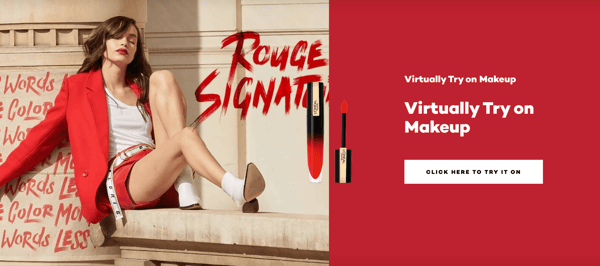 L'Oreal released the first beauty augmented reality lenses allowing customers to virtually try-on products, simulating an experience similar to being at a beauty counter. Accessory and jewelry retailer Kendra Scott uses augmented reality to allow customers to preview products, based on their size and look, in dynamic lighting. Suitsupply now provides a guided virtual shopping experience with live, style experts on its website and an online booking appointment tool to reserve fitting rooms/private shopping suites.
Finally, ecommerce fashion retailer ASOS uses virtual reality to fit their models. It's also been trialing a feature called "See My Fit," showing customers multiple fitted images across different sizes, cuts, and fits.
ASOS told The Drum that the technology works by digitally mapping each product onto the model in a realistic way, taking into account the size, cut, and fit of each garment. It provides practical and engaging product representation, while also following proper social distancing guidelines.
So, what does all of this mean for DTC companies and operators? Customer experience and how to improve it needs to always be at the forefront of all minds. At ProfitWell, we've talked in-depth about how strong customer experience is an untouchable growth opportunity.
To optimize customer experience, you need to put yourself in the minds of your customers. Consider this, "What problem are customers experiencing right now?"
In retail specifically, a problem for some consumers may be missing the ability to try out products before committing to purchase.
The second half of the question is, "How can my product solve this problem?" For customers missing the in-person shopping experience, virtual and augmented reality can help solve that problem.
Virtual reality may seem like a big step. It will require experimenting and trials before adoption, which can be time-consuming and expensive. But, the investment in time and money may be worthwhile since a strong customer experience increases customer willingness to pay and retention. Even if virtual reality is too far out of reach, you could use it to inspire other methods of improving the shopping experience. Consider the tools at your disposal and how they can be used to reach customers better.

PRODUCT
Shaving you from split ends
We love a good hair pun.
But seriously, I've seen some pretty crazy attempts at those at-home hair cuts. I know I'll never take my hairdresser for granted again.
So, guys if you're one of many whose locks need a little TLC, check out Black Label Grooming. They'll give you a hair quiz to find the perfect match to keep your mane in check, and deliver your male grooming supplies right to your door.
Save yourself.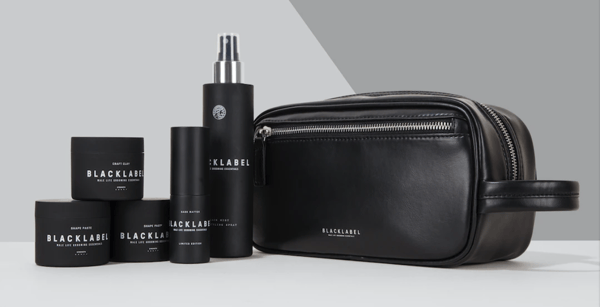 ---
LEARN
Here's what else I'm reading:
Memo: on j-curves and agglomeration
The recent shift to online retail has been reactionary, but 2PM shares how the next phase of ecommerce growth will be more intentional.
Who do we call to save luxury fashion?
Jeff Bezos. With high-end department stores suffering, The Cut breaks down whether Amazon can save luxury fashion.
It's not all about you...
Amazon. Food and beverage companies like Pepsi, Heinz, and Kraft enter the DTC game, potentially giving Amazon a run for its money. Forbes explains in full.
Subscription saves the day
One mom shares how Little Passports's Early Explorers subscription box gave her the confidence to teach her toddler. Read the story here.
---
That's all for this week's edition of the DTC Download. For the weekly hook up, straight to your inbox, visit index.profitwell.com to sign up. And, of course, if you have news or ideas you'd like to share, send me a note at grace@profitwell.com
This has been a Recur Studios production—the fastest-growing subscription network out there.