Unless you've gone to the Lucille Bluth school of economics, you know that a banana shouldn't cost $10. This is a value metric.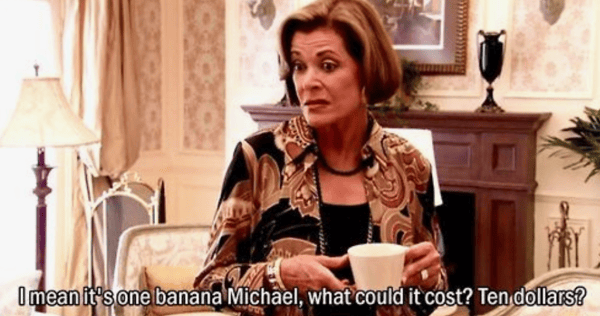 Today on Recur Now, we're making sure you're making the most out of your value metric. But first, a check in on how B2B SaaS companies are growing.
Listen wherever you get podcasts:



Money in the banana stand 🍌
There's always money in the banana stand because there's always money in value metrics! Just to make sure we're all the same page, a value metric is what you charge for. So think, per 100 videos or per 100 users. Or, for bananas, how filling the fruit is. But more seriously, SaaS companies commonly charge for processing power, minutes, or bandwidth that each customer uses.
Aligning a value metric to the value a customer receives is the purest form of pricing. As a software company, you are uniquely positioned to track the value customers get from your products after purchase.
If you're not using a value metric, you're leaving customers in the dark. With that, how about we bring them into the light and chat even more about the importance of a value metric and the data to help you discover your product's true value.
First, let's dig into our data revealing the power of the value metric.
Faster growth, lower churn
We studied nearly 4,000 companies—and research proves that a value metric unlocks serious growth for SaaS companies.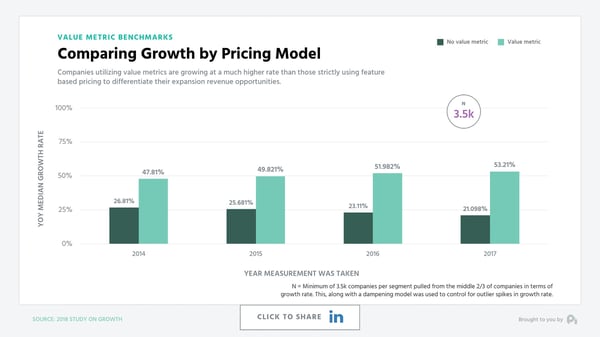 As you can see in the graph above, the data shows companies using value metrics are growing at double the rate than those companies not using a value metric.
Now, let's take a look at how using a value metric impacts churn.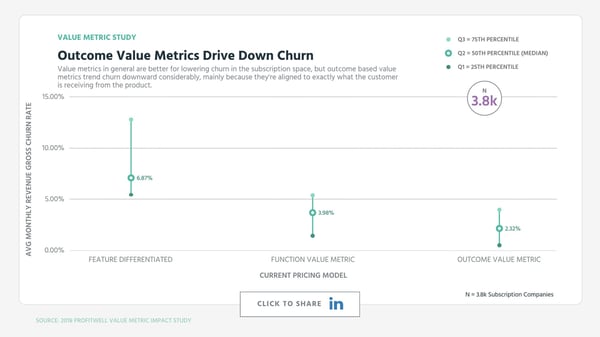 Companies using a value metric are seeing half the churn than their featured differentiated counterparts. This is mostly driven by aligning more closely with the customer.
While all companies have a value metric, not all companies are actually sitting down and thinking about it. They're not asking themselves whether a customer feels they're receiving any value for their money. Value metrics help capture more MRR and ensure customers receive what they pay for
As mentioned earlier, most companies do have a value metric but don't really know what to do with it or make sure it's correct.
That's the data proving the importance of using a value metric. Now, how do you make sure your value metric is correct? It all boils down to collecting the right customer data.
How to find your perfect value metric
There are three types of data you need to collect in order to find the best value metric: demographic data, relative preference, and customer willingness to pay data.
Demographic data: This data hyper focuses on who you're selling to. Collecting demographic data requires qualification and segmentation, which narrow the dataset down and eliminate unlikely customers. With qualification think: what do we want to make sure we eliminate. As for segmentation, consider, what attributes show differences in value?
Relative preference: This requires asking customers to choose their favorite and least favorite features. Relative preference eliminates the "more is better mindset," which involves customers checking way too many boxes—ultimately taking away from the features that actually matter.
Customer willingness to pay: How much are customers actually willing to pay for the features they love? A good thing to remember: humans think about value as a spectrum. With this, you'd ask at what price point would something be considered too expensive...or on the other end, too cheap that you question it's value.
Takeaways
Value metric, or what you charge for, ensures customers pay for the value they receive. Determining a value metric helps you more accurately set prices, which brings in more revenue.
After studying nearly 4,000 companies, we learned that those companies using a value metric grow at twice the rate than companies not using one. Additionally, churn is much lower for companies using a value metric.
When you're determining your value metric, the three datasets you need are demographic data, relative preference, and customer willingness to pay.
To dive deeper into our data on value metrics → click here
To learn more about optimizing your value metric → click here
✍️Side note: A value metric works best with a value-based pricing strategy. Be sure to tune into Recur Now on Thursday because we'll go deep on everything value-based pricing.
---
How is the B2B SaaS market trending?
📈7 day +0.93% | 📈30 day +3.99% | 📈90 day +14.53%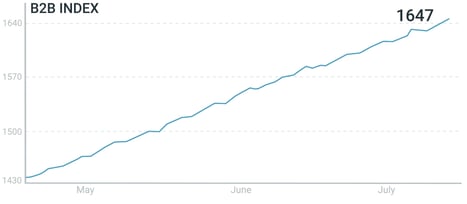 How are churn and new revenue trending over time?
---
MRR GAIN +11.51%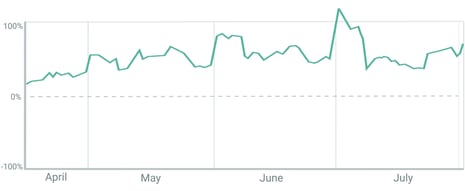 ---
MRR LOSS -27.2%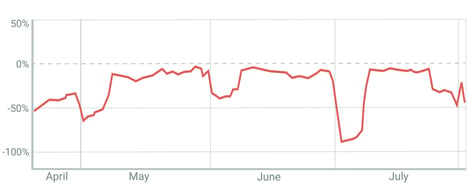 Your B2B SaaS Index is currently valued at 1,647 points, with overall growth going up 0.93% over the last week.
The MRR gain representing upgrades and new revenue, has gone up 11.51% over the last 24 hours. As for MRR loss (namely, representing churn in the market) has gone down 27.2% over the last 24 hours.
These numbers may seem like a dramatic change from last week—but as we enter August, most subscriptions renew at the beginning of the month. More customers are either joining a new SaaS platform...or deciding to terminate a current SaaS subscription. These noticeable changes are to be expected.
Be sure to check your subscriber newsletter for regular updates to your index.
You can also share the data with friends and fellow industry players that could use it right now. Send me their email address to grace.g@profitwell.com and I'll get their name on the list. Or they can subscribe directly at index.profitwell.com.
---

A retention recap
We've recently seen lots of requests for specific retention advice for DTC and SaaS. Patrick Campbell, our CEO, tweeted a helpful framework for handling active cancellations and churn. It's all on focusing on your off-boarding.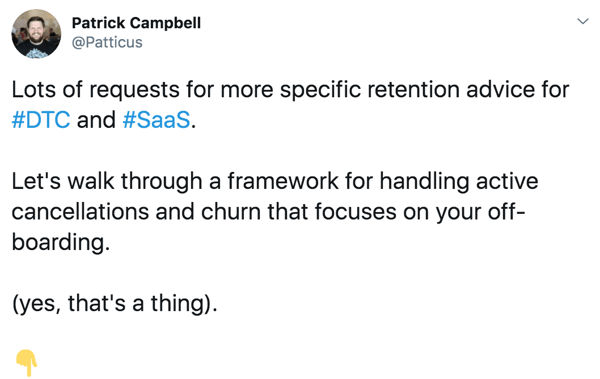 Here are some quick takeaways:
The goal is to triage cancellations into three groups:
Group 1: Customers who are long-gone. Let them go.
Group 2: Customers who need to talk. Get on the phone with them.
Group 3: Customers who can be saved. Get them more time with an offer.
After grouping them off, collect data on why customers want to leave and use it to prevent future cancellations. Depending on the answer, offer to meet or offer an additional month to get them to see the value of staying.
To see if you're handling retention correctly → click here
---
A culture for the generations
Knowing how many of us in the SaaS space rely on Twitter—do you trust the platform enough to subscribe?
The company is looking into a paid version of Twitter, via subscription. But, Tien Tzuo from Zuora sees two big problems with this:
Twitter's pivot to subscription is merely a reaction to plunging advertising revenue. When it's more about patching a revenue hole rather than creating a great new service for people—it's a red flag.

Why would anyone want to subscribe to a service that is fundamentally based on advertising? Twitter and the New York Times are not the same. You subscribe to the NY Times because you trust the news and support the craft—Twitter is an aggregation of opinions, memes, and advertising.
In Tien's newsletter, Subscribed Weekly, he says Twitter does not have his trust. Successful subscription-based companies focus on users, not advertisers—which he says is not the case for Twitter.
There are plenty of arguments for and against Twitter going subscription. I'm curious to learn some other opinions. Drop me a note at grace.g@profitwell.com and let me know what you think about paying for Twitter.
---


Alright gamers, today's featured user is for you. We're talking about ProGuides.
ProGuides was founded with one mission: helping gamers take their play to a new level.
ProGuides creates highly engaging courses with eSports pros, data driven progress trackers, and a marketplace for on demand coaches. Currently—there are 55+ courses, 1,000 lessons—featuring insights from pros from FortNite, League of Legends, Super Smash Brothers and more.
To level up your game → click here
---
That is a wrap on this week's B2B SaaS happenings. Catch you back here next time with more news and more data. Make sure you're subscribed at recurnow.com or wherever you listen to podcasts.
If you have news to spread or resources to share with our audience, you can always connect with me at grace.g@profitwell.com to get the good word out there.