Today on the show, your customer is the hero. Plus, we look at the archetypes of marketers with Mayur Gupta (and declare which one you should be).
Listen wherever you get podcasts:


Notable numbers from a week in review
---
📈7 day +0.63% | 📈30 day +1.47% | 📈90 day +3.55%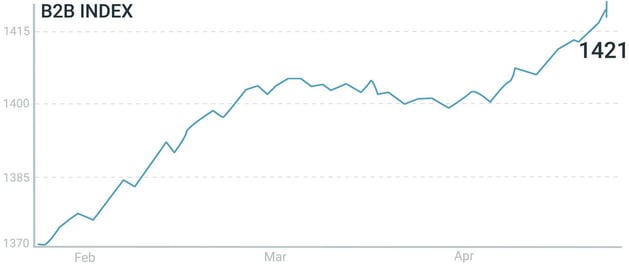 When wrapping the data for last week, we saw a substantial increase in % change for MRR Loss, up from 1.36% to 9.13%—so we wanted to take a minute to give context on these findings. The increase comes from our control of weekly seasonality, which means every point on the chart reflects the total change over the last seven days.
For example, the May 7 point includes all changes from April 30 through May 7. We do this so we can virtually ignore the effects of weekends, during which there are minimal signups and churn.
Since there is substantial churn at the beginning of each month, and we include the first day of the month in the next seven days worth of data points, we can come to expect the MRR loss value to change significantly mid-month.
How are churn and new revenue trending over time?
---
MRR LOSS +9.13%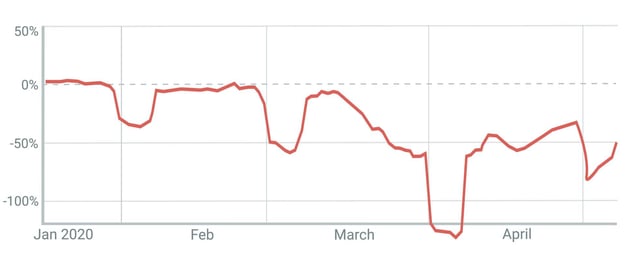 ---
MRR GAIN +2.27%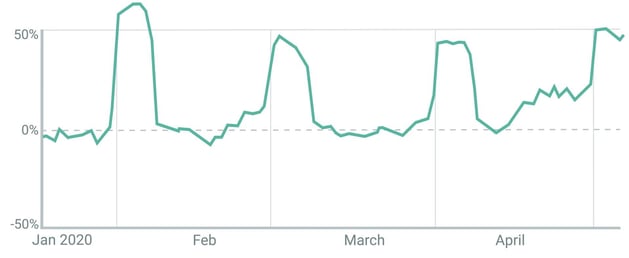 Daily updates of the index can be found in your subscriber newsletter each day, so be sure to check back to see what's up in the B2B SaaS market—for better informed decisions on market spend, sales forecasting, and growth choices.
You can also share the data with friends, colleagues, and fellow industry players that could use it right now. Send me their email address to abby@recurnow.com and I'll get their name on the list. Or they can subscribe directly at index.profitwell.com.
Now, what's happening in B2B SaaS news?

Marketers: you should be Type C
We're eyeing Mayur Gupta, Chief Marketing Officer over at Freshly, who took to LinkedIn to post about the archetypes of marketers—and what type you must become to get a "seat at the table."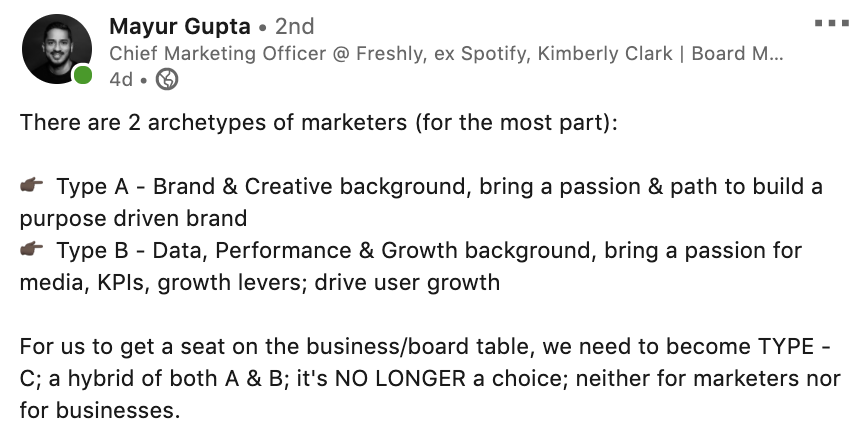 For us to snag a seat at the board table, Mayur claims we need to become Type C—a hybrid of the two. And, quite frankly, it's no longer a choice not to be.
Here's where he says the bar is:
You must ground the company in a core mission and purpose.
You need to be the strongest advocate for the customer, an orchestrator of the brand, and a flag bearer of the culture, both in and outside.
You need to be someone who can build emotional and functional connection.
You need to know your data and be able to measure its impact. Know the channels, know their thresholds. Understand experiments and set learning agendas.
You need to understand CAC, LTV, retention, and churn rates.
And the list goes on.
So he says it's time we all laddered up, because the bar is high.
And we know this to be true, especially in subscription marketing. It's a different beast than any of its kind, because you've cultivated a loyal group of repeat customers, you're not sending them on their way once a purchase is made.
We're facing challenges with things like credit card failures, analytics, and pricing reiterations.
Subscription marketing is constantly evolving, as are the marketing roles within it. A big piece of the puzzle lies in staying in your acuteness to customer behavior and working to acquire and retain valuable customers.
If you check out Mayur's post, you'll see extensive replies in the thread. But I want to know what my audience thinks is the next best archetype for marketers. I am in full agreement that we need to be more agile and all-knowing than our previous generation of marketers. But I want to learn from you. Send me your thoughts on this one to abby@recurnow.com or reply directly to Mayur's post and I'll check it out.
The everlasting magic of content
A golden rule I stand behind: Nailing it in the B2B content marketing space has everything to do with quality.
And I found a blog post by Tracey Wallace that celebrates just that (and it plays by the rules, because it's one of the best marketing blog posts I've seen to date).
The companies that do content right, like Moz for SEO or ConversionXL for conversion rate optimization, Tracey points out, don't just educate professionals of all ages and skill levels, they also drive a significant increase in sales for the businesses that invest in these blogs.
And we know a solid content marketing strategy increases sales, brand awareness, and trust for the companies that create it. When comparing overall growth rates between companies deploying a content strategy with those who aren't, the content companies are seeing roughly 30% higher growth rates than folks not leveraging content marketing.
When you get down to the basics, it's all psychological, says Tracey. And a lot of it comes down to knowing your customer.
You should be asking yourself thoughtful questions like:
"When this IT executive drops her kids off at school in the morning and is heading in to work, what is it that she is most worried about –– what is she using this time in the car to try and think through, and solve?" and: "What is the root fear about that problem?"
Then here's your goal: Aim to create content that solves the problem. Content that helps the customer sleep better at night.
That—will be the winning combination.
If you're not already in the camp that content marketing has proven its place, we have two episodes of our show the ProfitWell Report that dig into data from thousands of subscription businesses and tens of thousands of subscription consumers—to prove its effectiveness. If you're interested in digging into those, head here and here.
Uncharted & Eclectic
Today in events, I'm taking you back to last week, when our very own Peter Zotto (ProfitWell GM, sneaker fanatic, and monetization master) hung out with Poya Osgouie on his new podcast, Uncharted & Eclectic.
Poya says the goal of Uncharted & Eclectic is to allow a space for some of the most brilliant individuals in the business to tell their stories. He's found that many of these great people got where they are by diving into the unknowns, or the uncharted. And they often ventured in not-so-conventional, often eclectic, ways.
In this one, Peter chats with Poya about what he's learned in scaling ProfitWell, why it's more important than ever to focus on value-selling, and why he's more Pete Carroll than Bill Belichik when it comes to leadership and management.
Head here to listen to the pod episode in full.

Reminder: Subscription Stimulus Package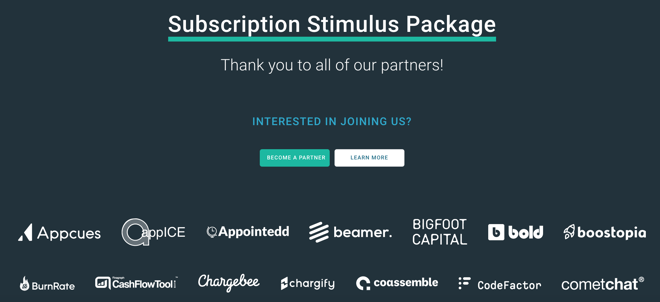 Click here for our list of partners in their entirety.
Your Subscription Stimulus Package is still thriving and ripe for the taking. It's an initiative we launched with 70+ other names in the space, with room still for more partnerships, to help get our neighbors back on track during a time of uncertainty for so many.
If you're interested in up to 20% of your MRR in savings, head here.
If you're looking to partner with our crew and offer your own savings initiative, send a note to brian@profitwell.com for more on collaboration.
---
Today's featured user is Hunt a Killer, the murder mystery subscription box. You heard it right: The Hunt a Killer team drops you and your social distancing partners in the middle of a murder mystery.
It's a totally immersive game, told over the course of six "episodes," or boxes. Each is filled with different clues and physical items, such as autopsy reports and witness statements. (They really don't mess around). With it, you'll use clues to solve the ongoing murder mystery, and see if you can catch that killer. It's almost like walking into a thriller novel or living and breathing a scary movie.
And hey, what better time than a global pandemic to get started with this one?
Head here for all the info. you need to get hunting.
---
There you have it, Monday's roundup is a wrap. Be sure to check back here tomorrow for more.
And remember, we're launching a weekly version of Recur Now, a newsletter with the best in each week's news. If you want in on that, reply to me at abby@recurnow.com and I'll get you on the list.
This series is a Recur Studios production—the fastest-growing subscription network out there. If you find use for this show, subscribe for more like it at profitwell.com/recur.