Today, we've found the best in Twitter threads on topics you'll want to dig into—like positioning amid a pandemic and the miscomprehension of product.
Listen wherever you get podcasts:


How is B2B SaaS growth trending over time?
---
📈7 day +0.5% | 📈30 day +0.78% | 📈90 day +3.36%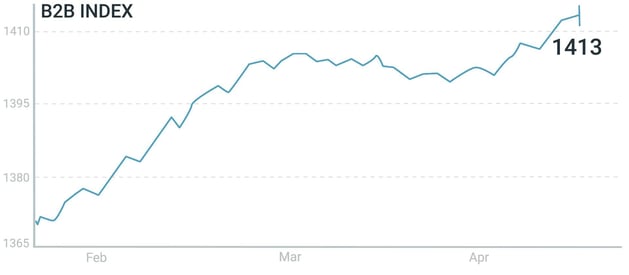 Today, we are back to seeing positive numbers across the board—with a +0.58% change in MRR Gain and +0.83% shift in MRR Loss—and slowly climbing percentages in regard to the B2B index as a whole.
How are churn and new revenue trending over time?
---
MRR LOSS +0.83%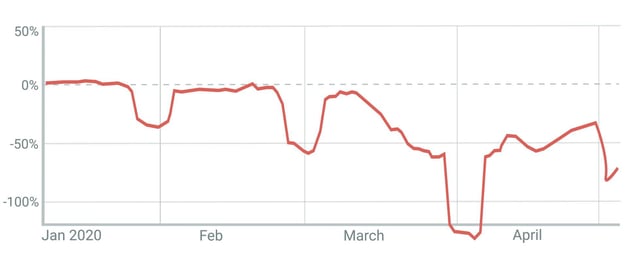 ---
MRR GAIN +0.58%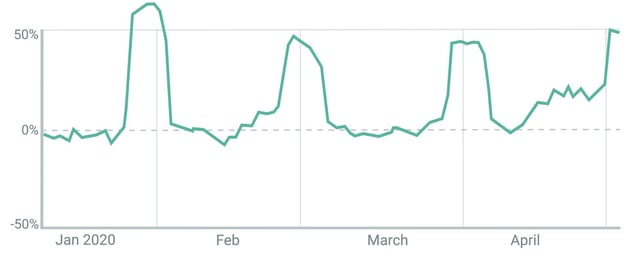 Daily updates of the index can be found in your subscriber newsletter each day, so be sure to check back to see what's up in the B2B SaaS market—for better informed decisions on market spend, sales forecasting, and growth choices.
You can also share the data with friends, colleagues, and fellow industry players that could use it right now. Send me their email address to abby@recurnow.com and I'll get their name on the list. Or they can subscribe directly at index.profitwell.com.
Now, what's happening in B2B SaaS news?

April tweetstorms breed May positioning experts
Our pal and strategic pro April Dunford has a few thoughts on positioning in a pandemic, and she took to Twitter to share them.

For example: In B2B, most value propositions can be abstracted out to either "helps increase revenue" or "helps reduce costs." Typically, April points out, the former is a stronger value prop than the latter. But in an economic downturn, for certain customers, this logic gets turned on its head and suddenly solutions that can help reduce costs look much more relevant than ones promising to help customers grow faster.
Because we know how crucial the right value prop can be. In an experiment our ProfitWell crew ran last year, analyzing the willingness to pay of 10,000 subscription consumers—we found that, in B2B, changing up your value prop could result in an increase of WTP by 15%-30%, which is no small amount at scale.

So now it's your turn to weigh in. How have you altered your own value prop during this crazy time? (Or, have you at all?) If so, what has been the response to the change?
You can reach me at abby@recurnow.com to keep the conversation alive. And if you're looking for resources on value props, and another experiment proving their effectiveness, head here.
Click here for April's tweetstorm in full.
Product pro? Read this.
Now we pivot—from positioning to product—as we see Tanya Cordrey, Board Director and Advisor in product, data, and innovation, take to Twitter to poll her audience, in her journey to publishing a CEO's guide to product.

And she says she's blown away by the replies. (As are we.)
I saw a lot of responses on there about the product manager role in and of itself, like this one by Mark Hurrell:

There were also good points about failure, and the acceptance that "it's a thing," especially in product. Here's one I particularly liked, by a Twitter user called @loomista:

This is the type of Twitter thread that stops me in my tracks, for a couple reasons.
It serves as a wealth of knowledge, igniting information and insight from people all over the map, who actually care about the topic at hand.
The simple fact that this topic solicited so many replies.
It's a great read-through for anyone in the product realm.
Because we know the way in which people buy and use software is drastically changing— another reason this thread perked my ears the way it did.
Paving a product that drives its own growth will significantly reduce CAC and the amount of sales resources you need to grow. Implementing a product-led growth strategy is the smart way to go for any aspiring SaaS or subscription company.
But being truly product-led requires having a solid framework in place. It means reconfiguring marketing, sales, and service strategies to keep up with consumer demands. So we'll have our eyes peeled for Tanya's next move. And of course we have a ton of resources on this topic, which I will link to below.
And if you have your own intel, be sure to share: "What key things about product management would you like your CEO to know??"



Reminder: Subscription Stimulus Package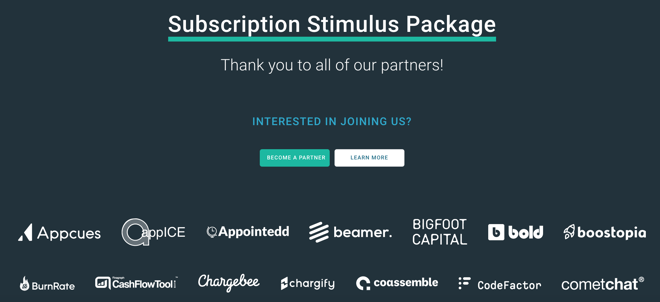 Click here for the entire list of partners.

PSA: Your Subscription Stimulus Package is still thriving and ripe for the taking. It's an initiative we launched with 70+ other names in the space, with room still for more partnerships, to help get our neighbors back on track during a time of uncertainty for so many.
If you're interested in up to 20% of your MRR in savings, head here.
If you're looking to partner with our crew and offer your own savings initiative, send a note to brian@profitwell.com for more on collaboration.
---
Today's featured user is Thryv, small business software that puts you in control. With it, you can better manage your appointments, communicate with clients, and get paid.
Thryv takes "all-in-one" to a new level. The platform offers help with customer relationship management, sales and payments, customer communication, marketing automation, online presence, reputation management, and several others.
It's safe and secure, in one simple package (with 24/7 service and support). What else could you ask for? (Seriously, they've got it all covered.)
---
There you have it, your May 5 episode of Recur Now. Margaritas, anyone?
This series is a Recur Studios production—the fastest-growing subscription network out there. If you find use for this show, subscribe for more like it at profitwell.com/recur.