What's the one thing Rent the Runway, your gym membership, and monthly utilities all have in common? Scheduled payments, aka recurring billing. Scheduled payments have become a core form of revenue collection.
Of course, recurring payments vary depending on the business. Rent the Runway is definitely structured different than your monthly gas bill. As the subscription universe continues to expand, you can expect to see even more subscription payment plans.
So, let's get a little background on what subscription payments are, the benefits, and picking a subscription billing service that's best for your company.
What are subscription payments?
Subscription payments, also called recurring payments, are automatic payments on a schedule. Particularly, subscription services tend to charge on a monthly or annual schedule, until a customer withdraws permission or cancels the subscription.
6 Benefits of subscription payments
Success in the SaaS universe means engaging in long-term relationships with your customers. The subscription model is the best way to achieve this.
There are numerous benefits to the subscription payment system:
1. Predictable income
Operating a one-time payment model requires constantly attracting new customers in order to earn revenue. One-time payments also increase the difficulty of calculating how much revenue you'll earn each month.
Subscription payments, on the other hand, offer you predictable income—customers make payments on a regular basis. The payment amount and date of payment is usually decided at the time of sale, so you're able to easily predict your revenue each month.
Automatic payments are convenient because, well, they're automatic. Meaning, you don't have to think about them. Having a subscription payment and billing system in place allows you to automate your recurring payments and produce invoices for each individual transaction.
3. Expansionary revenue
Subscription payments open the door for more upselling and cross-selling opportunities, therefore expanding your revenue. Since you now have continuous contact with your customers, you develop a strong bond of trust, making it easier to market add-ons. Additionally, once customers budget the subscription monthly fees, they'll see the add-ons as more affordable.
4. Relationship building
Essentially, subscription payments allow more time for customer relationship building. Subscription billing collates data, while also making changes to customer accounts and reports. You can focus on building your brand while the billing system focuses on the nitty gritty: invoices, communication, and personalized billing experiences.
5. Less CAC recovery time
Customer acquisition costs, or CAC, umbrella the total cost of sales and marketing efforts required to acquire a customer. Utilizing a subscription payment system will result in less CAC recovery time. Of course, the length of time customers remain subscribed will vary. Keeping customers interested in your product is up to you; however, the subscription model is changing the script on retention and managing ongoing relationships.
The subscription model can maximize profits in more ways than one. You can collect foreign currency through subscription billing, expanding your customer base and therefore bringing in more revenue opportunities.
Some billing services, like FuseBill, offer the ability to send coupons and discounts to customers. Offering coupons on occasion may entice customers to stay, improving your retention and customer loyalty.
Finally, a seamless billing experience will make customers happy, increasing lifetime value, or LTV.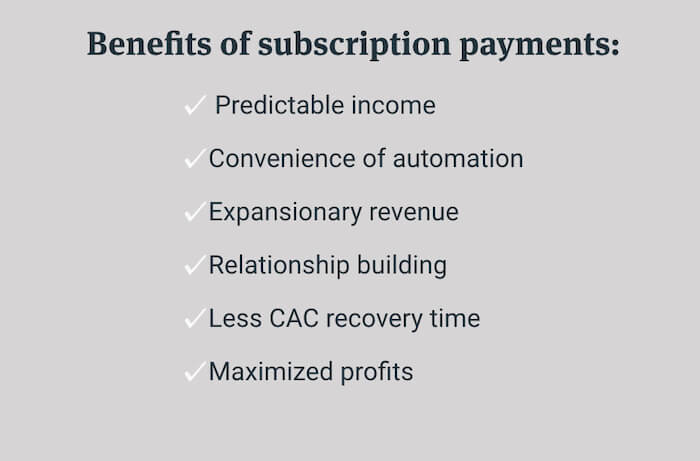 How it works:
Setting up a subscription billing system doesn't have to be difficult. The first step is understanding the different options and systems available:
Merchant account: A special type of bank account where funds from a debit or credit card purchase are deposited (processing and security not included)
Payment Gateways: Connect with credit card companies, making it easy to accept online payments. The provider handles all aspects of electronic payments—security, processing, and depositing the funds.
Subscription Management (or Recurring Billing): Work on top of payment gateways and ensure the right accounts are charged correctly each month.
Analytics: Provide an in-depth look at your customers and sales.
Dunning: works to prevent the impact of failed payments by double-checking customers always have updated credit cards on file. Some systems proactively ask customers to update, while others follow up after a transaction fails.
Revenue Recognition: Automate legally mandated accounting processes and confirm you're only booking revenue for products or services you've delivered.
In the next section, I will detail some services to consider. Most of the services are hybrid billing systems, which offer combinations of the options above.
Top 5 services for managing subscription payments
There are dozens of subscription payment services to choose from, so let's break down some top companies that may be viable for your business.
1. Stripe
Stripe is a hybrid billing system.Stripe has a solid foundation for billing but needs to be integrated with a subscription management platform that includes a wider-range of subscription-specific features.
Stripe is easy to use and integrate. You can get the system up and running in just a few minutes. Stripe has a per card charge, allowing businesses to start billing with minimal costs. However, the per card change can add up quickly once your company scales and generates a higher volume of transactions.
Stripe's composable APIs allows developers to focus on the product rather than writing payments code, while providing enough detailed support documentation for advanced options. Stripe is a great option for programmers and developers at lean startups.
2. Braintree
Braintree is another hybrid billing system. You can integrate Braintree with your existing merchant account if needed.
Braintree works to provide a simple and transparent payment management system allowing the use of any payment gateway without having to worry about regular subscription fees.
One of Braintree's most redeeming qualities is that it's built to work across all platforms, mobile apps, and websites included. It's good for a wide range of users—from freelancers to larger companies looking to expand. Another perk—it comes with no minimums or monthly fees, and has international availability.
One downside to Braintree—it charges on a transactional basis, so it can get pricey with medium-to-high transaction volume. However, you can qualify for discounted rates if your company is large enough.
3. MemberMouse
MemberMouse is yet another hybrid billing system. It also integrates with a number of different billing software solutions to create a payment gateway.
MemberMouse is a perfect option if your business runs on WordPress because it's a WordPress plugin designed to be an all-around platform to help you sell products, manage subscriptions, and curate memberships.
One major con with MemberMouse is the learning curve—the wide range of features could get confusing for new members.
4. FastSpring
FastSpring is also a hybrid billing system with a full-stack service that goes beyond managing subscriptions and payments to offer storefront optimization, payment page customization, and back office services.
Some features from FastSpring include the ability to build your payment process from scratch while still maintaining a cohesive design for your customers. It also automatically implements cosmetic pricing localization and displays your prices to customers based on their local currency and language.
The most glaring issue with FastSpring is its cost. It's not the most affordable option—at up to 8.9% per transaction.
5. Recurly
Recurly, another hybrid, is a great option for SaaS businesses just getting started with billing systems.
The biggest pro for Recurly are the different billing models it offers:
One-time charge model

Fixed-recurring model

Seat-based model

Usage-based model
Having these options aligns product features with a customers' willingness to pay.
On the other hand, Recurly does have limited native reporting capabilities. It can also be expensive because it has a fixed price and a variable fee, plus it needs to be layered on top of another system.
Each subscription service has its fair share of pros/cons. Do ample research to find a service that fits your company's billing needs.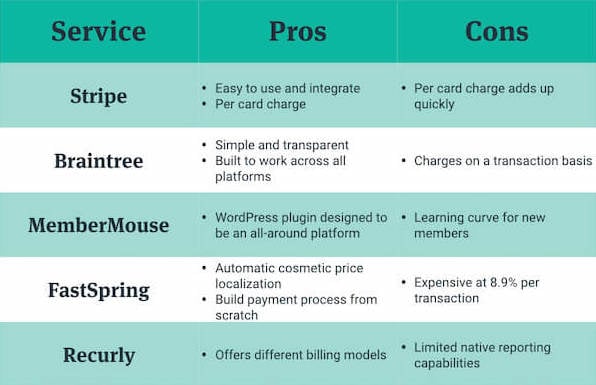 6. Even more options
If none of the options above suit your fancy, there are a few more options I think are worth mentioning:
Chargify: ProfitWell and Chargify recently integrated, so we can vouch for this service. Its subscription billing and management platform is focused on working with complex billing approaches for companies that regularly update pricing.
Moonclerk:

Offers Stripe for non-developers. Moonclerk relies on Stripe to accept both one-time and recurring payments. It's customizable, easy setup, and works on desktop and mobile.

Chargebee:

Offers one API layer to handle almost all of your SaaS billing needs, including subscriptions, recurring payments, billing, and analytics. Chargebee allows you to start for free, up to your first $50k in revenue.

Fusebill:

Boasts flexible billing schedules for customers. It manages subscription and billing for B2C

and

B2B companies. Fusebill also has an API for web app integration.
How to choose a subscription billing service
Not every subscription billing service will be a perfect match, so consider these points before making a decision:
Company size
What's the size of your company? Companies at later stages will need more sophisticated and customizable options than early-stage companies.
Customer size and type
Consider the volume of customers you have and if you intend on scaling in the future. You also have to consider the type of customers you have—are they willing to pay higher prices for custom plans?
Pricing approach
Do you want to offer flexible pricing to your customers (i.e., discounts and upgrades in your plans)? If yes, then a more customizable option is best.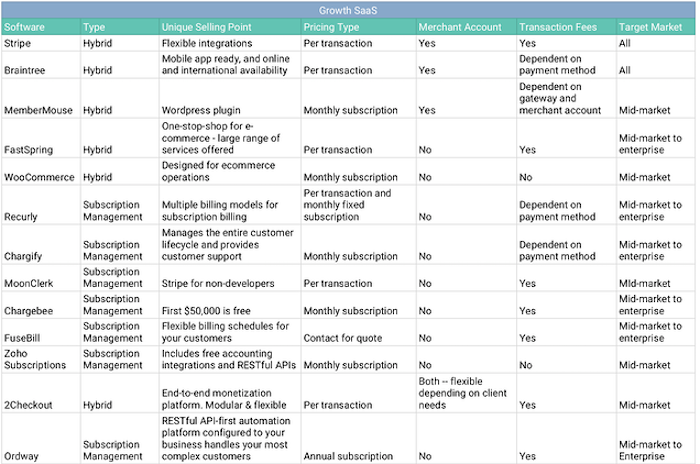 Recognize revenue from subscription payments
Revenue recognition shouldn't be complicated. In fact, you're probably spending too many hours recognizing revenue that isn't perfect. Instead, you should be focusing on analyzing and understanding your business, not making sure your spreadsheets are kosher.
ProfitWell can do that for you with Recognized. Through this tool, our team will solve issues ranging from deferred revenue, multi-element arrangements, evolving standards, and human error.
You can focus your time on other important matters of your business.