Today, we're taking a look into the future...the future of subscriptions. And who better to learn from than Tien Tzuo, founder of Zuora?
Listen wherever you get podcasts:



The future is subscription
Here at ProfitWell, we fully believe in the future is subscription. And we have good reason to believe this, which is why we're digging into Subscribed by Tien Tzuo, sharing why the subscription model works so well.
But before we get started, who is Tien Tzuo?
About the Author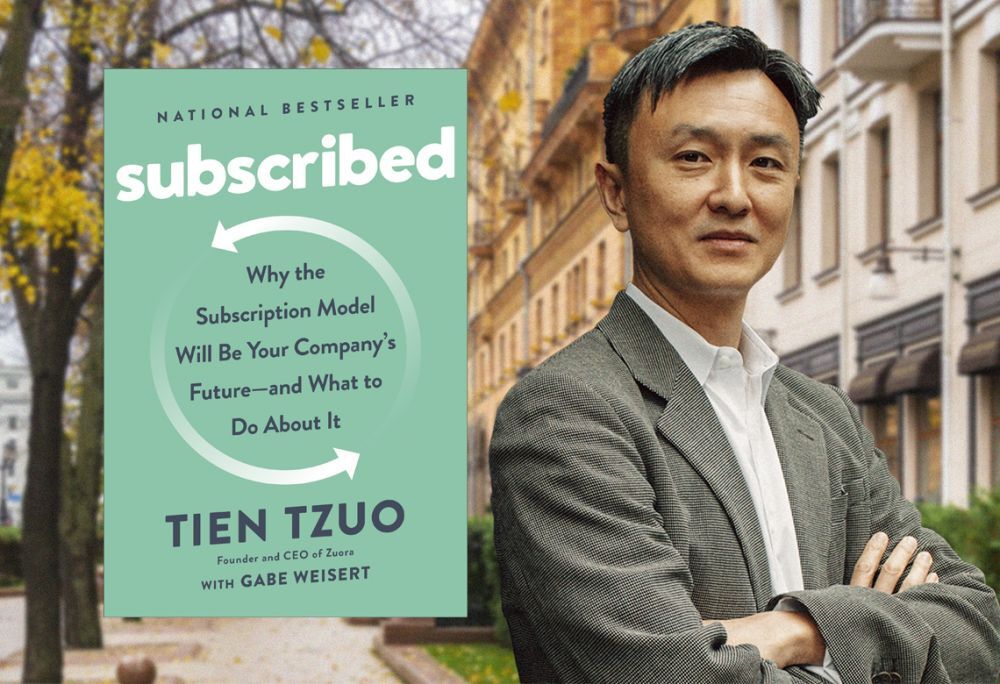 If you're in SaaS, I'm sure you know Tien. But, in case you don't, here's a quick brief.
Tien is the CEO of Zuora—a leading company in the subscription economy (a term coined by them). Tien founded Zuora in 2007 and took it public in 2018.
Prior to Zuora, Tien was an early force at Salesforce. In his nine years there, he built their original billing system and held a number of executive roles. Long story short: Tien is a pioneer in the SaaS and Subscription space and we're gonna learn a thing or two from his book, Subscribed.
We're first going to discuss what's so great about the subscription model, then we'll dig into how this model impacts other companies, and finally we'll discuss the PADRE system.
First, let's start with why the subscription model reigns supreme.
Why the subscription model works
There are two reasons why we love the subscription model: access and service. As noted in Subscribed, people value services more than physical products. The real value lies in what customers actually want and need—and how companies respond to these things. Simply, subscription is a relationship with your customer.
Also made clear in Subscribed, shifting to subscription doesn't have an immediate payoff. The process can be painful at first—there are instances where costs increase while revenue decreases. This is usually only temporary and leads to a better payoff in the end.
Let's get into the next point: how the subscription model impacts companies.
The subscription impact
As Tien says, innovation isn't about creating new products anymore. Instead, innovation involves continuous growth and tinkering to make the product properly suit the needs of people.
One area that the subscription model has completely changed is marketing. Traditional marketing is all about product, price, promotion, and place. Instead, subscriptions take an approach by building steady relationships with their customers, tailoring the product to a specific customer need instead of building something and relying on traditional advertising to pull the weight.
The PADRE system
PADRE is a way of visualizing the business with the customer experience.
It stands for pipeline, acquire, deploy, run, and expand.
Pipeline: raise awareness for your company
Acquire: it's all about the customer's journey
Deploy: get your customer set up as efficiently as possible
Run: the day-to-day usage of your product, ensuring it runs smoothly
Expand: retain subscribers for innovation and growth
That's PADRE.
Takeaways
Subscribed was the first book I read when I joined the ProfitWell crew. It's a quick and engaging read, important for anyone in SaaS. To my CEOs and founders, I strongly recommend adding Subscribed to your onboarding reading materials for new employees. It'll give them an in-depth look at subscriptions, from the best of the best, Tien Tzuo.
Finally, here are the main points we discussed today:
The subscription model works well because it focuses on access and service.
It's changed the way companies have done marketing
It takes on the PADRE system—a way to visualize your business with the customer experience.
Subscribed is a 10/10 read. To order it today → click here
---
How is the B2B SaaS market trending?
📈7 day +1.12% | 📈30 day +4.22% | 📈90 day +13.56%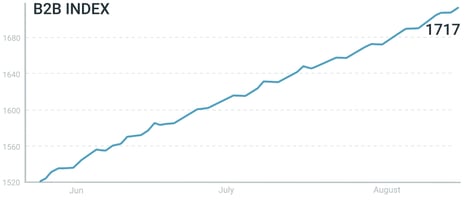 How are churn and new revenue trending over time?
---
MRR GAIN +16.62%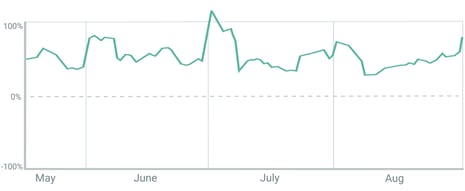 ---
MRR LOSS -22.03%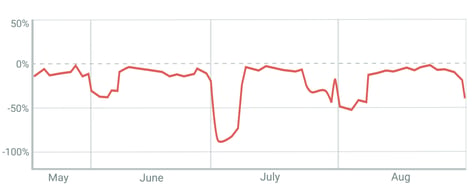 Your B2B SaaS Index is valued at 1,717 points today, with overall growth increasing 1.12% over the last week.
The MRR Gain Index (which represents upgrades & new revenue) is up quite a bit today, increasing 16.62% over the last 24 hours. Churn in the market isn't so looking so hot..MRR loss is down 22.03%.
It's the beginning of the month, subscriptions are renewing hence the MRR gain being high, but people are also canceling, explaining the stark contrast.
Be sure to check your subscriber newsletter for regular updates to your index.
You can also share the data with friends and fellow industry players that could use it right now. Send me their email address to grace.g@profitwell.com and I'll get their name on the list. Or they can subscribe directly at index.profitwell.com.
---

Jazz up your meetings
Getting sick of having your bed or living room bookshelf as the backdrop in your Zoom meetings?
HubSpot put out an article detailing first, how to change your Zoom background, and also providing some of their own favorite virtual backgrounds.
Perhaps your afternoon 1:1 needs a chill vibe, you can set it on the beach… or for an "awee" moment maybe you post a photo of a cute cat.
Spice up your Zoom meetings → check out HubSpot's article here
Our bold prediction
We've got a bold prediction: Cameo might be one of the most disruptive companies in the world right now.
Cameo is an app that sends brief, personalized, and video shoutouts from celebrities to loved ones. It's provided something that used to be impossible—celebrity access—within minutes.
Cameo is headed in two directions. To find out what those directions are, head to our blog, here.
---


Design is expensive and time-consuming—it doesn't have to be. Not with our ProfitWell Featured user—Design pickle.
Design Pickle gives you access to a professional graphic designer—no HR, no interviews, and no drama.
There are a few different services based on your needs and company size.
Find your perfect designer → get started with Design Pickle
---
That is a wrap on this week's B2B SaaS happenings. Catch you back here next time with more news and more data. Make sure you're subscribed at recurnow.com or wherever you listen to podcasts.
If you have news to spread or resources to share with our audience, you can always connect with me at grace.g@profitwell.com to get the good word out there.