The Rundown
In resources...
---
Capturing Captions Everything you put out there, from lengthy blogs to a quick 'gram, tells a story. To take your skills to the next level, Buffer's podcast gets into the art of copywriting, and how those skills translate to something as deceptively simple as a caption, all to increase customer engagement.
Okay, but what's the connection? Think of that caption as your attention-grabbing headline, or lede as we call it in the journalism world. As important as stunning content is for breaking up the feed and standing out, the context you give it is what makes folks take a closer look, engage, and see the bigger picture. That cliché that a picture is worth a thousand words? Those words mean nothing if your message isn't clear and focused. Even though writing a quick caption may not be as time consuming as staging a shoot, it should require the same amount of thought.
YouTube Social Strats It's time to wade through the YouTube comments and start using the platform for social purposes too. Don't fret, Sprout Social holds your hand through the process so your video content can reach its full potential.
Like and subscribe to this idea? The experts recommend seeing YouTube as more than a place to host your video content so you can embed it elsewhere. Did you know that YouTube is the second most popular search engine in the world, ranking only behind big bro Google? This is a dynamic you can capitalize on. Unlike other platforms where your content is viewed mostly by people who are already following your account, YouTube gives users the chance to discover new content organically. Ever been down a YouTube rabbit hole? If you have, you know it's possible to come across a video you never would have seen otherwise. Optimizing your content, down to the keywords you use, can lead new prospects to your brand. We all know that video is what keeps us engaged, which makes mastering YouTube a huge step for your business.
Keep It Clean We love what Truman's is doing to tidy up the cleaning supply market, shipping refills instead of ready-to-use products that are ultimately mostly water. If you're also about that eco-friendly life (and thinking outside the box), we recommend you look into their story and see what you can do better. And even if sustainability isn't what moves you, keep in mind that less waste = less space, which in turn means a smaller warehouse, less in logistics and production, and more money in your pocket. You get the picture. Do it up.
---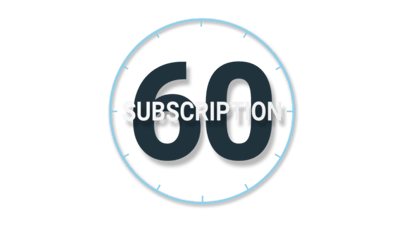 In headlines...
---
Uber Gets a Pass Uber's Ride Pass subscription gets a turbo boost, expanding to sixteen new cities, and now includes electric bike and scooter trips. The only downer is that the pilot price of $14.99 isn't available to customers in these new cities – they'll be on the hook for $24.99/mo. With features like price lock (bye bye surge) and 30 minutes a day of free bike and scooter time, Uber promises to save subscribers 15% off their normal monthly costs.
Key Findings via Tien It's been a year since Zuora went public, and things are going great for the subscription company – but they're no outlier. Zuora's CEO Tien Tzuo shares his thoughts on how the subscription economy has changed over the years and discusses the growth of subscription companies since 2012 (which have increased their revenue by an astonishing 321% on average).
So, what did he have to say? Back in the day, subscriptions were seen exclusively as a SaaS feature. Since then, the pricing model has taken over all kinds of tangible goods, from burgers to toothbrushes. Tzuo's theory as to why we're all-in on subscription? The best businesses are built around dynamic customer relationships, and subscription models facilitate that. Instead of selling a product and sending the customer on their merry way, subscriptions give you a one-up, allowing you to create repeat customers through add-ons or plan renewals, and in the process, building lasting relationships. Case in point: one of Zuora's clients was a point-of-sale manufacturer that had been around for over a century. And when margins started getting thin, they pivoted – bundling the product, service contract and maintenance all into one subscription. The plan proved successful, and the company never looked back. Tzuo's point? If a legacy company like that can embrace recurring revenue, anyone can.
Cleanshelf x OneLogin We're eyeing Cleanshelf's partnership with OneLogin, the leader in unified access management, to streamline SaaS spending optimization. Annual spending per employee on SaaS is reaching $10k on average, so businesses are looking into how to stretch their budget. Cleanshelf already promises to cut 30-40% of that spending by providing easy-to-understand usage metrics. Now, they can also see just how much users are utilizing OneLogin integrated platforms, so businesses can decide what's worth keeping and what's better saved.
Product of the Day
---
In extra time, we're sharing with our loyal listeners the product launches and updates that bring success. Today we read Polarr's opinion piece on the benefits of the remote workplace — and we had you in mind. The financial perks of less overhead and keeping the lights off, in this case, are easy enough to understand. Polarr encourages you to look beyond the dollar signs, though, and see all the other ways remote working can help your business flourish, from fresh perspectives to a significant morale boost. If you're still unsure and would like to see some stats, no sweat, because at ProfitWell that's kinda our jam. We did a report recently on the power, or lack thereof, of remote. We'd recommend tuning in to both perspectives so you can deem the powers at be that work most seamlessly for you.