Hello hello, subscribers. Abby here, back in action from sandy Mexico to the arctic chill that has now become Boston. Tough to see it, but the news awaits – and I am glad to be here, even happier you're joining me. It is the final day of January twenty nineteen. Let's wrap it up together.
We know you want in: Subscription60.com.
Ready for the rundown?

In resources...

---
Avocode Knows Face it: Your website is often the first face of business, and the primary point of reference your users come in contact with. So Avocode sits down with Stefan Judis to hear a developer's perspective on why web performance is so crucial to business, and how to leverage your site's power.
"Web performance is one of the crucial pillars of excellent products."

Mailshake-ing Up the Sales Process Mailshake has four simple steps to bring your sales process from good to glorious. Think: stepping into your customer's shoes and considering first what you want them to experience, not merely what you need to do to make the sale.
---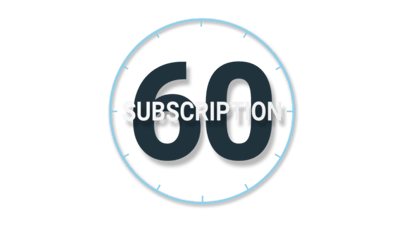 In headlines...
---
Shopify Studios Shopify looks to inspire the next wave of entrepreneurs with a new entertainment division called Shopify Studios. They've partnered with some big wigs in production – from the creators of Mr. Robot and Spotlight to Real Housewives and Queer Eye - to make documentaries all about the creative folks that keep that innovation coming.
"... Shopify Studios' content aims to inspire the next wave of creators and iconoclasts to embrace and manifest the possibilities before them."
Stripe Soars Payment technology company Stripe has raised an additional $100 million from investors as they move closer to a possible initial public offering in the next few years. The funding comes from Tiger Global, which had already invested $245 million back in September. Stripe's customers include figureheads like Facebook, Amazon, and Uber, so we're keeping close eyes on this IPO potential.
GitHub Gag Orders Microsoft's GitHub revealed in their 2018 transparency report that requests to disclose user information (by way of subpoenas and search warrants) have doubled since 2017. Gag orders on the company increased even faster. With a gag order in place, GitHub cannot follow through with its disclosure policy. In 2015 they were able to notify users in 42 percent of the year's total requests, which fell to 21 percent in 2016, 19 percent in 2017, and to just nine percent in 2018.
Product of the Day
---
And in extra time, we are covering the product launches to amp up your business. Today, we're on to Indigo Notes - which helps you leverage that notes app. Seems simplistic, but if you're a mobile worker like myself, you're almost entirely on the move, yet you know jotting down notes is nonetheless a cruciality. And to boot, synchronization with Indigo is a cinch. Indigo Cloud works natively on all Apple products, including your Apple watch, so you won't have to sacrifice performance for mobility.
Reap Those Referral Rewards
---
Calling all subscription junkies: For those of you digging Subscription60 and eager to spread the good word (plus reap the bennies from referrals) we'll soon have a referral program on lock, offering our loyalest watchers some exclusive goods. Stay tuned for more on this, as we dive into 2019 full throttle.

To spread the good word of Sub60, send your friends to Subscription60.com.