How goes it, subscription world? Ben here will complete his three day subscription stint with you. Welcome back to Subscription60 – the one and only space for your sixty second recurring revenue news and resource roundup. It's January 30th. Let's jump into it.

Subscription60.com for all the goods.

Ready for the rundown?

In resources...

---
Freemium Anyone? Before you jump into the fray that is freemium, ask yourself these ten questions from Zuora to make sure the model's right for your venture.
"This guide is intended to teach subscription-based businesses how to evaluate whether the freemium model is a viable strategy for them."

The Freshest in Multigenerational Working with the youngins and the old folks? Freshdesk has an infographic to guide you through navigating the multigenerational workplace – including what shapes generations, mobilizing your five-generation workforce, and a nutshell of generational perspective.
Teamwork Gets Your Head Straight Teamwork has your tips for staying creative under pressure. The real keys are about staying positive, giving yourself enough time to incubate, breaking down a project into smaller milestones, and not allowing distraction to rule your world.

---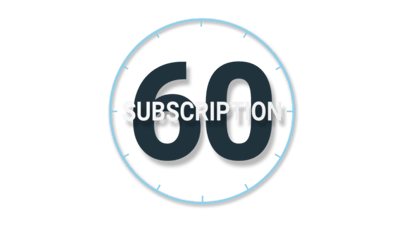 In headlines...
---
Get Places on a Whim Whim, a subscription transportation service, will make its U.S. launch later this year. For a flat monthly fee users will be able to use ride sharing apps, public transportation, and even rent a car. The first cities to offer Whim will be Austin, Boston, Chicago, Dallas, and Miami, so be sure to keep an eye out if you live in one of those areas.
Apple Cracks Down We have next to no patience for scammy business models – and apparently neither does Apple. They're cracking down on scammers who use shady tactics to force subscriptions on users - getting them bad apples out the way so the good ones can shine.
"Apple's developer guidelines had clearly prohibited fraudulent behavior related to subscriptions, but Apple has now spelled out the details in black and white."
Loop to the Rescue Who doesn't love a good business saving the world? New food delivery service Loop is (pretty much) doing just that, with its subscription that works just like the milkman used to. Loop delivers kitchen staples to your home in reusable containers – and when you're done, schedules a time to pick up empties for cleaning and reusing. Right now, twenty five big name companies are on lock with Loop, including Nestle, Pepsi, and Unilever.
Product of the Day
---
And in extra time, we're uncovering the launches and products to make your business better. Today, we're looking to Zestful, which allows companies to create seamless perk programs by offering employees a set balance to spend on products and services like Netflix, Spotify, Airbnb, food delivery, fitness, and more.
Reap Those Referral Rewards
---
Calling all subscription junkies: For those of you digging Subscription60 and eager to spread the good word (plus reap the bennies from referrals) we'll soon have a referral program on lock, offering our loyalest watchers some exclusive goods. Stay tuned for more on this, as we dive into 2019 full throttle.
To spread the good word of Sub60, send your friends to Subscription60.com.