Hello again subscription world.
Abby here with your January 25th Subscription60, bringing you the recurring revenue news and resources you need to know. It's National Opposite Day, and I have to say, I am not not unhappy to see your face here this morning... Whichever way you look at it, I'm glad to have ya. Let's get right into it and finish out this week in style.
So close to the weekend. Let's celebrate. Spread Subscription60.com. It's a party in a link.

Ready for the rundown?

In resources...

---
From Scraping to Success The Subscription Entrepreneur podcast, hosted by MemberMouse Founder Eric Turnnessen, interviews Miles Beckler in their latest episode – chatting profitable marketing funnels in twenty nineteen and tips for converting your Facebook ad campaign into sales. Even more reason to tune in, perhaps, is for Beckler's take on how he went from scraping together $95.40 for web hosting and a domain name to earning a full income online.

Productivity From Within The Atlassian blog makes your team more efficient with a piece on productivity, and isn't just another article about keeping your employees off Reddit, but instead a compilation encouraging company cohesion in getting employees to realize they're part of something bigger.


"... An emotionally-intelligent team is more productive because personal investment on the part of each member builds engagement and innovation."
---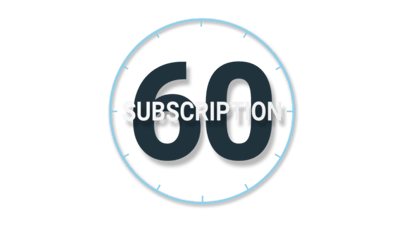 In headlines...
---
Hulu Drops It Low While Netflix raises subscription prices, Hulu drops theirs for its most popular streaming service, yet raises prices for its already most expensive plan. The price drop for its original subscription service (the most popular for Hulu users) is from $8 to $6, with the spike for the live TV service increasing from $40 to $45 monthly. And although a lower price sounds great up front, with many of Hulu's shareholders becoming competitors in the space, the value of a Hulu subscription could drop along with the price.

Condé Nast Holds Out Magazine mogul Condé Nast will hold all their offerings behind a paywall in 2019, following the trend of publishers building subscription revenue. The New Yorker, Vanity Fair, and Wired are already on board with the model, allowing users to read a handful of articles before prompting subscription. Condé's move will add Vogue, GQ, Bon Appétit, and several others to that list.
"Just as we did for each of the brands currently behind paywalls, we will let consumer demand and engagement dictate how each brand develops their paid content strategy."
Subscription Domination We hear subscription revenue grew 5x faster than that of S&P 500 companies from January twenty twelve to June twenty eighteen. Yahoo Finance's Adam Shapiro hangs with Zuora's Tien Tzuo to discuss the booming business that is subscription, and what's in store for us all.
Product of the Day
---
And in extra time, we're looking for the launches and products to make your business better. Today, we are stoked to share My Brand New Logo - which automatically generates logos for your business, prompted by just a couple questions about your brand. MBNL (a handy acronym we just made up) uses advanced algorithms to create graphic designer approved results, tweakable to fit your vision. New year, new logo - right?
Reap Those Referral Rewards
---
Calling all subscription junkies: For those of you digging Subscription60 and eager to spread the good word (plus reap the bennies from referrals) we'll soon have a referral program on lock, offering our loyalest watchers some exclusive goods. Stay tuned for more on this, as we dive into 2019 full throttle.

To spread the good word of Sub60, send your friends to Subscription60.com.