Without context, numbers are meaningless. Sure, you can see that a customer made a recent purchase of $18, or renewed their annual subscription for $200, but how do you go deeper? When those payments are made, do they impact your subscription revenue, or are they a blip on your radar?
The Stripe integration for ProfitWell is how you gain this context—you're able to take data from your payment processor and turn it into actionable insights.
"While Stripe is the industry standard for processing payments and subscription management products, ProfitWell wants to attack the hard parts of sub growth by going deep on outcome/insights. Think churn reduction, advanced analytics, benchmarks etc... Stripe could, too, but with a different level of difficulty and focus." Neel Desai, Product Manager
In this article, we'll talk through what our Stripe integration provides and give a step-by-step walk-through of your Stripe account setup.
Why you should use Stripe and ProfitWell together
Connecting your Stripe and ProfitWell accounts provides insights on how customer payments impact your bottom line. Using the data collected through Stripe, ProfitWell creates in-depth reports on a number of different SaaS metrics, such as monthly recurring revenue (MRR) and average revenue per user (ARPU).
Those reports make it easier to track and predict company growth. Any decisions you make moving forward will be supported by a solid understanding of your subscriptions and how they impact a number of different aspects of your business.
The ProfitWell-Stripe integration creates detailed reports and charts on the metrics below and more.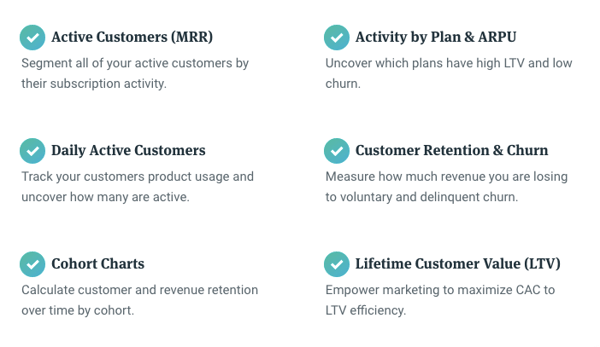 When you have seamless access to these metrics, it helps you make better decisions for your business. Here are the three main reasons you want to connect Stripe and ProfitWell together:
1. SaaS metrics
Keeping track of all of your subscription metrics is a huge task. Not only do you need to collect information on every customer and recurring charge, you also need to understand how to calculate these metrics correctly.
By syncing your Stripe payment and billing information with ProfitWell, you automatically gain access to these SaaS metrics. It's easy to review the data that is most important for your subscription company, whether you're interested in MRR, ARPU, or scores of other metrics.
Analyzing this information also becomes easier, as you're able to track how every Stripe customer contributes recurring revenue for your subscription business. The ProfitWell-Stripe integration keeps everything in the same place.
2. Churn metrics
Understanding how and why customers leave your service is paramount. If you're not taking decisive action to decrease churn, it will damage your company's ability to grow in the future.
The ProfitWell-Stripe integration automatically tracks metrics, like daily active customers and churn rate, based on your Stripe payment history. This information is then segmented by cohort, so you always know which customers are leaving and why.
Using this data can help you understand how churn impacts your recurring revenue on an ongoing basis and where to focus your retention efforts to fight back and reduce churn. It's never been easier to see what changes to make that will actually have an impact.
3. Customer insight
With the ProfitWell-Stripe integration, you have access to important customer metrics, like lifetime value (LTV) and overall customer growth, in one location. The data is segmented into cohorts, making it easier to learn more about your current customers and build qualified buyer personas. The better you understand your target customer with this data, the more you'll be able to reduce your churn rate.
By connecting ProfitWell with your Stripe account, you don't have to visit multiple platforms to see your business metrics. Your data is all in one place, so you can easily analyze it to make informed decisions about your business.
Creating a Stripe account is easy
If you're not using Stripe as your payment processor and gateway, getting set up has never been easier. The first thing you need to do is sign up for a Stripe account here.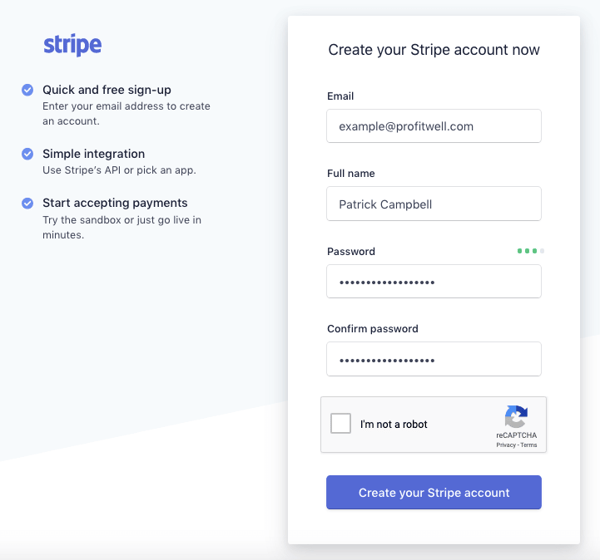 Now that you've created your account, click "Activate your account" to get started.

To activate your account, Stripe needs specific information about your business, like physical address and banking details, to be in compliance with local regulations. This focus on compliance ensures that your hard-earned revenue is safe and secure. Enter the corresponding details for your business where prompted.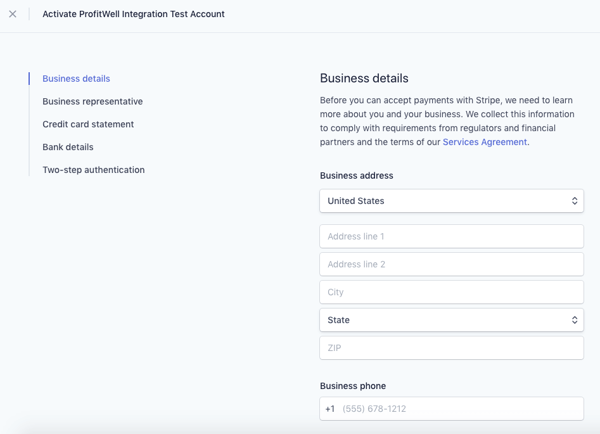 Once you've completed this form and activated your account, connecting to your ProfitWell profile is easy. Just navigate to this page and click "Connect Now."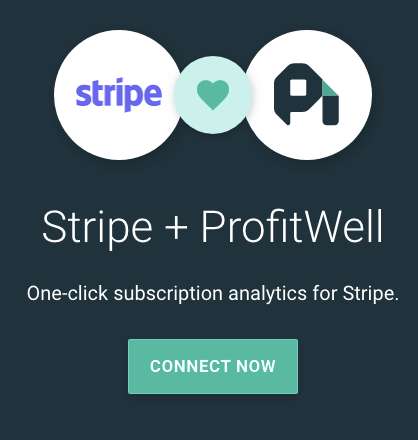 Then, click the option to "Connect to Stripe" from the available integrations.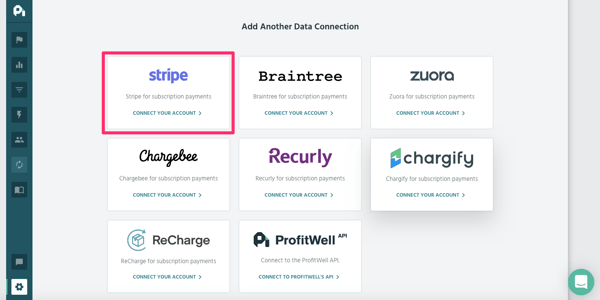 Congratulations! You're all set up to start tracking subscription analytics for your Stripe payments. It's easy to check your MRR, customer growth, and more, directly from your ProfitWell dashboard.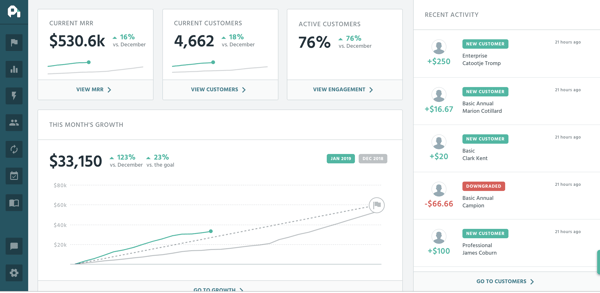 Stripe FAQs
If you're deciding between payment processors or gateways, we've put together five commonly asked questions to help you evaluate if Stripe is right for your business.
1. Is Stripe free?
Signing up for an account is free, but Stripe charges a percentage on each sale plus a fixed amount. The base charge for any sale is 2.9% + 30 cents. Depending on your company size and factors like geographic location or sales volume, they provide custom pricing as well.
2. Can I connect my existing Stripe account to ProfitWell?
Absolutely! Any active Stripe account can be connected to ProfitWell.
3. Do I need to log into Stripe to see my ProfitWell metrics?
Not at all. Once you connect your Stripe account, your metrics will populate automatically. Just log into your ProfitWell account, and you're good to go.
4. Should I enable two-step verification?
While two-step verification isn't required to integrate with Stripe, we definitely suggest you use it. Companies that use two-factor authentication are more secure.
5. How do I reset my Stripe password?
You can reset your password here.
Gain subscription insights with our ProfitWell-Stripe integration
With the Stripe integration for ProfitWell, you always have access to important metrics for your subscription business in a single location. You'll never have to wonder about how that $18 purchase impacts your MRR, or how a lost customer affects your overall churn percentage. Your ProfitWell and Stripe accounts will share data freely and provide concrete insights.
Start making better decisions about your price, retention, and financial health with the ProfitWell-Stripe integration today.