Today, content is royalty. We're looking at content marketing with a close eye—because it shouldn't take a pandemic to get you on board with this growth strategy.

We're also washing away our worries with Soapbox, Wistia's solution to better video marketing.
Listen wherever you get podcasts:


---
Top B2B SaaS news



We're in it together, "During Tough Times"
Last week, the Growth Hack Group hosted an entrepreneurs office hours Q&A called "During Tough Times," to discuss the current state of the economic crisis from three different perspectives.
And Noah Green, Founder of KOAHDigital, was kind enough to write a roundup for us all.
The three different perspectives, at hand, came from:
The insight I found most useful for the B2B SaaS crowd is below, but the full piece is linked here if you want to check out all the info.
We must first remember that right now, virtually everything is marketing. Be sure to acknowledge that this situation is happening, but don't saturate your marketing material with crisis-everywhere. We've preached it before: Now is the time to update the old playbook. Get creative with your marketing efforts.
Double down on content. Sumo has increased its publishing from two blog posts a week to nine, to further captivate their audience. Launch an affiliate marketing program, get on YouTube, go live on Zoom. All of these create touch points.
Ultimately, be sure to educate. People are a lot more receptive to education and informative content right now. You need to lock down your customers as tight as possible and protect your base.
A few outlets for action:
Implement a pay-up-front model, during which you give users 15% to 20% off for buying the annual plan now.
Optimize conversions by giving away a certain amount of months for free in your contracts vs. a percentage off—because people perceive value more so when it's tied to a time stamp as opposed to a percent monetary value.
As a reminder, our crew at ProfitWell is always here to offer insight. Don't hesitate to reach out to me at abby@recurnow.com to connect. Good luck out there.
It shouldn't take a pandemic to get your mind on content
We're looking over to John Tyreman, a B2B marketing master—who's well aware of the struggle to stick out amid the noise, especially in the B2B space.
But he took to LinkedIn to tell us, we're not alone.
In a recent study of more than 1,000 B2B and professional services firms, "content creation" and "brand differentiation" were the most common marketing priorities heading into 2020 (with a pandemic, no less), he reports.
So here are three ways in which you can make your content king (and queen):
Storytelling. Sharing unique experiences can captivate your audience. Good storytellers weave in emotional triggers and morals, and leave their audience with memorable, insightful takeaways.
Research. By publishing original research, you share insights found nowhere else. Naturally, this attracts organic links to your content, ultimately boosting SEO.
Personality. Injecting your distinct personality into how you speak and write adds something no one else can copy: you.

We know content marketing has become the gold standard in marketing, helping your prospects and customers understand your business and the problems you're solving, and giving them value before they've even considered purchasing from you. When it comes to retention, companies who are deploying content are seeing 5% to 10% better numbers, especially when they deploy content that is more customer success focused.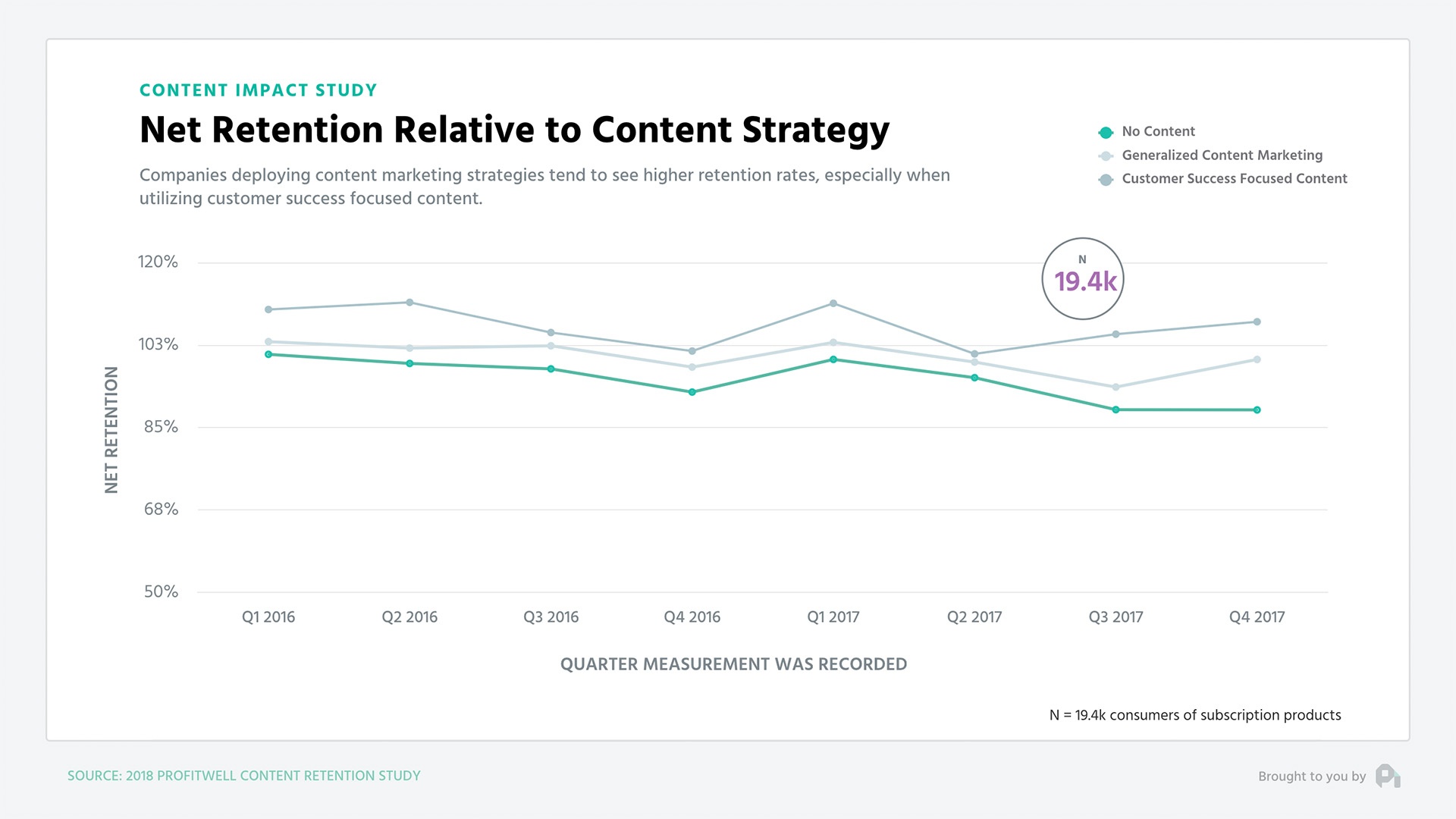 Click to enlarge
The onus is on us to focus on brand, focus on education, and ultimately focus on a great user experience to convert prospects into customers. It's the inbound way.
We have two in-depth episodes of our show, the ProfitWell Report, with data from over 10,000 different blogs and 1,000 subscription companies on content marketing—which I linked to below if you're interested in checking out all the data cuts.
---
Today's featured user is Soapbox, a super simple tool used for recording, sharing, and editing your videos in actual minutes—a product from the video moguls, our neighbors and friends, over at Wistia.
Soapbox is awesome because you literally just need a face and a laptop to get the video content cranking. It functions as a Chrome extension, with which you can record your webcam, your screen, or a split-screen view.

The simplicity of Soapbox is an initial draw, no doubt, but they also offer advancements if you're looking to get a little fancy.
Soapbox Station is a plug-and-play webcam studio that dramatically improves the quality of your Soapbox videos. Essentially, it functions as an all-in-one, tabletop video studio.
And Wistia just launched a series called (Out of) Office Hours with their Head of Production Chris Lavigne. Every Tuesday and Thursday at noon EST, Chris goes live to talk all things video production in this newly remote world. They've already cranked out a couple episodes, so you can watch those on-demand as well.
Wistia is one of those companies that's just nailing it on the head, always. (We're loyal users ourselves.). Their content is actionable, there's zero fluff, and it looks damn good in the process.
---
That's a wrap on your April 6 episode of Recur Now. More for you here, tomorrow.
This series is a Recur Studios production—the fastest-growing subscription network out there. If you find use for this show, subscribe for more like it at profitwell.com/recur.