I have my best ideas when I'm trying to fall asleep. I'll be lying in bed, after a long, hard day...and still, the wheels are turning. I don't want to lose the idea, so I get up and get back to work.
Founders, CEOs, and my fellow go-getters—I know you can relate.
But does the amount of sleep you get impact your company's growth? We'll let the data answer that one.
Listen wherever you get podcasts:



Is your sleep hurting your company's growth?
Back to the pillow talk. Does founder sleep, or lack thereof, negatively impact your business? We studied founders and CEOs from roughly 400 subscription companies to find out.
We know many of you work hard. It takes grit to run a company. So, today we'll look at the data today and see if your sleep health impacts your business.
We'll first look at how hours of sleep per night impact growth rates—then we'll look at how hours of sleep per night impact founder happiness.
Sleep impacting growth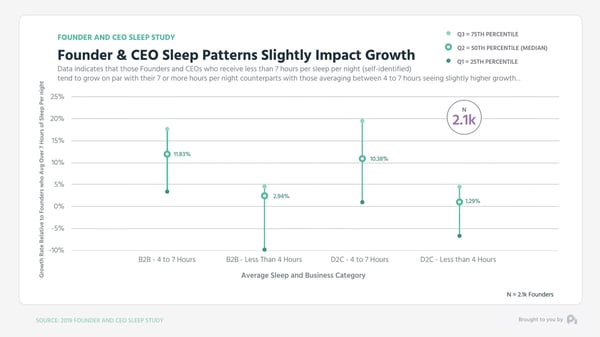 Data shows founders of companies averaging 4-7 hours of sleep grow on par with founders receiving more than 7 hours of sleep. The growth rate is at about 12%.
Now, that's not the case for our friends getting four hours or less a night. Companies with founders receiving less than four hours a night, have a 2.94% growth rate.
The takeaway here: getting less than four hours of sleep is bad and will result in slower growth rates. If your nightly sleep resembles more of a nap, my recommendation here is to unplug and sleep in.
Sleep impacting happiness
Aside from company growth—how does sleep impact founder happiness? To find out, we measured a founder net promoter score—which essentially assessed how likely founders were to recommend becoming a founder to other people.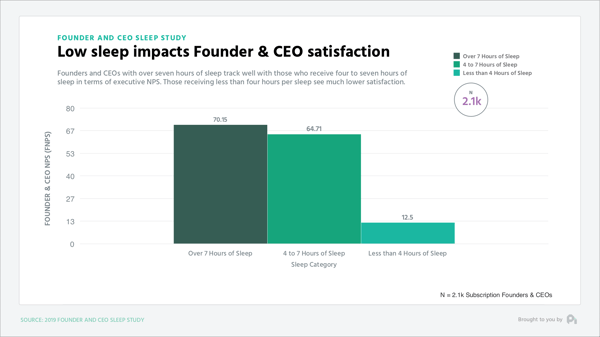 Our data found that founders receiving the most sleep had the highest NPS scores, averaging at about 70%. For those founders in that 4-7 hour range, they were pretty close, averaging at about 65%.
Not the case again for our friends burning the midnight oil. NPS scores for founders receiving less than four hours a night plummeted to 12.5%.
The takeaway: catch more zzz's
Chances are if you're listening to this podcast—you're a founder or a CEO or extremely dedicated to your work. You invest time into your business and your work because you love it. But should you sacrifice sleep for your business?
Our findings show that founders who receive less than four hours a night, grow at significantly slower rates. Founders who receive somewhere between 4-7 hours or more, have companies that grow quicker. Also, founders who received less than 4 hours a night were less likely to recommend becoming a founder to their peers.
The major takeaway here: get some sleep. A well-rested leader will result in better growth and bring you better overall happiness.
---
How is the B2B SaaS market trending?
📈7 day +0.71% | 📈30 day +3.54% | 📈90 day +14.09%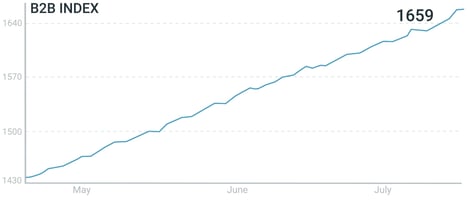 How are churn and new revenue trending over time?
---
MRR GAIN +0.15%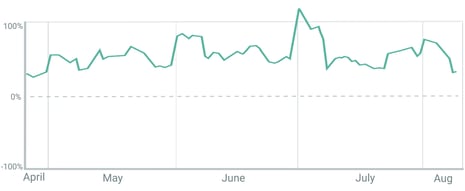 ---
MRR LOSS -0.9%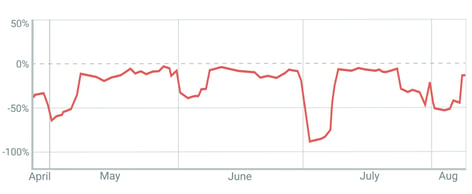 Your B2B SaaS Index is valued at 1,659 points today—with overall growth increasing 0.71% since last week.
MRR gain, representing upgrades and new revenue, is on the mend—going up 0.15% over the last 24 hours.
MRR loss (namely, representing churn in the market) has gone down 0.9% over the last 24 hours. What this means: SaaS companies are seeing more upgrades/new revenue, but we are also seeing existing customers churn.
Be sure to check your subscriber newsletter for regular updates to your index.
You can also share the data with friends and fellow industry players that could use it right now. Send me their email address to grace.g@profitwell.com and I'll get their name on the list. Or they can subscribe directly at index.profitwell.com.
---

Research on retention (and why it's important)
New research by the Software Equity Group shows that retention and net retention are more important metrics to buyers in the mergers and acquisitions market than revenue growth.
The study looked at 50 private equity firms and 25 strategic buyers.
Buyers value net retention because it proves that customers are continuing to find value in the product, while also increasing product reliance and usage. This all results in higher customer lifetime value.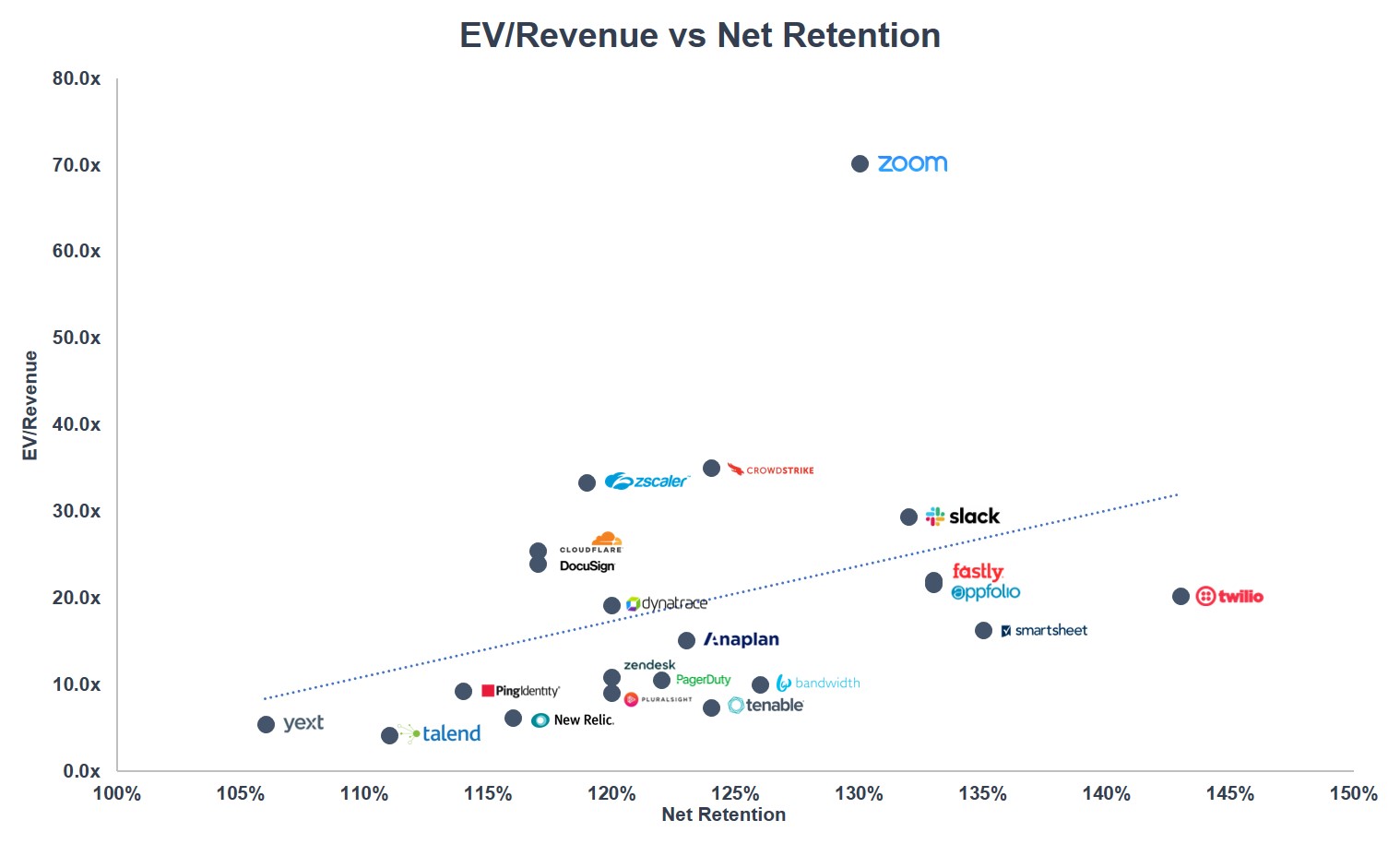 These research findings makes sense because customers are happy and willing to stay on, the company has a greater lifespan, making it a safer investment.
Here at ProfitWell, our data also proves that retention is one of the most powerful growth levers. Everyone should be working to improve their retention—even if you think you've nailed it. A shameless plug here, ProfitWell Retain, automatically reduces churn and improves your retention.
Win back your customers → get started with Retain
---
Ridin' the RevOps wave
We're seeing another SaaS company lean into revenue operations—this week, Chargebee, the recurring billing platform.
Revenue operations, or RevOps, for short, combines and aligns sales and revenue goals with marketing, sales, and customer success teams to work together. These three teams working together allows businesses to optimize their sales funnel, collect more high-quality leads, make more money, and prevent silos.
Chargebee recently released a summary of 2019—one takeaway being that businesses that used Chargebee to automate and streamline revenue operations grew by 60%. This statistic proves being lean and researching your platforms is key with revenue operations.
With a RevOps approach—you have a more integrated and streamlined tech stack—that all teams are using. Researching the different platforms and understanding their versatility will help bring you better revenue operations.
Improve your revenue operations → learn from Chargebee
---


Today's featured user is Disclosures.io—a listing tool kit for real estate professionals so they can manage, market, and sell listings on-the-go.
It drives competition around offers by keeping everything in one place, helping buyers stay informed, and treating everyone involved in the deal like a client.
With the housing market hot for sellers and saturated with buyers right now—a tool like Disclosures.io is something to consider for anyone looking to buy or sell a home.
---
That is a wrap on this week's B2B SaaS happenings. Catch you back here next time with more news and more data. Make sure you're subscribed at recurnow.com or wherever you listen to podcasts.
If you have news to spread or resources to share with our audience, you can always connect with me at grace.g@profitwell.com to get the good word out there.