Today, we hear from those in the trenches—on what it takes to become the most effective founder out there. Plus, the path to SaaS pricing enlightenment, courtesy of Tyler Tringas.
Listen wherever you get podcasts:


---
Top B2B SaaS news



Podcast alert 🚨
I am consistently on the lookout for solid podcasts, and this week I found one perfectly tailored to my Recur Now crew.
It's called The Effective Founder, and its creator Andy Baldacci says it's the podcast for SaaS entrepreneurs who value concrete strategy over tips and tricks. Each week, Andy interviews successful founders to uncover how they build their business and overcome inevitable hardships that come with the territory.
Our very own Patrick Campbell was just featured again on the pod, chatting with Andy on things like: our current economic whirlwind, ProfitWell's expansion to SLC, and behind-the-mind of building the Recur Network.
And Andy doesn't beat around the bush with his interviewing. Here's a peek at what he gets into with Patrick during this go-round:
"As it stands, are you changing what the next couple years look like for ProfitWell?"
Curious to hear Patrick's reply? Here's the episode if you're on the edge of your seat.

Click here to listen to the episode in full.
Some other cool names I spy on the show include our friend Dan Martell at SaaS Academy, Nathan Barry at ConvertKit, Seli Efti, CEO and Co-Founder of Close, plus dozens others from the space.
Andy knows that when you're grinding to $1,000,000 a year and beyond, you don't need the latest growth hacks—you need to execute. His goal with this show is to help you do that.
Path to SaaS pricing enlightenment
Today I am eyeing Tyler Tringas, Founder of Earnest Capital, who recently took to Twitter to highlight, what he calls, "the path to SaaS pricing enlightenment."
This one caught my attention for obvious reasons, but let's hear it from Tyler.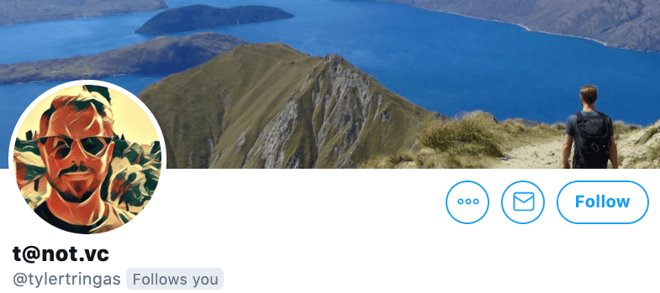 According to him, the path is as follows:

Most entrepreneurs start at cost-based, he continues, because this is the simplest form. You, as a customer, will cost the business more in terms of servers, support, API calls, etc. so pricing goes up accordingly.
Value-based pricing is the next level (of which we have some favoritism here at ProfitWell) where price increases are correlated with what gives the customer more value—think features and integrations, for example—even if it doesn't cost anything extra to deliver.
But the final stage, writes Tyler, involves pure discrimination of a customer's ability to pay. Price is not pegged to what costs you more or even what adds more value, but simply correlates with a customer's budget.
Tyler does point out that these are not mutually exclusive, though.

Then, he links to an older Twitter thread of his own, where he drops the following (potentially unpopular) opinion:

Here's an example: Tyler says Spotify could charge him 3 to 4x the amount he pays now, because access to "literally all the music on Earth" is underpriced relative to value. When he tried Apple Music, he actually found it was a little better that Spotify, but it was just not worth the switch.
In addition...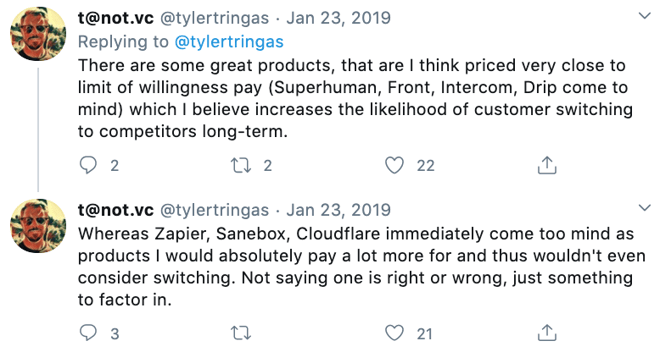 It's all very interesting insight here, not to mention Tyler is a solid follow on Twitter on the regular—but now you might be left wondering how the hell you get all these pricing decisions right for your own business.
The harsh fact is that far too many companies don't spend enough time on their pricing (which is why I so eagerly address tweet storms like Tyler's), or they're ignoring it altogether. Our ProfitWell crew has literally dedicated years of data dives to prove that pricing is NOT set-it-and-forget-it. And we have about a zillion resources to help you get it right.
I am linking to a whole slew of them below.
If you are, however, already a true believer in the power of pricing, let me know what you think about Tyler's take—or any insight you think I should share with our audience.
SSP reminder
If you haven't yet, be sure to check out our Subscription Stimulus Package, an initiative we launched with 50+ other names in the space (and room for more partnerships) to help get our neighbors back on track during a time of uncertainty for so many.
If you're interested in getting on board for 10% of your MRR in savings, head here.
If you want to partner with our crew and offer your own savings initiative, email brian@profitwell.com for more info. on collaboration.
There have been plenty of dark moments, but there is beauty to be found in this—in the ability to come together and fight for our team and our customers. We're in it together.
---
Today's featured user is Insightly, ProfitWell's OG user and the masters of marketing automation made simple.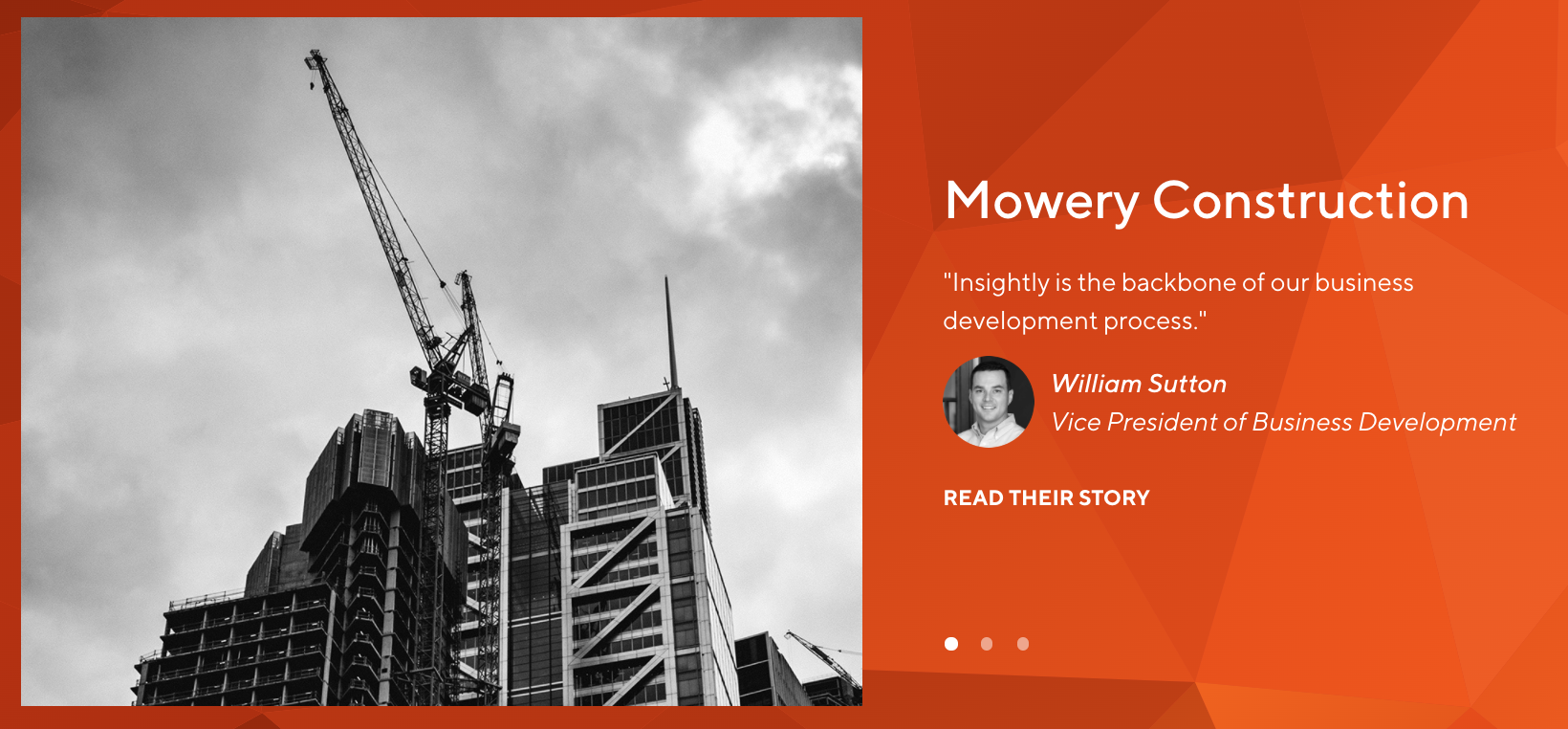 With it, you can go beyond transactions—to better connect with your customers, create unforgettable experiences, and align teams with a CRM built with you in mind.
No expensive integrations. Beautiful email templates. Enterprise-grade dashboards.
And the team recently launched Insightly Marketing, which marries marketing, sales, and project management together in one cohesive platform.
All your info., right here.
---
That's a wrap on your April 22 Recur Now. If you have news to spread or input on any topic we cover, you can connect with me at abby@recurnow.com.
This series is a Recur Studios production—the fastest-growing subscription network out there. If you find use for this show, subscribe for more like it at profitwell.com/recur.