Today, a 2019 year in review. Plus, a SaaS founder drops the knowledge while Disney+ viewers drop their subscriptions.
Your top subscription news
---
New year, old lessons
Like me, you might be sick of those "new year, new me" posts. So instead, we're looking back—reflecting on 2019 as a whole.
Well, actually, Dan Martell is looking back.
Dan, the self-proclaimed chief instigator, serial entrepreneur, and investor—and a good friend of ProfitWell—sat down to record the wild adventures he's been on for the past year, with his most impactful moments.
And after boarding more than 40 flights last year, he has some solid ones. From rally car racing and private jet hopping to backcountry skiing and visiting max security prisons, Dan brings us his nine most powerful strategic insights from hundreds of conversations and experiences—and WHY he keeps his foot on the throttle 24/7.
It's so easy to get burned out and lose sight of the end goal. But Dan's the perfect motivator to get you looking at things in perspective, and sprinting into 2020 like a badass.
And the best part about it: You don't have to hop on 40 flights to learn a thing or two. Cause Dan's delivering them straight.

SaaS facts: enlightened and edutained
Austin Petersmith, CEO & Founder of Capiche—a company aiming to end information asymmetry in business software—tweeted out an offer.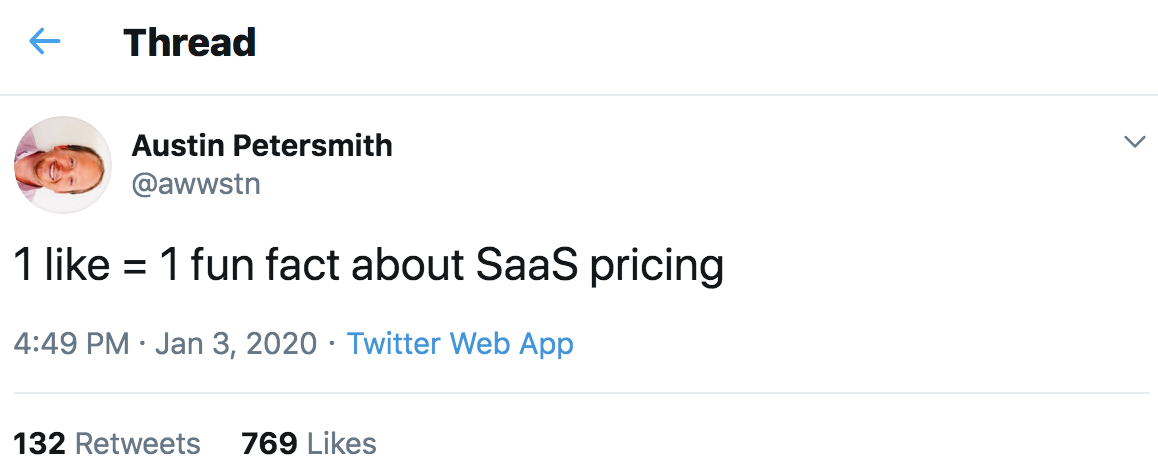 "1 like = 1 fun fact about SaaS pricing," he writes. So of course we have our eyes on this one. And he's seen almost 800 likes to date, dropping continual knowledge in the thread.
Here are some standouts:
And there's so much more, here. It's the perfect distraction: entertaining while enlightening.


Mandalorian madness means a drop for Disney+
And now, we're hearing that Disney may not have planned its subscription channel launch very well. Baby Yoda quickly took over our worlds, but apparently lost us shortly after debut.
Disney has had so few original selections for the launch of its new platform, while Amazon Prime, Netflix, and Hulu all have robust original content that keeps customers interested.
And apparently original content is what people want. Viewers have taken to Twitter to voice their opinions, saying they're not interested in Disney+ again until it's time for more Mandalorian.
On the flipside, you could make this argument for any of the streaming platforms. Back in November, Forbes reported that Netflix could lose 25% of its subscribers in just 24 hours amid the Disney+ launch, but a week later reports proved Netflix didn't lose the masses to Disney's debut.
I think we need to give this one more time. I'm keeping my faith in Disney and its future of original content, as well as the tried and true classics that keep us coming back.
What do you think about this one? Are you a Disney diehard, a Hulu fanatic, a Netflix loyal?
The future could be bright for all—or the streaming battles could rage on. And I want your input. Our pricing pros have touched on this before, but I know we have streaming savants out there with intel to chime in.
Send me a note at abby@recurnow.com and let's talk TV.
---
And that's a wrap for your January 7 subscription news. Recruit your teammates into the subscription know: recurnow.com to sign up for episodes on the daily.
If you have news to share, hit me up at abby@recurnow.com and we'll collaborate.