Fact: consumers would rather try a product than converse with a salesperson. This means your company's product needs to sell on its own, paving the way for a product-led growth approach.
Being product-led requires building a product users can't live without. It sounds simple, but there are multiple routes in achieving true product-led growth.
HubSpot's framework toward product-led growth involves rivers and pools, which I'll explain later. Chris O'Donnell, SVP of Product at HubSpot, broke down the intricacies of HubSpot's journey toward becoming truly product-led and how you can, too.
Chris began with HubSpot about nine years ago in acquisition. At the time, HubSpot was an extremely sales and marketing-led company. He said the product needed a lot of work to fulfill the promise that the sales and marketing team was making to the world.
Chris said there was a huge transformation from not really having to think too much about the market because the market was so far ahead to now—the product is in a place where HubSpot can drive the company and its growth in a highly scalable way through user experience design, technology, and product.
Let's break down the framework that brought HubSpot to this successful place.
Building the framework
Being truly product-led requires having a solid framework in place. As Chris said, there are many ways you can build a framework—matrices, funnels, flywheels, and flowcharts. Chris's favorite type of framework is built on a spectrum he calls "the rivers and pools framework."
The rivers and pools framework, according to Chris, is a very extensible framework. It's something the HubSpot team uses as they talk to and learn about other companies. This framework allows teams to see where they're using different flow dynamics in their product-led go-to-market to their advantage.
You start mapping out this framework by drawing a simple line. One end of the line should say "bought" while the other end says "sold."
"You can do product-led growth no matter what you're doing along this rivers & pools spectrum," Chris said.
Like Chris said at Recur, when it comes to "pools" and "rivers" one is not necessarily better than the other. However, the framework doesn't hold a ton of value unless you're properly weighing your options.
This framework reflects what it means to be bought vs. sold. With that being said, let's go through the differences between "bought" and "sold."
What it means to be "bought"
"Bought" reflects the "pools" in this framework.
"Bought" entails:
Low ASP
Adopt before purchase
Consumer use case (often)
Retail purchase
Standard terms & discounting
"Bought" correlates with "pools" because you're trying to build a huge pool of users. On this end of the spectrum, you obsess over the size of the pool and product activation. Often times, you build a large pool with a freemium model—offering a free version to users that they can upgrade at any time.
Reasons to build a pool
Chris said you need good reasons to build a pool because it requires some heavy lifting. He said the first reason why you should build a pool is if you hold the belief that "life is more valuable as you live it and your users will eventually convert." If you trust that your free users will eventually convert, build a pool. It's worth it.
Another reason to build a pool is if viral user growth is important to you. Building a strong base of free users who love your product will give you that aspect of virality.
Chris related this to HubSpot CRM in particular—the goal was to become the industry standard so building a large pool was a no-brainer.
There's also Spotify, which takes full advantage of the freemium model (successfully, I might add).
What it means to be "sold"
"Sold" reflects the "rivers" in this framework.
"Sold" means:
High ASP
Purchase before usage
No consumer use case
High-touch purchase
Flexible terms and discounting
Chris said you can still be very product-driven when you fall on the "river" side of the spectrum. In this case, you're trying to take a customer's form of interest and convert that into value, which is subscription revenue. If your product falls on this side of the spectrum, you obsess over monetization and product interactions.
Reasons to build a river
Chris said the reasons to build a river are centered around how hard it is to build a pool business. It's expensive to build a pool business—especially when you consider all the stakeholders, investors, and employees you need to compensate.
While building a river business is simpler than building a pool business, Chris said there are two things you need to be wary of with river-built businesses.
First, Chris said, "sacrifice customer trust at your own peril." This ties back to bait and switch, which is when you advertise goods as an apparent bargain with the intention of substituting inferior goods. People value fairness, which in turn improves monetization. So, if you are going to build a river, being more explicit about what is paid for will lead to better adoption.
The second half is best explained by this common phrase, "Start free trial. First enter your credit card number." Nobody benefits from mis-set expectations. People want to know the rules before adopting, even if the rules include some type of payment, people are happy to pay. The takeaway here is that you need to make the rules extremely clear in your product marketing.
The Exception: Spotify
Spotify defies all gravity when it comes to product-led growth. The company exemplifies a very healthy river and pool business. Spotify offers a free version to users. Users can stay for as long as they'd like, taking advantage of the freemium model.
Here are the many ways Spotify defies all odds, as according to Chris:
It has a huge, growing, and free user base.
Effective short-term conversion of qualified pro-users
Natural virality
Clear persona delineation
The product improves as the pool of users deepens
There is a clear monetization path for the "pool"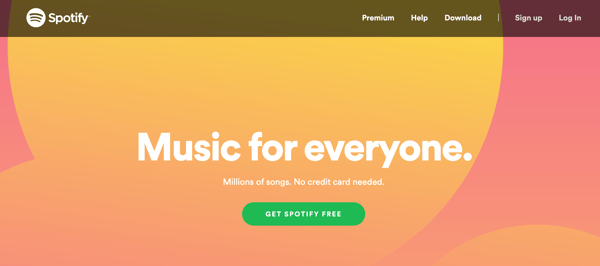 Spotify is clear about what's free and what's not right on the homepage. It states that you can listen for free, no credit card needed. Additionally, Spotify has a clear pricing plan for when the free users decide to go premium. It's affordable, costing only about $10 per month for individuals. Although I'll never complain about cheap access to all the music I could ever want, Chris has quite a hot take. At Recur, he admitted that he believes Spotify could go as far as tripling its pricing while still holding its high customer base.
Final thoughts
Following this "rivers and pools" framework has helped HubSpot transform it's product-led growth approach. Part of the reason why it's so successful is because it's a spectrum; there are multiple ways product-led growth can be accomplished. It's not cut and dry. The HubSpot team has done things all along this spectrum—ultimately resulting in either people who buy immediately and people who use the product before purchasing.