Today, we're jam-packed. We begin with a question about the crisis, one I'm eager to hear your answers to. Then we pivot from pandemic to positioning with April Dunford.
We also hear some feel-good news with Grace, and wrap up with a new segment featuring Patrick and Neel from our ProfitWell crew. In today's topic they discuss: virtue-signaling, and how personal edification amid a pandemic is sometimes feeling more at the forefront than genuine goodwill.
Listen wherever you get podcasts:


---
Top B2B SaaS news



Which remote practices are here to stay?
This week I spied Braintrust, a newsletter by Protocol, post a question I've been wondering quite a bit about myself: Which practices, mandated by remote-work setups, are most likely to stick around after we return to business as usual?
Braintrust is a newsletter created by Protocol's experts in tech, one that asks the hard-hitters and compiles candid answers from the best.
Here are two that piqued my interest in this one:


Click here to read Marcus' reply in its entirety.
Click here to read John's reply in its entirety.
My question for you: Which practice will you keep around? Small or large, daily actionable or bigger picture—what is it about remote life that has made you a better worker?
For me, it's been about patience. I've come to accept the fact that so much of life is out of my control and that restricting myself to outdated professional standards simply doesn't work. There's a fluidity to doing what you do and doing it well. Creativity doesn't stop at lunch time and pick back up again an hour later.
Because good work isn't time-based, it's passion-based. It's about being fully in when you're working on something you're proud of, and present elsewhere when you're not, no matter the time of day. It's about taking pride in what you're creating, but also being able to step back and recognize that you've done good. And that the world won't crumble if you don't reach "inbox zero" at every single shot.
Send me your thoughts, to abby@recurnow.com.
Let's pivot to positioning
If you're looking to take your mind off the crisis for a hot second, let's pivot—from pandemic to positioning. Because our friend April Dunford, the positioning pro at Ambient Strategy, is a whizz in that space. She's feisty, she's funny, she's uberly talented, and she's everywhere right now, in the best way.
April recently made an appearance on Ben Goodey's podcast for marketers, called How the F*ck?, to share a story she's never told before—how she helped reposition a database product that went on to earn $1 billion in revenue.
Click here to read or listen to the interview in full.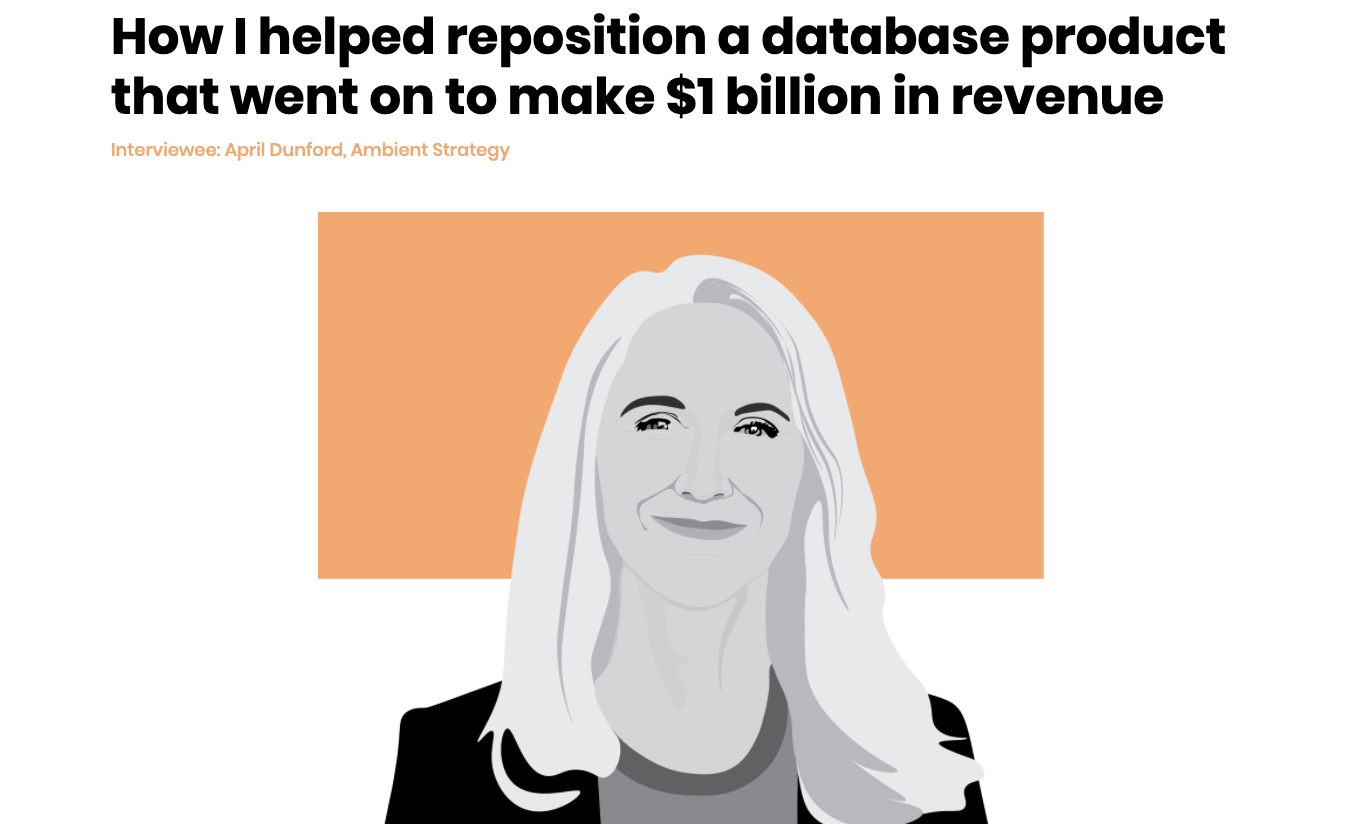 We're also eyeing April's Product Positioning Masterclass, which offers a super deep dive into her methodology—namely, how to nail product positioning so customers get it, buy it, and love it (derived from the book she authored, Obviously Awesome).
The workshop is geared toward product leaders and product managers who want to work with their teams to better position their products to win in the market, marketing leaders and product marketers who want to sharpen their positioning, as well as CEOs, business unit leaders, and execs that need to find strategies to win in quickly changing and competitive markets. It's about how to spot weak positioning, how to break positioning down into component pieces, and why other attempts to operationalize positioning just don't work.
Because ultimately, we know the right positioning forms the foundation of a product's go-to-market strategy.
That one's coming up at the end of May. Head to the Eventbrite page if you want on board.
Your Subscription Stimulus Package
Your Subscription Stimulus Package is still thriving and ripe for the taking. It's an initiative we launched with 50+ other names in the space, with room still for more partnerships, to help get our neighbors back on track during a time of uncertainty for so many.
If you're interested in up to 20% of your MRR in savings, head here. If you're looking to partner with our crew and offer your own savings initiative, send a note to brian@profitwell.com for more on collaboration.

Click here for the entire list of partners.
A feel-good bit with Grace Gagnon
Today, I am spotlighting the $1K project, an initiative created by tech entrepreneurs, engineers, and designers (who also happen to be fellow mothers, fathers, and neighbors). This initiative directly matches families impacted by the pandemic with a sponsor, committed to giving them $1k for three months, bridging the gap until new employment is an option or other assistance arises.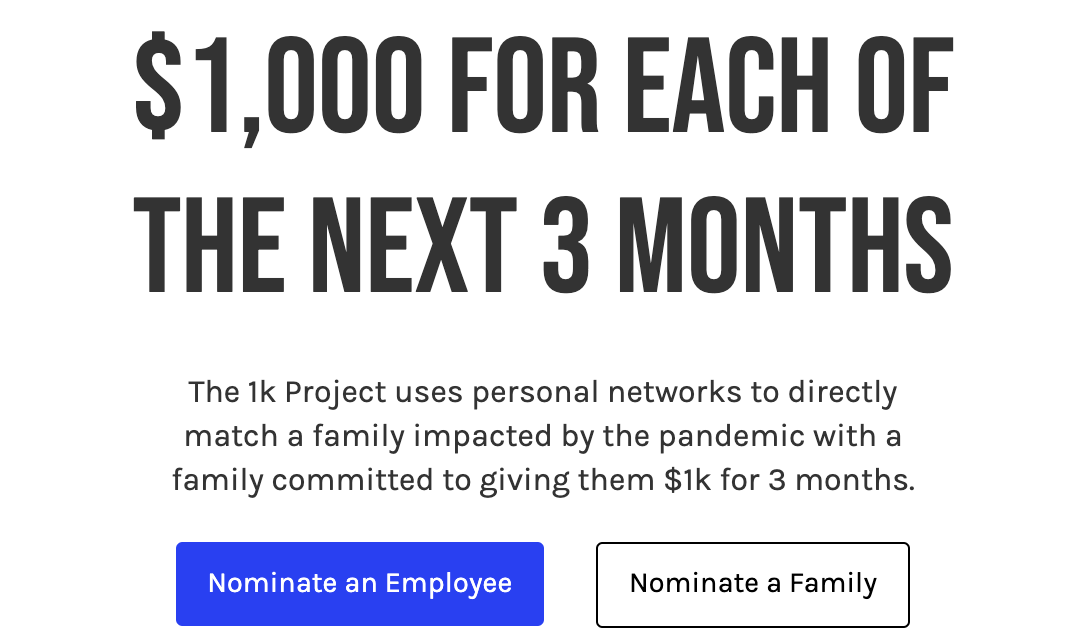 Click here to nominate.
It involves a pretty simple referral and application process, details linked here. We know there are so many out there that could use this aid, but also so many out there willing to help (yet perhaps just don't know through which outlet). Spread this one in your circles and see where it can go.
---
ProfitWell featured user


Our featured user today is Kajabi, an all-in-one online business platform.
What does all-in-one mean exactly? Kajabi essentially makes it easier to launch online businesses—with things like creating courses, building landing pages, and launching marketing campaigns (all super essential parts of thriving).
And the Kajabi team is also making life easier amid the crisis. In a letter from Kajabi's CEO and Co-Founder Kenny Rueter, he encourages: Progress is still happening. There is still hope for growth. Community is more important than ever.
"You don't have to step outside to step up."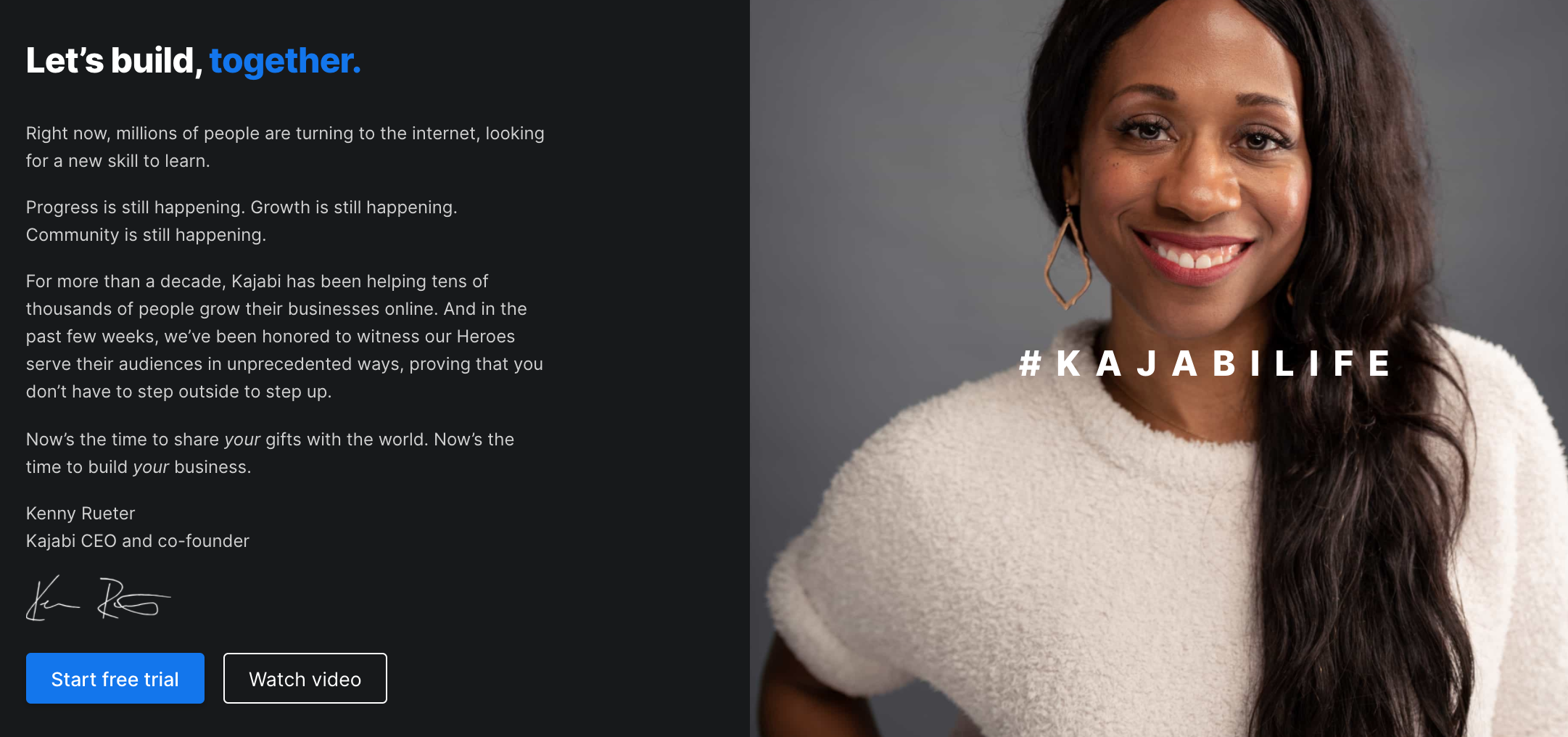 You can check out Kajabi for free right now, or just browse their site to see if it's right for you.
---
That's a wrap on your April 24 Recur Now.
It is officially the weekend. Enjoy it like a new day.
This series is a Recur Studios production—the fastest-growing subscription network out there. If you find use for this show, subscribe for more like it at profitwell.com/recur.