April showers often bring May flowers—but this year, we're just hoping goodwill breeds growth. Pluralsight and Zenefits are both on board with it, launching initiatives this month to get you back on your feet.
Listen wherever you get podcasts:


---
Top B2B SaaS news



Stay home, skill up
Pluralsight, like many of the rest of us, is encouraging you to stay home—but also, to skill up. They're calling this one: #FreeApril.
Pluralsight is the technology skills platform that helps companies skill up their teams and increase their engineering impact.
And the #FreeApril initiative is about building in-demand tech skills without ever leaving your couch (or your kitchen, your floor, your bathtub… flexible on in-home location) by offering over 7,000 expert-led video courses with no charge this month.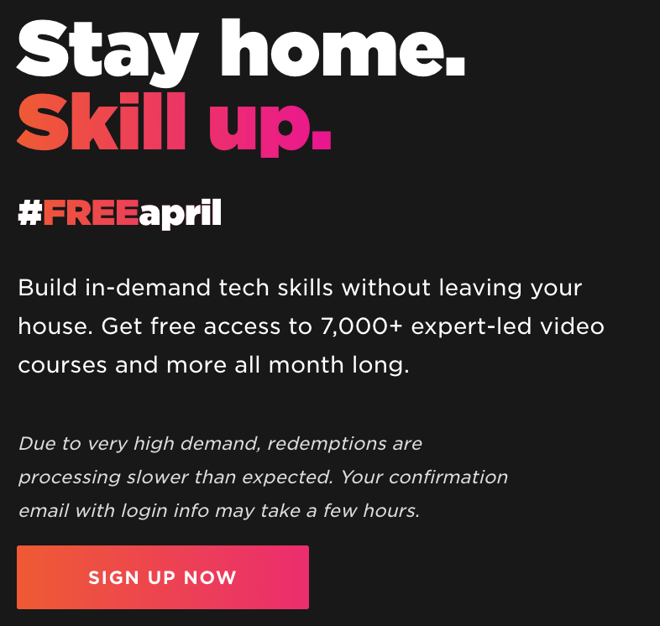 Here's how it's going down:
Anyone interested can sign up for a Pluralsight account—rest assured, it's free (no CC required).
Get to know the platform. The Pluralsight team will help users build up those tech skills with expert knowledge-based courses, skill assessments, and paths.
Kick off your skill development. Users will take a look at their strengths and weaknesses with the Pluralsight team and they'll serve up content recommendations to help users improve with assessments.
Goodwill and skill? Can't really beat that right now.
May as well reap the Zenefits
Zenefits, home of the HR software masters, is also dipping into the goodwill game—offering free payroll software to assist small and mid-sized businesses during this time—by launching the "In It Together" program.


The initiative includes entirely free access to the Zenefits payroll product for a full year for both current and existing customers (which is kind of unheard of right now) to foster a better payroll experience, money saving, mobilization of remote workers, and compliance regulation.
But there's another big one here: Zenefits is helping SMBs navigate the new federal aid and the Payroll Protection Program. The platform is designed to deal with all the paperwork and reporting that's needed to get you the most from the recent loan forgiveness and financial relief bills passed by the government. (Because we get it, this can be complicated.)
Who is eligible, you ask?
Both new and existing customers are eligible for the promotion, subject to specific terms. This is a limited offer available on a first-come-first-served basis. Your full rundown here.
---
And now, let's get aligned—with Alignable, the small business referral network.
Now more than ever, we need to pull from the resources we've got, network in the right places (even if virtually), and build each other up. And Alignable is all about getting you to reach more valuable customers and receive solid referrals from your peers, which can have a direct impact on your bottom line revenue.
Alignable is also here to foster increased visibility. Because, face it, the market is so insanely crowded. In 2012, the average SaaS company had two competitors. That's now up to nine. With Alignable, you're looking at better visibility to be found and be seen by future users.
It's also about building trust with partners, with prospects, with local leaders—so your relationships are based on sincerity, not sales.
Alignable also has a resource hub for small businesses during the COVID-19 craziness. Full details on that, here.
---
That's a wrap on your April 3 episode of Recur Now. More for you here next week.
This series is a Recur Studios production—the fastest-growing subscription network out there. If you find use for this show, subscribe for more like it at profitwell.com/recur.