"An underrated skill as an entrepreneur is the ability to maintain a level head in spite of external circumstances." - Patrick Coddou


Today, it's an acquisition vs. retention showdown. Which should be your focus for Q2? Plus, Wistia launches an initiative for the creators—during another feel-good bit with Grace.
Listen wherever you get podcasts:


---
Top B2B SaaS news

Acquisition & retention, both vying for your attention
Our friend Ed Fry, Head of Growth over at Paddle—the subscription and commerce platform that amps up SaaS business growth—can agree that SaaS professionals obsess over customer acquisition. But when deal creation is down 30% and over half of SaaS revenue leaders have revised their forecasts down, Ed recommends you obsess over customer retention instead.
In his latest post on the Paddle blog, he outlines the trends, data, and numbers that the Paddle team is seeing right now, to help you decide where to re-focus your business efforts.

The problem we're faced with now is that expansive thinking and business-as-usual ideologies don't strike the same at board meetings anymore. (Spoiler alert, if you're coming out from under your rock today: Economic times are different.)
It's within this context that Ed nods to a quote by SaaStr's Jason Lemkin, sharing advice to a world of re-forecasting SaaS execs.

We know it's about focusing on the right revenue driver for you, across acquisition, retention, and expansion. It's also about focusing on lagging indicators, because your past performance (namely, your "new baseline") is a strong indicator of your future performance.
Throughout the post, Ed shares market trends and strategies that Paddle's witnessing as we speak. Your personal metrics may be different, but here's what they're seeing across aggregate data.
Trend #1: Deal volume and sales response rates have dropped to new lows. And leading indicators of new customer acquisition are down significantly.


Trend #2: You're not alone. 96% of revenue leaders say they've been impacted by COVID-19. Survey data from the Revenue Collective indicates almost every revenue leader in SaaS has been impacted by the crisis.


Trend #3: People are buying 50% more software since lockdown started. But will this last? The Paddle crew analyzed substantial growth in buyers across the world for software businesses on their SaaS Commerce Platform. Follow their Software Buying Index below, based on checkout completions through Paddle, to see the lift in transactions around mid-March as Western countries went into lockdown.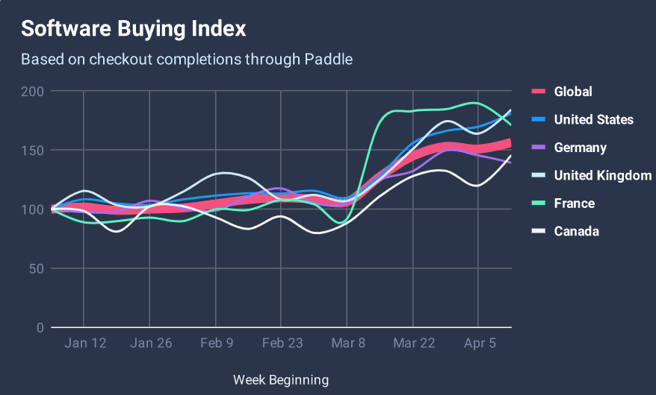 Paddle's Software Buying Index
Our ProfitWell crew is launching our very own Subscription Index this week—a dataset that's updated daily, presented in the perspective of growth, vertical, and new revenue/loss revenue—so you can react in as real time as possible. If Paddle's data piqued your interest, stay tuned for that.
Linked here, Ed's full post with all data cuts and concrete advice for forging ahead.
Talk to me about your headspace
Today I'm calling out a tweet by Patrick Coddou, Founder over at Supply, the creators of artisan single-blade razors and shaving rituals.
Patrick writes:


And I couldn't agree more.
I received several thoughtful responses from our viewers yesterday on how you're navigating the pandemic woe that is Zoom fatigue, and today I'm asking this: How do you maintain a level head? Whether you feel like you're great at it (you have solid tactics that work well) or that what you're doing simply isn't working (i.e., you're looking for suggestions)—send me your replies to abby@recurnow.com.
Again, no response is too minimal or too big picture. I'd love to chat it through.
Creators, unite: a feel-good bit with Grace Gagnon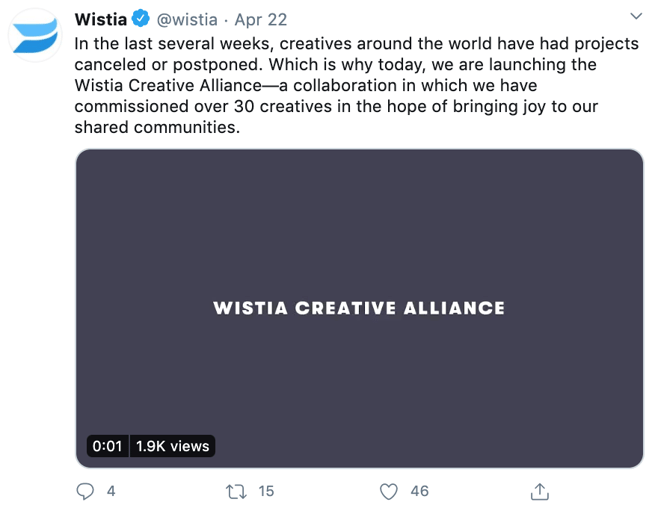 I am pumped, especially as a creator myself, to see the video masters at Wistia launching the Wistia Creative Alliance—a collaboration in which they've partnered with and employed 30+ creators to bring joy into the greater creative community.
Because the last several weeks have seen copious project cancellations and postponements of all kinds. So the Alliance project is about educating, entertaining, and ultimately continuing that creating.
And it looks like the Wistia team is offering three types of content with this. Info. on each as follows:
Director's Cut: a look behind-the-mind of the creative process and the decisions made in producing great work.



Noodle on Lenny: interpretations of the same subject (the subject, of course, being Wistia's office labradoodle Lenny).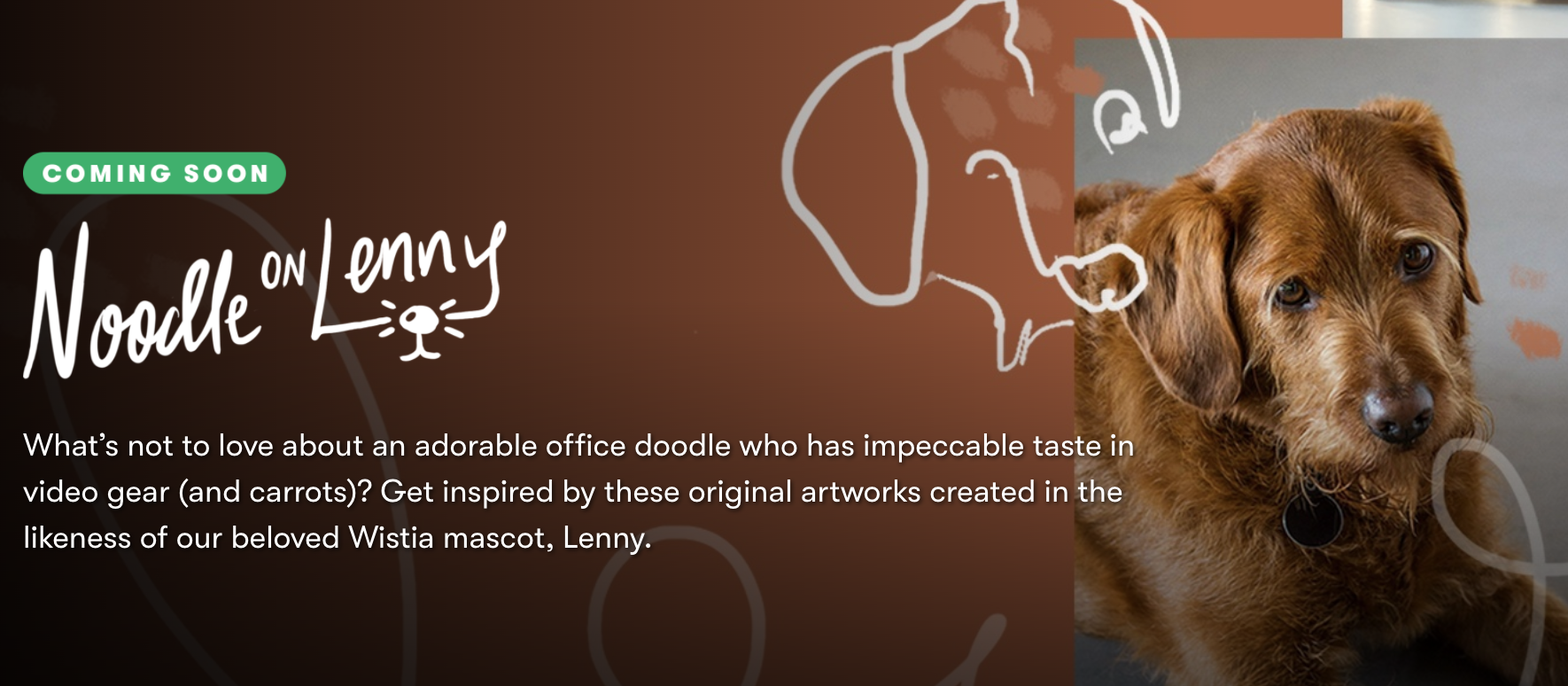 For the Kids, a selection of content for you to enjoy with the kiddos.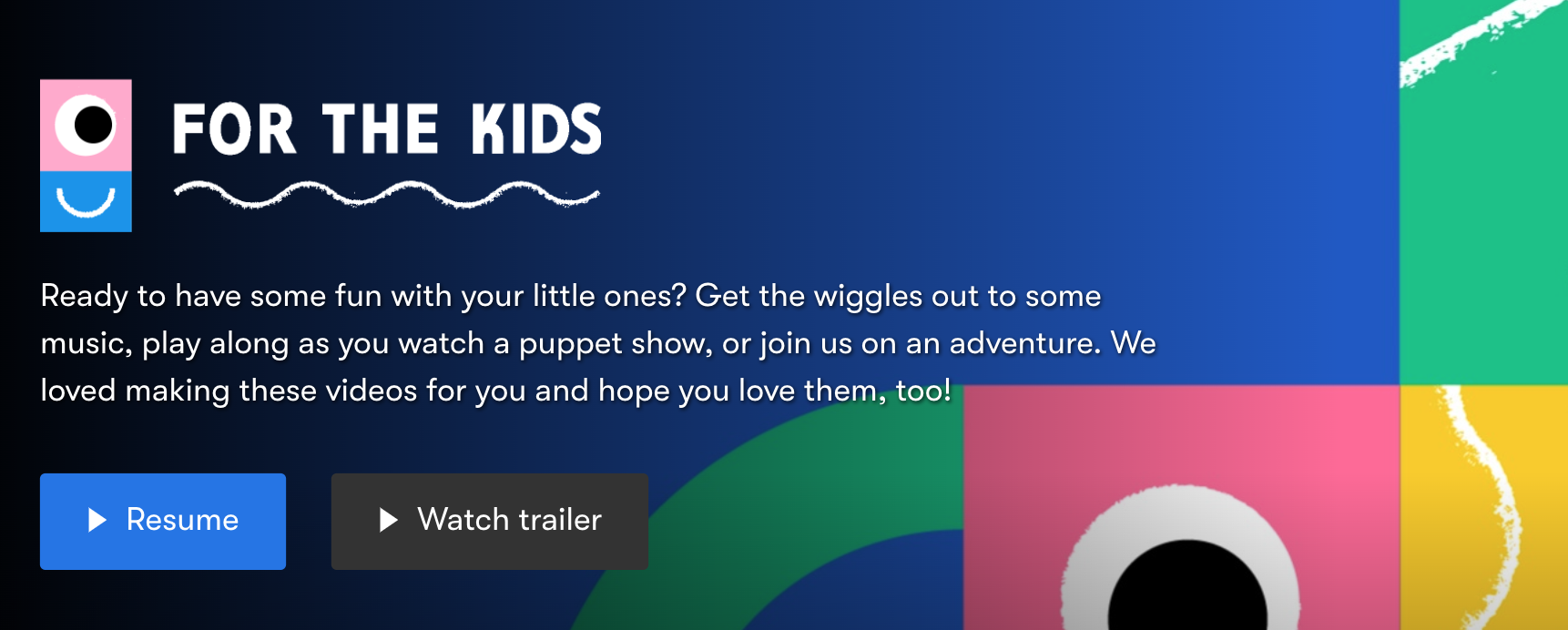 All in the name of bridging the gap between the need for art and support for the creatives who make it. Our hats are off to you, Wistia.
Reminder: Subscription Stimulus Package
PSA: Your Subscription Stimulus Package is still thriving and ripe for the taking. It's an initiative we launched with 50+ other names in the space, with room still for more partnerships, to help get our neighbors back on track during a time of uncertainty for so many.
If you're interested in up to 20% of your MRR in savings, head here.
If you're looking to partner with our crew and offer your own savings initiative, send a note to brian@profitwell.com for more on collaboration.

Click here for the entire list of partners.
---
ProfitWell featured user


Today's featured user is ConvertKit, email marketing software the way it should be. ConvertKit offers email marketing for online creators to connect with their audience and make a living doing the work they love.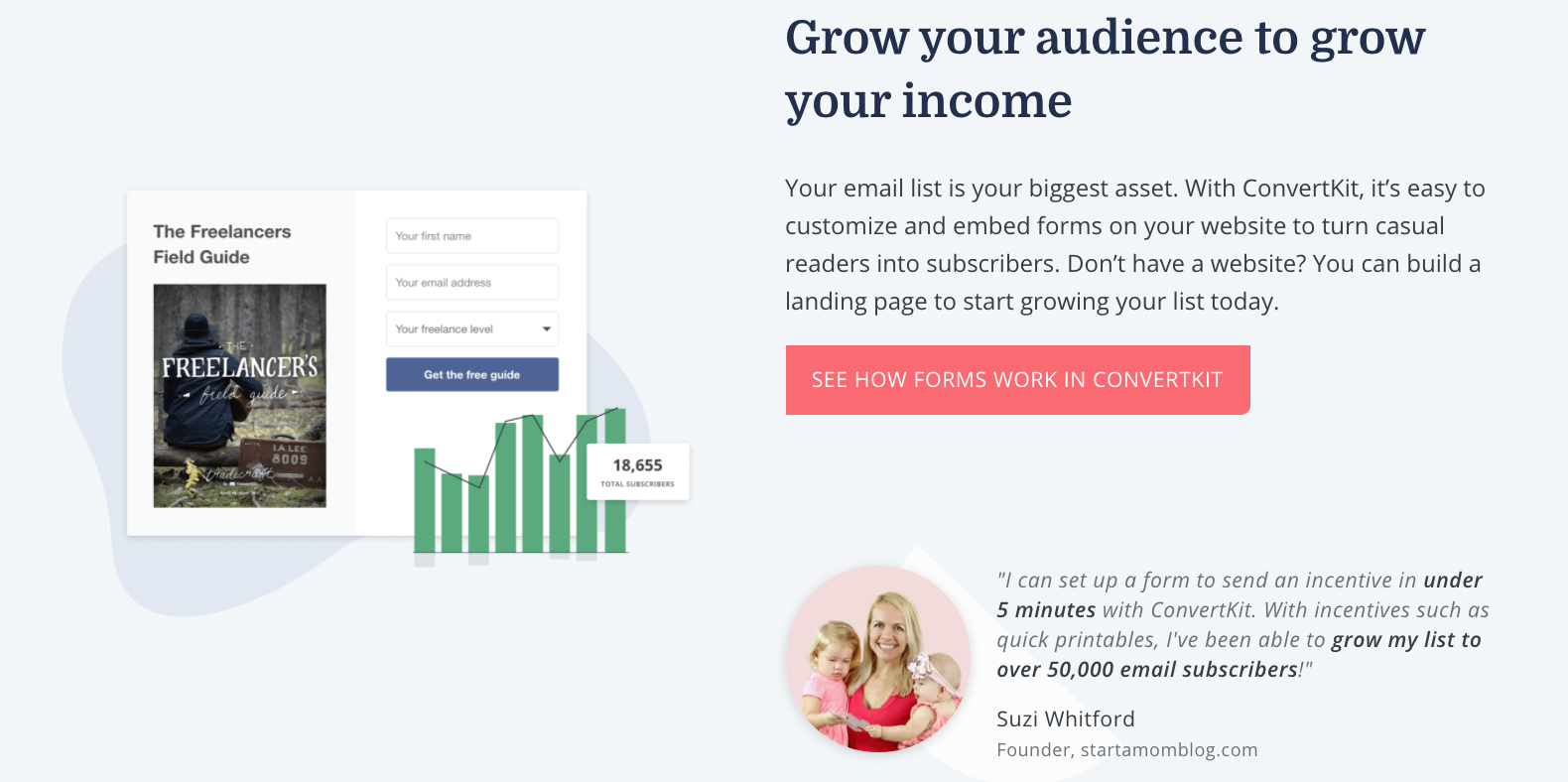 The ConvertKit crew also launched a $50,000 fund called The Creator Fund to support creators in need during the COVID-19 pandemic. I'll link to information on qualifying and applying to funds in your subscriber newsletter.
And from the inside, I'm eyeing an interview with ConvertKit Founder and CEO Nathan Barry, as published this month in the SaaS Marketer blog—deemed "Nathan Barry's bumpy road to $1.7M MRR." (Hey, even if it's a bumpy road, I'd bet a lot of us would take it to get to those numbers.)
I also just listened to a solid episode of Dan Martell's Escape Velocity series with Nathan as guest, which is worth checking out (if anything to show off the beard).
And linked here, how you can access a free account with ConvertKit.
---
That's a wrap on your April 29 Recur Now. More on tap for tomorrow.
This series is a Recur Studios production—the fastest-growing subscription network out there. If you find use for this show, subscribe for more like it at profitwell.com/recur.