On today's episode, a bit about mindset and margin. Also, social media marketing pro and TedX speaker Teresa Heath-Wareing brings us some insight on connecting with customers—and we are completely on board with her sentiment. Plus, the website features that will win subscribers over.
Your top subscription news
---
Mental margins matter
Justin Jackson, Co-Founder over at Transistor—a platform for podcast hosting that we happen to be big fans of—kicked off 2020 via Twitter in a thoughtful manner.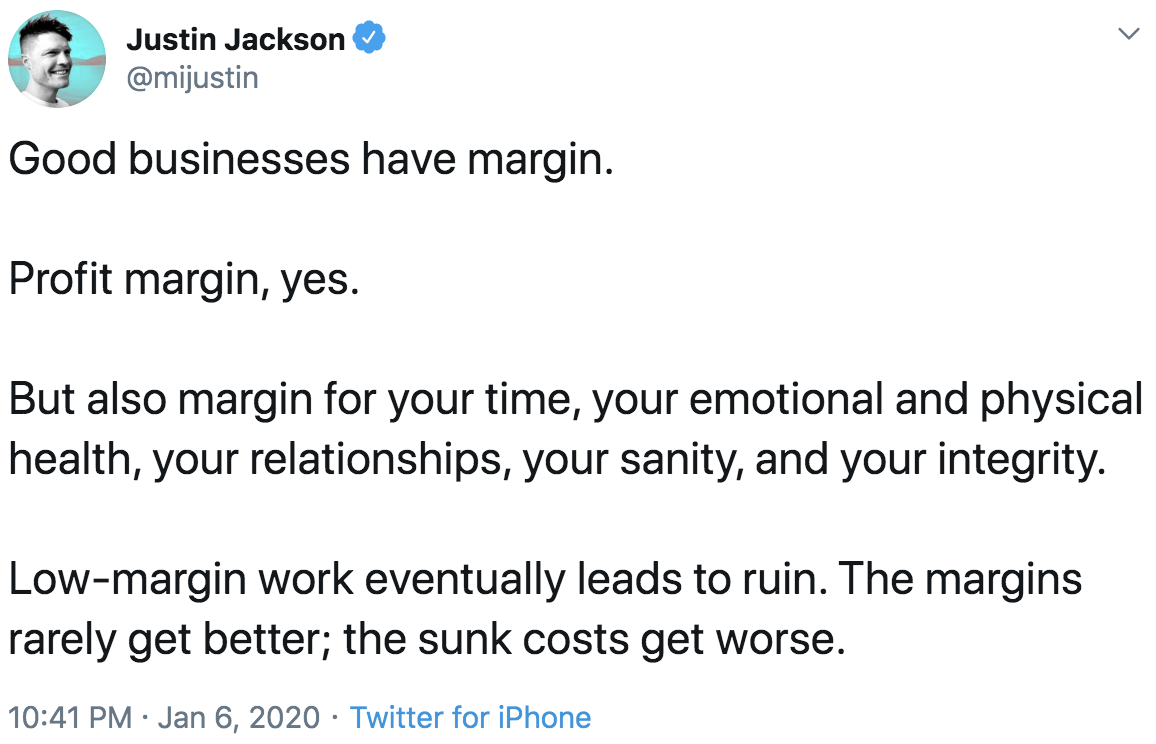 He reminds us that good businesses have margin.
Profit margin, yes. But they also have margin for your time—your emotional and physical health, your relationships, your sanity, and your integrity.
He knows that low-margin work eventually leads to ruin. And encourages us: If you're employed by a low-margin business, do everything you can to get out. Because your boss will dump their anxiety, lack of health, and mania onto you.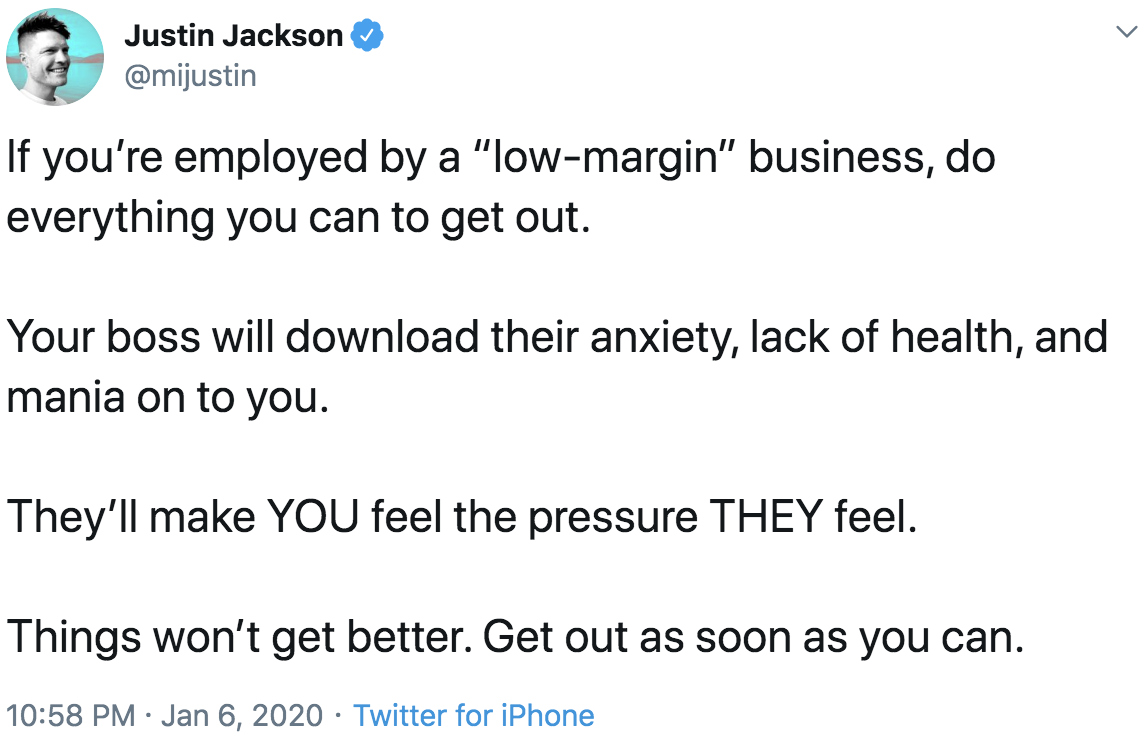 As a founder himself, he can attest. In his early 20s he opened a skateboard/snowboard shop. And apparently, it was low-margin everything:
Low markup on the products they sold
High complexity (with orders, employees, inventory)
High risk
High stress (with theft, capital)
Long hours, low pay
One thing you'll notice with low-margin businesses, he says, is that you're always "adding more," hoping it will increase your margins.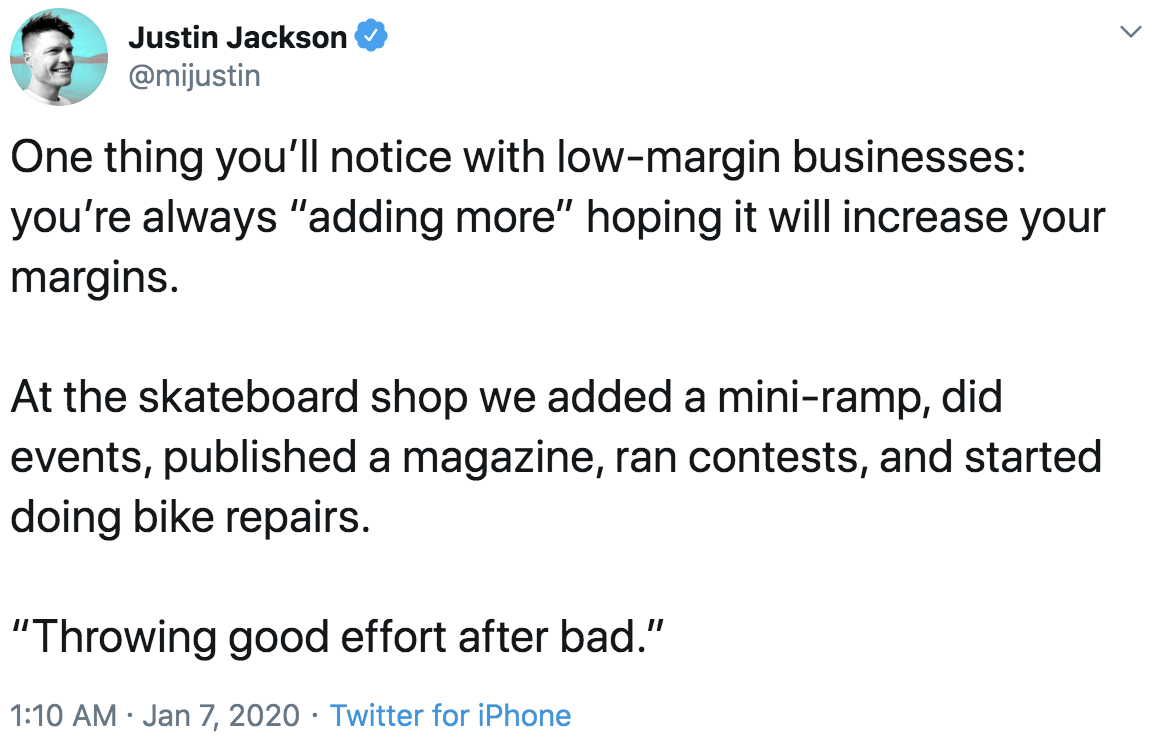 And we know how crucial to an operation it is for founders, CEOs, and the like to be in a healthy state of mind. We've touched on mental health for entrepreneurs on past shows, because sometimes the hardest part of it isn't what you think. It's not always on the surface, but instead dealing with emotional turmoil and burnout.
We also have an episode of ProfitWell Report, during which Matt Barnett at Bonjoro asks us about founder sleep: How does the amount a founder sleeps every night affect company growth?
We show you the data from 400 subscription companies, in the context of their founder's sleep habits, later in this episode. But if you get anything from this story, we hope it's encouragement to take a step back and consider your margins, your mindset, and your mental well-being.
Mindset matters
In more with the Bonjoro crew—who've built an app for sending personalized videos to better onboard your new users—they tweeted out another nice reminder of the cruciality of staying sane in the professional sphere.
This one's via what they deem a "Grizzly Growth Tip"—starring Teresa Heath-Wareing, international speaker, training author, and owner of THW Marketing.
"I am obviously a massive podcast fan," she says. "They're a great way to learn—whether you're doing something else, on the move, or getting ready in the morning."
And one of her favorites is the Mind Your Business podcast with James Wedmore.
"The reason I love this so much is because he really addresses what it's like to run a business from a mindset point of view. And I always thought to myself, 'Ya know what? I know what I'm doing. I've been in marketing for like 15 years now. I know how to market businesses.' But I didn't think about how your mindset could have such a massive impact on your business."
Teresa knows you can have the best tools in the business, but if you're not in the right mindset, the hustle may just turn into struggle. There's nothing wrong with pumping the brakes and assessing where you can improve personally. We can talk product, positioning, and placement all day long. But so much of success is also about people.
We have an interview with Lola.com's Mike Volpe about the value of your people, plus an episode of Protect the Hustle on hardships, cancer, and the operational struggle.
Your signup process could make or break
We just talked yesterday about the struggle in music streaming. When every plan looks the same, how do you stand out?
Features like free shipping and real-time customer service used to be swanky, but now—expected.
And we know the video streaming world is bogged down by providers. We've also talked this week on Recur Now about how original content is where it's at, but that might not be the only way to win them over. And the answer, according to pymnts.com, could be in the sign up process.
PYMNTS annually tracks the signup process offered by digital subscription service providers in more than 10 verticals, to find out which signups have the best chance of converting casual browsers to new subscribers.
The January 2020 edition of the Subscription Commerce Conversion Index, a collaboration with Recurly, found that consumers expect to be able to sign on quickly and seamlessly.
It took an average of 142.2 seconds to sign up for digital subscription services in Q4 2019, down from 148.3 seconds in Q3.
But there's more to the signup saga than subscription features and speed. Each sub sector of the digital subscription market must tailor its processes to match the demand of its own, unique consumer base. But the question is, how?
To learn more about how subscription providers in different verticals are optimizing their checkout processes in 2020, download the report.
Here's also a resource of our own—with the data behind pricing discrepancy and why your customers may be leaving your site before checkout.
ProfitWell Report
---
Sleep has been one of the most en vogue topics for founders and modern humans in general. We're surrounded by struggle porn that tells us to hustle our faces off, as well as more screens and stimulative calories than our grandparents could dream of in their lifetime. While we've learned more and more about what sleep does to the body, we're forced to wonder how sleep impacts the success of a company.
From a growth perspective, the results are actually quite interesting.
To answer this question, we looked at the data from roughly 400 subscription companies in the context of their founder's sleep habits. Here's Neel with what we found.
Enter your email and get fresh data every week.
(Feel free to skip this on the lower right)
---
And that's a wrap for your January 9 subscription news. Recruit your teammates into the subscription know at recurnow.com to sign up for episodes on the daily.
If you have news to share, hit me up at abby@recurnow.com and let's collaborate.