Remember the feeling of going on a first date? You'd buy a new outfit or get your hair done. Then, you spend a good chunk of change on the actual date... only to be ghosted the next day.
You might feel a bit miffed knowing you spent all that money for nothing. It's not for nothing, though. It's a learning experience—and one that could be applied to SaaS.
Sometimes you pull out all the stops to woo a customer, only to have them not convert. So frustrating. That's why today I'm sharing tips and tricks on how to reduce your customer acquisition costs while maintaining customer lifetime value.
Listen wherever you get podcasts:



Spend less, earn more
When you first start a company—you're hungry for customers. You'll do whatever it takes to get them through the door and commit. But, as you grow, you learn that your customer acquisition efforts need to be strategic—or else you risk spending more money than you rake in.
That's why we're putting the spotlight on customer acquisition cost and customer lifetime value.
As you know, CAC is how much money you spend on a customer while LTV is how much money that customer spends on you. These two metrics work together to reveal the overall health and sustainability of your business model.
First, a little more context on LTV and CAC, plus a recap on calculating them. Then—we'll dive into how you can improve your LTV:CAC ratio.
Let's first dive into customer acquisition cost.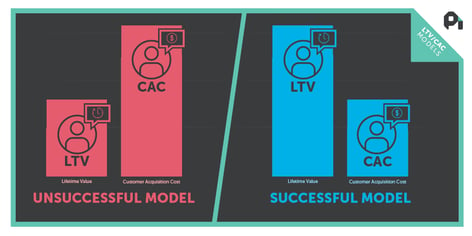 Calculating CAC
CAC: or customer acquisition cost, is the total cost of sales and marketing efforts that are needed to acquire a new customer. Understanding your CAC metric will prevent you from blowing money on acquisition without getting the proper return.
CAC = total cost of sales and marketing/ total # of customers acquired
For example: if you spent $36,000 to acquire 1,000 customers...you would divide 36,000 by 1,000. That equals 36. So you spent $36 to acquire each customer.
Calculating LTV
Customer lifetime value is the total dollar amount you're likely to receive from an individual customer over the life of their account with your product. LTV allows you to account for and predict your business' revenue and profit.
LTV = ARPU/customer churn
These are the basics of CAC and LTV separately, now let's walk through how these two metrics work together.
How to improve your LTV: CAC ratio
Your LTV:CAC ratio is the return on investment for each customer. You want to keep this ratio at 3:1 or higher. You should optimize your LTV:CAC ratio every quarter.
If your CAC is higher than your LTV, there are steps you can take to fix that.
How to improve LTV:
Cross and upsell: Grow your customer's LTV by building add-on revenue into your product.
Product line expansion: Release new products to purchase and retain into.
How to reduce CAC:
Optimize your funnel: Quantify each step of the process and understand how many visits result in leads and how many of these leads convert.
Strengthen the effectiveness of sales and marketing: Take a lean approach and put money into channels that you know will have a return.
Inbound marketing: Produce content that provides value, bringing more customers through your funnel.
One last action item: optimize your pricing. Pricing is one of the most important growth levers and having a scalable pricing strategy to reflect the value of your product will result in more revenue.
Takeaways
The easiest way to describe LTV and CAC...CAC is how much money YOU spend to acquire a new customer while LTV is how much that customer will spend on YOU during their lifetime with your product.
Tracking your LTV:CAC ratio is crucial because it'll reveal if you are spending more than you are receiving. You want to spend as little as possible while earning the most return. LTV:CAC reveals the overall health of your business and sustainability.
There are a number of things you can do to improve your LTV:CAC ratio, like upgrading current customers and optimizing your pricing.
For more on calculating LTV: CAC → click here
For more on LTV: CAC models → click here
---
How is the B2B SaaS market trending?
📈7 day +0.88% | 📈30 day +3.9% | 📈90 day +13.43%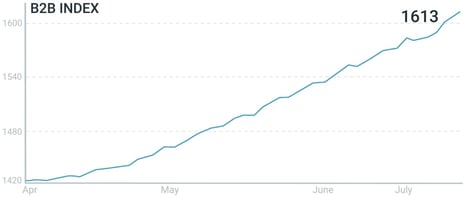 How are churn and new revenue trending over time?
---
MRR GAIN -1.93%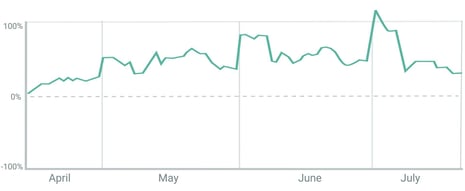 ---
MRR LOSS +0.72%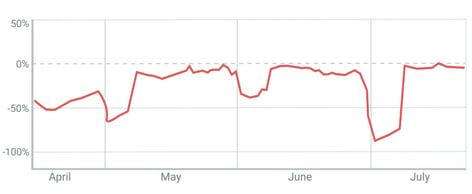 Your B2B SaaS Index is up +1613 points—with overall growth increasing 0.88% over the last week.
We're seeing a bit of loss with upgrades and new revenue... MRR gain has gone down 1.93% over the last 24 hours, while MRR Loss (namely, representing churn in the market) has gone up 0.72% over the last 24 hours.
Be sure to check your subscriber newsletter for regular updates to your index.
You can also share the data with friends and fellow industry players that could use it right now. Send me their email address to grace.g@profitwell.com and I'll get their name on the list. Or they can subscribe directly at index.profitwell.com.
---

Hope for the best, prepare for the worst
If there's anything the coronavirus pandemic has taught us—it's that companies should be prepared for a disruption at any given time.
What are some things B2B companies can do to continue growing and stay afloat in case things suddenly take a turn for the worse, again?
An article by The Drum lists 8 things—one of the main takeaways being moving in-person events to online.
Face-to-face events were a critical touchpoint for B2B companies—providing us all with valuable learning experiences and networking opportunities.
With cases surging in different parts of the country, there's a slim chance for in-person events this year. So, B2B companies need to shift to recreate this in-person experience—digitally.
When you do—be mindful of audience fatigue. Find unique ways to engage an audience online—webinars are great, but too many can feel like a drag. Some tips to engage your audience virtually—you can make time for Q&A, chat boxes, quiz taking. You can also hold virtual breakout rooms and sessions so attendees can still network with other people.
To read The Drum's article in full → click here
---
Global forecast 2026
And now, let's take a look into the future with findings from the SaaS Market Research Report —Global Forecast 2026.
The report's executive summary says, " The global SaaS market is projected to witness a robust growth rate on account of favorable government trade policies, as per a new report by the Market Research Future."
The market size is expected to reach $298.55 billion by 2026, with some key market drivers being cost effectiveness, or services and increasing demand for third-party software services.
This report is extremely thorough—SaaS leaders—you'll learn more about key market drivers, market strategies from top players, key trends in the SaaS global market—and more
To download the full report → click here
---
Growth and funding in 2020
And speaking of growth—join ProfitWell's CEO, Patrick Campbell this coming Thursday to talk about growth and funding in 2020.
It's a live discussion with Patrick and Kyle York, CO-founder, CEO, and managing partner of York IE. The two will break down B2B data and benchmarks from 15,000 companies, growth and funding advice to stay active—and retention and monetization tips to reduce churn.

It's all going down Thursday at 2 p.m. EST. To sign up → click here
---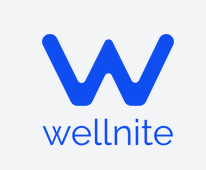 Life can feel overwhelming at times—especially when we're dealing with a global pandemic. That's okay—WellNite is here to help.
WellNite offers online depression and anxiety treatment. You can go online and receive a same-day doctor consultation, therapy and medication—all from the comfort of your home.
So, do me a favor—and take care of that beautiful mind of yours.
To learn more about WellNite → click here
---
That is a wrap on this week's B2B SaaS happenings. Catch you back here next time with more news and more data. Make sure you're subscribed at recurnow.com or wherever you listen to podcasts.
If you have news to spread or resources to share with our audience, you can always connect with me at grace.g@profitwell.com to get the good word out there.