If you're looking for someone who knows a thing or two about growing a business, you won't find a better person than Mike Volpe. CMO at HubSpot when it grew to a billion-dollar business, he is now CEO of business travel site Lola.com and looking to take it in the same direction. He took the stage at Recur 2018 to tell us more about how to prioritize the right growth channels for your business.
Through working with a multitude of companies in some of their biggest growth phases, Volpe has developed a series of keen insights into what strategies make a company blossom.
The keys to success for 4 completely different companies
Volpe shared a collection of case studies from his personal experience that showcases what various businesses are doing well and how they're making their strategies work for them. These case studies offer a unique look into exactly where everything went so right for the companies in question.
The thing to pay attention to is how different each of these businesses is. They have different markets, goals, and approaches. What worked for one wouldn't necessarily work for another company. Knowing your own market can help you take these case studies and tailor them to what your space needs, so keep that in mind. It doesn't matter what your business is because any business can accelerate its growth with the right strategy.
1. Privy uses the power of free users to keep CAC low
Privy is a Boston-based company that helps e-commerce companies handle their email, cart abandonment, and email list growth so that they can grow their business and get more transactions.
Privy has a freemium model generating about 11,000 new free accounts every month. This model has led to:
hundreds of paid upgrades

350,000 total company accounts

a roughly $50 ASP per month average
This model works for Privy, but what we really need to uncover is how and why this actually works and then find out how to replicate this success.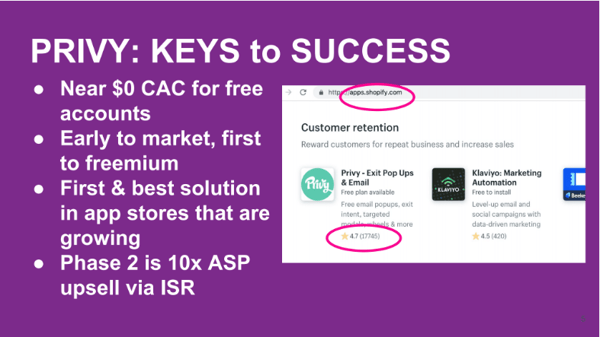 Keys to success: lower CAC and higher upsell
The first is that CAC for their free accounts is low for two reasons:
Its free accounts have built-in advertising—all say "Powered by Privy" on them.

It markets successfully within relevant app stores and get a ton of reviews.
Privy wasn't the first to market this way, but it was the first to combine those methods with a freemium pricing structure. "Powered by Privy" and reviews get more users. Those users upgrade (generating revenue) and review (generating more users). Then the cycle repeats.
Secondly, Privy pushes upgrades. It collects data on its customers, passing that info along to a newly formed internal sales team to push higher-priced offerings and upgrades. Privy is setting an example by putting in the extra effort to learn more about who uses their product and what types of upgrades might benefit those different groups.
If your business can put in the effort to market directly to internal groups, you might find a huge uptick in the number of upgrades and add-ons you sell. You probably already have that data, so not mining it is leaving money on the table.
2. HubSpot built its business and a movement
HubSpot is a software developing and marketing organization. It raised its early ASP from $3,000 yearly to $12,000 over six years. That was done with next to no paid advertising, just content and inbound marketing.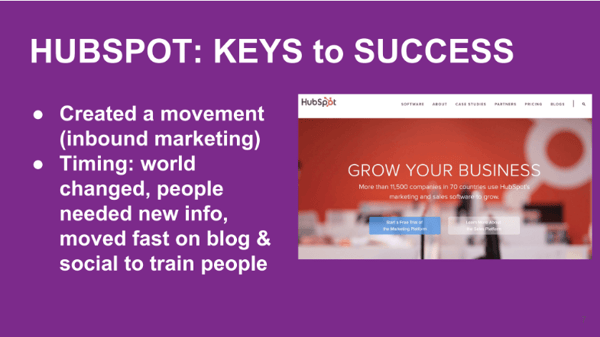 As he was their CMO, Volpe offers an insider perspective on what worked.
Keys to success: timing and content
HubSpot used blog posts to turn content and inbound marketing into a movement. At the time, Facebook had just opened up to public accounts, and marketers were trying to find ways to use social media to advertise for the first time. But since it was so new, the era was marked with trial and error. HubSpot filled that knowledge gap and set themselves up as experts in the area, which got people talking. If people are talking about your business, that's free advertising for you. Once the buzz reaches a high enough point, it's self-generating.
Mike Volpe describes it as, "All of those changes that were happening in the world made all these marketers wake up and say, 'Wow. There's so much change happening. I need resources and education and understanding of what I do in this new world.'"
You couldn't do that in the same way today since it's no longer the social media boom of 2007 that HubSpot was able to jump on. But if you found another rapidly growing area, you might be able to do something similar. You can present your business as the expert in your field, and people will keep coming back to see what you have to say.
3. SolidWorks made the product everyone wanted
SolidWorks is an engineering software company. It grew millions in revenue exclusively by directing buyers to local retailers.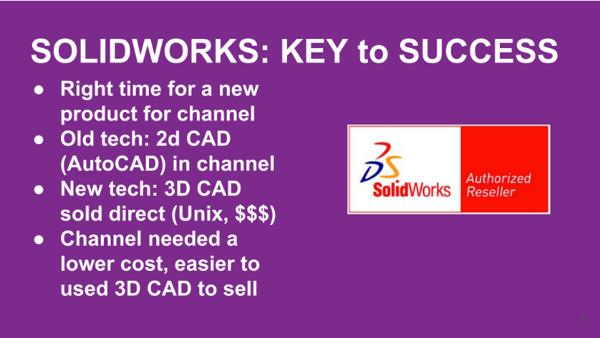 When SolidWorks started, most software like it was fully 2D CAD. And the main company that made it at the time, AutoCAD, didn't have a 3D version. A rival company, PTC, came in and launched the first 3D CAD, but it was expensive, difficult to use, and made for UNIX. This set the stage for how SolidWorks would succeed.
Keys to success: filling a market gap
The market needed a 3D CAD software that was affordable and easy to use. So SolidWorks made it, and the full channel fell in love. It was the right product for the channel at the right time, which is why it was so successful.
Look for gaps like these in your own market. You'll need to do some serious market research to be able to manage it effectively, but once you find the right gaps, you're bound for success. What are the pain points for your customers? What do the other options look like? If you can create a more effective, comprehensive, or cheaper version of the thing that everyone wants, you can corner the market.
4. Cybereason used personal connections to make big sales
Cybereason is a high-end cybersecurity company. It has an ASP between $100,000 and $2,000,000 and 2,000 clients.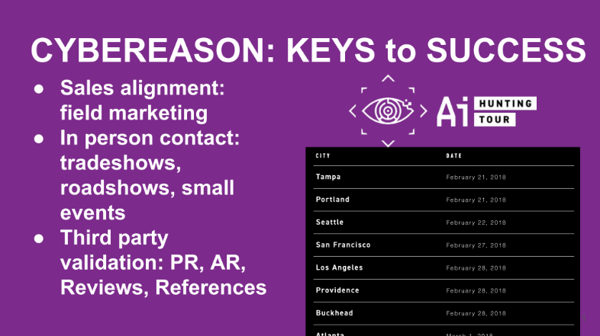 The Cybereason team tried a ton of different methods to generate sales, but it needed to find the one tactic that worked for it.
Keys to success: building trust with human connection
Cybereason makes big security sales. Trust is everything in their market. Its team had to generate that trust and found two ways to do it:
In person connections—The sales team ran a 65-city road show to meet potential customers in person and show what their product could do. This generated a ton of new pipeline and moved stuck deals.

Third-party validation— Its own word wasn't enough. Cybereason made sure that it was getting featured in major publications, being reviewed well on third-party sites, and kept up a stellar reputation.
If you're in an area where the deals are serious commitments that represent a lot of time and money invested into your business, you want to find ways to make these personal connections between your sales team and your customers.
The questions to ask
So you look at these successful companies, and you have to start wondering which playbook you should use. Which one is going to work for you as it worked for these companies? According to Volpe, the best way to figure that out is by asking yourself three questions.
These questions run a general assessment of your business: what you're doing, how you're doing it, and what the people around you are doing. You need to understand your relationship with your market in these ways to be able to orient yourself and find ways you can grow. Jumping into a single tactic blind isn't going to pay off unless you're extremely lucky. Planning for effective growth is more likely to give you the results you want.
1. Are you a "Better Mousetrap" or "Category Creator"?
Volpe believes in two models of business, which he calls the "better mousetrap" and the "category creator."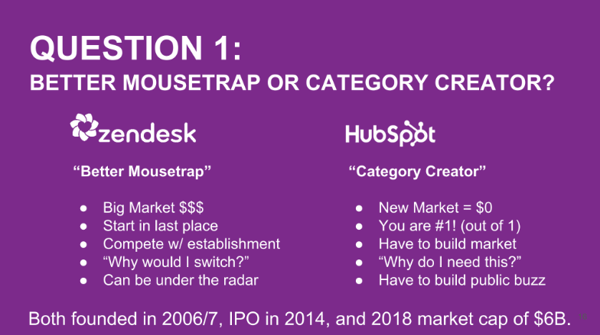 Companies that build better mousetraps are the ones that come into an existing market as a better option than the others in their space. They face the question, why should a customer switch?
In these cases, it might be enough to just put yourself in front of customers as a potential option. If you want to be better than your competition, you need to back up your claims with an excellent product, and then let your customers in on what makes you so excellent.
Companies forming new spaces from scratch are category creators. Category creators have to create buzz and justify their existence to their potential customers. They need to build up their whole market as well as themselves. If you're a creator, you need to show your customers that they need you. Marketing should be done with a slant towards educating your audience.
2. Where are you on complexity and deal size?
The visual is especially important for this question.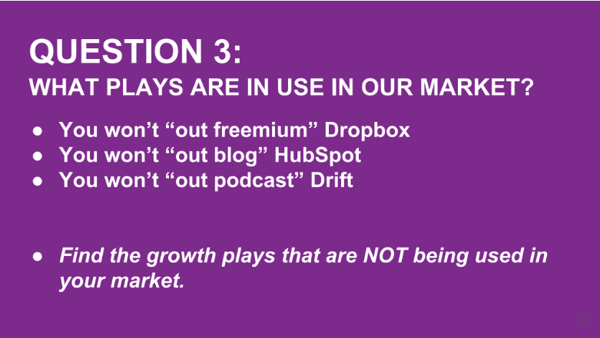 The chart compares the size of a company's deals with the complexity of those deals. In the top left corner, the work itself is complicated, but you don't make much money from it. The lower right is a rare niche and is usually just reserved for commodities or usage-driven products.
The businesses you'll find in the lower left side will be low cost, usually relying on premium models or content models. You won't get much value from paid advertising. The top right is a complex area where complicated deals lead to big payoffs. Businesses in this section rely on forming very strong connections between sales reps and customers.
You need to find where in this chart your business falls. Anywhere through that upwards line in the middle is fine; it's just about taking the mix of your product, market, and buyer, and quantifying the results, so you can optimize. You also want to figure out if you might be moving. Movement is typical, so reassess your business as you go through growth to make sure your strategies make sense for your spot.
3. What plays are in use in your market?
Finally, consider what sorts of plays the competition in your space is already employing. This is vital. You don't want to try and replicate a growth play that's already been successfully cornered or played out by an existing group.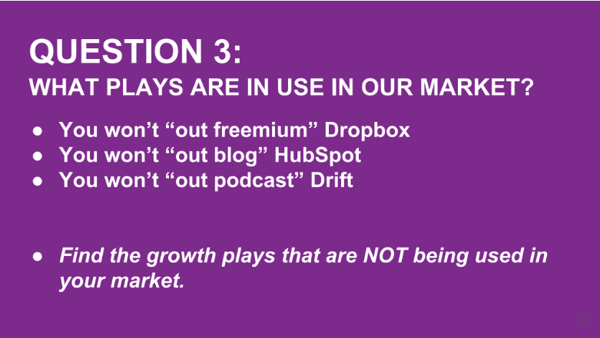 Some businesses do something so specific and so well that you will never be able to outdo them, and you'll need to accept it as a given. That's not a bad thing. It just means you'll need to be more creative and think twice about simply duplicating another company's efforts.
"I think you can look outside your market and say, 'Oh, wow. Those Drip guys are crushing it with a podcast. Maybe I should do a podcast for my market.' That could work. But I'd be a little careful of just duplicating," warns Volpe. "I think there were a lot of people back in the day that tried to out-blog HubSpot and they should have picked something else and they would have been more successful had they done that because we were taking a lot of the oxygen out for that particular technique for our market."
Instead of turning inward, expand your view. Look for inspiration from outside your market. Search out what people are doing well in completely unrelated spaces, and see if you can apply those plays, or a version of them, to your own market.
Bringing it together
The biggest point from Volpe's talk is that you absolutely need to keep on learning. You'll want to keep on studying different growth plays from various companies. Pay attention to business news and network.
Volpe's suggestion is to create a meeting of the minds, "If you get a group together of noncompetitive people, that could work really well," he says. "But figure out what are the different ways and you can constantly study what are the best growth plays happening in the world."
There are a ton of different ways to study what's happening in the business, so find one that works for you and keep on top of growth plays to stay a step ahead.