A big thanks to everyone who gave me some helpful feedback this week. Many of you had some questions about the index that are answered in today's episode.
Listen wherever you get podcasts:



F#ck Content Marketing
I read F#ck Content Marketing so you don't have to. And today, I'm breaking down some of the best takeaways from the book, so you can apply them to your own business.
F#ck Content Marketing isn't a book only for content marketers. It's for everyone in an organization who needs better context and direction on how to drive demand, revenue, and relationships through content.
We'll go through content personalization, organization, and distribution, plus some of our own data on the effectiveness of content marketing.
First, let's start with how better content marketing is much more personalized.
First though, who is the author?
About the author
Randy Frisch is the chief marketing officer and co-founder of Uberflip—a content marketing platform.
He's defined and led the movement prompting marketers to think beyond content creation and into content experience.
He's also a host of Conex: The Content Experience Show podcast and was named one of the top 50 fearless marketers in the world by Marketo.

Personalize the content experience
Think about the music you listen to… and where you listen to it. I listen on Spotify. I don't have to search too hard for music I enjoy. Spotify curates playlists, introducing me to new music based off of my listening history.
This level of personalized content delivery is highly successful for Spotify—and something we should all consider in our own content strategies, as noted in Randy's book.
According to an annual report by American venture capitalist Mary Meeker—between the years of 2014 and 2017, Spotify's user engagement increased from 37 to 44 percent. Meeker credits this to the personalized content Spotify sends to users.
The takeaway here: creating a highly-personalized experience works. Make content that is tailored to each individual.
Formatting content is key
Where's the best place to hide? The second page of a Google search result. 😂
A knee-slapper, I know.
But for real, no one wants to be low in Google rankings because people rarely go onto the second page of a Google search.
Like any other service, when people look for online content, it needs to be an easy experience. As Randy explains in his book, content marketing isn't only about making massive amounts of novel and new content… this content needs to be organized and user-friendly.
Randy's key here: avoid format buckets, which refers to keeping all your content in strict categories. Instead, organize content based on general themes and topics.
Be omnipresent
Once you make highly-personalized and easy-to-navigate content, it needs to be distributed across a wide variety of channels.
Good content marketers ensure customers can find their content in multiple places. Crafting a good email newsletter is one way to bring attention to your various channels because it can include links to Facebook, Twitter, or perhaps your latest podcast appearance.
The takeaway: be omnipresent. Make your content highly visible everywhere.
Personally, I love content marketing. It's a form of storytelling… but you might be wondering, does it actually work?
Does content marketing work?
Yes. And we have data to prove its effectiveness.
Our research from more than 3,000 companies and 30,000 customers shows that companies with strong content see roughly 30% higher growth rates than folks not using content marketing.
Another data point: Retention is also 5-10% better for companies deploying content, especially content that is customer-focused.
It's simple: content adds to your brand, trust, and surface area since it lives on your site forever. More content marketing data → click here
Takeaways
The three main points we went over from F#ck Content Marketing:
Highly-personalized content performs better—if you need proof, just look at Spotify.
Organizing your content matters. If people can't find the great content you create, then it's useless.
Distribute your content everywhere—you want to be omnipresent
Additional reads you might enjoy📚
---
How to use the index data
We received some questions about the index, mostly centered around how the overall B2B SaaS index is measured and how to apply it to your own company.
Well, the index becomes more valuable as you view it because the numbers on the y-axis are arbitrary, meaning they don't represent actual dollar amounts, but instead a measurement to this index specifically. The index measures how revenue across a large portion of the SaaS market is growing or shrinking, meaning increases in the trends represent increases across the entire SaaS market.
When you look at the overall B2B SaaS index, you'll see the percent changes in the last X amount of time. If your company grew its revenue more than what our index says on a particular day, then you're growing faster than the B2B SaaS market, which is pretty rad. And if your numbers are below what we report, then you're growing slower. If that's the case—we're here to help!
How is the B2B SaaS market trending?
📈7 day +1.01% | 📈30 day +4.01% | 📈90 day +13.66%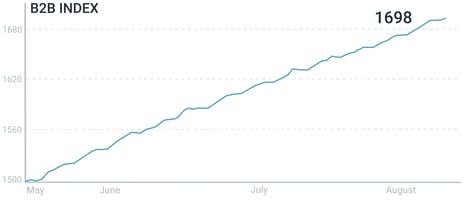 How are churn and new revenue trending over time?
---
MRR GAIN +2.13%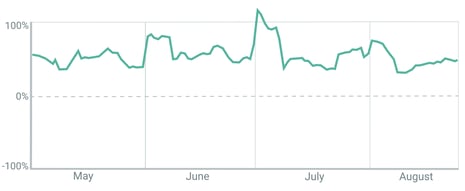 ---
MRR LOSS -3.3%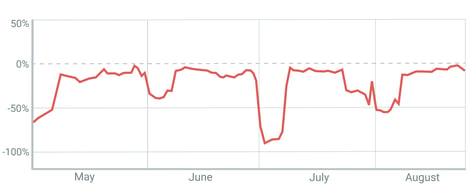 Today, the B2B SaaS Index is valued at 1,698 points with overall growth increasing 1.01% over the last 7 days.
The MRR Gain Index (which represents upgrades & new revenue) has gone up by 2.13% over the last 24 hours, while MRR Loss (namely, representing churn in the market) is down 3.3% over the last 24 hours.
Be sure to check your subscriber newsletter for regular updates to your index.
You can also share the data with friends and fellow industry players that could use it right now. Send me their email address to grace.g@profitwell.com and I'll get their name on the list. Or they can subscribe directly at index.profitwell.com.
---

Do you know the 7 Ps of product?
Leading the Product, an Australia-based product management conference, is next week.
If you're a product leader, CEO/founder, or just want to learn more about products, then this is for you.
Leading the Product will dive into the seven "Ps" of product and you'll hear from a wide variety of people, including our very own Patrick Campbell.
Here are the details:
September 2, 2020
Tickets are $395
6:30 p.m. to 3:00 a.m. EST (because it is based in Australia)
Save your spot → sign up here
---
Today's featured user is Prowly, a public relations software.


Today's ProfitWell's featured user is Instabug—the software that provides bug and crash reports, real-time surveys, and user feedback.
Instabug powers your app's entire life cycle—it detects issues before the app is released, fixes bugs faster, and monitors stability. It also connects with users and gathers feedback.
For a better app experience → get started with Instabug
---
That is a wrap on this week's B2B SaaS happenings. Catch you back here next time with more news and more data. Make sure you're subscribed at recurnow.com or wherever you listen to podcasts.
If you have news to spread or resources to share with our audience, you can always connect with me at grace.g@profitwell.com to get the good word out there.