Today, we see Appcues and Zapier team up, a prospect for human IPO-ing, plus an outlet for education by ear.
Your top subscription news
---
Players, take your mark
Sony halves the price of its PlayStation Now subscription service, as the cloud gaming saga rages on—adding new titles like "Grand Theft Auto V" and "God of War" to the subscription service. Perhaps this pricing slash will give them the leg up they'll need amid the gaming service boom.
"A monthly subscription to PlayStation Now will cost $9.99, down from a previous monthly price of $19.99."
We recently saw Apple Arcade and Google Play Pass launch with an identical $4.99 price tag, although very different offerings.
Since I don't consider myself a gamer, I'm super interested to hear from my subscription gamers in this space—because this battle is far from over. Hit me up at abby@recurnow.com with your thoughts on these offerings—where they can improve or how you think they're nailing it.
An Appcues <> Zapier drop
We're eyeing a new Appcues <> Zapier integration in beta, aiming to help you increase your free-to-paid conversions. Apparently, it got Appointlet to increase by 210%.
The Appcues blog breaks it down, but here are some key points we extracted on the stats:
Appointlet used Appcues to create an onboarding checklist, provide personalized experiences, and run multi-channel campaigns.


Ezra Sandzer-Bell, Customer Success Engineer at Appointlet,

used Appcues to create an

onboarding checklist with 6 key items. Each item on the checklist triggered an Appcues experience that helped users perform a specific task.



The result: Within 3 months of using Appcues Checklists, Appointlet's free-to-paid conversion increased from 2.79% to 5.85%—a 210% increase.
There's a lot to dig into in this piece, but it's cool to see two big players in the space utilizing their expertise to create the best user experience that can be.
A human IPO
Previously on the show, we've touched on the prospect of subscribing to humans. But what about funding them??
And we've found it: in something called HumanIPO. Apparently, it's a marketplace for investing in just that—people. With it, you can buy, sell, and exchange human equity backed by time.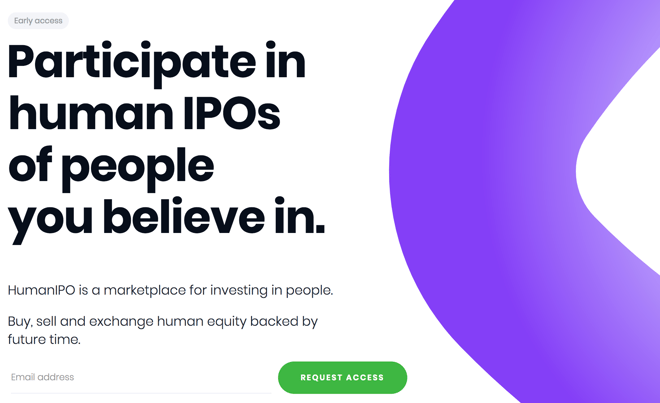 Before announcing a personal IPO, the HumanIPO team conducts an investigation process on each human—reviewing financial records, past business performance, and a personal health check.
The road to market adoption for this one will be interesting, but you bet I signed up for early access to hop on the ride.
Education via ear
Product Hunt's daily digest recently featured Knowable—a sort of Masterclass, but strictly audio. Such a simple idea... could be kind of genius.
The idea is to tap into the set of podcast listeners who want to learn new skills by way of ear versus eyeball.
"Knowable combines the 'listenability of podcasts, the authority of audiobooks, and the structure of online courses' for a new way to educate."
It's launching with eight-hour courses, no ads, at $100—to drop knowledge on topics from launching a startup to better sleep. As an avid podcaster, I'm certainly down for this. $100 for a course seems fair enough, but we'll see how the initial value here affects my willingness to pay.
Deep dive

---
The feedback fanatics
Databox CEO and former HubSpotter Peter Caputa recently tweeted asking:


And since we are all about feedback, we hopped on the follower train.
Here's a list of some good stuff we uncovered thus far in the Twitter thread:
Short, focused surveys and quick polls sent via email and social

Email confirmation with a link to a short survey

NPS surveys with different follow ups depending on score

NPS and exit surveys using a tool like Delighted
Targeting promoters via NPS
User testing for an Amazon gift card option for users during onboarding

Ideas Lab via Aha

Cultivating a group of early power users in exchange for honest feedback
You know we're huge feedback fanatics at ProfitWell, stemming from our CEO Patrick. And we've implemented many of the above in our quest for consumer curiosity. But together, we want more.
"Feedback is central to being human. And there is likely nothing more crucial to the success of your business." —Patrick Campbell
Send me a note at abby@recurnow.com on your best and brightest feedback tactics, and we'll dive deep on them in upcoming episodes. Hearing your voice is a huge part of why we do this. So let's get your expertise involved.
Name Your Price
---
Name Your Price is a game during which players are prompted with questions of monetary value—reminiscent of childhood discussion—but with prompts both bigger and bolder. Today, I'm joined by Tony Zhu, John Mangini, Devin Bhatia, and Brianna Van Tuinen, who answer how much I'd have to pay them to lose their strongest team member.
---
And that's a wrap for your October 3 subscription news. Recruit your teammates into the subscription know by sending them to recurnow.com to sign up for daily episodes to their inbox.