Today on the show, the competition heats up. We hear from B2B growth marketer Chris Walker, on why he forgoes the competition and hyper focuses on the consumer.
But should this always be the case? We have the data to answer just that.


Listen wherever you get podcasts:


How is the B2B SaaS market trending?
---
📈7 day +1.03% | 📈30 day +2.59% | 📈90 day +4.49%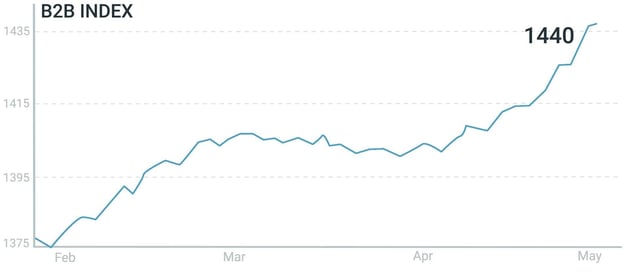 Today's SaaS index is giving me some life (and I hope it does the same for you). We're seeing positive numbers across the board, with a 1.03% change in the overall index as it stood over the last week.
MRR Gain—namely, upgrades and new revenue—as well as MRR Loss—in other words, churn—are both in the positive percent change realms—which is exactly what we want to see.
As always, I am sending my very best to you all. And hope that these daily index check-ins are making it easier (if even just a bit) to make the tough growth decisions.
How are churn and new revenue trending over time?
---
MRR LOSS +0.91%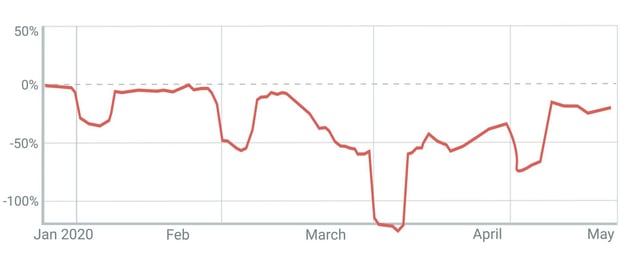 ---
MRR GAIN +0.59%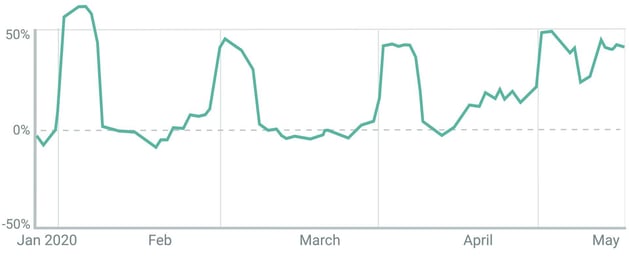 Remember to check your subscriber newsletter regularly for everyday updates.
You can also share the data with friends, colleagues, and fellow industry players that could use it right now. Send me their email address to abby@profitwell.com and I'll get their name on the list. Or they can subscribe directly at index.profitwell.com.


🔥The competition heats up (Should you care?)
Chris Walker, CEO over at Refine Labs, says he became a way better marketer six years ago when he stopped focusing on the competition.
"Analyzing your competitors activities, by definition, puts you behind, not ahead," he writes in a post on LinkedIn.
---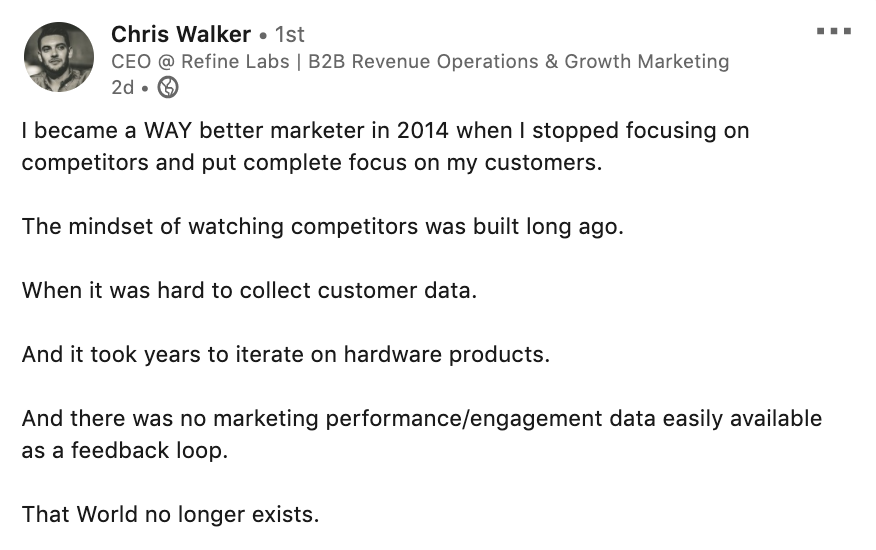 ---
"If you're watching your competitors' published content, or their messaging, or their marketing activities, they've already researched, planned, launched, and (if they're smart) learned."
---
He says the mindset of watching competitors was built long ago, and that world no longer exists. We can collect customer data quickly, easily, and inexpensively. We can iterate on products rapidly. We have more marketing performance/engagement data than we know what to do with.
---
"100% laser focus on the consumer and you'll always know where to go next."
---
But our ProfitWell crew studied 2,500 subscription companies to ask this very question: Should you focus on your competition?
And what we uncovered tells a bit of a different story.
When we explore marketing data, it turns out some level of competitive focus does work. Customer acquisition cost is roughly 15% lower for companies with a competitive focus, which includes comparison pages, competitive ads, and the like.
When done well, the data suggests that competitive comparisons can actually help buyers make a decision, because they're already doing research in a competitive market. So it stands to reason that you should help them with their research and respectfully show the differences between you and your competitors.
However, product is a whole different issue, where those companies with a competitive product strategy are actually doing worse from a customer satisfaction perspective, as measured through net promoter score. These competitive-focused product teams are seeing roughly 50% lower NPS scores compared to their non-competitive focused counterparts, and note that this trend has remained consistent over the past number of years.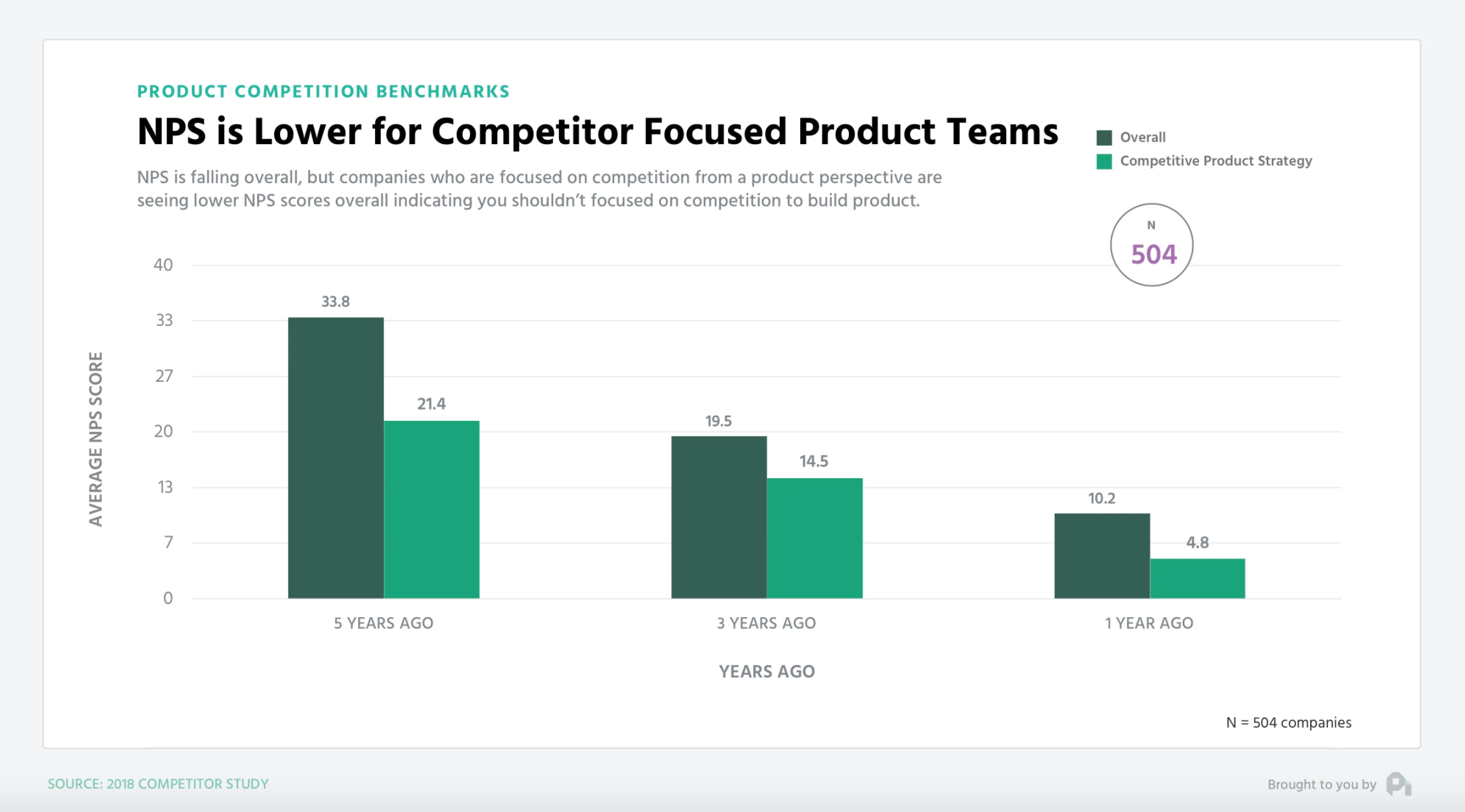 Click to enlarge graph.
So should you focus on your competition?
It's hard to say.
You never want to do anything that sacrifices product quality, and the data we uncovered suggests that companies who are focused on competition presumably are good at lowering their CAC, but not so great at defending their NPS.
Another possible outcome is that these companies aren't disciplined enough to focus on competition in the right places and ignore the competition in others. Like most clichés, this comes down to your situation and your discipline.
But I'm also curious to hear your thoughts. Are you measuring up against your competitors? Or are you laser focused on the customer? Perhaps the two aren't mutually exclusive.
You can reach me at abby@profitwell.com to discuss.
Service-led > product-led??
In the name of hyper focusing on the customer, I found a piece written by a Zuora Area Vice President, Philippe Van Hove, about the idea of leading "service first."
We've been talking a lot on the show about the effects of being "product-led," so this piece piqued my interest in juxtaposition.
---
Developing, producing, and selling. It's a classic model for many companies.
---
At Schneider Electric, though, this business model has been undergoing a fundamental change for several years now. Instead of "product first," the motto is now "service first"—with the customer result at the core.
Online communication, cloud solutions, artificial intelligence, blockchain, and the Internet of Things are the main technological drivers contributing to digitization in our society, Philippe writes.
It has an impact on business models in most industries and is leading to a rethink; the flexible use of products and services is often at the forefront today, with offerings in which monetization is achieved through additional digital services, flexible subscription models, or pay per use.
We know this development began in the software and media industries, but it is now incredibly widespread. For these industries, the shift to new business models has been comparatively easy, as these are offerings that are digital from the outset and can, therefore, be easily distributed.
The example of Schneider Electric proves that such new business models can also work for manufacturers of physical products—just another way the subscription model is not stopping at SaaS. It's permeating virtually every industry.
And in a post-COVID-19 world, more services may just adopt the model we know and love.
If you're intrigued to read Philippe's take in full, click here.
Protect the Hustle, B-Side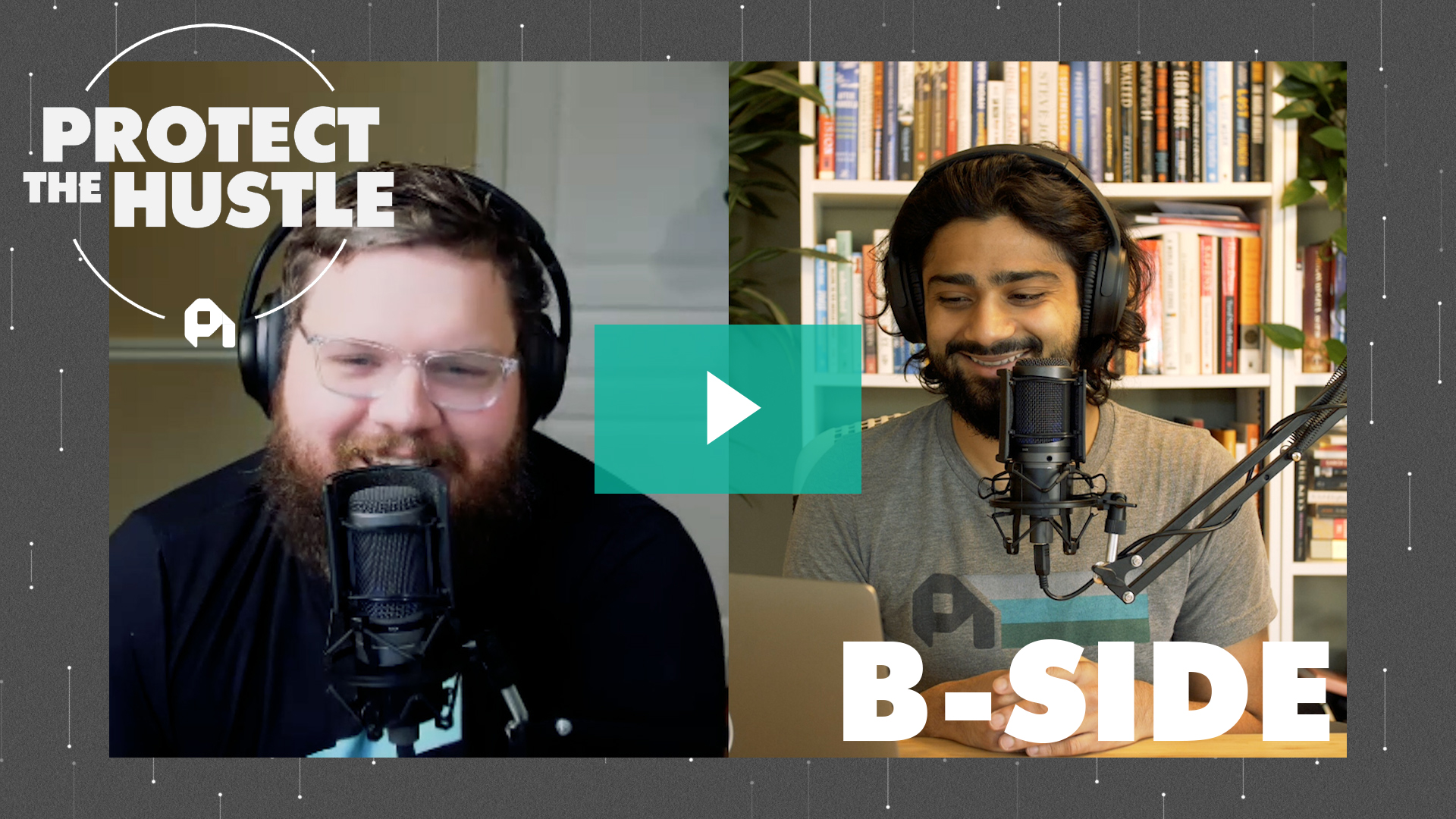 Now we hear from two of our own.
Today, Neel & Patrick discuss losses—starting with the reopening of the country, and the influx of misinformation that surrounds this plan of attack—in our new series, a subset of our show Protect the Hustle.
For episodes in full, click here.
---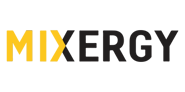 Have you ever wondered—what do the top startup founders know that you don't?
With Mixergy, you don't have to wonder anymore. You'll discover how to think and take action like proven entrepreneurs do, with insight straight from the minds of founders themselves. Mixergy has interviews and courses featuring over 1,500 entrepreneurs, including the brains behind Pixar, Groupon, LinkedIn, and Wikipedia—that you can start digging into ASAP.
Here's a link to access those. Let me know what ya think.
---
That's a wrap for your Tuesday episode. More for you here, tomorrow.
As a reminder: We launched a weekly version of Recur Now, an abbreviated newsletter with the best in each week's news. If you want in on that instead of your daily version, reply to me at abby@profitwell.com and I'll get you on that list.
This series is a Recur Studios production—the fastest-growing subscription network out there. If you find use for this show, subscribe for more like it at profitwell.com/recur.