Today, we're helping you build something people actually want. Plus, Apple hires a Netflix pro in a bid to boost its subscription services. And finally—subscription booze. It is a happy Monday.
Your top subscription news
---
Give the people what they want
"Build something people really want." It's sage advice, but how in the world do you actually get there?
We're eyeing a tweet from 4x Founder Katelyn Bourgoin that addresses just this.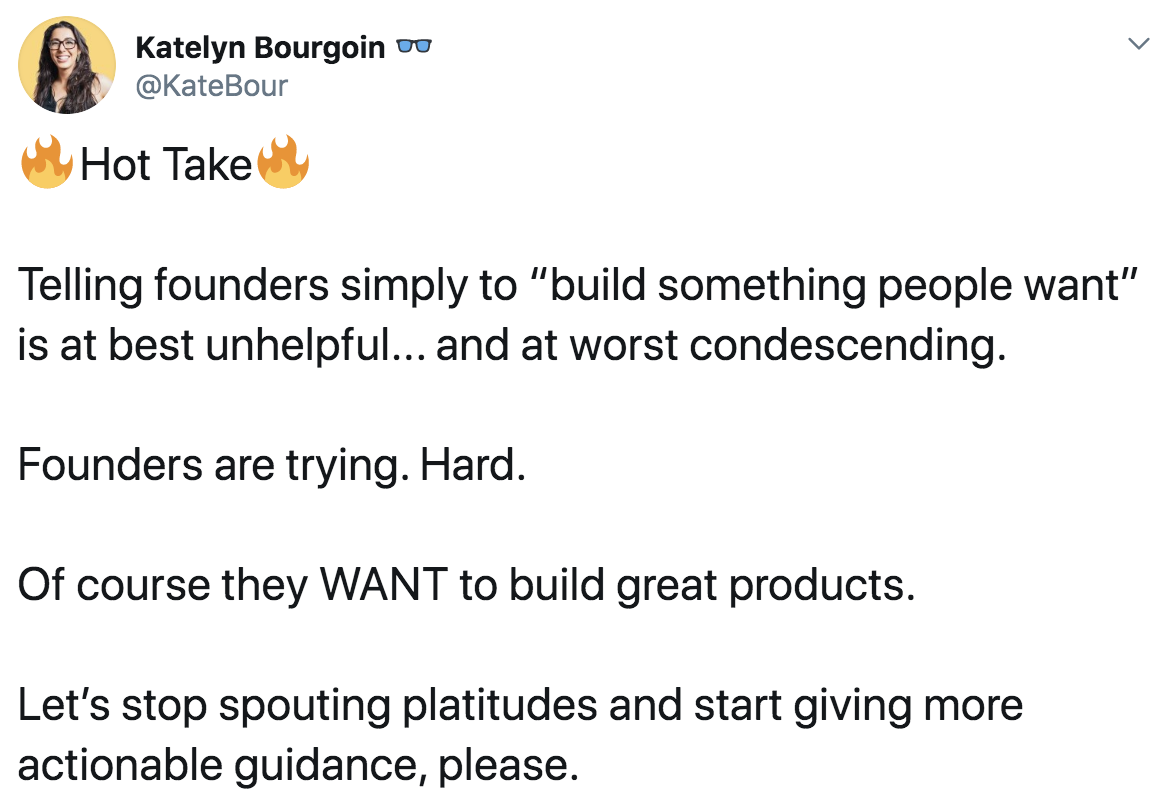 Because she knows: Founders are trying. And they're trying hard.
Of course they want to build great products. But we need to stop spouting platitudes and start giving more actionable guidance, she pleads.
And you know who else this resonated with?
Transistor.fm Co-Founder Justin Jackson. He sends out a weekly newsletter on topics like this, and we're especially on board with this one's sentiment. So here's his attempt at practical advice on how to build something people want:
First, he says you need to establish your target market. Even a small bootstrapped company needs hundreds of customers. (Actually, most will need thousands.) So how do you get there? Well, let's say you want 1,000 customers:
If your trial to paid conversion rate is 40%, you'll need 2,500 trials.
If your visitor to trial conversion rate is 1%, you'll need 250,000 visitors.
Secondly, figure out what they want. Be in the community—help and serve. Solve your own problems, and see how the community responds.

Next, build that killer solution. The potential in your product is determined early on by:
The market you choose: How easy are they to reach? Do they pay for things?
The customer desire you discover: How strong is it?
The product you build: Does it satisfy that desire?
To build a baller product, you need to provide outcomes, like eliminating an obstacle, giving progress, removing future threats, and generating all around good feelings.

And finally, inform the people. Generate awareness. Remove barriers to entry. Show people that their lives will be better by utilizing your product.
Check out Justin's newsletter for yourself to start understanding those actionables—and actually put them into action.
In the name of streaming quality
Apple makes a move that directly reflects its push to expand the new TV+ streaming business: hiring one of Netflix's former engineers.
The importance of the engineering behind new streaming services was spotlighted when Walt Disney's flagship streaming service struggled with technical glitches as it racked up 10 million subscribers the day of its debut.
And Tim Cook says Apple will judge the success of its TV+ by how many subscribers it collects. He said that's why Apple was aggressive with its pricing—which undercut Disney by $2—and bundled the service free of charge with the purchase of a new iPhone, iPad, or Mac.
But as we've seen before, focusing on the competition can be an interesting play. You never want to do anything that sacrifices product quality, and the data suggests that companies who are focused on competition presumably are good at lowering their customer acquisition cost, but not so great at defending their net promoter score.
Another possible outcome here is these companies aren't disciplined enough to focus on competition in the right places and ignore the competition elsewhere.
As per usual, our eyes are constantly peeled for the status of the streaming battles. Best of luck to all.
Subscription libations
We wrap with an apéritif.
Subscription direct to consumer company, Haus, raises $4.5 million for recurring libations.
Members across the U.S. can now sign up for a monthly shipment of either six bottles per month for $144, two bottles monthly for $63, or one for $35—done entirely in a transparent manner, featuring ingredients and nutrition facts.
The genesis for Haus came from the married founders' idea to create a transparent alcohol brand.
Their edge? The two identified a loophole that allows distributors to ship alcohol directly to the consumer if the product is made mostly from grapes and is under 24% alcohol—allowing Haus to collect user data that big alcohol companies just don't have.
A leg up from the rest, and we're thinking Haus is going places (simultaneously, allowing you to stay at home).
---
And that's a wrap for your February 3 subscription news. Check back tomorrow for more, and don't hesitate to reach out to me at abby@recurnow.com if you have news to spread, or input on any topic we hit.
This is a Recur Studios production—the fastest-growing subscription network out there. If you find use for this show, subscribe for more like it at profitwell.com/recur.