Today, Mailfloss says it's found the best email marketing in the game. Plus, a self-proclaimed "funnel lover" walks us through "demand gen's greatest adventure." And a ProfitWell webinar update. It's coming in hot—we join forces with Appcues tomorrow.
Your top subscription news
---
Always remember to floss—and create baller emails
Mailfloss, the platform that creates an email validation tool for busy businesses, claims it's found some of the best email marketing campaigns on the internet. Because the Mailfloss team knows it's not always simple to conjure up revolutionary emarketing ideas. But there are hundreds of super successful companies out there who've done this right. And we're finding inspiration from those.
I'm all about the Airbnb example they highlight, which Mailfloss calls "the helpful hint," and is essentially a vision of welcoming the user to the Airbnb experience.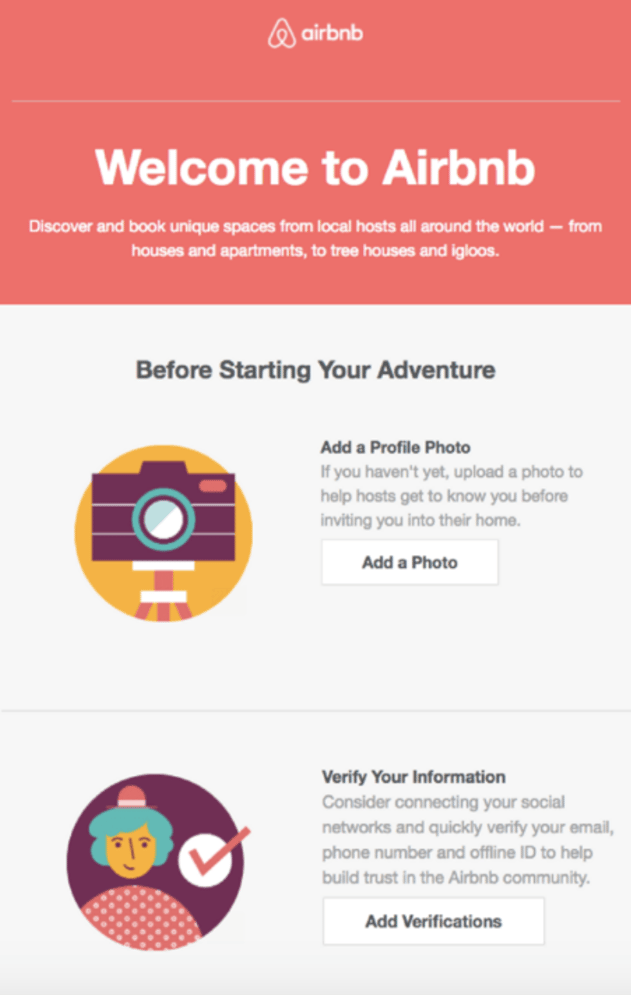 As we've touched on in various realms in the show, research proves that emails (or internet pages, that is) with a "welcome" message generate more engagement than any other of their kind. Airbnb nails it in this space, and is sure to keep tabs on the searches its users make, later leveraging this data to send targeted, personalized emails to follow up. Creepy? For some. Helpful? For most.
Grace says she's digging the Starbucks example. (Not just because she's a fiend for caffeine, but because she knows customer retention is key.)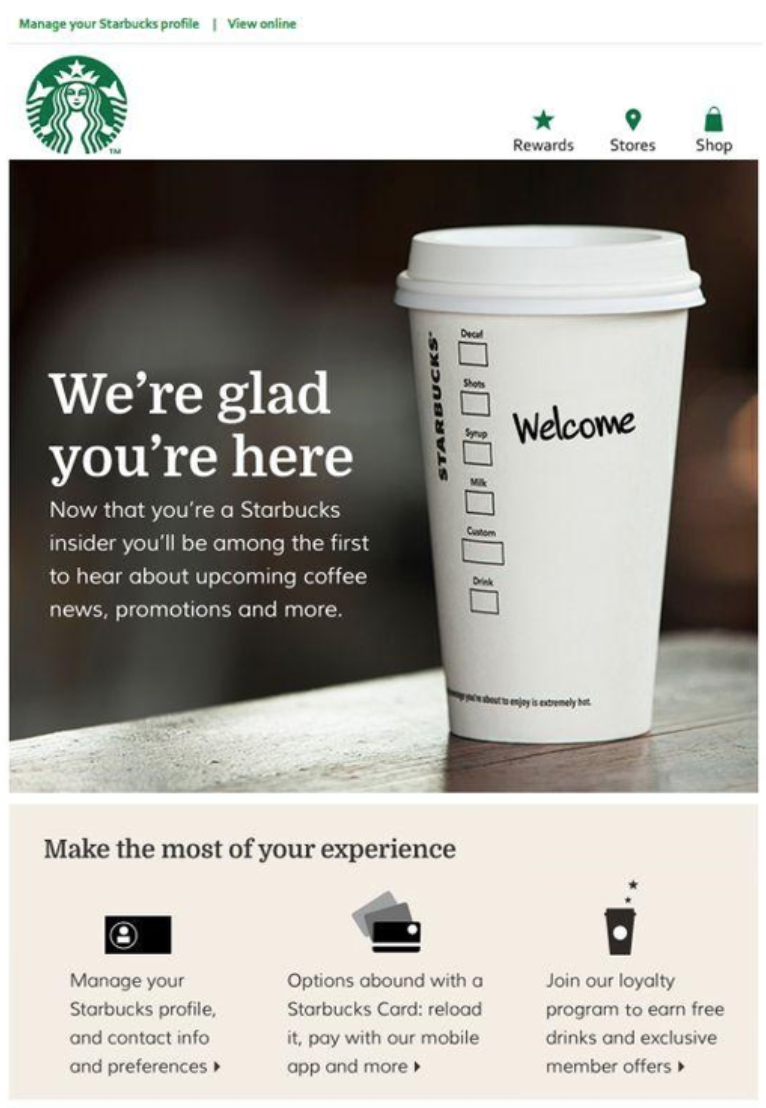 One way to keep your audience engaged is to interact with them from the get-go, giving them reasons to click links, sign up, and engage with your brand even further. "Don't bombard them with text," Mailfloss reminds, "but keep it sleek and simple" with clear CTAs. Starbucks demonstrates this well with obvious steps regarding how to manage your Starbucks profile, join the loyalty program, and the like.
Although with that one, I'm a little hesitant about the inclusion of multiple CTAs. I'm more of a "one-CTA-and-done" gal, but I'm open to A/B testing.
A vital move Starbucks made back in 2009 was re-establishing its loyalty program that rewarded customers for purchases, Grace points out. If you study many successful product-based companies closely you'll notice these types of loyalty/rewards programs are usually at play.
But that's actually the beauty of all these examples that Mailfloss points out. They're up for opinion… So we're linking to the resource here so you can check them out and send us your thoughts. Email is an ever-changing art, so we're super keen to hear your take. You don't have to exploit your own tactics, per se, but if you want to… we're all ears. Email me at abby@recurnow.com with input.
Ready, set, grow
And a quick reminder on what's on tap in webinar land.
Tomorrow—we partner with Appcues to dive in on how the user experience impacts your retention.
We know it's easy to focus on growth because it drives the heart of your business; but if you're only focusing on attracting new customers, you're missing out on the growth potential of retaining your current customers.
In this webinar, we'll take a look at what the data says about retention and revenue, and offer advice for how you can provide a best-in-class user experience to start retaining more of your hard-earned customers today.
Here's a link to sign up. Entries are limited, so get on there, quick.
Funnel fanatics unite
Now, onto greater adventures—with Drift's "funnel lover" (and VP of Marketing) Kate Adams.
Kate sent out a newsletter to CEO David Cancel's subscriber base this month, on what she says is her true passion: funnels.
Kate says she's so fond of funnels because, "each and every one is nothing more than a series of complex problems." And she loves solving those problems. "And no company's funnel is exactly alike. Whether it's the qualification and business rules or go-to-market motions that allow someone to enter and then move from stage to stage—every funnel is unique."
And although funnels are never solved, nor will they ever be perfect, she calls them "demand gen's great adventure." And she's challenging us to think about our own adventure: How can you constantly push yourself to optimize and improve the work you do every day? More importantly, how are you encouraging and cheering on those around you to improve themselves and their work every day?
Food for thought. And thought for funnels.
Kate says at Drift, they've reimagined the entire funnel. Because "people should be treated like people, not leads," she says. She claims B2B marketing is broken.
"We've lost our way by optimizing our strategies around acronyms instead of people—and that has to change." So Drift has the book all about how conversations are transforming the marketing funnel. You can download that and read all about how the MQL, or marketing qualified lead, is apparently… dead.


More on the funnel (...or lack thereof)
---
---
And that's a wrap for your February 19 subscription news. Recruit your teammates into the subscription know at recurnow.com.
This has been a Recur Studios production—the fastest-growing subscription network out there. If you find use for this show, subscribe for more like it at profitwell.com/recur.