Today on Recur Now, we're petitioning to ban free trials forever.
Okay, not really, but we do make a solid case on why you should switch to the freemium model.
Listen wherever you get podcasts:



Freemium is your friend
The core difference between freemium and free trials is time. When you're trying to convert a prospect to a customer, you have a few different options to convert them. You can force them to sign up and pay before they use the product, you can give them a free trial so they can try before they buy, or you can give them a freemium plan where they can get a taste for the product and use it until they're ready to buy.
Now opponents of freemium may say that you're better off getting money sooner than later, but in the world of thousands of products and users having less and less time, you want the onus of conversion to be on them, rather than your arbitrary timeline.
Put another way—that user may be nurtured and convert in six months vs. you forcing them into a relationship they aren't ready to start and you losing them forever.
With freemium, users become advocates of your brand, even before they're buying, and the data supports these users converting from freemium to be better customers in the long run.

Let's look at the data.
Freemium = better retention
First up, let's talk about retention being better for freemium customers.
When tracking the retention rates of 55k customers, we found that those who converted to being a paid customer from freemium, ended up having nearly a 10% higher retention rate (on an absolute basis) than those customers who converted from a free trial.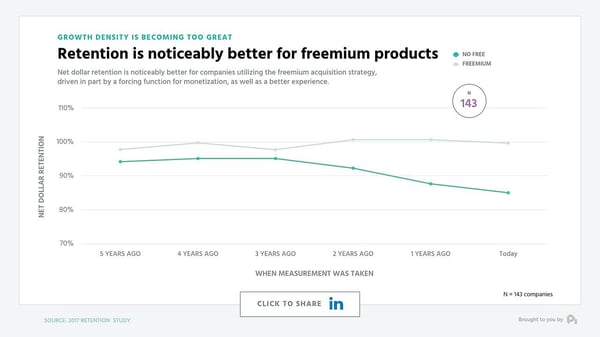 Better customer satisfaction
Freemium's second appeal: customer satisfaction.
NPS, or net promoter score, which is a measure of customer satisfaction, is also greater with those customers who converted to paying from freemium. These customers tend to have double the NPS scores of those individuals who convert from a traditional sales conversation that doesn't include a freemium plan.
And we know happy customers means customers for life.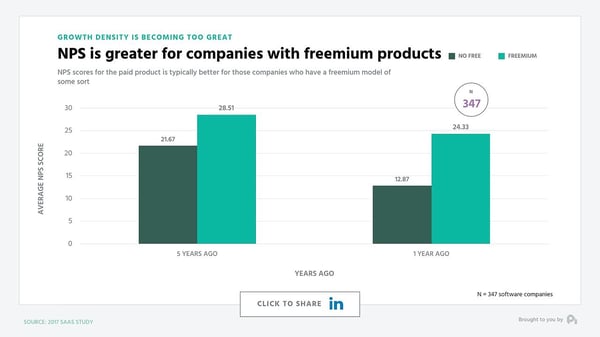 Freemium doesn't take away from value
And last up on the data front, let's talk about freemium eroding the value of your paid products.
We used to think that if you have something for free, then the paid product can't be that expensive, because it's tough pushing someone to pay for something, if they're currently paying you nothing. Well, in recent years we've found this zero dollar anchoring behavior to be less of an issue. For instance, five years ago the willingness to pay from an anchored free plan was only $150. The willingness to pay is now $1,000.
To put it simply, freemium isn't holding you back.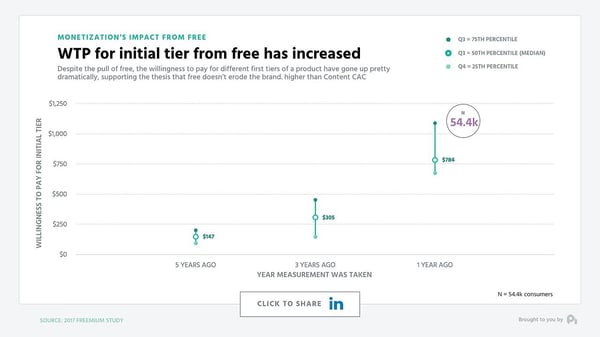 Join my freemium fanbase
Freemium is your friend. Why? Because freemium can up your net retention, increase your users' satisfaction, and drive a higher willingness to pay.
Although freemium is still a very individualized decision and shouldn't be taken lightly, it's ultimately about letting your user experience your brand, your product, and your ethos on their terms, instead of forcing the ultimatum.
We have an entire ebook dedicated to freemium. The Freemium Manifesto uncovers how to make freemium work for your SaaS business. Get it.↓
---
How is the B2B SaaS market trending?
📈7 day +0.86% | 📈30 day +4.64% | 📈90 day +11.74%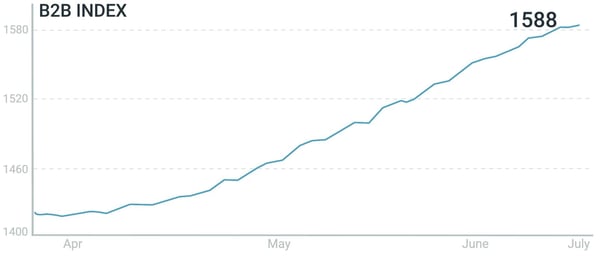 How are churn and new revenue trending over time?
---
MRR LOSS +0.27%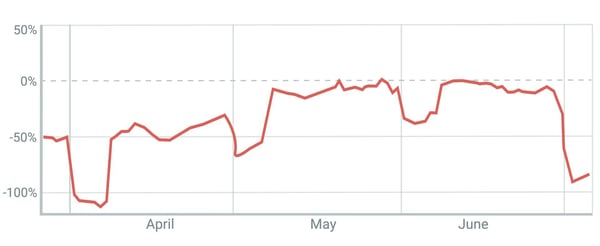 ---
MRR GAIN +0.84%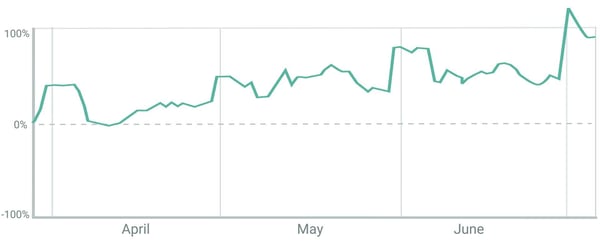 Your B2B SaaS Index is at +1,588 points—with overall growth increasing 0.86% over the last week.
The MRR loss index (namely, representing churn in the market) is up 0.27% over the last 24 hours, while the MRR gain Index, aka upgrades and new revenue, is also up 0.84% over the last 24 hours.
Be sure to check your subscriber newsletter for regular updates to your index.
You can also share the data with friends and fellow industry players that could use it right now. Send me their email address to grace.g@profitwell.comand I'll get their name on the list. Or they can subscribe directly at index.profitwell.com.
---

Zoom to be even more accessible
Zoom Video Communications Inc—in efforts to make its teleconferencing app more accessible—launched a hardware subscription service, currently available to US customers only. This new hardware-as-a-service program allows users to choose subscription options for phones and meeting rooms.
According to the company website, the plans for Zoom Phone are priced between $5.99 and $60 per month, depending on the device users opt for. The cost for hardware services for Zoom Rooms is between $75 to $200 per month.
Zoom says their new hardware as a service gives organizations the ability to equip their teams with leading hardware solutions, as well as the ability to economically scale these solutions at a fixed monthly price.
For all the deets → click here
---
Twitter and subscriptions—it's happening
Twitter is jumping on the subscription bandwagon. Their shares jumped more than 8% on Wednesday morning after Twitter posted a job listing indicating that it's working on a potential subscription platform codenamed "Gryphon."
Though they did not reveal much, they did mention that Gryphon is a team of web engineers that will work closely with its Payments and Twitter.com teams.
Building a subscription platform is a first for Twitter, but subscriptions could provide a new way to increase engagement and loyalty, as well as widen its revenue.
We'll keep you posted as we learn more details on what this could mean for SaaS businesses everywhere.
Click here for more information
---


On the hunt for a new job? Check out today's featured user—Kick Resume.
Kick Resume helps you build a standout resume, cover letter, and personal website in minutes. The premium version is only eight bucks a month, giving you access to 30+ resume templates, 20+ cover letters, and a lot more.
To get started with Kick Resume → click here.
---
That is a wrap on this week's B2B SaaS happenings. Catch you back here next time with more news and more data. Make sure you're subscribed at recurnow.com or wherever you listen to podcasts.
If you have news to spread or resources to share with our audience, you can always connect with me at grace.g@profitwell.com to get the good word out there.