Today, we talk remote work—does it work? Forbes predicts the future of social, and we take a look at your competition: Are they all they're cracked up to be?
Your top subscription news
---
Does remote work... work?
Do you write about remote work and/or the future of work?
That's what Hiten Shah is asking his followers. Apparently, he and his partner-in-crime Marie Prokopets are working on their next remote work initiative with their company FYI (and want three minutes of your time to get feedback).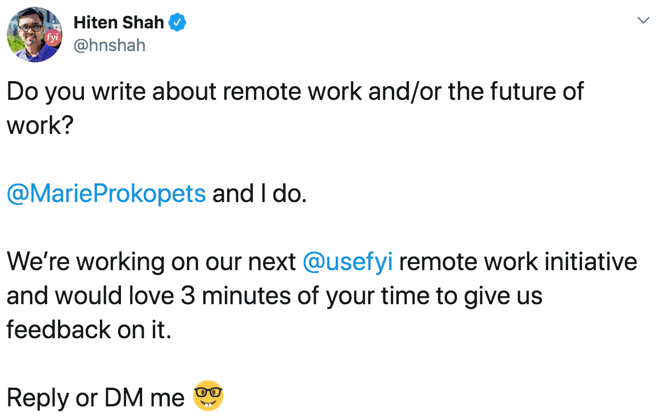 He says he's already received a bunch of replies, but it has us thinking about remote work, too. Grace reminds us there are split opinions on remote work: some people thrive working remotely, while others need to be in an office, jiving off coworkers. She, personally, likes having the choice.
"I appreciate having the option. Some days when I'm strictly writing, I need to be home in a zero distraction environment."
I am a huge proponent of remote work, and do my absolute best work remotely. It's about working the problem, not the time (or the place, in this case). I'm so grateful for the flexibility of being able to write in my zone each morning from home, then head into the office where needed to connect in person.
And the data doesn't lie. Our ProfitWell Report episode on remote vs. co-located teams uncovers just slight differences between the growth patterns of the two.
When we looked at companies doing more than $75 million in ARR, the growth differential essentially disappears. And since all companies go remote or multi-office at some point, it's not an argument of either co-location or remote, it's an argument of when.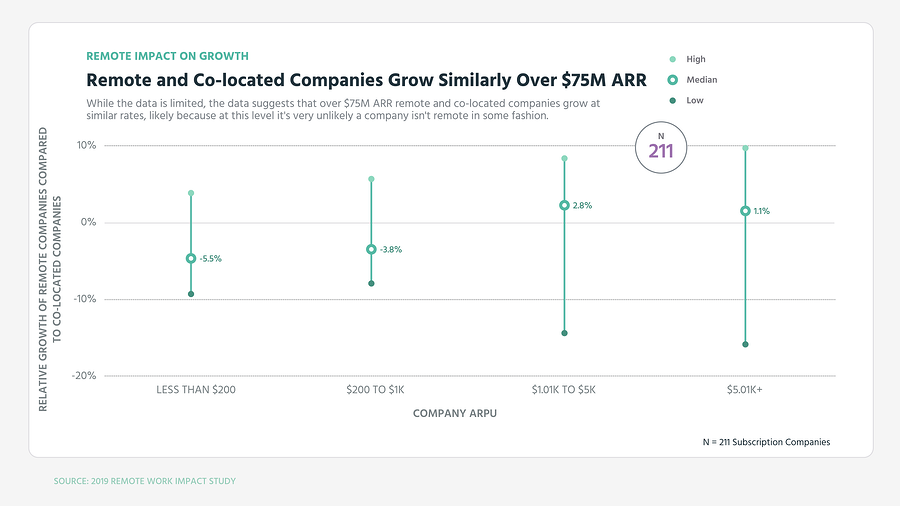 What has your experience been like with remote—either working remotely or collaborating with team members that do so?
We saw Marie Prokopets go from loneliness, isolation, and burnout to having remote be her self-proclaimed superpower. And Hiten, we have our eyes out for what you're conjuring up with this remote report.
Eyes on the prize (and the competition)
SaaS investors like Peter Thiel, Dharmesh Shah, and Sam Altman have said it's best to ignore competitors and give 100% of your focus to customers.
But is this the most ideal plan of attack?
This may have made sense in the past when there were less competitors, but today new challengers are constantly sprouting up, some with the tailwind of a giant funding round behind them. So SaaS Playbook says: You should be researching these competitors because they're attempting to achieve the same thing you are—namely, meeting your shared target market's ever-changing needs. And they claim that digging into your competitors' strategy and features can actually help you better understand your own customers.
Our CEO and Founder Patrick just tweeted out a note himself.

And he's already seen some solid perspective.
We also have a ProfitWell Report that asks: Should you focus on your competition? And we found "it's hard to say." You never want to do anything that sacrifices product quality, and the data suggests that companies who are focused on competition presumably are good at lowering their CAC, but not so great at defending their NPS. Another possible outcome here is these companies aren't disciplined enough to focus on competition in the right places and ignore the competition in the other places.
Like most cliches then, this comes down to your situation and your discipline.
What do you think about this one? It's a competitor's game. And we want to know which side you're on.
Deep dive
---
What's on deck for the future of social?
Brett Farmiloe, Founder and CEO at Markitors, predicts the future of social—looking to 2020 at what's ahead for the businesses that heed social media best practices in their marketing initiative.
Here's what the post claims next year in social will look like:
Instagram officially removes likes.


Instagram has tested the removal of likes in several countries. Most headlines you'll read claim the social network is doing this in the spirit of mental health, but Farmiloe thinks "mental health" is a PR spin (and the real reason is that Instagram wants to make more money by getting a cut of influencer ad dollars).

Google incorporates social into search.


Google+ was shut down in April, marking another failed entry into social. So Farmiloe thinks Google will give up on creating a social network and openly incorporate existing social networks into their search algorithm.

Niche social platforms expand.

In 2020, Farmiloe thinks niche social platforms will grow. What he says will drive more adoption of new niche platforms: international internet accessibility and user-generated content in search.

Social sharing tools become free or more valuable.

He also predicts Google eventually offering a free social media scheduling tool, in an aim at getting what they covet: more social media data and sharing activity.
But what does this mean for businesses like ours?
Well, Number one feels trite—especially since Instagram "influencers" aren't very relevant in the B2B space. Number two, I'm skeptical about: the prospect of Google incorporating social intro search. And number four, we already have social sharing tools in place as is.
Number three is what caught our attention. So we brought in our own expert. (Although ProfitWell Digital Growth Manager Stephen Ngo is amid travel right now, he did weigh in over Slack.)
Regarding niche platform expansion, Stephen thinks this is the prediction that could change things over the long run.
"I'm always on the lookout for platforms with niche but highly engaged audiences, which are way more valuable in a B2B context, and a great opportunity to better serve our target market. We've already seen lots of B2B marketers move onto Twitter and LinkedIn for their social media marketing, so any new entrants—i.e., niche platforms—in our space would probably be drawing attention from those two."
But Stephen does point out that toward the end of this Forbes piece, the writer predicts that organic social reach for businesses will be reduced. Since this has been happening for years, Stephen is skeptical at how "expert" these folks really are.
How do you consider the future of social? Love it or hate it, you really can't (or shouldn't) avoid it. It's a marketing tool that's here to stay. Send me a note at abby@recurnow.com with your thoughts on the future, and we'll revisit this one in 2020.
Subscription Sapiens: Gail Goodman
---
Today's Subscription Sapien is Gail Goodman, former President and CEO of Constant Contact, a leader in online marketing tools for small businesses. She grew the organization from pre-revenue startup to publicly traded company. We dig into Gail's impressively extensive resume, her lessons on alignment and a customer-first motto, and why she claims: founders can't scale.
---
That is a wrap for your October 14 subscription news. Send your teammates to recurnow.com to sign up for episodes on the daily. And if you have news to share, hit me up at abby@recurnow.com and let's collaborate.