We missed you last week. We took some time to adjust the numbers in our DTC index. We'll explain.
We've also got a few Taylor Swift surprises (all in the name of DTC companies).
---

How is DTC growth trending over time?
---
📉7 day -0.11% | 📉30 day -2.46% | 📈90 day +8.65%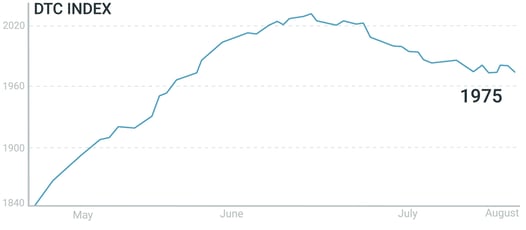 Previously, our DTC index tracked the data for B2C, media, and subscription ecommerce companies. Now, the dataset is more narrowed down, only representing media and subscription ecommerce companies. What this means: a more precise depiction of our DTC companies continue to grow overtime.
Today the DTC index is valued at 1975 points—with overall growth going down 0.11% over the last week.
We're seeing a bit of churn in the DTC market. MRR gain is down 0.95% over the last 24 hours, while MRR loss is down 4.26% over the last 24 hours.
---
MRR Gain
-0.95%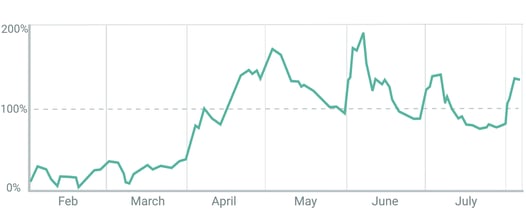 ---
MRR Loss
-4.26%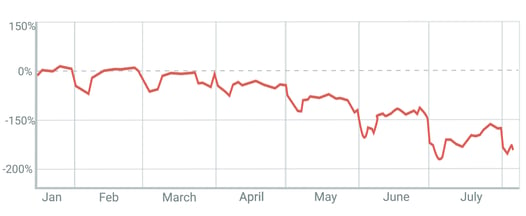 *MRR gain is new revenue from either acquired customers or upgrades in a given month.
*MRR loss is churn, or lost revenue from cancellations or downgrades.
Know anyone who might also benefit from this data? Send me their email address to grace.g@profitwell.com and I'll hook them up. Or, they can subscribe directly at index.profitwell.com.

❗Your pricing checkpoint❗
Customers, more than ever, are realizing the benefits of shopping online. This realization paves the path for many DTC brands to take off. Before you get too excited about selling your products, it's important to reflect on your pricing.
Pricing physical products may seem like a piece of cake, but especially during these trying financial times for some, you need to constantly be measuring the effectiveness of your pricing. Today, we're sharing some intel on different pricing strategies you can apply to DTC.
How does DTC differ from wholesale & retail pricing?
Before diving into how you need to adapt your strategy for DTC products, it's important to take a step back and look at how this business model differs from the traditional wholesale and retail model. Like most things in life, there are tradeoffs. DTC gets rid of the middleman, but you also get rid of the benefits that the middleman was bringing to you.
Here are the two biggest factors:
1. DTC sales typically have higher margins.
Consumers are willing to pay what they consider the value of the product to be. This is the maximum amount that a retailer can sell a product for, so the cost to the retailer must be low enough to make selling the product worthwhile. This means in a traditional relationship, you can't get the full value of the product from the retailer. However, with DTC pricing, that middleman is gone.
2. Marketing DTC products is more expensive.
While you have to convince a retailer to buy and stock your product, they will give you a hand in marketing that product to consumers. They'll do this through their own promotional materials, but also indirectly by putting your product in front of willing customers. Without that added exposure, getting eyes on your product requires more marketing expense on your part as you need to find new ways to attract potential buyers.
Common DTC pricing methods:
Cost-based pricing:
This is the simplest pricing strategy. Cost-based pricing adds a percentage on top of the cost of production for a product. This is an easy-to-implement pricing strategy that doesn't take any other external factors into account.
Value-based pricing:
This is the inverse of cost-based pricing. The pricing of your products is based on the consumers' perceived value of your product. You can charge higher than your competitors, it allows you to continually improve your product, and helps you build relationships because you have to consistently communicate with your customers.
Dynamic pricing: Companies willing to change their prices frequently can take advantage of dynamic pricing. With this method, algorithms are used to determine the optimum price point by taking into account supply and demand data, competitor pricing, and any other relevant market factors that apply to the product. For products where inconsistent pricing is not an issue, this method will bring the highest profit margins.
Wrap-up:
With proper marketing, selling direct-to-consumer will provide a great opportunity to increase your revenue. Just as we tell our friends selling SaaS, your prices need to be adjusted frequently, even in DTC. While it may seem like a tedious and lengthy process determining price points for each of your products and subscriptions, for an optimal return on investment, you should be re-evaluating your DTC pricing strategy at least once a year, but ideally twice.
To discover your perfect DTC price point → click here
---

TWITTER
Look what you made me do
Taylor Swift, when is she not relevant?
We saw a genius tweet thread last week, displaying Taylor Swift's iconic moments as B2B software: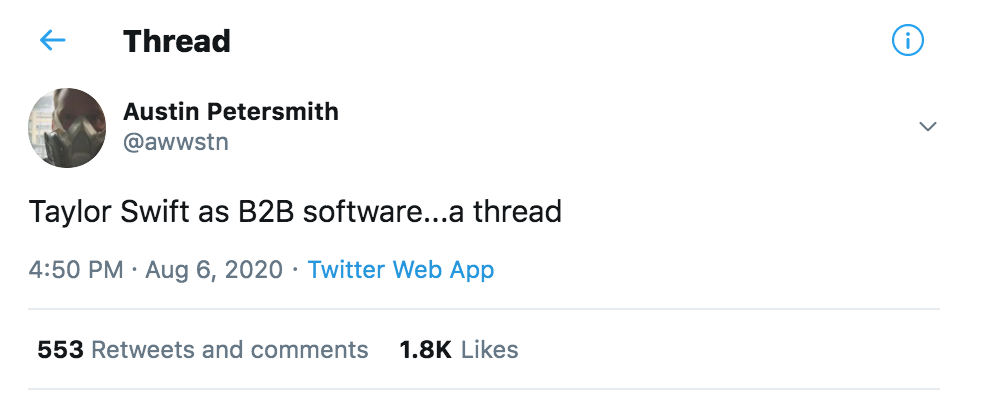 So, of course, we had to add our own spin to it, for all of our fave DTC companies.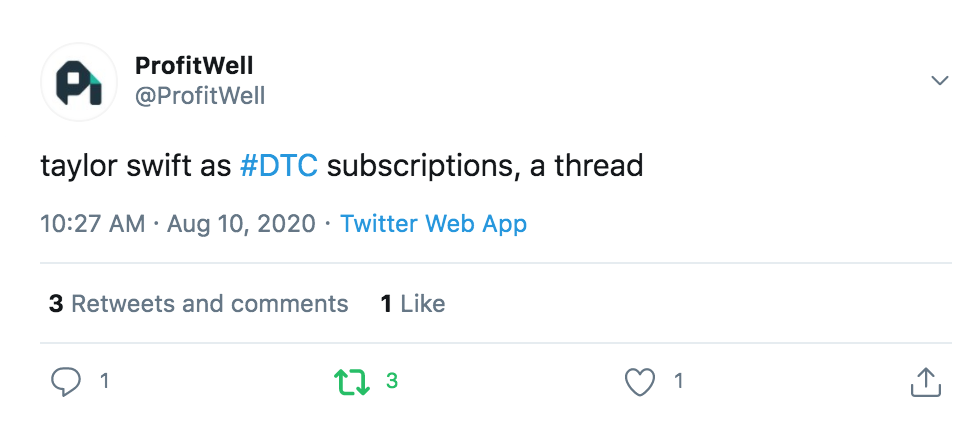 Here's a sneak preview of what's in the thread: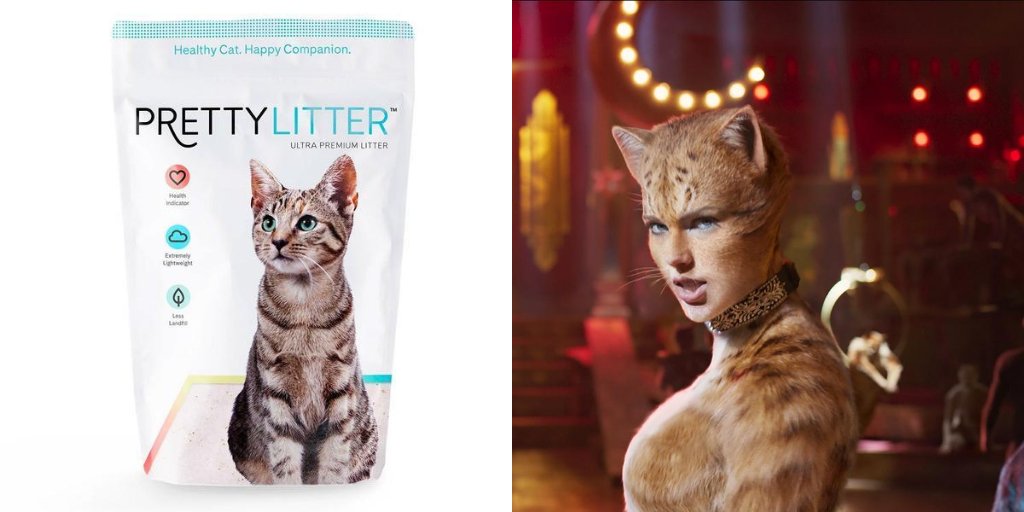 Some other DTC companies as Taylor Swift:
not pot
billie
flex
Death Wish Coffee
Hubble Contacts
Manscaped
For the thread in full (you won't be sorry) → click here
---
PRODUCT
Small but mighty
On a hot summer day, there's nothing more refreshing than a nice, cold fruit smoothie. Or maybe a blended coffee drink. I guess it depends on the mood I'm in. These drinks seem to taste even better when they're made in a portable blender... like BlendJet.
BlendJet is a battery-operated blender that produces 10-12 cups per charge. It's a single-button operation and blends your go-to drink in 90 seconds. It's small enough to stick in your purse or gym bag, yet mighty enough to blend the nutrients you need.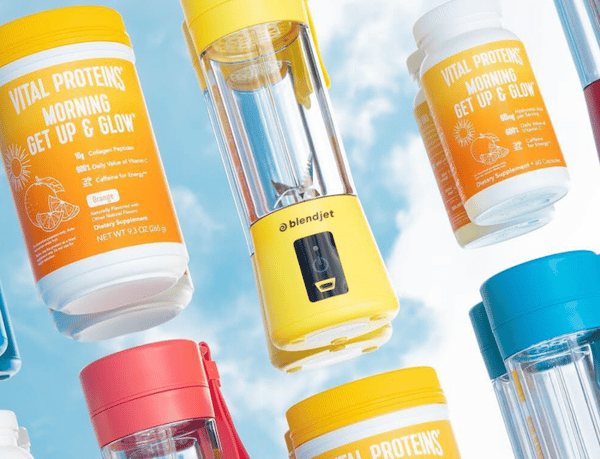 Image source: BlendJet Instagram
To blend your perfect summer drink → click here
---
LEARN
Here's what else I'm reading
Tweet: 10 laws of copywriting
A successful DTC company is backed by a successful marketing strategy. And successful marketing all starts with will-written copy. Dave Gerhardt, CMO at Privy, has 10 laws of copywriting that I think all DTC operators should take into account. Find out if you're following copywriting laws here.
Tweet: More on marketing
If you're not following Marketing Examples on Twitter, I definitely recommend that you do. Like I said, nailing your marketing is crucial for DTC success. One recent tweet about social proof caught my eye, saying that when it comes to customer testimonials, people like seeing customers that look like them. See the tweet for yourself here.
Shopify shares jump
According to CNBC, Shopify shares jumped 7% after it beat estimates for second-quarter revenue as more brick-and-mortar retailers used its online platform during coronavirus-led lockdowns. To read more about the strength of Shopify's value proposition, read CNBC's article here.
How DTC brands grow to $100 mil in annual revenue
An interesting read by Michael Sutyak, a technologist solving inbound growth, on how top DTC brands sourced demand and grew into a sustainable business. Michael broke down: Stitch Fix, SmileDirectClub, 23andMe, Casper, and many more. He broke these brands down by the different content channels (like YouTube, podcasts, blogging, etc) that helped skyrocket their success. This is an important read for DTC operators looking to optimize their content marketing game. Check it out here.
---
That's all for this week's edition of the DTC Download. For the weekly hook up, straight to your inbox, visit index.profitwell.com to sign up. And, of course, if you have news or ideas you'd like to share, send me a note at grace.g@profitwell.com
This has been a Recur Studios production—the fastest-growing subscription network out there.