We're switching things up this week. Don't worry—we still got your data and all the extras you need.
But first—in light of the Black Lives Matter protests, a deep dive into how companies can go beyond social media statements and spark real change.
---

INCLUSIVITY
Beyond a black square and a hashtag
As Black Lives Matter protests continue across the country, we see more brands flood social media announcing their solidarity against racism.
These efforts are a step in the right direction, but it makes me wonder what brands are doing beyond their social media statements.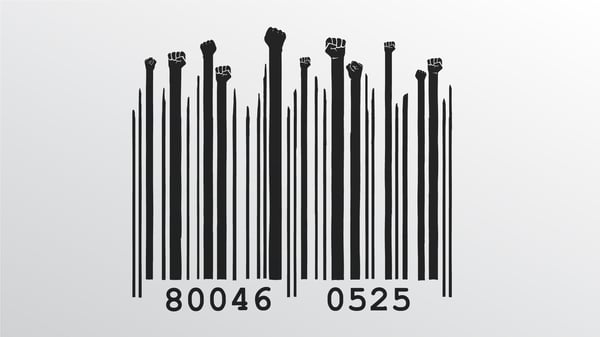 At ProfitWell, we don't agree with virtue signaling. We believe in finding truth and taking action.
"I want to use that effort not into crafting a message that may fall on deaf ears because everyone's doing it, and not everyone's doing it for the perfect reasons, but I don't want to judge their intent. I want to do things that are actually going to help and are going to make a change either internally or externally," Patrick Campbell, Co-Founder and CEO of ProfitWell, says.
It brings up a question I'm sure is on the minds of many: What can we do to make change beyond our social media statements?
To answer this question, I reached out to Kunle Campbell, ecommerce growth consultant and principal at 2xMedia.
Kunle and I discussed current brand messaging on social media. Like Patrick, he says the action needs to go beyond posting a black square for #BlackoutTuesday.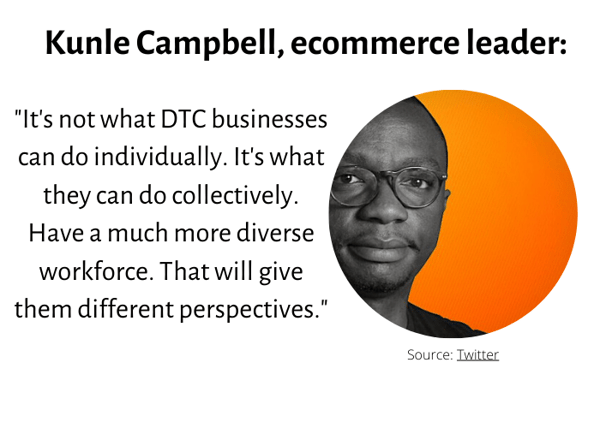 Kunle says there's a clear education gap making this action difficult.
"When I hire, I want to hire the best person for the job, so we do it as quickly as possible. What I've noticed a lot of the time is, there's still a deficit, and that needs to be addressed. And again, that is a very systemic issue," Kunle says.
Kunle encourages all business leaders to mentor and educate minority entrepreneurs who are just starting their businesses.
Kunle says:
"It's intentional mentoring. Encouraging mentoring. Not just Black and Brown people—just disadvantaged people in general. You'll find the skew more Black and Brown people disadvantaged, but be inclusive in that respect. And build that spectrum."
---
Mentoring and working to be more inclusive as a company is one step. There are many. Remember—not every company has to or should do the same thing to make a change.
For some companies, inclusivity means allowing employees to have open dialogue and discuss issues on their minds.
ProfitWell has always fostered an environment that allows us to talk about issues with nuance.
"I think the really important piece that a lot of people get wrong with this is that they don't allow the conversations to happen and the disagreements to happen," Patrick says.
Patrick says encouraging employees to host book clubs or open forums to discuss issues they care about is crucial. With that, it's on companies to create a zero-tolerance policy on things like racism, so overall it's a safer space for those difficult, but important, conversations.
Another thing to remember, as more companies and more people voice their thoughts, is that we are all learning. Patrick always encourages feedback. It's non-negotiable at ProfitWell. If you make a statement, brace yourself for feedback. You may not agree with it, but you can learn from it.
As we all work to navigate these difficult waters, together in our unique ways, it brings us back to an overarching point...
Truth.
When you think about it, consider your own truth and your company's truth. Are we inclusive? Does everyone understand that our company has a zero-tolerance policy on racism? Do people feel safe talking about important social issues?
Recognize the power in educating not only others, but yourself. Discovering the truth may not always be pretty; however, it's necessary if you truly want to make a change.
"It's kind of that search for truth that I think has to be the number one priority." - Patrick Campbell.
---

How is DTC growth trending over time?
---
📈7 day +1.08% | 📈30 day +5.52% | 📉90 day -1.37%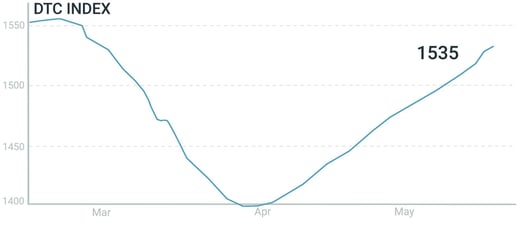 The latest numbers take us on a wild ride. You'll see what I mean.
In terms of overall growth, this past week we've noticed the slightest decrease. At negative 1.37%, this week's overall 90-day growth has decreased 0.16% from last week. Inflections this minor are natural and normal.
In the past 30 days, growth has declined a bit to 5.52%, but it's still trending positively.
How are churn and new revenue trending over time?
---
MRR Gain
+15.38%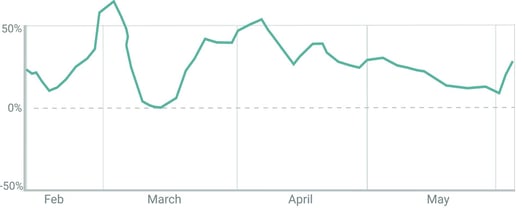 ---
MRR Loss
-21.2%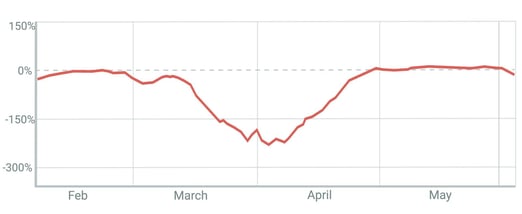 *MRR gain is new revenue from either acquired customers or upgrades in a given month.
*MRR loss is churn, or lost revenue from cancellations or downgrades.
MRR gain* seriously spiked. We're seeing a positive 15.38% change over the last seven days. If you don't recall—MRR gain last week was at -0.9%. So, we're really cruising in this department.
On the other hand, MRR loss* takes us on a serious drop at -21.2%. (The rollercoaster I was talking about.)
The reason MRR gain is dramatically higher this week and MRR loss is dramatically lower is because we started a new month (hello, June). Many subscriptions start at the beginning of the month, which could explain the uptick in revenue. On the other hand, subscriptions will also end at the beginning of the month for those customers who churn.
Be sure to check your subscriber newsletter every Monday morning so that you can kickstart the week with some fresh data on DTC growth.
Know anyone who might also benefit from this data? Send me their email address to grace@profitwell.com and I'll hook them up. Or, they can subscribe directly at index.profitwell.com.
---

RETAIL
Prepare to pivot [again]
The coronavirus pandemic threw a wrench in travel plans. As summer approaches, people still want their planned vacations, even if they look a little different.
What does this mean for online retail?
The Future of Customer Engagement and Experience says, "summer retail trends for 2020 reflect the ongoing dramatic changes in consumer shopping behavior."
Prepare for another pivot. Consumers are looking to purchase items to make the most of a 'staycation' at home.
Think with Google top trending categories this month are almost all related to outdoor activities. (Although, I am curious about the sudden need for leis...🌸🌼🌺)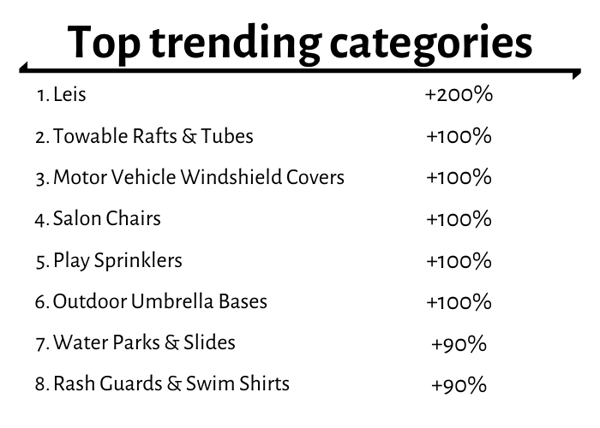 Source: Think with Google
Some additional trending consumer purchase items:
⛺Camping and RV products
👙Summer apparel
🏋️Fitness equipment (bikes, boxing gloves, soccer balls, and weights)
🏠Home appliances
The main takeaway from this consumer data is to always ask yourself these questions: What do my consumers need/want right now and how can my brand provide it?
When the pandemic first struck, we saw clothing companies sell masks (and in some cases, toilet paper) because they were in high demand. So, as new trends evolve into the summer, think of how you can expand your product offering to stay relevant.
---
RESOURCE
Connect with the best and the brightest
Conferences, although we haven't had any in a while (s/o COVID-19), are crucial for taking us outside of our intellectual comfort zones. With the DTC space rapidly growing, I'm eager to learn from the best and the brightest.
I stumbled upon some information for a direct-to-consumer conference you might find worth attending.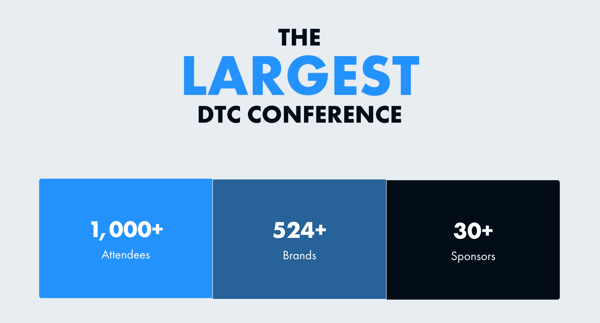 Source: https://www.dtcday.com
DTC Day hosts the largest DTC conference in North America featuring talks from 50+ direct-to- consumer CEOs, breakout sessions, stands highlighting DTC brands that have successfully launched a retail channel, and more.
Here are the details:
When: October 14-16, 2020
Where: Hudson Loft, 1200 S Hope St., Los Angeles, CA
Who: 1,000+ attendees, but brands that attended previous events include Glossier, Quip, Disney, et al.
Connecting with founders and leaders who have already been through the trenches seems like a learning experience you wouldn't want to pass on.
If you're interested in attending, register here.
---

PRODUCT
#TheFutureIsFemale
In the product spotlight this week: Tribe Beauty Box.
I've always been a huge fan of subscription beauty boxes. They're a fun way to try new products or to give as gifts. Even cooler than the products inside Tribe Beauty Box... the founder's story.
Bili Balogun started this company just six months after receiving her undergraduate degree in 2017. Bootstrapped with only $200, Bili grew the business to more than $360,000 in sales in 16 months.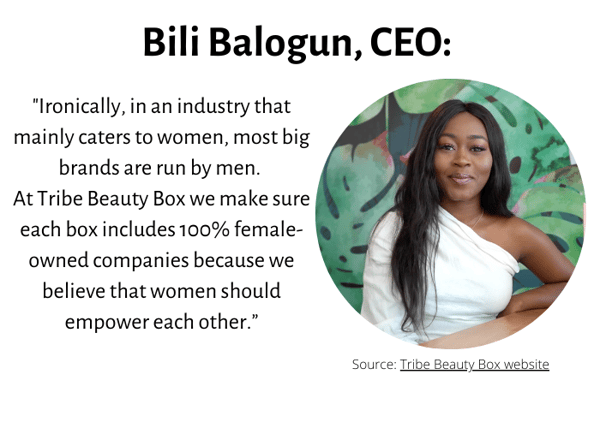 In an interview with Shopify Masters, Bili talks about how being a woman of color, it's hard to find makeup that matches her skin tone. With Tribe Beauty Box, she opened a beauty product space that's inclusive to all colors.
You can learn more from Bili on how she grew her business through Facebook groups, supports other female founders, and creates an inclusive brand, here.
---
LEARN
Here's what else I'm reading:
What keeps CEOs up at night
Being a leader during these transformative times is tough—it's hard to know how to respond to hot-button issues. CEOs, I ask you not to lose sleep. Instead, read The issues haunting CEOs during the Trump era by Axios.
Ads enter Snapchat
TechCrunch reports on the global expansion of SnapChat's new advertising product "dynamic ads." Read more about these mobile-ready ad templates and how they may help you step up your ad game, here.
"Safe, yet delightful"
As some retailers reopen, they'll need to rethink how they showcase their pieces in a way that's safe for both customers and employees. This article by RetailDive illuminates questions all brick-and-mortar stores will soon face.
The quickest recession
The Great Recession lasted 18 months while recovery took several years. But, experts say the coronavirus recession is different. Grow explains how.
---
That's all for this week's edition of the DTC Download. For the weekly hook up, straight to your inbox, visit index.profitwell.com to sign up. And, of course, if you have news or ideas you'd like to share, send me a note at grace@profitwell.com
This has been a Recur Studios production—the fastest-growing subscription network out there.