What's on tap for today? Growth, growth, and more growth.
First, we've got fresh data from our DTC index. Then, a deep dive on how to improve your DTC growth, plus a few extra headlines all in the name of... growth.
---

How is DTC growth trending over time?
---
📈7 day +0.46% | 📈30 day +2.21% | 📈90 day +13.47%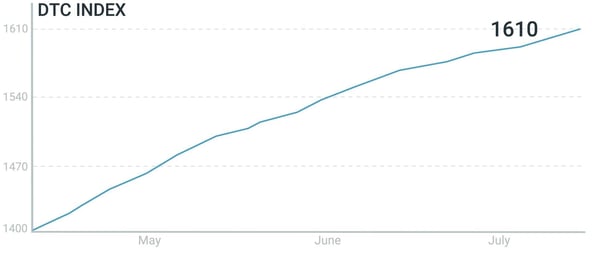 All good news in terms of DTC growth this week. Today, the DTC index is valued at +1,610 points, with overall growth increasing 0.46% over the last week.
MRR gain, representing upgrades and new revenue, is lookin' extra fresh today—growth going up 2.05% in 24 hours. MRR loss, or churn in the market, looks good today, too. MRR loss went up 2.04% over the last 24 hours, meaning churn rates have improved.
---
MRR Gain
+2.05%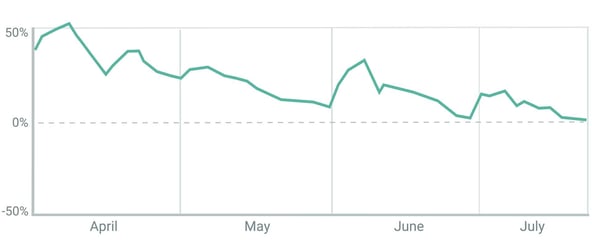 ---
MRR Loss
+2.04%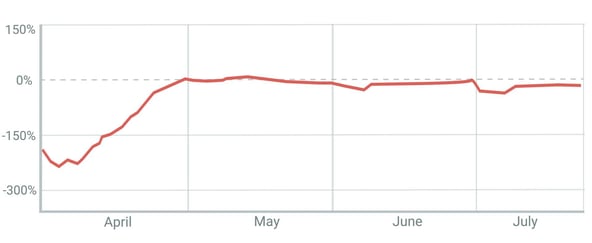 *MRR gain is new revenue from either acquired customers or upgrades in a given month.
*MRR loss is churn, or lost revenue from cancellations or downgrades.
Know anyone who might also benefit from this data? Send me their email address to grace.g@profitwell.com and I'll hook them up. Or, they can subscribe directly at index.profitwell.com.

Solving for DTC growth
Data across the board indicates skyrocketed DTC growth in 2020. This accelerated growth is all thanks to the coronavirus pandemic forcing people to shop online and retailers to sell online. We've been tracking DTC growth via our index, but today we're taking it a little deeper by looking at the DTC market and six major keys to DTC growth.
Let's first look at the DTC market and the stats indicating the need for DTC growth.
How big is the DTC Market?
Although ecommerce is projected to account for at least 14% of the global retail market by 2020, its continued growth encourages businesses to expedite DTC growth.
1. DTC sales will rise by 24.3% in 2020, compared to the previous year
According to an emarketer report, there will be $17.5 billion worth of sales in the US by DTC businesses, in 2020, marking a 24.3% rise from 2019. Such growth is projected to continue in the following years. As such, there is no better time to implement a direct-to-consumer growth strategy.
2. 40% of manufacturers in the US are already selling DTC
Undoubtedly, online shopping offers consumers a lot of conveniences. However, with safe and secure payment methods such as Stripe and Paypal, it is now just as convenient for manufacturers. This is why 40% of US manufacturers are already implementing their direct-to-consumer growth strategy.
The 6 keys to DTC growth
As DTC companies continue to grow, what should your business be doing to ensure growth? Let's look at the six major keys.
Use a subscription-based model:

A subscription model generates revenue by charging customers a recurring fee that is processed at regular intervals. For DTC, this means customers will pay you a monthly rate and receive a product once per month. The subscription model is a powerful tool in terms of retention. Since it's a recurring revenue model and customers are continuously paying you, you must nurture the relationship with customers. As long as the customers are happy, you have definite revenue coming in on a monthly basis, allowing you to predict and strategize growth.
Build a scalable fulfillment process: Customers order online because they love the convenience. Since they expect convenience, your fulfillment process needs to be frictionless. Any delays in shipping or unexpected issues will deter customers. You need to ensure these stages of your fulfillment process are accounted for: receiving inventory, inventory storage, order processing, shipping, and handling returns.
Lead with your messaging: With more and more companies going DTC, you need to stand out. Personable and creative messaging will set your company apart from the crowd. Additionally, consumers prefer buying from companies that stand for something. Knowing this, take up a mission or cause that will benefit the community and make your customers feel good about themselves when they buy from you.

Harness your data:

Embrace technology. Take advantage of digital tools to harness consumer information. Use this information to identify consumer trends and preferences and apply them to your business.
Leverage influencers: Influencer marketing, or having a public figure promote your products, is a hugely successful strategy. A survey conducted by the Interactive Advertising Bureau (IAB), found that 20% of DTC shoppers are influenced by celebrities. Find someone with a large follower base to promote your brand on their social media websites. Their followers trust the endorsement and are likely to buy the products recommended by influencers.
Create a proactive retention process: As you work to acquire new customers, don't forget about retention. Put a customer retention program in place to increase customer value and encourage re-purchasing. To optimize retention, consider improving your onboarding programs, developing communication calendars to reach out to customers, setting up a customer advisory board, developing customer loyalty programs, and taking part in corporate social responsibility initiatives.
Now that companies and customers alike have witnessed the benefits of direct-to-consumer buying and selling, it's definitely here to stay. As more and more companies jump on the DTC model, it means your company needs to work 24/7 to remain competitive.
To read our full guide on DTC growth → click here
---

LEARN
Here's what else I'm reading:
Double-time growth in DTC
Goldman Sachs released new data on ecommerce growth. A tweet by 2pm listed a notable finding—the 2020 surge saw 29% growth vs. 14.6% expected growth. This means that the actual growth DTC has seen so far this year nearly doubled what was expected.
Banding together
Google and several major DTC retailers like QVC, Brooks Brothers, and Lane Bryant have formed a new advocacy group called The DTC Collective. According to an article by PYMNTS, the purpose of this group is "to navigate industry-specific matters, including the external forces that influence the trajectory of digital retail's evolution." With the major plan of this group centered around guiding the digital transformation, it's especially relevant as companies transition to ecommerce amid COVID-19. To learn more about The DTC Collective and how some of its additional goals may impact your DTC business, click here.
Getting ahead of the game
It's safe to say everyone in ecommerce knows about Shopify. The reason for Shopify's notoriety and success all boils down to one thing: its positioning. Shopify positioned itself a facilitator. Recently we've seen this firsthand when Shopify announced its partnership with Walmart. Its formula for success (as detailed by Modern Retail): try to grow its presence as an ecommerce powerhouse by playing nice with as many companies as it can, but also trying to grow its own suite of premium products. It makes me wonder, what are other ecommerce companies doing to establish themselves in the market? Continuous growth often takes a little creativity in positioning and strategic networking.
Google comes for Amazon's crown
We all know Amazon as the reigning ecommerce king. But, we also know that Google is coming for the crown. Lately, even more aggressively. On Thursday, according to an article by Forbes, Google said it would drop commission fees for merchants that participate in its Buy on Google program, allowing consumers to search for and check out products directly on its platform without being directed to retailers' pages. It's also opening its platform to third-party providers like Shopify to give retailers more choices. While these days will certainly attract more sellers to Google, it's not enough to compete with Amazon (yet). To read more about why Google can't yet compete with Amazon, read the article by Forbes in full here.
---
That's all for this week's edition of the DTC Download. For the weekly hook up, straight to your inbox, visit index.profitwell.com to sign up. And, of course, if you have news or ideas you'd like to share, send me a note at grace.g@profitwell.com
This has been a Recur Studios production—the fastest-growing subscription network out there.