Today, overall direct-to-consumer growth continues looking good, but alas, every growth has its thorn (s/o MRR Gain). Checkout your index to see what I mean.
And, I've also got the deets on some upcoming webinars that'll help supercharge your company's growth.
---

How is DTC growth trending over time?
---
📈7 day +0.99% | 📈30 day +4.71% | 📈90 day +2.39%
Overall DTC growth continues to increase as we progress through June. Percent change over the last 90 days has climbed out of the negatives (finally), reaching positive 2.39% this week.
Change over the last seven days has gone up a positive 0.99%, marking more positive growth.

How are churn and new revenue trending over time?
---
MRR Gain
-5.13%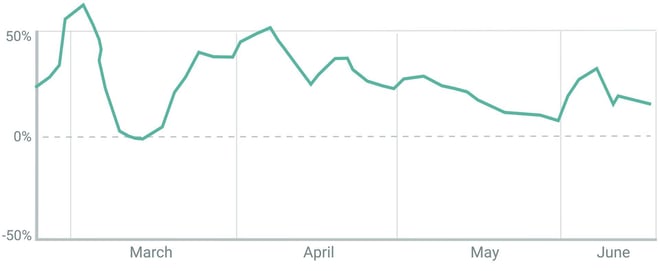 ---
MRR Loss
+1.65%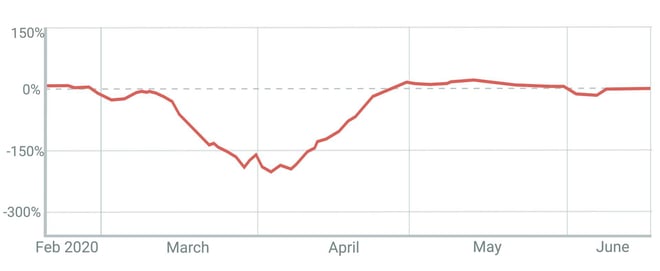 *MRR gain is new revenue from either acquired customers or upgrades in a given month.
*MRR loss is churn, or lost revenue from cancellations or downgrades.
While overall growth looks good, MRR gain* took a dip this week, going down a negative 5.13% over the last seven days. This isn't cause for concern; remember we are mid-June, meaning most subscriptions renew at the beginning of the month. We'll likely see MRR go up again once we get closer to July.
MRR loss*, on the other hand, is still trending positively, having gone up +1.65% in the last week. This is good because it means less customers are cancelling or downgrading.
Know anyone who might also benefit from this data? Send me their email address to grace@profitwell.com and I'll hook them up. Or, they can subscribe directly at index.profitwell.com.
---

RESOURCES
Retention strategy webinar
Join ProfitWell's CEO & Founder, Patrick Campbell for Supercharging Your Revenue with Better Retention webinar this Thursday, June 25th at 11 a.m. EDT.
We're sharing our data findings from 18,147 subscription companies of all shapes, sizes, and verticals. I'll give you a hint on what we found: most subscription companies are overly focused on acquisition.
Retention needs to be at the forefront of your growth strategy. If you don't know where to start, Thursday's webinar is for you:
How the subscription economy is evolving
Why retention is essential for growth
How to leverage the subscription evolution
Revenue-boosting tweaks
Retention mistakes we see too often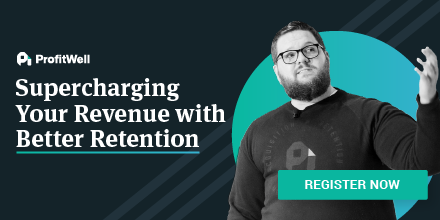 Space is limited so register now to secure your spot.
---
Pricing optimization live training
You can join Patrick yet again for his live training on Supercharging Your Revenue With Optimized Pricing this Thursday, June 25th at 1 p.m. EDT. Patrick will unpack one of the trickiest growth topics: pricing.
Thursday's live training will go deep on where and why most subscription businesses struggle with their pricing strategy. We'll also share actionable insights to ensure you're not leaving money on the table.
Here's what you'll learn:
Core principles to power your pricing page
A framework for continual pricing optimization
Tweaks to boost revenue
The most common pricing mistakes you can easily avoid
Register here to save your spot.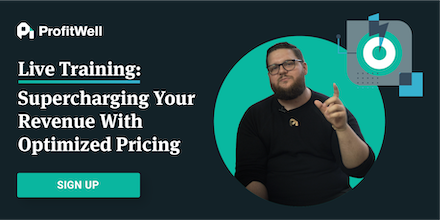 ---
LEARN
Here's what else I'm reading:
Accelerated online beauty
The coronavirus pandemic accelerated the digital transformation of beauty products, forcing all generations of shoppers, even those who were wary, to buy online. L'Oreal, one of the world's largest cosmetic makers, believes the online beauty trend will outlast the pandemic thanks to new marketing tools like virtual try-on. The Financial Times goes further in-depth with an interesting read on how L'Oreal's sales dipped at the beginning of the pandemic, but how they quickly bounced back—shining light on important changes in consumer behavior.
Doubling down on ecommerce
Business Insider reports that Inditex, that parent company of Zara and Massimo Dutti, is closing between 1,000 to 1,200 stores over the next two years. The fast-fashion giant also announced it will be investing $1 billion into its ecommerce platform over the next three years, expecting online sales to account for a quarter of its business by 2022. Business Insider also reports that Inditex will be spending $1.7 billion on upgrading its stores to become more integrated with its online platform. Although Inditex was already focused on online expansion pre-pandemic, the decision to double down proves that big brands expect ecommerce to stay for the long-term.
'Christmas came early'
While many major marketers pressed pause on advertising amid the pandemic (to prevent fallout), some DTC brands saw it as an opportunity. Chris Toy, CEO and founder of MarketerHire, told Digiday, "There were a lot of brands having 'holiday shopping' type numbers as a result of the pandemic. So Christmas came early, basically." Specifically, DTC categories like home goods, wellness, athleisure, and beauty, increasing the ad budget let to higher conversion rates. The full piece by Digiday goes further into how DTC companies are often more nimble and opportunistic than major marketers—illuminating an important mindset for DTC operators.
---
That's all for this week's edition of the DTC Download. For the weekly hook up, straight to your inbox, visit index.profitwell.com to sign up. And, of course, if you have news or ideas you'd like to share, send me a note at grace@profitwell.com
This has been a Recur Studios production—the fastest-growing subscription network out there.