Today, curated knowledge by the work-from-home crowd. And a bit on demand shock, dealing with the hard truth that some companies may just be better suited for managing disruption than others.
Listen wherever you get podcasts:


---
Top B2B SaaS news



WFH FAQ: the experts weigh in
Calling all remote workers—both the OGs and those new to the business.
We found the ultimate work-from-home FAQ, built by Arc, the company that helps you hire the best in remote developers, engineers, and teams.
In it, the Arc team offers curated knowledge from the remote community to give you actionable answers to use right now. Content is sourced from key thought leaders, trending Twitter threads, top-cited articles, and Arc's network of 12,000+ remote developers.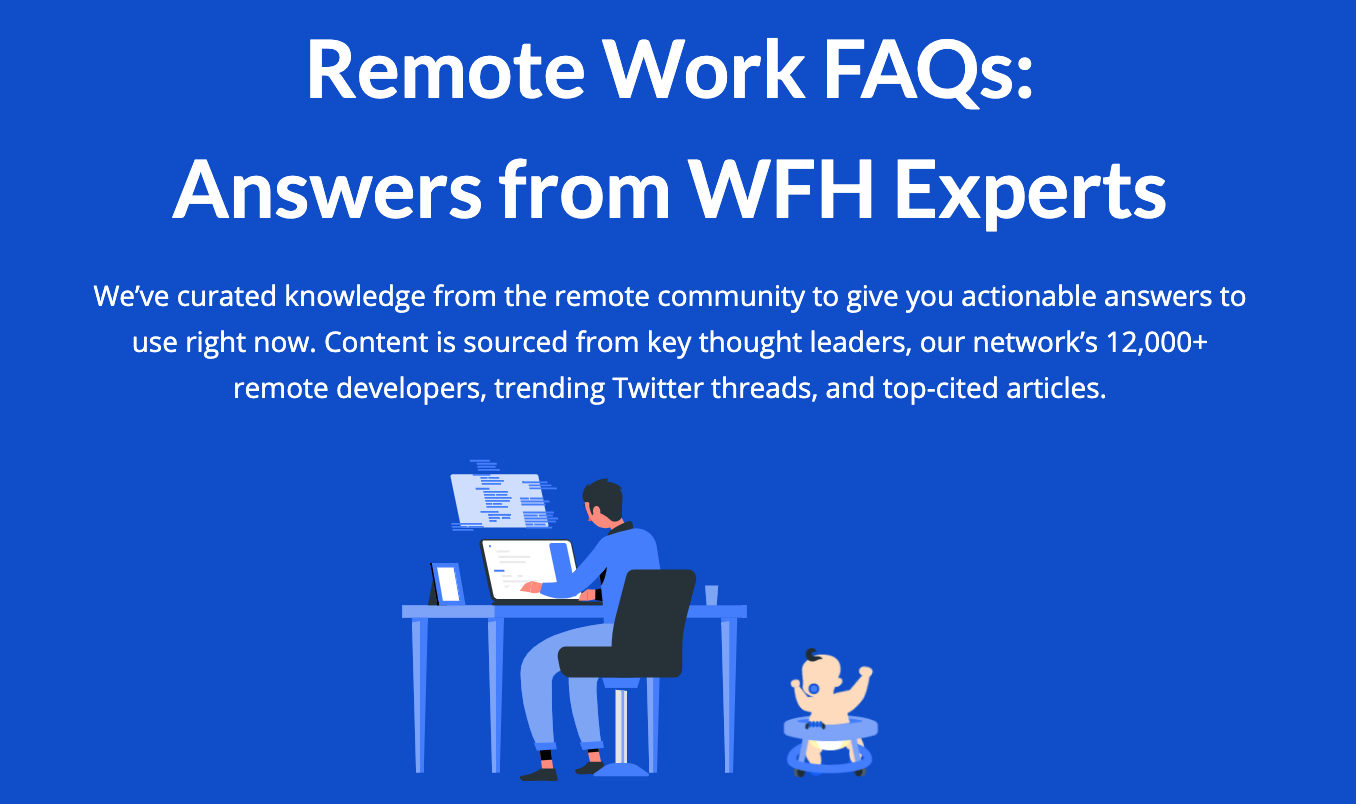 Each answer is replied to directly with an easily-digestible bite of knowledge, followed by actionables and links to heed.
A few Qs that caught my eye:
How do I immediately transition my team to remote work?
How do I give criticism, remotely?
How do I keep my cat off my keyboard?
Spoiler alerts: Start your day with video standups, utilize video calls for any sort of feedback, and use a heating pad (?) for your feline woes.
The list is virtually never-ending, so if you have an ask, it's very likely on there. If you have a question that isn't on there, though, hit me up at abby@recurnow.com and I'll touch base with the team at Arc to see if they can get it on the list.
Demand shock: What makes a business equipped?
We spotted a piece by Interbrand, global brand consultancy, on demand shock—namely the unexpected fluctuation of demand for many businesses during a time of crisis.
Some companies are set up to navigate such disruptions better than others. But what does demand shock mean for business strategy, both now and in the future?
We know companies who deeply understand their core customer and have an open line of communication with them are better equipped to weather these waters—because they can more accurately predict their behavior (and do so faster). And of course a sector that does this well: subscription. The article quotes Zuora's Tien Tzuo, who knows the recurring revenue model provides a much-needed reprieve during times of economic turmoil.
"If you're running a subscription business that hasn't been immediately affected, you are probably grateful for the power of recurring revenue to help you weather this storm. Unlike one-off sales, you can count on recurring revenue as a stable base of future income, and you are not looking at a precipitous drop in revenue and the need to slash expenses to match. That's great, but please don't take it for granted…"
This is a time for iterating on your current offerings and making things the best for your user as possible.
Here's a great example: Ongoing customer research enabled Instacart to be a first mover in launching the "Leave at My Door Delivery" option, giving customers the choice to have a real-time photo of their groceries on their doorstep, rather than a knock at the door.
The longer the pandemic persists, the higher likelihood that new habits become ingrained, Interbrand states. Customers' changing preferences aren't likely to go back to pre-outbreak norms.
And we know that ultimately, opportunity exists in change.
A feel-good bit with Grace Gagnon
We spotted Cisco joining the goodwill of the world, offering big-time payment deferrals until 2021.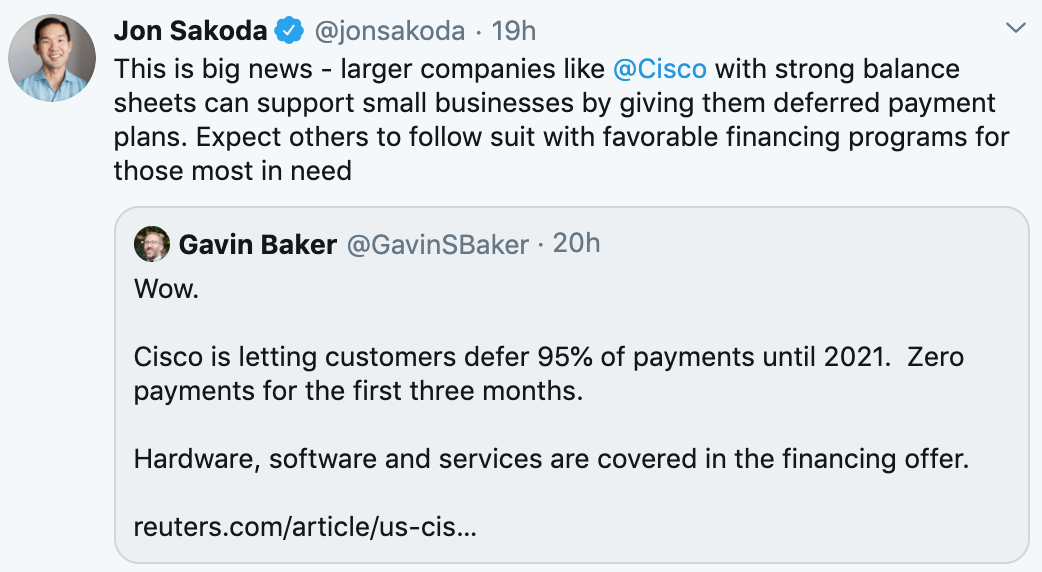 On Tuesday, the company launched a $2.5 billion financing program that lets its customers defer 95% of payments until next year, with zero payments for the first three months—providing companies additional leeway at a time when many are facing a cash crunch but still need access to remote work tools.
Big industry players bulldozing the space with a helping hand—we love to see it.
---
Today's featured user is Pipedrive, not only for serving as a seamless CRM and pipeline management software, but also for launching something called Pipedrive Community—a new forum where both amateur and professional sales and marketing people can connect, share what they've learned, and discover ways to improve and develop along the way.
Right now more than ever, we need to be focused on connection.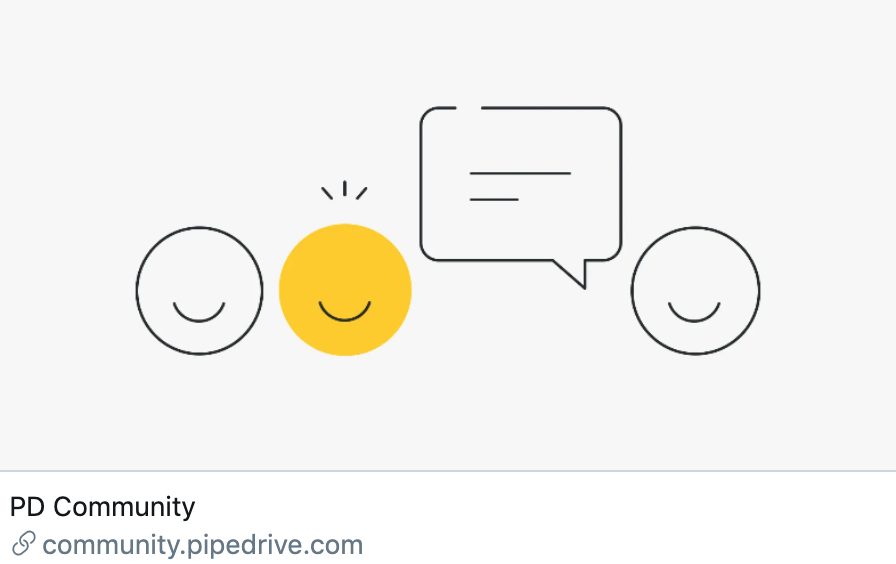 Pipedrive's Community is a forum open to all, in which you can find the content you're interested in while actually getting rewarded for your contributions.
How so, you ask? Head here for the full rundown.
---
That's a wrap on your April 16 Recur Now. If you have news to spread or input on any topic we cover, don't hesitate to reach out to me at abby@recurnow.com.
If you're not already on the list to receive daily episodes, be sure to sign up at recurnow.com.
This series is a Recur Studios production—the fastest-growing subscription network out there. If you find use for this show, subscribe for more like it at profitwell.com/recur.