Today, the plight of remote product pros.
Plus, HBO's newest move (and its subsequent confusion). And a lesson in revenue enhancement from the Instagram team.
Listen wherever you get podcasts:




Product pros: Should we promote remote?
We are inevitably hearing about remote work now more than ever before—its effectiveness, downfalls, long-term implications, short-term struggles.
Prior to the pandemic, remote work seemed to most seamlessly align itself with those who could individually complete their daily tasks, with some supplementary collaboration via Zoom calls or in-person sprints (think: those in the content camp, marketing gurus, and sales savants).
But perhaps less-talked-about is how "going remote" works for the product professionals out there—those who rely more heavily on collaboration and detail-oriented documentation for success. So I decided to dig a bit deeper here, on the implications of remote product work and how the crew in that space is getting by.
Does remote product work affect company growth?
A recent tweet by Hiten Shah—multi founder and product pro over at FYI and Product Habits—is actually what got me thinking about this whole thing.
---

The newness of remote work may be something that a lot of product professionals are faced with right now, amid the pandemic and the subsequent mandate to (essentially instantaneously) go totally remote.
So I dug up intel from Hiten himself, a veteran in remote product work, from an episode on this topic from our series, Tradeoffs.
---
The biggest tradeoff of remote work is that it makes communication harder—and transparency is critical. Each member of the team needs to communicate what they're working on, as well as what they're struggling with, at all times.
---
So what a lot of this preliminarily comes down to is leadership—and the company at its core. If company execs aren't good at remote, Hiten says the company shouldn't act as so.
"If executives in the company are not good at remote, the company can't be remote... It's that simple."
But let's say you're not given a choice on whether or not to work remotely (ahem, you're amid a global pandemic). Hiten says there is still hope. He believes that practicing the previously-mentioned "active communication" leads to better product development as a whole.
Product is a lot of documentation, a lot of research, a lot of spec-ing, deliberate decision making, and discussions that can fall through the cracks if you don't write them down.
---
"The extreme advantage of remote product development is that you're forced to document everything or nothing gets done."
---
Hiten's solution to the remote communication problem was to create a Slack channel dedicated to daily updates from every member of the team. The space allows everyone to candidly share what they did over the weekend or how much rest they got last night, what they worked on the day before, as well as what they plan to accomplish at present. With this channel, Hiten says, it's easier for him and his team to hold each other accountable for their work.
Companies with 500+ employees like Automattic, InVision, and GitLab are thriving examples of those who've adopted the remote lifestyle. And with dozens more being forced to in the last few months, plus more and more technologies and tools being created to support remote workforces, distributed companies might just be the future of all work.
For the product pros out there right now, though, I'd love to hear your take. Let me know your thoughts on this one: What you're doing to better promote remote, and if the pandemic has changed your mind on anything in this realm (or if you're still dying to get back to the office). I can be reached, as always, at abby@profitwell.com.
If you're interested in more data points and discussion on remote work, check out our full episode of Tradeoffs with Patrick Campbell and Hiten Shah, here.


How is the B2B SaaS market trending?
📈7 day +0.83% | 📈30 day +3.88% | 📈90 day +5.21%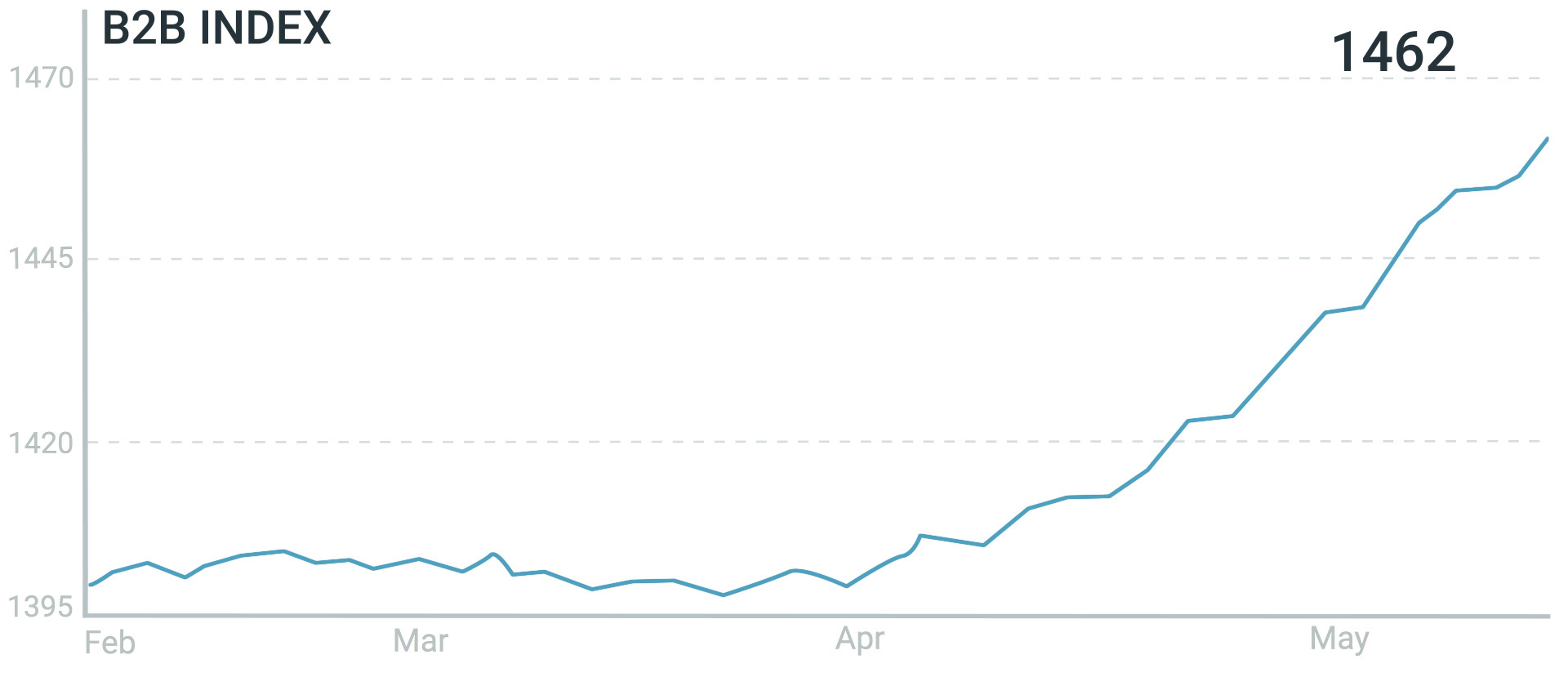 How are churn and new revenue trending over time?
---
MRR LOSS +0.24%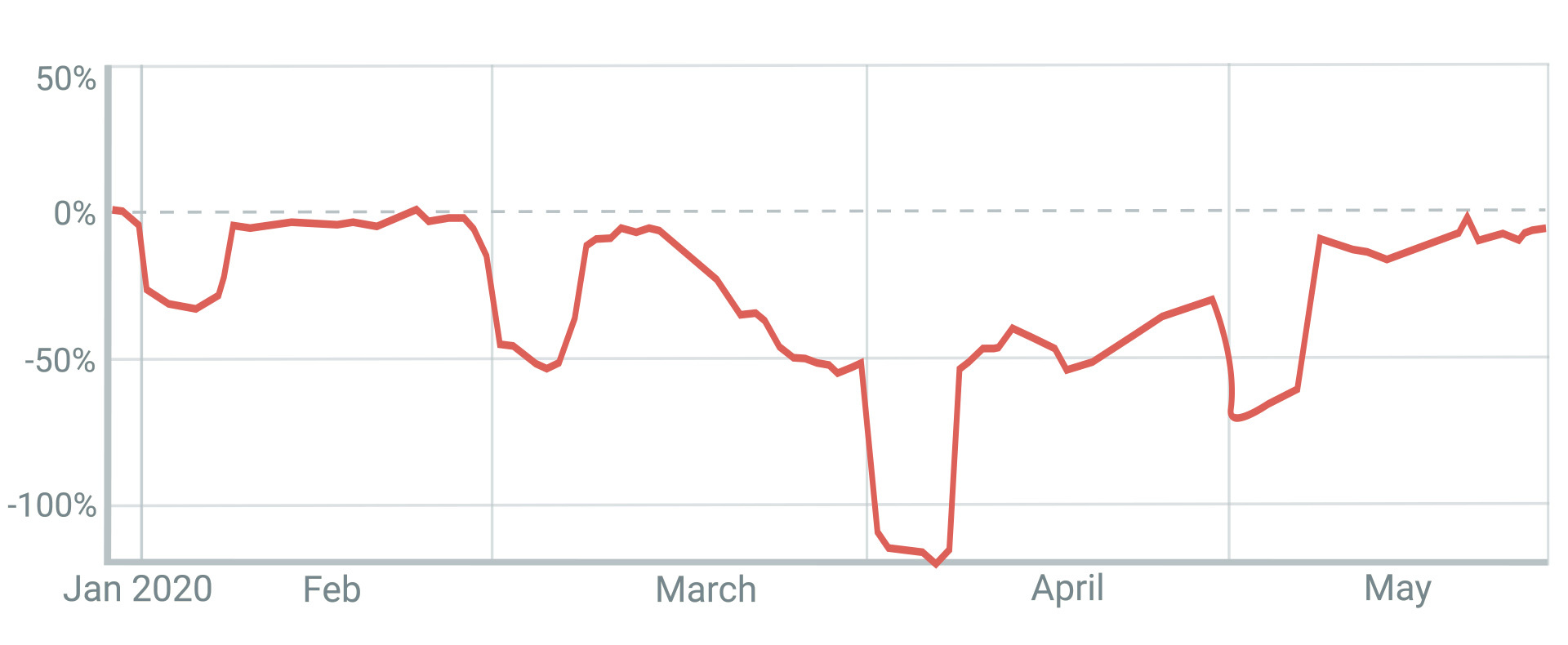 ---
MRR GAIN -3.95%

We're seeing the overall B2B SaaS market continue to trend positively this week, as well as over the past 90 days.
Although the MRR Gain Index, which reflects upgrades and new revenue, was affected pretty heavily at the start of this week—we can nod to Memorial Day for that drop off. We've seen a steady climb upward since then, which we'll likely see smooth back near to the positive percentile realm next week.
Be sure to check your subscriber newsletter each day for regular updates to your index.
You can also share the data with friends and fellow industry players that could use it right now. Send me their email address to abby@profitwell.com and I'll get their name on the list. Or they can subscribe directly at index.profitwell.com.
---


Confusion to the Max
HBO Max launched just yesterday, AT&T's first big entertainment venture since Time Warner. But it's leaving us all a bit confused on upgrades, branding, and what's what in its extensive library. It could be due to contracts and licensing, or chalked up to messy execution. Anyone else in the dark?
More on this → here.
Revenue enhancers
Instagram launched Instagram ads, further proving that user-generated content is the way to go, not to mention it's a baller new revenue stream for the social media titan and its influencers. Revenue enhancement—our tried and true friend.
More on this → here.
Go local
Lots of companies are now going fully remote, but paying remote workers could get tricky. TechCrunch outlined a few potential problems with the "pay the local rate" model, like base salaries on your HQ's location, localizing salaries, and using national averages. Lots to consider
More on this → here.
---

Today's featured user is Death Wish Coffee Co.—the top online coffee-seller of fair-trade, organic, high-caffeine blends, and creators of "the world's strongest." Because who couldn't use an extra-caffeinated beverage right now? (Not to mention one that kills the branding game.)
In 2012, Death Wish Coffee started in a small coffee shop in Saratoga Springs, New York. Founder Mike Brown saw a need for coffee that was both strong and delicious to serve his groggy morning crew. After creating the perfect blend of beans and combining it with his unique roasting technique, the world's strongest coffee made its debut. Today, thousands of people trust Death Wish Coffee to wake them up and keep them going.
---
That is a wrap on this week's B2B SaaS happenings. Catch you back here next week with more.
As a reminder: We launched a weekly version of Recur Now, an abbreviated newsletter with the best in each week's news. If you want in on that instead of your daily version, reply to me at abby@profitwell.com and I'll get you on that list.
If you have news to spread or resources to share with our audience, you can always connect with me at abby@profitwell.com to get the good word out there.