Jeremey Donovan, SVP of Sales Strategy and Operations at SalesLoft, knows a thing or two about building pipeline. SalesLoft is a leading sales engagement platform that transforms the way sellers engage with their customers by delivering a better customer experience.
Jeremey graced the Recur 2019 stage to talk about data-driven prospecting. In SaaS and B2B, where product and software take the spotlight, the recurring theme of Jeremey's talk was personalization in your outreach because in truth, sales is interacting with humans.
This article serves to breakdown key takeaways from Jeremey's talk.
Cadences: what are they?
Cadences are a means of engaging customers in order to build pipeline or upsell them. They're a mechanism for account executives and sales development reps to build pipeline by constantly engaging with their customers by delivering a better customer experience.
Jeremey asked, "How many activities does it take to source an opportunity?"
The answer? It's no small number. Jeremey said it takes 105 calls to get one meeting (it's important to note you're not calling just one person 105 times. It's different people within a company). He said most for companies, it usually takes somewhere between 200-300 calls. That's a mind-blowing amount of activity. But there are ways to increase your chances of making all that effort, all the more worthwhile.
Personalization
What's the single most important thing you can focus on? Personalization. Research shows that taking a sales email template and personalizing it just 20%, will double reply rates (on average). While this number may tempt you to personalize emails even more than that, 20% is the threshold according to Jeremey; anymore than that won't provide a higher return on investment.
Some people used to rely on computers to do all their email personalization. While Jeremey said dynamic computer-driven personalization is necessary and saves time, it's on "life support." There are some means of personalization that a computer won't accomplish.
Jeremey is a fan of Becc Holland, Head of Sales Development at Chorus.ai, and M. Jeffrey Hoffman, founder and CEO of Hoffman, LLC.
He credits them with six things you can do to personalize your emails:
Prospect-created content
Prospect-engaged content
Prospect self-attributed traits
Prospect demographic information
Prospect company information
Prospect persona
Jeremey went into detail on "prospect-created content," but you can read a more in-depth breakdown of each facet in the Ultimate Guide to Sales Email Personalization 2020.
The breakdown: prospect-created content
When personalizing along the realms of prospect-related content, you are truly taking the time to find someone's personally-generated content. Once you find that content, you reference it in your outreach in a manner that a machine simply would never be able to do. You use this reference to provide a segue into your offering. Some examples of prospect-related content include articles or posts on LinkedIn, a conference or webinar appearance, or notable quotes from a podcast.
Jeremey shared his own example of this type of personalization by drafting an email to Becc Holland. See below.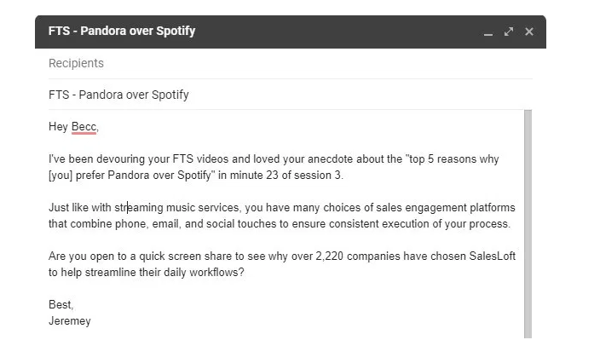 According to Jeremey, there's no way a machine could have written this email because of all the little details; a machine would not have known to abbreviate Flip the Script to FTS. A machine also would not have pulled information from the exact time stamp of "minute 23 in session three."
Another critical detail from this email is the segue linking the choice of streaming music services to the choice of sales engagement platforms.
CADENCE BEST PRACTICES
Jeremey has 11 tips when it comes to cadences.
Tip #1: The best day of the week and time to engage is now. He calls bullshit on the notion that calling either early in the day or later in the afternoon is best. He said in reality, the executive you're trying to reach is either not there or they don't want to answer the phone.
Tip #2: Respond rapidly and personally to inbound leads. It's not so much the speed that matters, it's the personalization. However, if you can send a personalized email within five minutes, you'll get the best response.
Tip #3: Keep your subject lines short. You can go as short as using just one word in your subject line. If you choose the one-word subject line, Jeremey said a good starting point is using your company's name. It's always a good idea to A/B test to discover what is the most effective.
Tip #4: Mention your company name in the subject line. It's a good idea to put the sender's company name in the subject line. You can also include the receiving company's name, but it won't exactly push the needle. Don't put the individual person's name in the subject line because it will actually drop the response rate. Avoid doing anything that looks too machine-generated.
Tip #5: Pursue referrals (obvious, but key). Although this violates the "one-word subject line" rule, use the word "referred" in your subject line. You can also include a specific person's name, for example, "referred by James."
Tip #6: Keep your emails short. Don't send prospects an essay. If you exceed 100 words, you have entered bad territory. Be succinct.
Tip #7: Hey <First Name> is the most effective greeting. Greeting someone in this manner is familiar, but also a little unexpected.
Tip #8: Avoid bullets and dashes. If you had to use one, you could use dashes, but they are highly discouraged. If you have to use bullets, then your email probably has too many words. Plus, bullets make the email feel impersonal.
Tip #9: Stick to plaintext. No fancy text. Messing with font and text type will decrease response rates.
Tip #10: Minimize the use of hyperlinks. Too many hyperlinks will look too market-y. Don't expect a response if you use more than one link.
Tip #11: The best way to sign off is "best." This could be subject to change overtime, as everyday language changes, but for the time being, "best" is an optimal sign-off.
Key takeaways
Cadences drive home the importance of engaging with customers in order to build pipeline or upsell them.
There are three main points from his talk that you should remember:
The easiest lever to pull is driving consistent effort.
Constantly A/B test to optimize.
Personalize!!